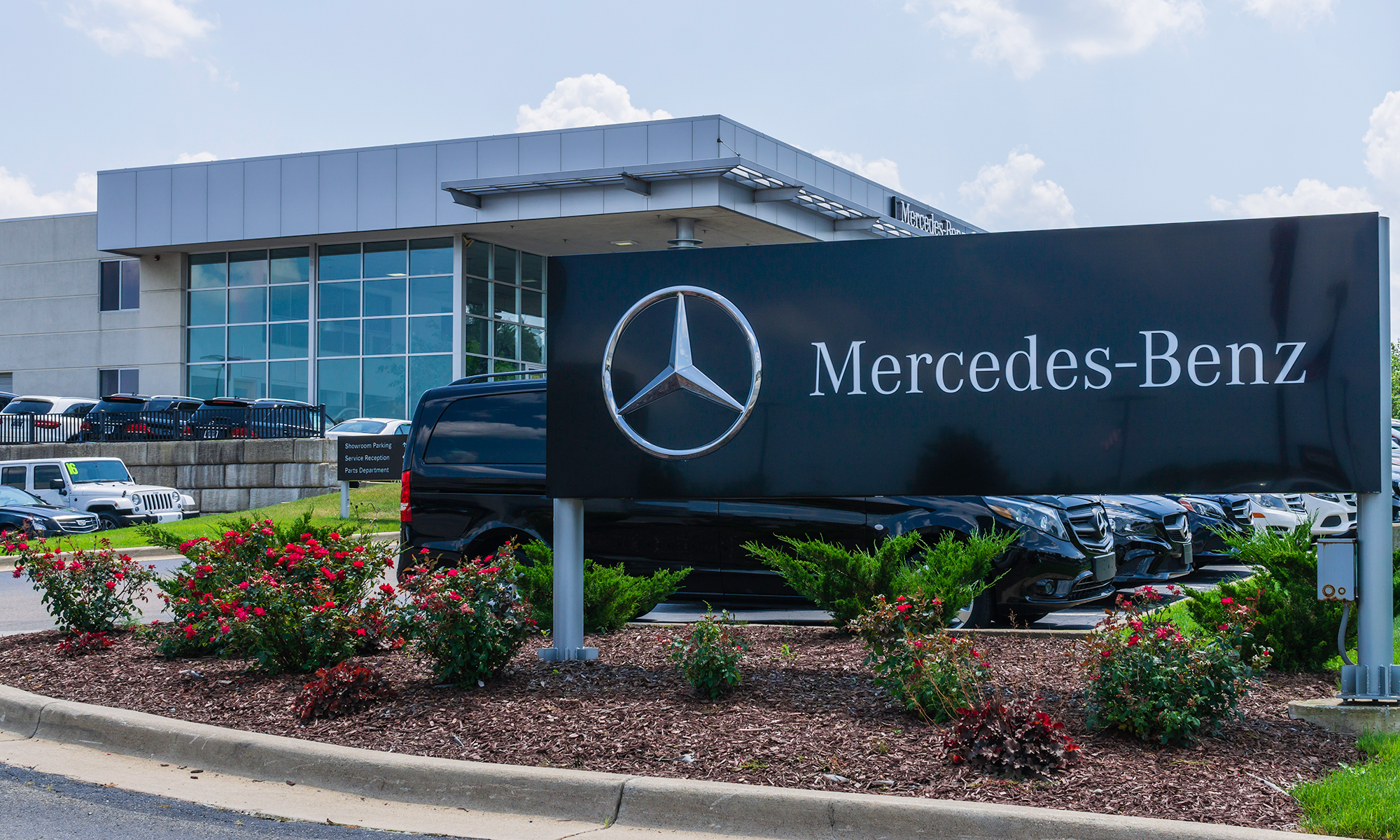 When it comes to luxury vehicles, few brands are as instantly recognizable as Mercedes-Benz. After all, this German brand is synonymous with class and craft. In fact, for almost 100 years, Mercedes-Benz has been at the forefront of luxury automakers, thanks to its iconic designs and memorable vehicles. And if you've ever been in the market for a new luxury car, a Mercedes likely made your shortlist. But as beautiful as they are, they certainly don't come cheap.
So when spending so much money on a car, finding one you can rely on is vital to not let you down when you're out on the road. So when it comes to dependability, it's important to know whether or not your Mercedes-Benz is as reliable as you'd expect—or if they're more style than substance.
Are Mercedes-Benz Reliable Cars?
While known for style, Mercedes-Benz vehicles aren't the most dependable, ranking 27th out of 32 major car brands for reliability, according to the experts at RepairPal. Despite that, the average annual repair cost for a Mercedes-Benz is just $908, which is lower than some other luxury brands like Audi ($987), Jaguar ($1,123), Porsche ($1,192), and Land Rover ($1,174). Mercedes-Benz models are also expected to visit a repair shop 0.7 times a year, compared to just 0.4 trips averaged across all other makes/models. But that's not all, as there is a 13% chance of the issue being severe.
And while there are various models, such as the Mercedes-Benz E-class, the Mercedes-Benz C-class, or even the G-class, none meet the standard of the Mercedes-AMG line. As Mercedes-Benz's high-performance line of vehicles, they are the gold standard for this German giant in the auto world. 
What is a Mercedes-AMG vehicle?
Put simply, AMG is Mercedes' performance division, with each of the cars in the series being finely tuned with precise attention to detail, powered by a robust engine for the most exhilarating drive Mercedes has to offer. 
Mercedes-Benz CL65 AMG
The Mercedes-Benz CL65 AMG is a sleek sports coupe with some serious horsepower. 621 horsepower,  to be exact. And while the experts at RepairPal don't have enough data to give the CL65 AMG a specific rating, the estimated annual repair cost of $1,122 speaks volumes. Long story short, you can expect a CL65 AMG to need the attention of a mechanic more than your average car, and it won't be cheap either.
There are quite a few common problems reported by RepairPal, while other general repairs you may expect can include: 
Mercedes-Benz CLK55 AMG
While it may no longer be in production, the Mercedes-Benz CLK55 AMG is still one of the more popular Mercedes-Benz you can find, coming as either a coupe or a convertible to go along with generally favorable reviews among owners. Overall, you can expect an average annual repair cost of $969, making it cheaper than other Mercedes-Benz models. However, it's still not exactly high in dependability, even with the lack of data that the experts at RepairPal have on the CL65.
But, while that data may not be exactly available, there are several common problems CLK55 AMG owners can face, with other possible repairs that can include: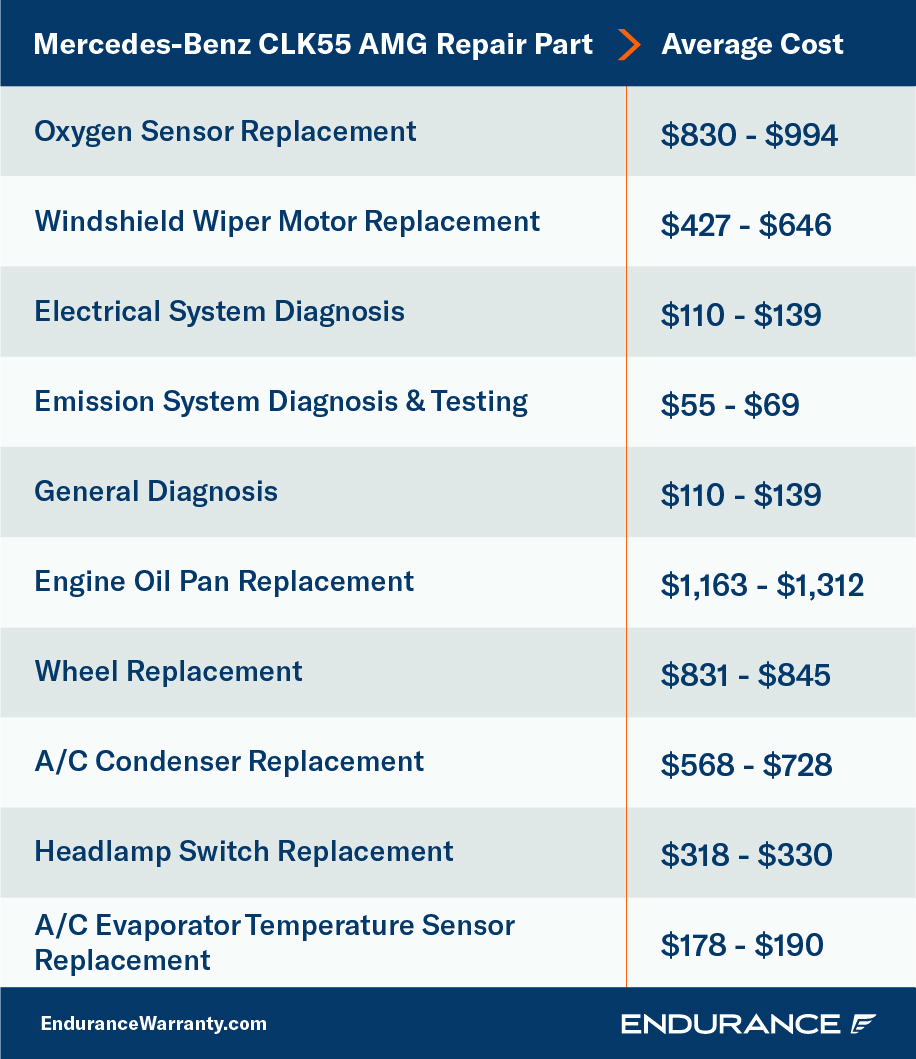 Mercedes-Benz G55 AMG
The Mercedes-Benz G55 AMG is like something out of a modern James Bond movie. It also comes with an average annual repair cost fit for a Hollywood budget, costing owners $1,073 to go along with 0.64 trips to a mechanic! Still, despite these high costs, there are only 11 common automotive repairs reported by RepairPal, which is an improvement on other models, but a few will set you back over $1,000 to fix.
Other possible repairs you can face when owning a G55 can include: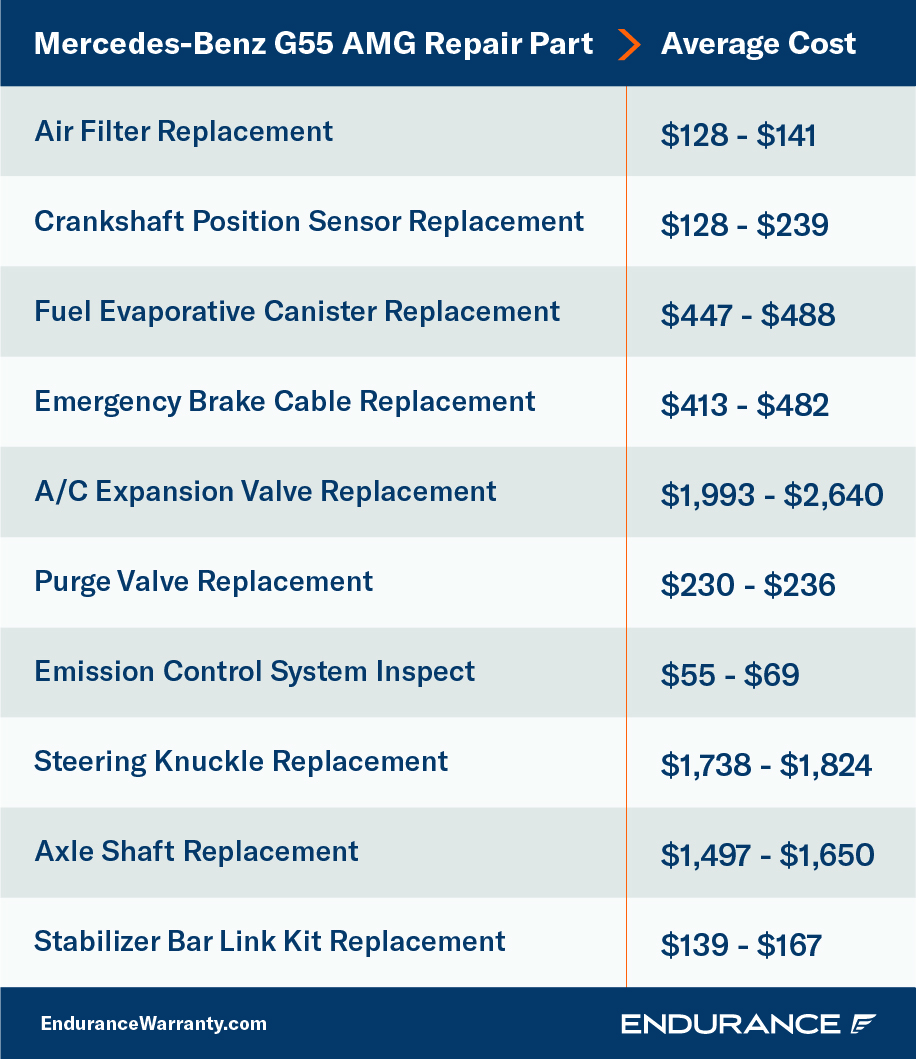 Mercedes-Benz E55 AMG
Back to the coupes, the Mercedes-Benz E55 AMG is another sleek and stylish yet out-of-production model you'll still be able to find at used-car dealerships. And while it looks great, the combination of age and its bulkier build compared to other vehicles in its class makes it unlikely to be a reliable investment. In fact, RepairPal reports a long list of common problems (37 to be exact), with an average annual repair cost of $1,073 across 0.78 trips to the mechanic each year.
Other possible repairs may include: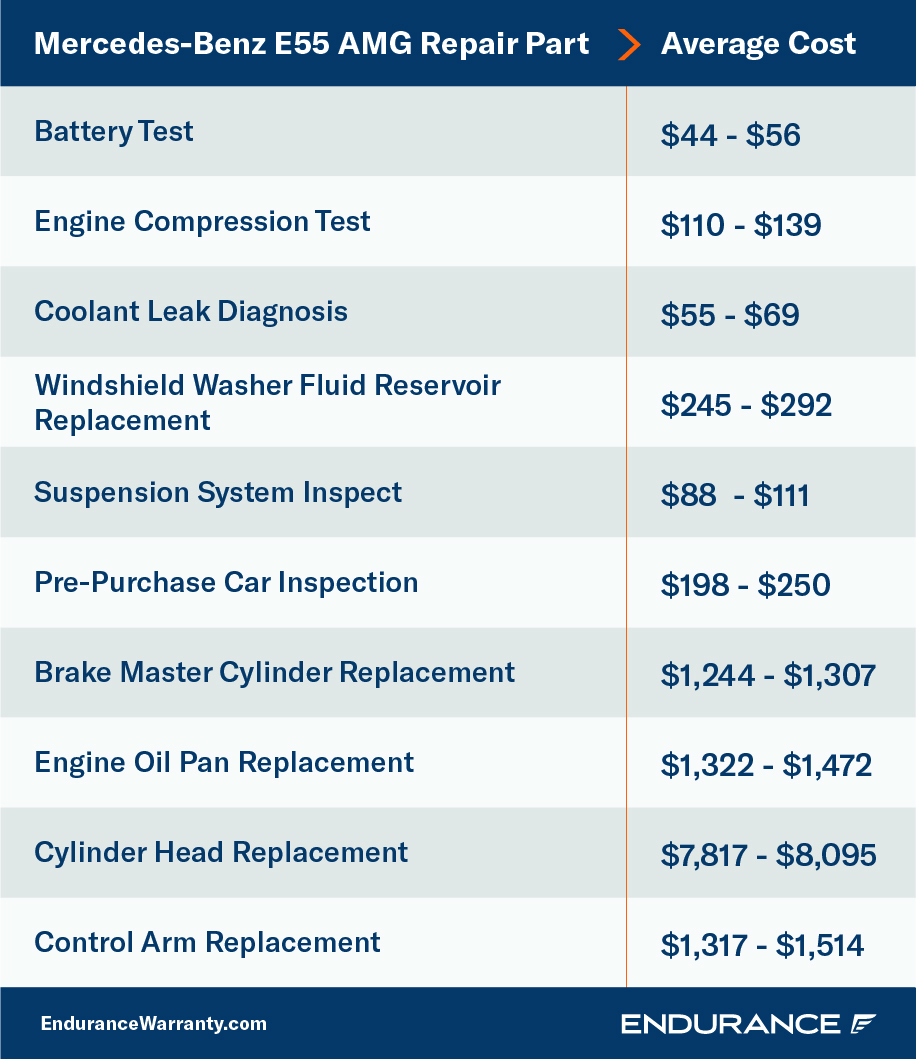 Can Mercedes-Benz Vehicles Get a Warranty?
Like most other car brands, brand-new Mercedes-Benz vehicles include a factory warranty. For the basic component protection (bumper-to-bumper coverage and powertrain warranty coverage), you'll find coverage that lasts for four years or 50,000 miles—about average compared to other major manufacturers. You'll also be able to enjoy two years of vehicle service parts and accessories coverage with no mileage limits. 
If you'd like to, there is an option to extend your warranty directly through Mercedes. With this coverage, you will get almost the same coverage as the factory warranty, but for up to 3 years/100,000 miles. However, be cautious, as coverage from Mercedes will require you to get repairs done only at a certified Mercedes-Benz dealership, so if you do not live near one, you may have a hard time getting repairs done. 
You must also purchase your extended coverage before the factory warranty expires. So if you wait too long, or if you've purchased one of the more popular used Mercedes-Benz models that are no longer manufactured, you'd be unable to get coverage directly from Mercedes. Luckily, some third-party providers, like us at Endurance, can offer similar coverage to a Mercedes-Benz extended warranty without the hassles. However, it's important to note that while similar, plans from providers like Endurance and more are not actually "extended warranties" but vehicle service contracts (VSCs), as only your automaker can really "extend" your coverage.
Still, when you have the Supreme for Highline vehicles protection plan from Endurance, you can get coverage for your eligible Mercedes' (which includes all AMG models except the 63, 53, GT Coupe, and Roadster) most vital components without having to go to the dealership for repairs. Instead, as an Endurance customer, you'd be able to take your vehicle to any ASE Certified mechanic or repair shop of your choice—no matter if you're five miles away from home or 500. You can even find coverage for other models of vehicles from other popular luxury automakers, including Porsche, Jaguar, BMW, Audi, Land Rover and more.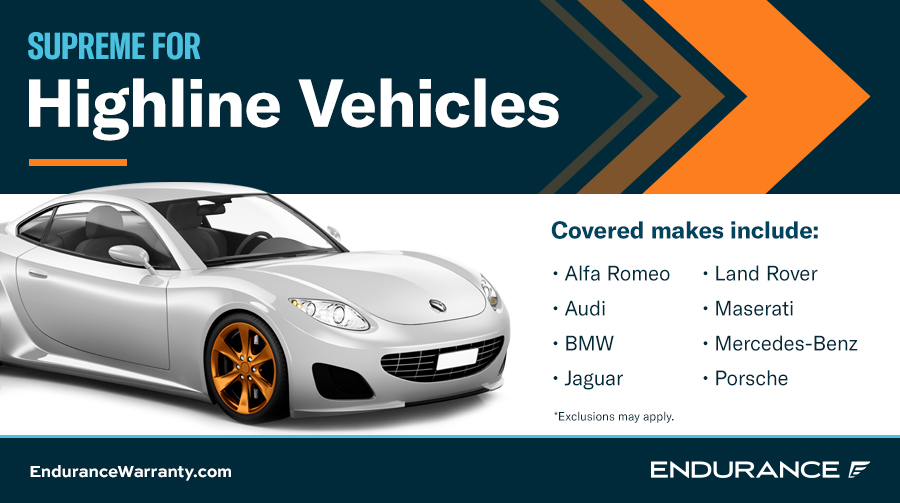 Coverage isn't the only reason to get the help of an Endurance auto protection plan, though, as you'll have several standard benefits to enjoy, including 24/7 roadside assistance, trip interruption coverage and even rental car reimbursements. You'll even be automatically eligible to enjoy an entire year's worth of Elite Benefits, including tire replacements or repairs, collision discounts and more.
Endurance Has Coverage You Can Count On
While luxury cars can be great to look at and fun to drive, the unfortunate truth is that they rarely stack up in terms of reliability. And when they break down, which is going to be more often than other makes/models of vehicles, repairs will cost you, especially if you own a used Mercedes-Benz vehicle outside its factory warranty coverage. But when you have the Highline protection plan from Endurance, you can rest easy regarding potentially costly repair bills for your eligible Mercedes-Benz vehicle. 
Like the coverage directly from Mercedes-Benz, Endurance will help cover you from costly and unexpected repair bills for your vehicle's most vital components, like the engine, transmission and more. But when you have Endurance, you'll even be able to take your Mercedes to any certified repair shop of your choice, unlike being stuck going to a Mercedes-Benz dealership if you had purchased your coverage directly from them. 
Plus, as an Endurance customer, you can enjoy several standard benefits, including getting help with 24/7 roadside assistance and towing, among others. You can even enjoy a full year of Endurance Elite Benefits, including complete tire coverage, key fob replacements and other perks and savings.
Get started protecting your Mercedes-Benz from unexpected breakdowns and repairs by requesting a free, no-obligation quote. Or, to learn more about how Endurance can help you and your vehicle, call the award-winning Endurance customer care team at (800) 253-8203. And don't forget to check out the Endurance blog, where you can find other helpful articles on all things automotive, including DIY maintenance tips and tricks, vehicle buying guides, warranty coverage comparisons and more.
More like this
Make/Model

If you're the owner of a Honda Accord, you certainly aren't alone. The brand has a great reputation for producing some of the most reliable cars on the road, with..

Read More

Make/Model

The last thing any Ram driver wants is to hear an odd noise while driving down the road, followed by a mechanical issue within their vehicle. Unfortunately, mechanical breakdowns are..

Read More

Make/Model

Finding yourself in the position where you are notified of a recall affecting your vehicle is never a fun situation, but it should require immediate action on your part. Depending..

Read More