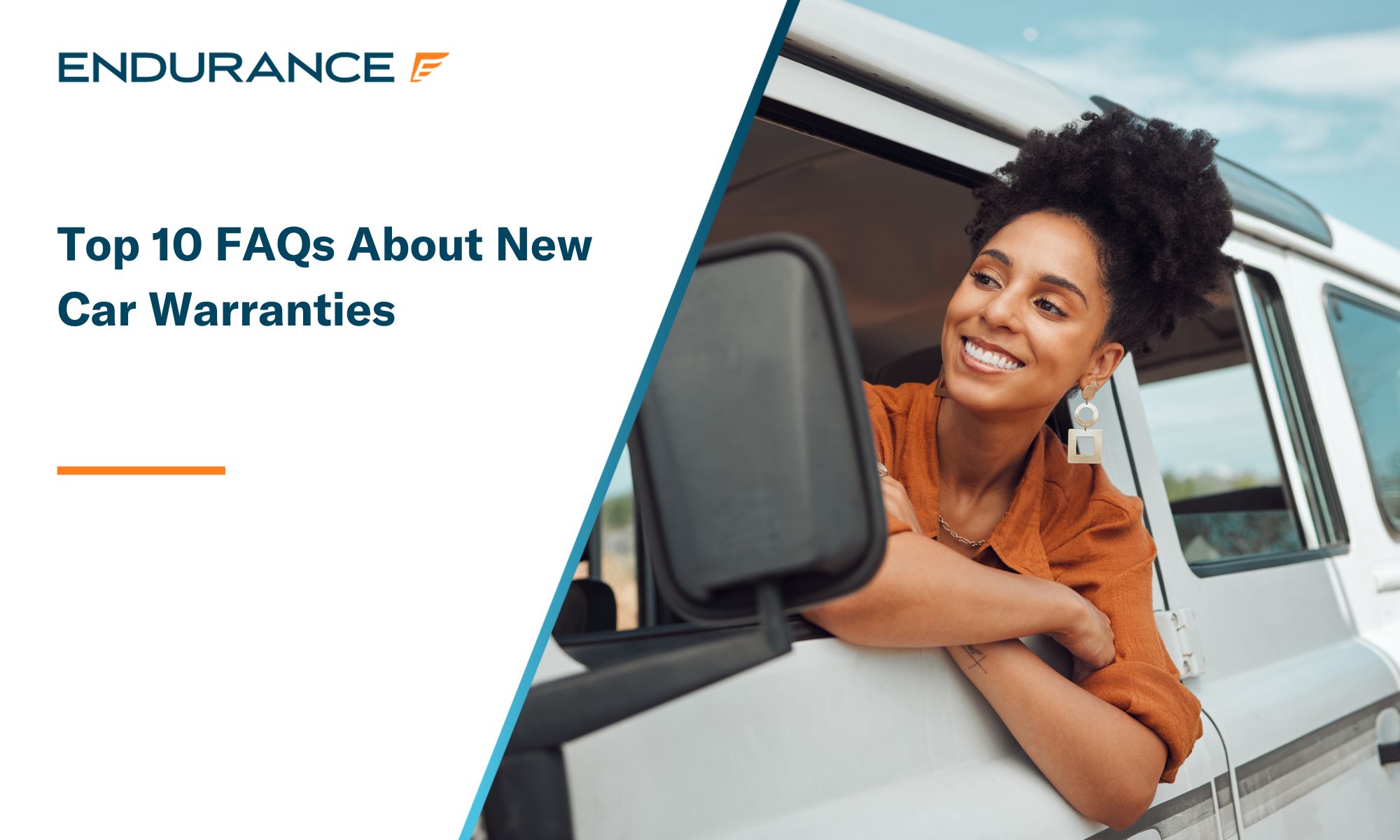 Buying a new car is exciting, but it's an experience that can be filled with many questions, especially about warranty coverage. The protections can be confusing, thanks to all the fine print, and few new car buyers bother to sort through all the legalese.
At the same time, it's natural for shoppers to question exactly what the manufacturer's warranty covers, how long the protection lasts, where it applies, and what voids the coverage.
These are some of the factors we'll cover to answer the top 10 most frequently asked questions about new car warranties. Here, we'll also explain the differences between a bumper-to-bumper and a powertrain warranty. In addition, you'll learn crucial details about warranty length, covered and uncovered repairs, and warranty transfers.
With this knowledge, you can shop confidently and drive away knowing all about the new car warranty protections.
#1: What Is a New Car Warranty?
A new car warranty is a guarantee the manufacturer provides to cover certain repairs and parts replacements for a specified period or mileage. The warranty protects against defects in materials and workmanship and is not a blanket commitment, meaning it doesn't protect against every failure or fault. Some of the legal jargon you may come across includes the term "limited," which refers to coverage only as what's defined in the warranty document.
Further, a new car warranty is included in the new vehicle's purchase price. This differs from an extended warranty or vehicle service contract requiring additional payment. Many new car warranties are divided into two main areas: bumper-to-bumper and powertrain.
The bumper-to-bumper warranty covers most major components except those listed as exclusions, while the powertrain warranty safeguards the engine, transmission, and drivetrain. There may be separate coverage for electric propulsion systems (for hybrids and electric vehicles), the emissions system, and body corrosion.
#2: How Long Does a Typical New Car Warranty Last?
The coverage period of a new car warranty varies greatly, depending on the manufacturer. Often, but not always, luxury cars have longer protection. Let's compare what some automakers offer.
| | | |
| --- | --- | --- |
| Automaker | Bumper-to-Bumper Warranty | Powertrain Warranty |
| Chevrolet (General Motors) | 3 Years or 36,000 Miles | 5 Years or 60,000 Miles |
| Ford | 3 Years or 36,000 Miles | 5 Years or 60,000 Miles |
| Honda | 3 Years or 36,000 Miles | 5 Years or 60,000 Miles |
| Toyota | 3 Years or 36,000 Miles | 5 Years or 60,000 Miles |
These popular brands offer identical coverage. However, the warranty improves with most premium brands. Here are more illustrations.
| | | |
| --- | --- | --- |
| Automaker | Bumper-to-Bumper Warranty | Powertrain Warranty |
| Cadillac (General Motors) | 4 Years or 50,000 Miles | 6 Years or 70,000 Miles |
| Lincoln (Ford) | 4 Years or 50,000 Miles | 6 Years or 70,000 Miles |
| Acura (Honda) | 4 Years or 50,000 Miles | 6 Years or 70,000 Miles |
| Lexus (Toyota) | 4 Years or 50,000 Miles | 6 Years or 70,000 Miles |
So, the more you pay for a new car (even from the same parent company), the better the warranty, usually. However, some automakers seeking to be more competitive will offer better warranty protection. Hyundai and its Kia division and Genesis luxury brand are the best-known examples.
| | | |
| --- | --- | --- |
| Automaker | Bumper-to-Bumper Warranty | Powertrain Warranty |
| Hyundai | 5 Years or 60,000 Miles | 10 Years or 100,000 Miles |
| Kia | 5 Years or 60,000 Miles | 10 Years or 100,000 Miles |
| Genesis | 5 Years or 60,000 Miles | 10 Years or 100,000 Miles |
Another reason Hyundai (and Kia and Genesis) provide generous warranties is to address concerns about quality. The company didn't have the best reputation for quality when the company came to the U.S. in the 1980s. However, the powertrain warranty only applies to the original owner. Protection for subsequent car owners stops at five years or 60,000 miles (from the original delivery date). Warranty transfers are covered later.
#3: Are All Parts of the Vehicle Covered Under the Warranty
In simple terms, no. As mentioned, a new car warranty is "limited." So, not every part is covered. While bumper-to-bumper warranties provide fairly comprehensive coverage, there are exclusions.
For instance, a bumper-to-bumper warranty usually doesn't cover:
Wear and tear items like brake pads, tires, and windshield wiper blades. These components wear out over time and are expected to be replaced by the owner.
Fluids and filters that require replacement as part of regular maintenance (However, replacements associated with warranty repairs are covered).
Wheel balancing and alignment
Upholstery with damage due to stains, rips, or tears
Parts damaged due to warranty-voiding issues (which are covered below)
This list is not exhaustive and can vary by manufacturer. Always review the warranty terms before signing the new car paperwork.
#4: Does the Warranty Cover Both Parts and Labor?
Yes, a new car warranty covers parts and labor for a qualified repair. If a defect arises during the warranty period, the automaker pays for the needed components and the labor costs associated with the work. This means you won't have to pay anything out-of-pocket for repairs covered under the new vehicle warranty (within the time and mileage limits).
Fortunately, this includes all labor (for a covered repair), no matter how minor or extensive. The only exceptions would be for items expressly excluded by the limited warranty (another reason to review the warranty terms before buying) and the normal wear-and-tear components we've already discussed. If the repair is warranty-related, there's no labor bill to worry about.
#5: Can a Warranty be Voided?
Yes, a new car warranty can be voided. Here are some of the main ways this can happen:
Failing to perform required maintenance and service at the recommended intervals (such as oil and filter changes)
Using non-approved parts or fluids. For instance, using an engine oil that doesn't meet the automaker's standards can void the warranty for an engine-related repair.
Tampering with emissions equipment, like removing catalytic converters, voids the warranty (this violates federal law).
Damage due to an accident, abuse, or negligence is another reason the manufacturer can cancel the warranty.
Environmental factors (such as the paint fading due to exposure to extreme conditions)
Exceeding tow or load limits is a type of abuse or negligence.
Installing performance enhancers, making significant modifications, or altering vehicle capabilities. For instance, adding nitrous oxide tanks or lifting the vehicle falls into this category.
A change in the vehicle's title status to salvage (when a car is declared a total loss by an insurance company after an accident) will cause the warranty to be voided.
This is a partial list of reasons an automaker may cancel a warranty. In addition, coverage could be denied for a specific repair but still be otherwise applicable. It's essential to read the warranty guide to understand your rights and remedies fully.
#6: Is the Warranty Transferable if I Sell My Car?
Yes, in most cases, the new car warranty can be transferred to a subsequent owner following a sale or trade-in. However, there can be exceptions, like the earlier mention of the Hyundai (and Kia and Genesis) powertrain coverage not being transferable.
There are other warranty transfer considerations:
All the original warranty terms apply, including time and mileage restrictions.
The warranty remains valid from its original service date (the date the first owner took delivery).
There may be a small transfer fee to cover the paperwork and other transfer requirements.
#7 Do I Have to Service My Car at the Dealership to Keep the Warranty Active?
As much as dealers would like you to believe that non-warranty repairs and maintenance should be performed in their service departments, you're under no obligation to do so. This means you can get oil and filter changes, tire rotations, and alignments done at any licensed repair shop.
Technically, you can even do the work yourself if you have the skills. Federal law, the Magnuson-Moss Warranty Act, ensures you're not tied to the dealer for repairs. Importantly, always keep detailed records of any work done by dealers and independent shops, such as work orders and receipts (including store receipts for oil purchases and other DIY materials). Remember that maintenance work should always be done according to the manufacturer's recommended schedule, and all materials meet automaker standards.
Any repairs done under a new car warranty must be performed at an authorized dealer.
#8: What Happens When My Factory Warranty Expires?
The vehicle owner is responsible for all repairs when a factory warranty expires. This is when the peace of mind of an extended auto warranty, like the auto protection plans from Endurance, comes in handy. These extended warranties (also called vehicle service contracts or auto protection plans) protect against mechanical breakdowns and surprise repair bills.
There are numerous options for extended warranty coverage, ranging from basic powertrain protections to an exclusionary plan similar to a manufacturer's bumper-to-bumper safeguards. Endurance even offers the Advantage plan, which includes up to $3,500 in scheduled maintenance services like oil changes, something that most new car warranties don't provide. All Endurance coverage plans provide 24/7 roadside assistance (with towing and lockout assistance), rental car reimbursement, trip interruption protection, and convenient payment options.
#9: What's the Difference Between a New Car Warranty and an Extended Warranty?
While a new car warranty and extended coverage serve the same purpose — to cover the cost of certain repairs — they differ in several ways. A new car warranty is backed by the vehicle manufacturer and is included in the purchase price. On the other hand, an extended auto warranty is bought separately and can come from different sources, including the original manufacturer or a third-party company like Endurance. Extended warranties are also available on most used cars.
Furthermore, a new car warranty ends early in the vehicle's life, often after three years of 36,000 miles for bumper-to-bumper coverage (or five years or 50,000 miles for powertrain protection). In contrast, it's not unusual to find extended car warranty providers for vehicles up to 20 years old or with as much as 150,000 miles. For instance, Endurance has specific warranty plans for high-mileage cars.
#10: Are There Deductibles for Repairs Under Warranty?
In general, new car warranties do not have a deductible. So, owners don't have any out-of-pocket costs for a covered repair. However, reading the fine print to understand your financial responsibility with warranty claims is always a good idea.
Many extended warranties come with a deductible, depending on the selected warranty company and plan. For instance, Endurance offers options with a zero deductible for those who do not want to worry about out-of-pocket expenses for covered repairs. At the same time, other provider deductibles (which can run from $50 to $500) can be offset with lower upfront or monthly premiums. Endurance offers both low deductibles and monthly payments starting at just $99 per month.
Discover the Benefits of an Endurance Extended Warranty
Because of the manufacturer's warranty, peace of mind is arguably the greatest benefit of buying a new car. However, this protection doesn't last forever. An Endurance auto protection plan offers many of the same assurances that car makers provide, but you don't have to buy a new car to get it.
Whether you're driving a vehicle with a recently expired warranty or an older car, there's an Endurance option for just about every automobile. We also offer greater flexibility by letting plan holders choose from any ASE Certified mechanic or repair shop (including dealers) and a 30-day money-back guarantee.
Contact Endurance today to find out about all your coverage options. Request a FREE online quote or visit our online store for instant coverage and cost information. Endurance plan advisors are also available for personalized help – just call (800) 253-8203!
Read the Endurance blog for valuable information about car repairs, maintenance advice, DIY guidance, vehicle reviews, extended warranty provider comparisons of CARCHEX and CarShield, and other insightful topics.
More like this
Expert Auto Tips

With most states around the country getting colder, it's worth reminding yourself how to prepare your vehicle for the different seasons. Weather conditions play a major role in how a..

Read More

Expert Auto Tips

Being a car owner can be an incredibly rewarding experience, especially if you take pride in your vehicle's condition and performance. Cars that are well taken care of will generally..

Read More

Expert Auto Tips

No matter what kind of vehicle you own, staying on top of its care and maintenance should always be a top priority. Cars that are well taken care of and..

Read More