Navigating Exclusions: Understanding What Isn't Covered by Your Car Extended Warranty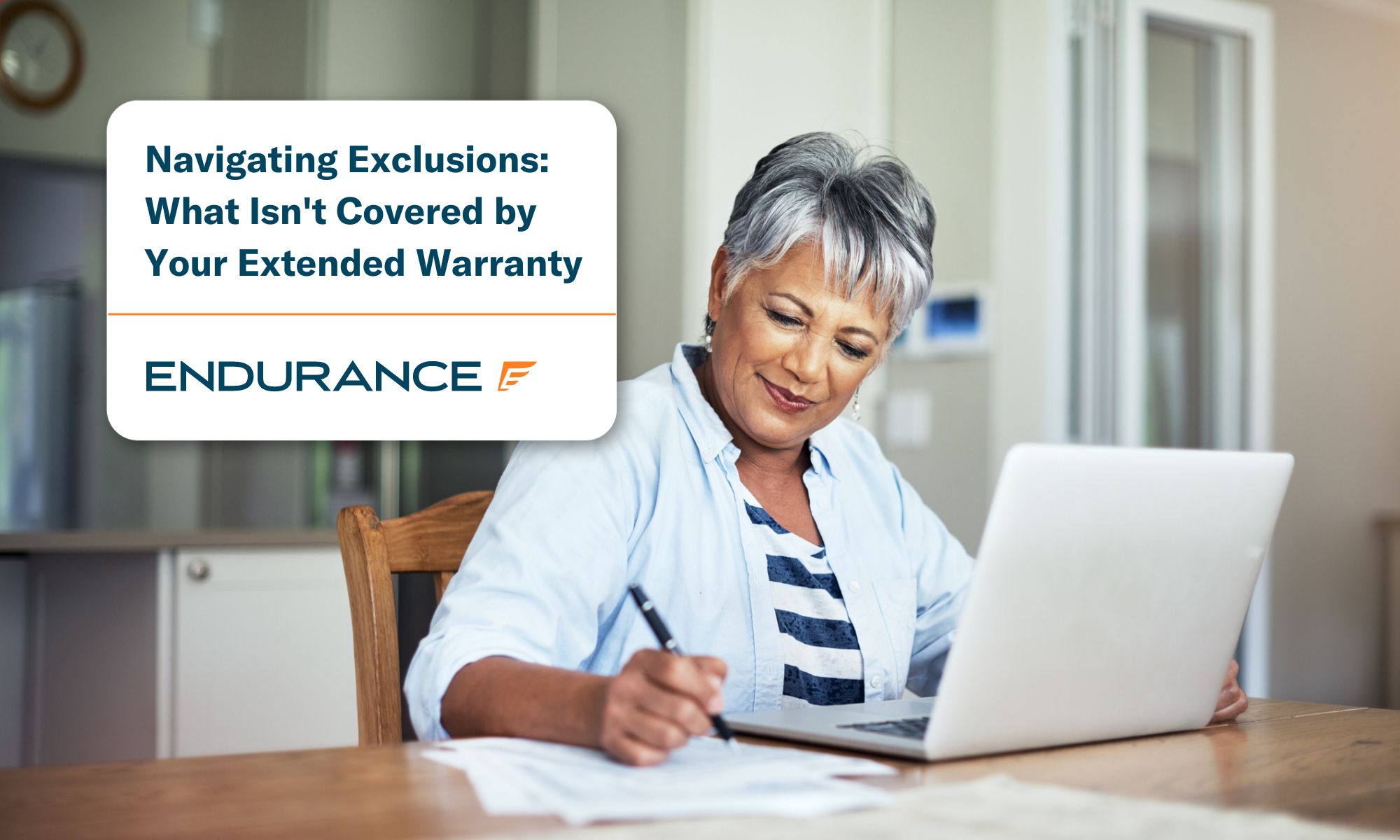 Owning a vehicle is one of the most liberating things you can do, but like all good things in life, it comes at a cost—and it's only getting more expensive as the years go by. To keep more cash in their pockets, most drivers invest in an extended car warranty or vehicle service contract, which covers the cost of repair bills whenever the worst happens.
Like any contract, however, it's crucial that you understand exactly what you're covered for before you hand over your hard-earned money. If you don't, you could be in for a nasty surprise when you try to claim for work undertaken. Let's take a look at auto warranties in more detail, including how to navigate any exclusions and fully get to grips with what is and isn't covered.
The Basics of Extended Car Warranties
First, it's worth us reviewing exactly what an extended car warranty is. If you're new to the term, a traditional extended warranty can be purchased via a car dealership or car manufacturer and effectively continues a vehicle's factory warranty (also referred to as a manufacturer warranty) once it's expired.
The downside to this kind of coverage is that you're tied to dealerships when you need repairs (not ideal if the closest one is 100 miles away), and you must purchase the coverage while the factory warranty is still active. Because of this, used car owners aren't eligible.
The generally preferred alternative is a vehicle service contract from a third-party provider, which can offer close-to-dealership coverage at an even better price point. Vehicle service contract providers are also incentivized to throw in additional perks to sweeten the deal, giving you much better value for money. Repairs can be carried out at any certified mechanic or auto shop, and coverage can be purchased at almost any point in a vehicle's lifetime (good news for used car owners).
Put simply, an extended warranty is great for two things: saving you money and giving you peace of mind. With the average annual cost of car ownership recently passing the $10k mark, coverage could save you thousands of dollars annually. And even if you don't break down in the near future, just knowing that you won't be stranded at the roadside when the worst inevitably happens is worth every penny.
What's Covered by an Extended Car Warranty?
What's considered a covered repair by an extended warranty will completely depend on the coverage plan that you purchase, but there are a few core package types that almost every provider will offer in some form or other:
Powertrain Warranty
The most basic type of protection offered by most warranty companies is the powertrain warranty, which covers only those important parts that keep your vehicle moving. This includes components like your engine, transmission, driveshafts, transfer case, and differentials.
Inclusionary Warranty
A step up from a powertrain warranty, an inclusionary warranty (aka stated component warranty) usually covers a wider range of components, but only those that are explicitly stated within the contract.
Exclusionary Warranty
The most comprehensive type of extended warranty is known as an exclusionary warranty. This is because it covers everything under the hood except a few components listed within the contract as exclusions. An exclusionary warranty is as close as you're likely to get to the 'bumper to bumper warranty' your manufacturer offers.
Whichever of the three you choose, read your contract, then read it again. Pay particular attention to any fine print, and only sign up if you're happy with what you'll get in return.
Common Extended Car Warranty Exclusions
There are certain things that are commonly excluded from extended vehicle warranties, such as:
Normal wear and tear: This means things like scratches, dents, and other cosmetic damage that occurs over time with use. For example, your provider most likely won't be willing to repaint a vehicle that's been faded by the sun.
Unauthorized work: If you (or anyone else) who isn't authorized to carry out work on your vehicle goes ahead anyway, repairs that may be necessary as a result will not be covered by your plan. It's always important to seek professional help rather than fix things alone.
Improper usage: Use your vehicle in a way that wasn't intended, and your coverage will be voided. For example, if you drive a regular commuter car off-road and damage the suspension, you won't be able to claim the repairs.
Natural disasters: Damage caused by floods, earthquakes, or other natural disasters generally isn't covered by extended car warranties. This also goes for Acts of God, like hail damage or lightning strikes.
Long-term environmental damage: Rust or corrosion happen naturally over time, particularly if you don't clean your vehicle and its undercarriage regularly. This kind of damage is rarely covered by extended warranties.
Improper maintenance: Providers will require you to maintain your vehicle regularly, in line with the manufacturer's guidelines in your user manual. Fail to do this, and they'll be within their rights to withdraw coverage.
Modifications: If you modify your vehicle with aftermarket parts, performance upgrades, or cosmetic upgrades, it's very unlikely that your extended warranty will cover them.
Pre-existing issues: For vehicles with pre-existing conditions, these must be declared and won't be covered by your provider.
Wear and Tear vs. Mechanical Failure: What's the Difference?
Vehicle wear and tear is damage or deterioration caused by normal use or exposure. Components that are more susceptible to wear and tear and therefore expected to be replaced regularly will not be covered by warranty. This includes things like spark plugs, tires, and batteries (which often have a separate manufacturer warranty).
Mechanical failure is when a key vehicle component unexpectedly stops working—usually resulting in a breakdown. While this is ultimately down to wear during use, these types of components are not considered disposable and should last years, if not longer. Unlike wear and tear, mechanical failure is covered by extended car warranties, but whether a specific component is covered depends on your provider and plan.
Regular Maintenance and Services
It's highly unusual for your extended car warranty to cover things like regular maintenance and service work. There's no option to save money by cutting corners either—fail to have them carried out in line with your manufacturer's recommendations, and your coverage will be voided entirely.
We want to save you money in every way that we can, that's why Endurance is the only vehicle service contract provider with a plan that covers regular maintenance as well as repairs. Our Advantage protection program includes up to $3,500 in routine maintenance like oil changes, plus additional one-time services like brake pad/shoe replacement, battery replacement, and cooling system maintenance.
Aftermarket Modifications and Improper Use
While you're within your rights to carry out modifications or upgrades to your vehicle, they aren't recommended for a couple of reasons. Firstly, your warranty provider will not be willing to cover those altered parts, which means you'll have to foot the bill if they should fail for whatever reason. Secondly, if another component fails as a result of an alteration/modification, that repair won't be covered either.
Improper use will also void your coverage. This includes things like driving a vehicle off-road, towing, hauling, or overloading the maximum weight capacity. Unless you're absolutely certain that your vehicle is covered for a particular activity, make sure to avoid it if you want to keep your warranty intact.
Pre-Existing Conditions and Salvage Vehicles
If your vehicle has a pre-existing issue, this must be declared to your provider when purchasing a warranty and will not be covered by your plan. A warranty provider is only obliged to pay for car repairs required due to issues that occur after the protection has been put in place, and pre-existing issues, of course, don't fall into that category.
A salvage vehicle is a car that was once considered a "total loss" by an insurance company but has since been repaired/rebuilt so that it's driveable again. You can get a warranty for salvage vehicles, though you may struggle to find a provider that covers them. Thankfully, Endurance has plans specifically for this kind of car. So you're in the right place if you're looking for one.
Reviewing and Understanding Your Warranty Contract
Before you hand over any money, ask the warranty provider for a copy of the contract you'll be signing up for. Once you have it, take your time and look through it thoroughly. Find out what's included, what's excluded, and what you might be able to add on if necessary. Take a look at any additional benefits too, and whether they look out for certain components that may be missing from the core warranty coverage.
Don't feel pressured to rush into anything if you're still uncertain when you're done. Contact the provider and ask as many questions as you need to. They should be fully transparent and answer you honestly. And if you aren't satisfied that the coverage is for you, it might be time to look elsewhere.
Comprehensive Coverage That Won't Let You Down
Whatever you need from your vehicle protection program, if you can't rely on your provider, it isn't worth the paper it's printed on. At Endurance, we know just how much quality service means to our customers, so we make it our top priority. It's one of the many reasons we've been rated by experts as America's most trusted auto protection provider. And with a high star rating on Trustpilot from thousands of reviewers, you don't just need to take our word for it.
We also have some of the best eligibility in the country. Whether you're a casual commuter, rideshare driver, or luxury car owner, our wide range of plans has something for almost everyone. And if our base plans don't quite suit your individual needs and budget, we'll be more than happy to tailor a bespoke program, especially for you.
If that wasn't enough, we add on some seriously great perks too. We offer 24/7 roadside assistance, towing, replacement travel reimbursement, and trip-interruption costs included with every Endurance plan. On top of that, all new Endurance customers get a year's free access to our Elite Benefits package, opening up tire repair/replacement, key fob replacement, total loss protection, and more. Pay a small, $29 activation fee, and we'll set you up.
So if you want transparent auto protection from a provider you can rely on, call our team at (800) 253-8203 or request a FREE quote. You can also shop our eStore and preview your auto protection plan pricing.
If you'd like to keep reading for now, we have plenty more useful articles like this one on our extended car warranty blog. Find topics including provider and deductible comparisons, new car reviews, repair shop tips, auto expert how-to's, and more!
More like this
Extended Warranty

When driving on roadways around the world, the thing most car owners fear is being involved in an accident. However, mechanical breakdowns are the thing that every average driver should..

Read More

Extended Warranty

Every car owner knows how important it is to keep their vehicle in the best possible condition at all times. This means making sure that you are getting the proper..

Read More

Extended Warranty

Driving down the road only to experience an issue with your vehicle's steering capabilities is a terrifying experience, regardless of if you are driving a new vehicle or an old..

Read More