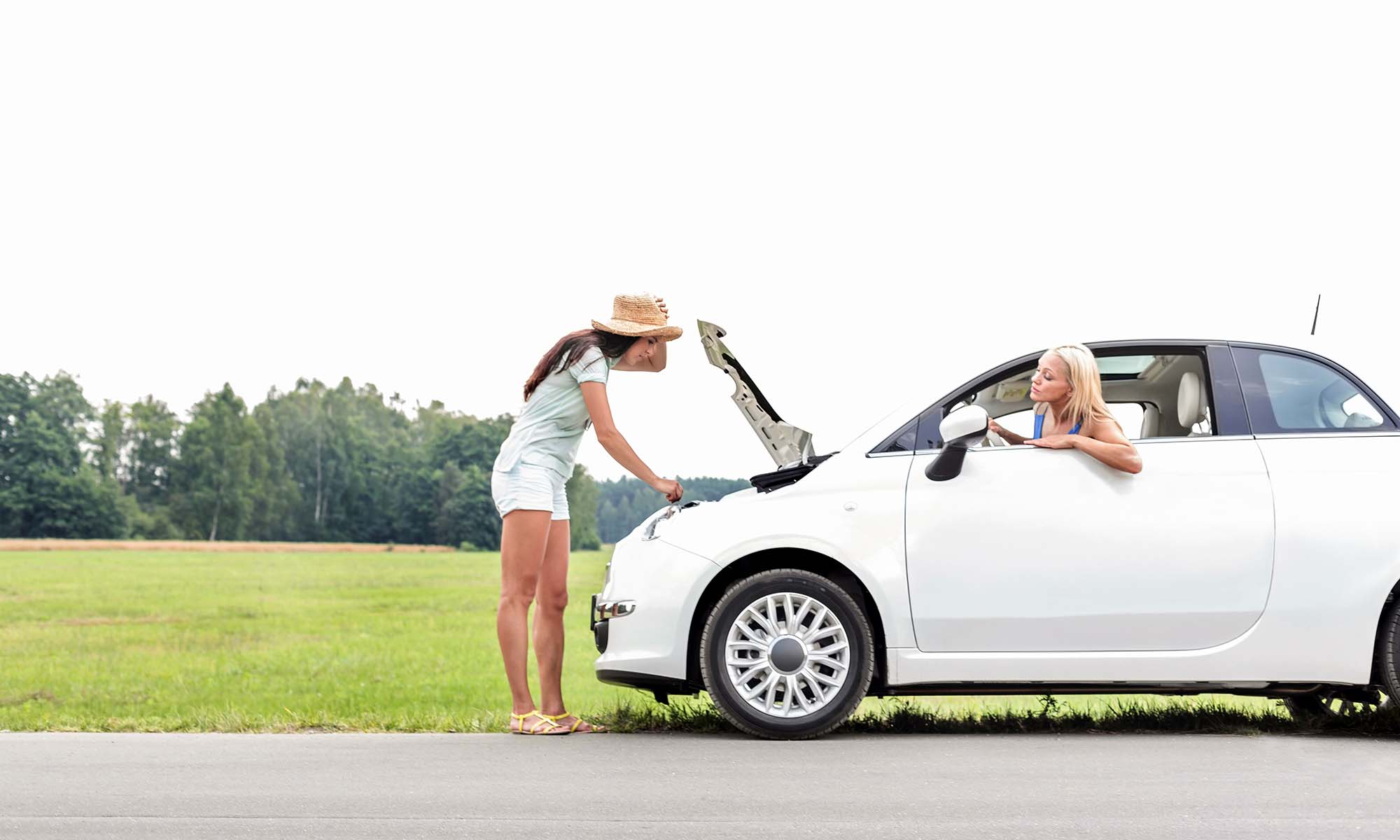 Road trips are a summertime staple, and planning your trip ahead of time can help things go more smoothly. This can mean anything from picking a destination and planning your route to researching all the best places to eat while you're there. It also means making sure you have all the essentials like charging cords, enough clothes and snacks, and an emergency kit. 
But, no matter how prepared you are, an unexpected car breakdown can always happen. And if you run into car problems or break down while you're on the road away from home, knowing how to handle repairs and where to go for them can save your trip from delays and derailment. 
Car Maintenance Tips Get Your Car Road Trip Ready
Staying up-to-date with your vehicle's maintenance schedule is a great way to keep your car running in tip-top shape, whether you're running errands in town or planning a cross-country road trip. Even if you're on your way back from a road trip, it's still a good idea to take care of your car by giving it a quick check-up to address any issues that may have popped up after you already hit the road.
While nothing can prevent every possible problem, regular car maintenance, even if it's just a quick and simple tune-up, can reduce the likelihood of common problems while out on the road. And while you should always follow your specific car's recommended maintenance schedule (that you can often find in your owner's manual), some general maintenance items to get done before every road trip can include:
Checking your

car battery

Checking

your

tire pressure

& tire tread

Checking your

wheel alignment

Checking and/or replacing the

engine oil

&

oil filter

Checking your

brake pads

Checking

coolant

levels

Checking

spark plugs

Checking the

engine air filter

& the cabin

air filter

Adjusting steering and suspension

Maintaining the exhaust system

Testing your tail, brake, head, & turn signal lights

Replacing

windshield wiper blades

Checking belts &

hoses

Washing your car

Running an engine diagnostic check
Taking Care of Car Repairs While on the Road
Regular maintenance or even a simple tune-up can help your vehicle be ready for anything while on the road, but it won't protect you from every breakdown or repair. That's why knowing what to do if you need to handle any repairs while on the road can help you save yourself time and money.
1. Identify the Problem
When most people think about car troubles, they most likely think of their check engine light turning on. However, that isn't the only sign of a problem under the hood. Changes in how a vehicle handles or how it feels driving down the road, new noises or sounds, and even new smells can all be a sign of a problem. For example, if your air conditioner seems to take longer to cool down your vehicle or your gas mileage starts to decline, that can signal there's an issue somewhere. Or, if you see any steam or you smell or see smoke, that's a sign of a major problem that needs immediate attention. Additionally, if the vehicle suddenly stops running or turns off, it likely needs service or repairs, even if it starts again.
So when dealing with car troubles, you first need to assess if the vehicle is safe to drive. For starters, if you notice any changes in how the vehicle sounds or handles, find a safe place and pull over. If you suspect your tires are the culprit, your next step should be to evaluate them to ensure they're still properly inflated and aligned. If you notice they are under or over-inflated, see if you can find a nearby gas station to use a free air pump. If you're dealing with a flat, look to replace it with a spare tire or call any available roadside assistance you may have, such as the 24/7 roadside assistance that comes with every Endurance auto protection plan. 
If your issues are with a component under the hood, see if you can get a closer look. Check if there are any obvious belts or hoses out of place. Next, check the oil and other essential fluid levels, like transmission fluid, power steering fluid, and brake fluid, to ensure you haven't sprung a leak and lost a significant amount. However, never open your vehicle's hood if your car is overheating or if you see any steam. Instead, do your best to steer onto the shoulder, turn on your hazards and turn off the vehicle. Then, wait at least 20 to 30 minutes for the engine to cool before checking under the hood. If you see smoke, leave the vehicle immediately and call the proper authorities immediately. 
In many states, there is also a non-emergency number where you can call for the state police or highway patrol to come and wait with you to help prevent an accident while you're stalled on the side of the road. 
2. Get to a Repair Shop
After you recognize a problem, everything looks OK, and there is no steam or smoke, see if you can drive to the nearest repair shop to complete a full inspection. And while being in an unfamiliar place can create uncertainty about the best places to go for repair or who to call for a tow truck, having an Endurance plan can help, as you can take your car to any ASE Certified mechanic or facility for auto repairs. This also means you can take your vehicle to a dealership if that's the most convenient option. Or, if you need help finding a local mechanic or shop, you can check out RepairPal to get a list of high-quality, reliable, certified shops nearby. 
If you cannot drive the vehicle and are stranded on the side of the road, you can simply use the Endurance Mobile app to request roadside assistance and towing. You will need your policy number and VIN, but once you're logged in, you can quickly and easily get help with a few finger taps.
3. File a Claim
Once you've arrived at the repair shop on your own or with the help of your roadside assistance, it's time to have your vehicle looked at. However, you'll need to file a claim with Endurance first. And while this may be a draining, time-consuming process with other extended warranty or vehicle service contract providers or filing an insurance claim, we here at Endurance have made the process as easy and stress-free as possible. In fact, just by being at a repair shop, you've already done the first few steps: preventing further damage and finding a licensed or certified repair facility shop. 
Next, you need to find the service manager and have them contact Endurance for authorization. This step is key as the only time work done without authorization outside Endurance's office hours will be reimbursed is if emergency repairs are needed. And depending on the situation, the repair shop may also require authorization to take things apart to get to the root of the problem. 
After this, talk with the service manager about what's covered through your Endurance plan. This will vary depending on your vehicle and chosen plan, but any information you need will be readily available in the Endurance Mobile app. You may also need to pay a deductible before your coverage kicks in. After that, Endurance will reimburse you or the repair shop for the repairs as long as the repair orders and other documentation are submitted within 30 days (or the timeframe specified in your service contract). After that, all you have to do is sit back and wait for your vehicle to be repaired.
4. Wait For Repairs to Finish
With Endurance, it's relatively easy to get repairs taken care of so you can get back on the road. In fact, if it's a simple fix, you can get back to your road trip as soon as the repairs are done. However, if your vehicle needs more intensive repairs or the shop needs to order parts, your trip doesn't have to be cut short if things don't go to plan. 
With Endurance, along with receiving 24/7 roadside assistance, you'll also get trip interruption and rental car coverage to keep you going while the repair shop works on your car. And with a small activation fee, you can enjoy even more perks and savings with a full year of Elite Benefits, including tire replacements or repairs for flat or blown tires, collision discounts, total loss coverage, and even key fob replacements.
Avoid Costly Car Repairs Anywhere with Endurance
While you always hope to have a fun, stress-free road trip, no amount of preparation can prevent unexpected car troubles. But, when you have an Endurance auto protection plan, dealing with car troubles no matter where you are won't get in the way of your adventure. 
As an Endurance customer, you don't have to worry about costly repair bills. Instead, whenever you deal with a breakdown or repair while on the road, you can simply request your complimentary 24/7 roadside assistance and towing right from the Endurance Mobile app. Then you'll be taken to the nearest ASE Certified mechanic or repair shop for repairs. We'll even work directly with the shop or mechanic to help ensure your vehicle is taken care of. Plus, even if repairs take longer than expected, don't worry; you'll have trip interruption and rental car coverage included just by being an Endurance customer. And if you've activated your year's worth of Elite Benefits, you can enjoy even more perks and savings like tire coverage or key fob replacements to get you back on the road fast.
To learn more about how Endurance can help you, request a free, no-obligation quote or give a member of the award-winning Endurance customer care team a call at (800) 253-8203. You can also find more articles on road trip tips or other topics like extended warranty coverage comparisons, vehicle buying guides, maintenance how-tos and more by visiting the Endurance blog. 
More like this
How To

In the event of a breakdown, having an extended warranty or vehicle service contract watching your back can be a total lifesaver. With some major repairs costing thousands of dollars,..

Read More

How To

Keeping a Hyundai Accent running for the foreseeable future is about more than simply being a safe driver on the road. While keeping your eyes peeled and attention on the..

Read More

How To

While reliability is always a factor when choosing a vehicle, many more considerations are involved when kids are in the picture. Safety, space, and comfort must also be part of..

Read More