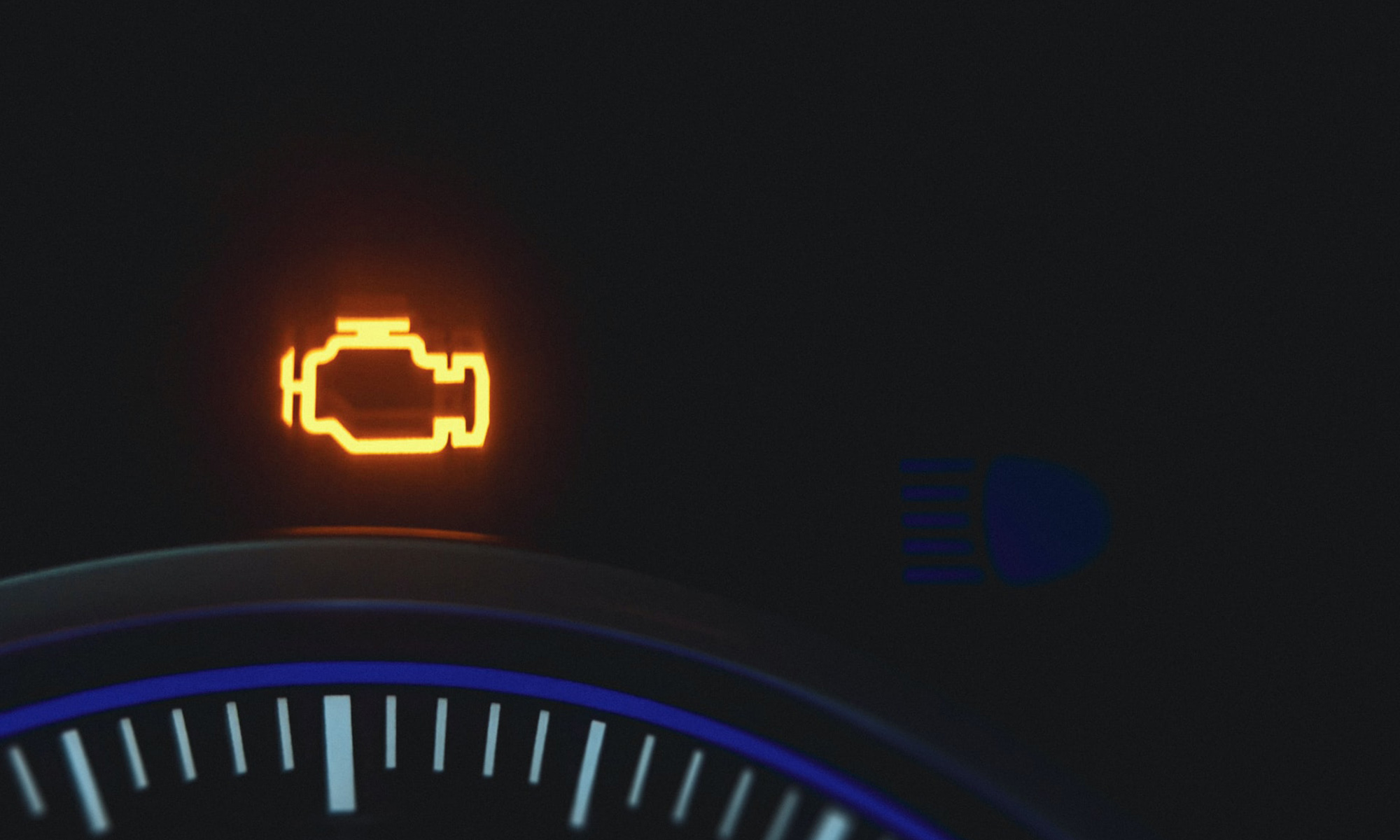 Whether it's heading to the beach, a friend's, the store or on a cross country road trip, chances are you've got plans for you and your vehicle this summer. But, while having a vehicle can help make your summer that much more enjoyable, seeing your car's check engine light turn on can put a real damper on any summertime festivities. 
To help ensure you can enjoy your vehicle this summer or for years to come, it's important to make sure its engine is running as it should. So when a check engine light does come up, it's best to get it checked out by an ASE Certified mechanic or a certified repair shop as soon as possible. Learning more about why your car's check engine light comes on can also help prepare you for any potential issues that can come up this summer or any other time of year.
What Is A Check Engine Light?
The check engine light is a dashboard light that illuminates to notify you when there is a problem affecting or that could affect your vehicle's engine. However, don't be alarmed if you see your check engine light on when your start up your vehicle, as this is just a test to show you that it works. But, while you should be used to seeing the check engine light on when first getting into your vehicle, seeing it when driving is another story, as this is a sign that there's an issue with your car's engine or another critical component.
A diagnostic trouble code, or DTC, is generated when your check engine light comes on while driving. This code will then be stored in your car's computer and used by a mechanic, dealership, or a local auto repair shop via a code reader to determine what is wrong with your vehicle. This will help you to quickly diagnose what could be causing your check engine light to come on and allow you to fix your vehicle sooner.
Why Is My Check Engine Light On?
When your check engine light comes on, it can be a little frightening as you may not know what is wrong with your car. But, while your car's engine is a complex piece of machinery, a check engine light is often accompanied by other noticeable symptoms, giving you a clue as to what could be wrong with your vehicle. 
Here are some of the most common reasons your check engine light is turning on:
Engine Issues
While obvious, it's impossible to talk about a check engine light without engine issues. From an engine misfire to a problem with your accessory drive, engine issues will usually trigger a check engine light.
Transmission Problems
Since your transmission will affect your engine speed and your vehicle's drive wheels, issues with it can cause your check engine light to come on.
Emissions Equipment Problems
With the advancement of emissions systems on modern vehicles, the list of related components has gotten longer and longer. Since these components affect how your engine operates, they can cause your check engine light to turn on once they malfunction. Be cautious, too, as any issues with your vehicle's emissions system, exhaust system or even a damaged (and especially a missing) catalytic converter can all cause your vehicle to fail your next emissions test.
Modules & Sensors Problems
Just like your emissions system, the other systems responsible for keeping your car running its best are full of modules and sensors. These electronics can deteriorate and malfunction over time, causing a check engine light to come on. In most instances, a sensor failure will also trigger other warning lights, such as a low coolant temperature light or the battery warning light.
Air/Fuel Delivery Problems
Your engine needs the correct air/fuel mixture to run efficiently. When this mixture is not perfect, you can experience drivability issues such as rough idle, sputtering, and a check engine light. This can be caused by not getting the right amount of air due to a dirty engine air filter, a clogged fuel filter, or even a loose gas cap.
Ignition System Problems
When you have a bad spark plug, a malfunctioning coil pack, or an issue with your ignition system, your check engine light turns on. 
What Happens If My Check Engine Light Goes On?
As a vehicle's engine is arguably one of the most vital parts of it, so it's absolutely crucial to take any potential issues seriously to help you avoid any costly repairs or dangerous breakdowns. So seeing your check engine light means you should be looking to give it immediate attention to avoid any serious problems, especially if it is an issue where your engine is overheating or you smell (or see) smoke. 
But, while a mechanic can help you diagnose your car's engine, dealing with repairs can be trickier. Without the help of an active factory warranty, you'd be left paying for any engine repairs on your own. So if you've recently purchased a used vehicle or you've had yours for years, chances are you're no longer covered. And since most automakers may not let you purchase an extended warranty directly from them unless your factory coverage is active, you'd be left paying for some potentially costly repairs on your own. 
For example, here are some possible engine repairs you could face when your car's check engine light comes on:
Toyota Corolla Engine Issues
Toyota vehicles are known for their reliability, but even the most reliable cars have their issues from time to time. Below are some of the most common issues found on Toyota Corollas that cause check engine lights to turn on:
Land Rover Range Rover Engine Issues
As one of the biggest names in the car industry, Range Rovers are a highly sought-after SUV. But, with luxury vehicles comes luxury retail prices and luxury-priced repair costs. Below are some of the most common issues found on Range Rover that cause check engine lights to turn on:
Chevrolet Tahoe Engine Issues
The Tahoe is one of Chevrolet's most popular SUVs. While the Tahoe sported a very reliable 5.3L engine, it was plagued with a few common issues. Below are some of the most common issues found on Chevrolet Tahoe that cause check engine lights to turn on:
Protect Your Car's Engine, Transmission & More with Endurance
When a check engine light appears on your dash, it is vital to take care of it as soon as you can. But no matter if you own a new or used vehicle, you can rest easy when it comes to your car's check engine light with the help of an Endurance auto protection plan. 
Each Endurance plan can give your car's engine, transmission and more you're looking for without worrying about expensive auto repair bills. And, as a bonus, you'll be able to get help taking your vehicle to your local certified repair shop or ASE Certified mechanic of choice, as every Endurance plan automatically comes with 24/7 roadside assistance and towing. You'll even get trip interruption coverage and rental car reimbursements to help you if you experience a breakdown when away from home.
The Advantage plan can also help you protect your vehicle and save up to $3,500 on some of its most important maintenance needs, including tire rotations, alignment checks, and even engine diagnostic exams. Not only that, but each Advantage plan also comes with special, one-time services, like cooling system maintenance or a battery replacement, to give you even more coverage and savings.
Every Endurance customer will also have access to the Endurance Mobile App and the opportunity to unlock a full year's worth of Elite Benefits, including up to two tire repairs/replacements, key fob replacements, and much more. Just purchase the Endurance protection plan that fits your needs and budget, pay a small $29 activation fee and enjoy your year's worth of extra perks and savings.
Request a free, no-obligation quote or give a member of our award-winning customer care team a call directly at (800) 253-8203 to learn more about how Endurance can help you. And don't forget that you can find even more answers to your automotive FAQs, expert auto tips, vehicle comparisons, buying guides and more by visiting the Endurance blog.
More like this
Expert Auto Tips

When driving a car, you probably go about your routine without thinking twice. Turning the car on, switching the headlights on, and applying the brakes have all become second nature,..

Read More

Expert Auto Tips

Retired professional racecar driver Danica Patrick is a pioneer in the world of motorsports. Her breakthroughs include being the first woman to lead an Indianapolis 500 race (the 89th running..

Read More

Expert Auto Tips

Buying a new car can be incredibly exciting and can open up a whole new world of possibilities. There are so many vehicles on the market, and no matter what..

Read More