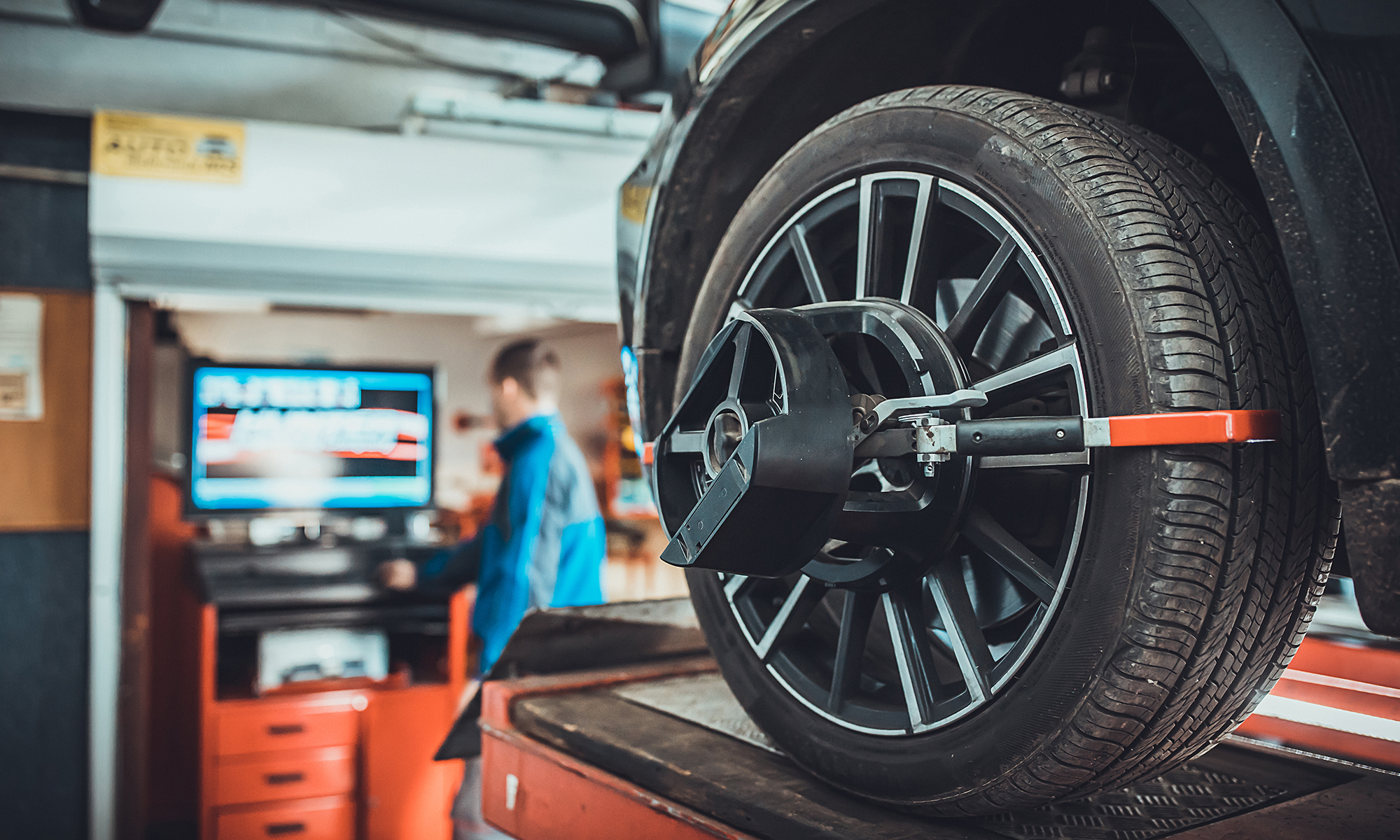 With summer vacation road trips on the horizon, now's the time to get yourself and your car ready for the journey. And one of the best ways to avoid breakdown troubles and unexpected automotive repairs is preventative maintenance. And while things like getting an oil change or checking fluid levels can often be the first things that come to mind, a wheel alignment check should also be part of the process. 
But what is wheel alignment? Most car owners have heard the term but may not be familiar with what's involved. That's why learning more about this essential part of vehicle maintenance and whether or not it may be included in your car's warranty can help you be prepared no matter where you are going. 
What is a "Wheel Alignment?"
A wheel alignment is pretty much as it sounds: aligning or setting your car's wheels in the correct position to ensure proper handling and prevent premature tire wear. When done correctly, a wheel alignment involves three adjustments: 
Camber Adjustment: The "camber" is the inward or outward angle of the front wheels when viewing the front of the vehicle. The camber is zero if the wheels are perfectly vertical. Negative camber is if the tops of the wheels tilt inwards (towards the engine). Positive camber is when the top of the wheels are angled away from the car. Each car has specific camber settings, but most are at 0 to -1 degrees of negative camber.
Caster Adjustment: The "caster" is the angle between the wheel's hub and the upper suspension mounting. Looking at the side of the car, draw an imaginary vertical line between the wheel's center point and the top suspension mount. If the suspension mount and center of the wheel are perfectly aligned, then the caster is zero. If the line angles to the back of the car, so the suspension's upper part is behind the wheel's middle, then the caster is positive. Conversely, if the line heads in the opposite direction, the caster is negative. Most cars incorporate some degree of a positive caster.
Toe Adjustment: The "toe" refers to the direction the front wheels are angled towards in relation to the car's centerline. So, wheels that are perfectly parallel have "zero toe angle." Conversely, "toe-in" is if the front wheels are pointing towards each other, and "toe-out" is if they are pointing away. Most cars are set for a slight toe-in configuration (when parked), so a zero toe angle kicks in as the suspension adjusts during driving. 
Symptoms of Misaligned Wheels
Misaligned wheels can be felt in a variety of ways, with many of the main warning signs including:
Vehicle Pulling:

Your car will tend to "pull" right or left when on a straight and level roadway.

Off-Center Steering Wheel:

A

steering wheel

that's no longer centered, even when driving on a straight path.

Uneven Tire Wear:

You may spot that one side of the tread is more worn than the opposite side. This is a frequent occurrence when the camber or toe angle is not correctly set. 

Tire Noise:

Tires should be relatively noiseless. So if you start hearing an unusual noise coming from the tires, you may have misaligned wheels. 
Other Situations That Require A Wheel Alignment
In addition to paying attention to symptoms of poor wheel alignment, there are other circumstances where an alignment may be necessary.
New Tires:

A wheel alignment with new tires may not be required, but a camber, caster, and toe check is always a good idea. You don't want to spend money on new rubber only to have premature wear occur. 

After an Accident:

The force of

a collision

can cause wheel misalignment. Check that the body shop conducts a wheel alignment check in this situation. And check for alignment issues (see the warning signs above) after repairs.

Rough Road Travels:

Regularly driving on gravel, dirt trails, and pothole-filled roads will accelerate the need for an alignment.

Frequent Curb Strikes:

If you regularly "hit the curb" when parking on city or suburban streets, a wheel alignment may be a good idea sooner than later.
Do I Need a Front-Wheel or Four-Wheel Alignment?
The complexity of an alignment depends on your car, its drivetrain, and its suspension. Many modern vehicles have an independent rear suspension, which does require adjustment. You should check all four wheels for proper alignment regardless of the setup. In other words, adjusting the front wheels only serves little benefit if the back wheels are misaligned.
How Often Do I Need A Wheel Alignment?
When it comes to maintaining any vehicle, following its manufacturer's recommended maintenance schedule (which you can often find in your owner's manual) will include a guideline for how often a wheel alignment should be performed. For most vehicles, this will typically be every one to two years. But, as we covered earlier, other situations may accelerate the need for these services. At a minimum, have the wheel alignment checked when the tires are rotated or balanced.
Is a Wheel Alignment Covered in My Warranty?
While a new car warranty will often provide bumper-to-bumper coverage, most will not include a wheel alignment. This also includes most other limited warranties or extended warranties you can find, as it's considered a "wear and tear" item. However, when purchasing a brand new vehicle, the dealership should deliver it, whether it be a Toyota, Honda, Lexus, Jaguar, Chevrolet or any other make/model, with the correct wheel alignment. But, you're on your own beyond that initial hand-off—unless you have Endurance protecting your vehicle.
With the Advantage plan from Endurance, you'll be able to get breakdown protection like your vehicle's initial factory warranty coverage or an extended warranty while also saving up to $3,500 each year in regular maintenance—including a wheel alignment check. You'll also find savings on other essential maintenance services, including:
Up to Three Oil & Filter Changes

Tire Rotations

Engine Diagnostic Exams
But that's not all, as each Advantage plan also comes with a handful of special, one-time services, including:
A Battery Replacement

Cooling System Maintenance

A Wiper Blade Set Replacement 

Savings for Up to Three Manufacturer Service Intervals
Additionally, all Endurance plans provide 24/7 roadside assistance and towing, trip interruption services, rental car reimbursements, and the choice of any ASE Certified mechanic. Other bonuses include a 30-day money-back guarantee, flexible payment plans, and the ability to transfer your coverage to a new owner should you ever sell your vehicle. 
Every Endurance customer is also eligible for one year of Elite Benefits for even more coverage and savings. Simply pay a nominal fee for a year's access to tire repair and replacement services, key fob replacements, collision repair discounts, and even $1,000 towards a replacement vehicle if yours is ever totaled. 
Stay Covered with Endurance
When it comes to maintaining any vehicle, having properly aligned wheels is necessary. And just like maintenance, protecting yourself and your vehicle from unexpected repair bills should also be top of mind for any car owner, especially those with older, used vehicles. Without an active factory warranty, any breakdowns or repairs you need will be left to you to pay for on your own. And while you can extend your coverage with your automaker, most will limit you to only being able to do that when your factory coverage is still active, meaning you may be out of luck. Thankfully, with an Endurance auto protection plan, you can get the peace of mind you're looking for while out on the road. 
Like your car's initial factory or extended warranty coverage, Endurance can help cover you from costly auto repair bills for your car's most vital components. But, unlike your factory coverage or other plans you can find at other third-party providers, wheel alignments are something that Endurance can help you with. That's because when you have the Advantage protection plan, you can get breakdown coverage and savings of up to $3,500 in yearly maintenance services, including wheel alignments, tire rotations, oil and filter changes, and more, including several special, single-use services. 
Plus, when you're an Endurance customer, no matter where you are, if you experience a breakdown, we'll be there to help with 24/7 roadside assistance and towing, trip interruption coverage and even rental car reimbursements. You'll even be able to take your vehicle to any certified repair shop or ASE Certified mechanic to be certain your car will be taken care of. And, regardless of the plan you choose, you'll also be automatically eligible for a full year of Elite Benefits, including tire replacements and repairs, collision discounts and more. Just find your plan, pay the small activation fee and enjoy your entire year's worth of extra perks and savings.
Get started protecting your vehicle today with Advantage or any other Endurance plan by requesting a free, no-obligation quote. Or, if you have more questions on how Endurance can help you, give our award-winning customer care team a call at (800) 253-8203. And don't forget to check out the Endurance blog to find even more articles on everything automotive, from maintenance tips to road trip guides and extended warranty comparisons.
More like this
Extended Warranty

The advantages of having an extended warranty can't be overstated when a surprise car repair pops up. Coverage can make a difference during a breakdown, thanks to protection against expensive..

Read More

Extended Warranty

Nothing beats being able to hit the open road and head wherever you like, whenever you like. Plenty of drivers fall in love with our vehicles, maintaining them with total..

Read More

Extended Warranty

There's a lot to get excited about buying a new or used car, but one feature that often gets overlooked is the manufacturer's warranty. Understanding this coverage helps owners maximize..

Read More