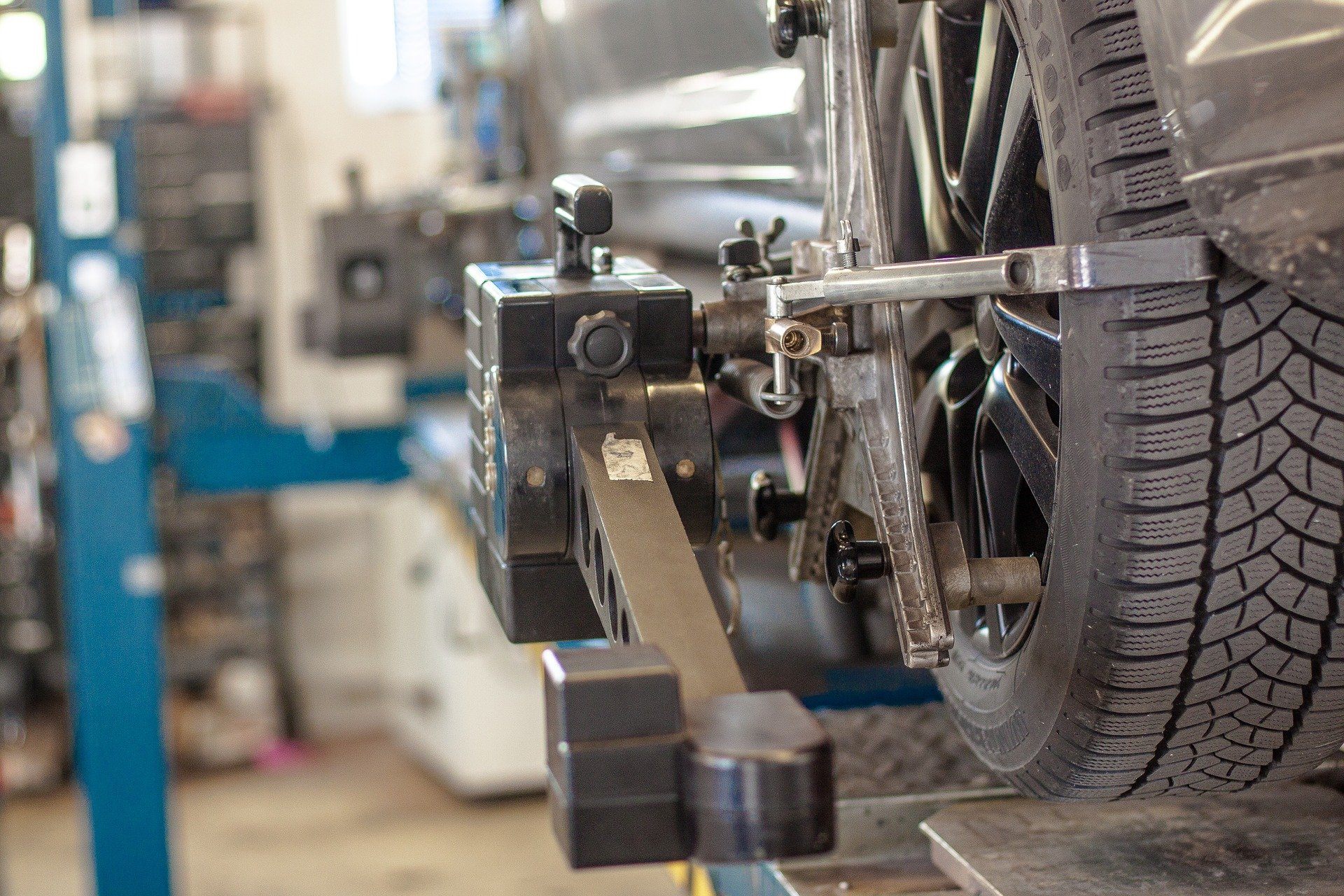 Getting your car's wheel alignment checked is essential for every driver's car maintenance routine. And depending on your driving habits and maintenance schedule, your vehicle's alignment should be checked by a certified repair facility or ASE Certified technician. This will help to ensure your vehicle is as safe and secure as you can be, as misalignment can cause excessive tire wear, increasing your chance of potential blowout or other serious issues. You'll even find yourself filling up your gas tank more often, as you'll also be burning through fuel more inefficiently than you would on properly aligned wheels.
So, to help you protect yourself and your vehicle, it's important to identify when you should get an alignment check.
What Is an Alignment Check?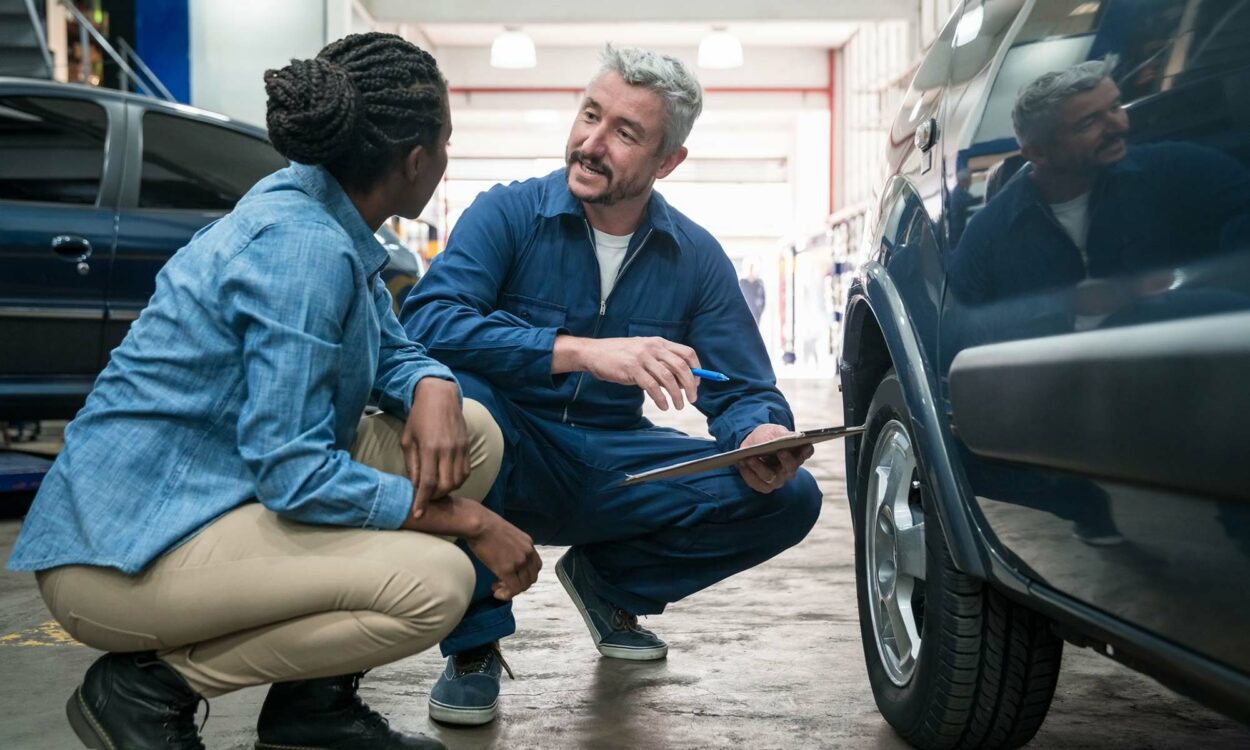 An alignment check is just that, a way of checking the direction your tires are pointing. When your vehicle and the tires are correctly aligned, they'll turn in unison in response to your steering column and will help your vehicle handle more efficiently.
When a mechanic performs an alignment check, they will measure your wheels' angles against manufacturer recommendations. If they don't meet the recommendations, our experts suggest adjusting them right away. Mechanics will also check your tires, suspension, and steering components to see if they have any unusual wear or damage.
An alignment check is a standard part of car maintenance and is typically offered whenever tires are replaced. However, a trained professional can do alignment checks at any point of the year.
But, while important, an alignment check for the front tires alone can cost up to $100 or up to $200. You may get lucky with some local auto shops that may offer the alignment check services for free, but chances are, they won't. When this happens, an Advantage auto protection package from Endurance can help you save up to $25 toward your next alignment check. Not only that, but you'll also find coverage for up to $3,500 on other essential services, including engine diagnostic exams, tire rotations and more
Common Alignment Angles
When a mechanic performs an alignment check, they'll examine the three angles of alignment:
Camber—this is the angle the vertical axis of your wheel makes with your vehicle's vertical axis. When looking for indicators on improper alignment, look for inward or outward tilts that look out of the norm. The camber can be adjusted left to right in both the front and rear and is vital to your car's ability to make tight turns.
Caster—the caster is the angle between the pivot line and the vertical axis when viewing the side of your vehicle. If you have a positive caster, the steering axle tends to tilt toward the driver. Negative caster results in the steering access leaning toward the front of your vehicle. When the caster is correctly aligned, your vehicle will center itself because it allows the wheel to trail behind the perfectly centered axis. It can be adjusted left to right in both the front and rear.
Toe—this angle is also referred to as "tracking." Each wheel will make a  symmetrical angle with the vehicle's longitudinal axis, and it interacts with the camber to prevent your car from rolling. When viewed from above, toe alignment needing adjusting looks similar to inwarding your feet to the center of your body or outward. You can do left, right, or total adjustment to this angle in the front or rear.
If you're unsure whether your car has a proper alignment, you can rest easy. When you're an Endurance customer, you'll automatically have the benefit of 24/7 roadside assistance to help take you to the nearest mechanic to get an alignment check, helping you avoid any potential additional damage that can later result in a breakdown. Plus, any tow within 25 miles from home listed on your contract is covered by us. You'll even have trip-interruption and substitute transport included as well, at no additional cost to you.
When to Get an Alignment Check
To know if your vehicle's alignment is off, check for  warning signs such as:
Uneven Wear—when your car is not aligned correctly, one of the easiest ways to spot it is uneven wear and tear of your tires. If they look bald on the outside but pristine on the inside, your alignment may be off, or you need to rotate your tires, which may be causing this uneven wear pattern. Correcting the alignment will also prevent them from wearing out faster than they usually would.
The Vehicle Pulls—alignment issues can affect more than just the physical appearance of your vehicle. It can also impact your steering. When driving, if your car seems to veer left or right when your hands are not on the wheel, then you need your alignment checked. This pulling is a clear sign.
You Had Recent Suspension Work—the suspension system in your car helps absorb shocks on the road. Since its primary function is to keep your wheels on the road's surface, you should get an alignment check done when you have any suspension work. This includes coil spring replacement to increase stability or repairs to your shock absorbers and struts, which keep your car from pulling. A ball joint replacement is necessary if the connection between your tire and wheels and your suspension needs adjusting. These components make up your suspension and help keep your car stable. If the wheels are correctly on the road, they need to be correctly aligned as well.
All the above problems or situations are clear signs that your alignment needs a check-up and possible re-calibrating. Failing to get your alignment checked can result in more significant wear and tear on other components and premature damage to your tires. Your suspension and steering column can also experience issues down the line if this continues to be neglected over time. Learning how to take care of your car by keeping up with your maintenance is essential to avoid sudden breakdowns from happening.
Important Tip: Always get your alignment checked when you get new tires. 
Getting new tires is a standard car maintenance task. Some shops may do this automatically, but they will commonly ask if you want this service included
Save On Alignment Checks and More with Advantage
Whether you own a daily vehicle or a weekend cruiser, ensuring your car, truck or SUV has proper alignment can help avoid unnecessary wear and tear to your tires. With an Advantage auto protection plan, you can take the worry out of your next alignment check with up to $25 worth of savings. On top of that, you'll also have access to even more coverage and savings, including a full $3,500 towards other regular (and essential) maintenance tasks like up to three oil and filter changes, engine diagnostic exams and state safety inspection services. You'll also have access to several other special, one-time services, such as cooling system maintenance, a battery replacement, a brake pad/shoe replacement and more.
Each new and existing Endurance customer will also enjoy 24/7 roadside assistance and other standard benefits with the purchase of any Endurance auto protection plan. You will even immediately get access to a full year's worth of Endurance Elite Benefits, including up to two tire replacements or repairs, collision discounts and more, for just a small $29 activation fee.
Request a free quote or give our award-winning team a call today at 800-253-8203 to learn more about how Endurance can help protect you and your vehicle from expensive auto repairs. You can also visit our Learning Center to find even more articles on topics such as other automotive FAQs, expert auto tips, vehicle buying guides and much more.
More like this
Expert Auto Tips

With most states around the country getting colder, it's worth reminding yourself how to prepare your vehicle for the different seasons. Weather conditions play a major role in how a..

Read More

Expert Auto Tips

Being a car owner can be an incredibly rewarding experience, especially if you take pride in your vehicle's condition and performance. Cars that are well taken care of will generally..

Read More

Expert Auto Tips

No matter what kind of vehicle you own, staying on top of its care and maintenance should always be a top priority. Cars that are well taken care of and..

Read More