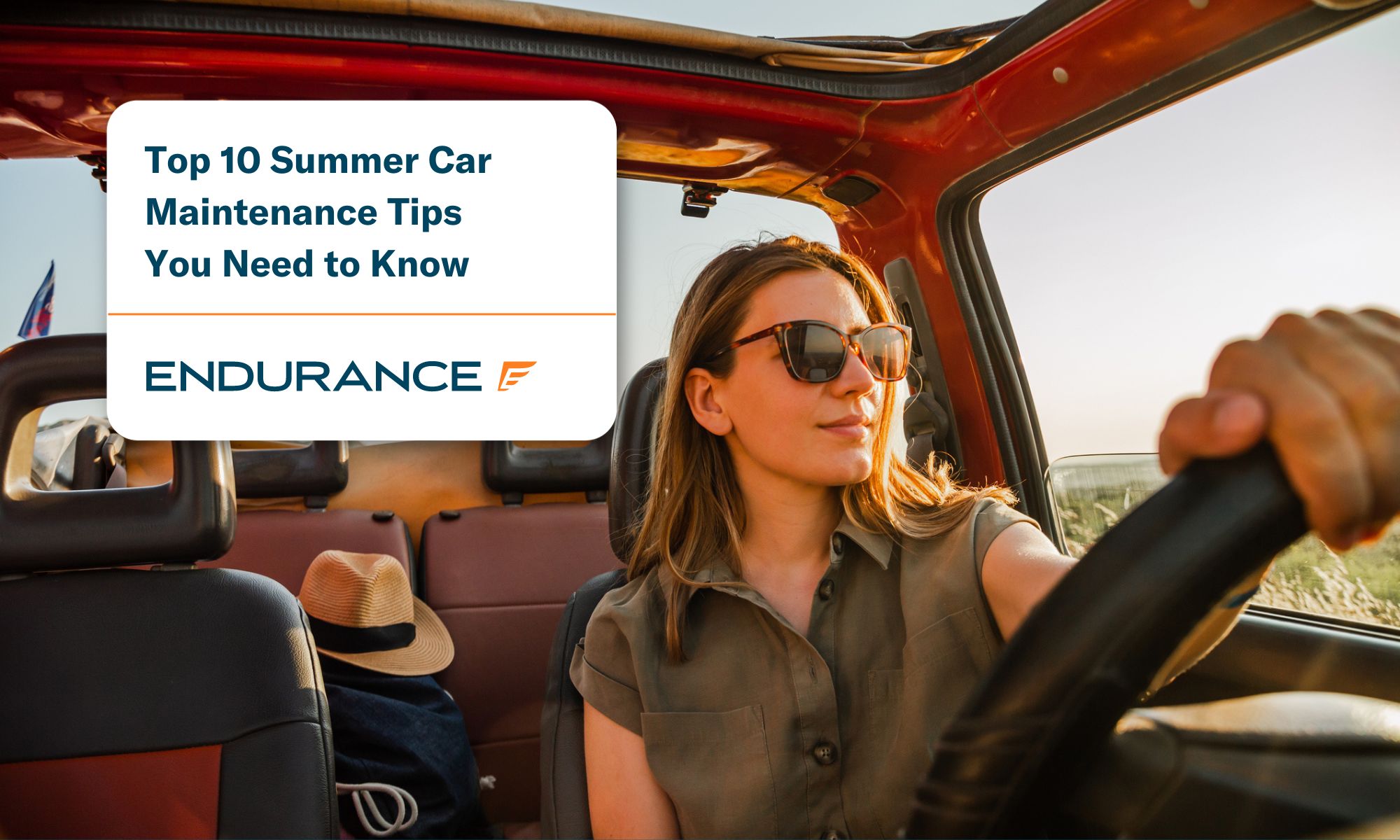 In the summer season, many families get excited about heading outdoors and taking a vacation to get away in the warm weather. As this gets increasingly closer, a large majority of people will consider taking road trips or day trips to satisfy their travel urges. Before taking off on your next adventure, however, it's important to be sure your vehicle will get you to your destination intact.
10 Car Maintenance Tips to Remember This Summer
You're sure to be eager to hit the open road the minute the weather stays warm, but take the time to prepare your vehicle for the additional use you will put it through. The following ten summer car care tips will help ensure that your vehicle can handle anything you throw at it: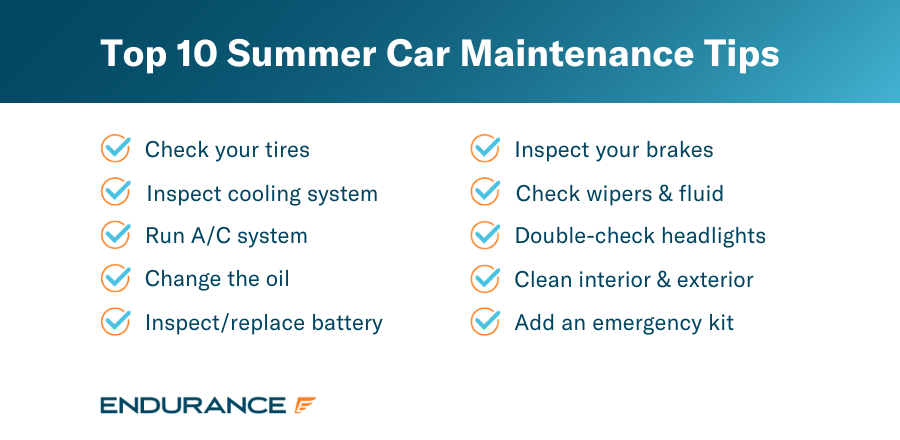 1. Check your tires.
The tires on your vehicle are one of the most important pieces to the function of your entire car. Before summer arrives, take the time to double-check your tire pressure. When the weather starts to get warm, remember that your air pressure will increase as the air starts to expand. In addition to this, it's recommended that you rotate your tires every 5,000 to 7,500 miles to ensure even wear and tear.
2. Inspect your vehicle's cooling system.
The cooling system of a car is an integral part of its overall function. The coolant levels within your car help to prevent overheating by transferring heat away from the engine regularly as you drive around. However, if the fluid levels in this system get too low, you risk overheating your engine, which can cause your vehicle to have a breakdown. Be sure that the coolant in your vehicle is still at a strong level, and have a mechanic inspect your radiator to be sure it's in working order.
3. Check the air conditioning system.
No driver wants to be sitting in a large metal vehicle on a hot summer day without any air conditioning. If you have noticed the quality of your air conditioning system declining during the winter and spring months, take your vehicle in to get serviced before the weather starts to get really warm. This may require replacing hoses, topping off fluids, or troubleshooting the electronics, but this is better than roasting inside your vehicle.
4. Change the oil in your vehicle.
If the engine of a vehicle is its heart, oil is the blood that runs throughout. Oil lubricates different pieces of machinery under the hood and keeps them moving properly while also removing gunk. Generally, you will want to replace the oil in your vehicle, as well as the air filter, every 3,000 to 5,000 miles, but some cars can go even longer. Refer to your owner's manual for the specific interval if you are unsure.
5. Inspect or replace the battery.
Most cars will need a battery replacement every five to seven years, depending on the make and model of the vehicle, along with the battery itself. The warm weather can place a greater strain on your vehicle and, in turn, the electric power running through the vehicle. You'll want to be sure that your battery has enough juice to get up and running throughout the summer, so test its level if you are unsure how long it has been.
6. Check the quality of your brakes.
Regardless of the season, you should always be double-checking the quality of your brakes. Inspect the brake pads themselves to see if they are getting too worn down, and replace all of your brakes if necessary. Brakes can last between 60,000 to 80,000 miles before needing to be replaced, but the brake pads themselves may need to be replaced as soon as 30,000 miles.
7. Inspect the windshield wipers and fluid.
While you may not think windshield wiper blades will be important during the summer months, it's important to take this time to double-check their current state and the amount of windshield wiper fluid you have left. Coming off the winter months when rain was constant, you may have used more than you thought, which is why you should double-check before the summer months.
8. Double-check your headlights.
The summer heat will place a large strain on the electrical system of a vehicle, including the car battery, which provides power to many systems, including your headlights. Due to this extra strain, a blowout can cause your headlight bulbs to stop working, so you should inspect whether or not they currently work.
9. Consider cleaning your car.
While it may not impact whether or not your car has a breakdown, a person should use the time before the summer months to clean up their vehicle. All of the rain and wind that comes with winter and spring could have caused dirt to accumulate on your vehicle, which can damage the paint, so taking your vehicle through the wash is a great way to care for your car.
10. Add an emergency kit to your vehicle.
No driver wants to find themself stranded out on the open road following a breakdown, but the unfortunate truth of driving is that this is a possibility. To prevent the situation from becoming worse, consider throwing an emergency kit into your trunk that contains materials such as flares, nonperishable food, water, emergency blankets, and similar items.
The Importance of Auto Protection with Endurance
While all of the above tips can help you ensure your vehicle is operating at peak efficiency with the summer months around the corner, taking extra precautions is always smart. No matter how much preventative maintenance you perform, a vehicle will eventually begin to break down. Therefore, in addition to the above, consider investing in an extended warranty contract from Endurance Auto Warranty which can cover the costs associated with various mechanical breakdowns.
With three different contract options to choose from, Endurance offers something for everyone. Whether you are seeking basic and affordable protection with our Secure Plus plan, high-level stated component protection with our Superior plan, or near bumper-to-bumper exclusionary coverage with our Supreme plan, there is a plan for you.
Keep Yourself Protected on the Open Road
No matter where you're planning on traveling this summer, it's important to make sure your new car or used vehicle can handle the burden of warmer weather. Use all of the above tips to ensure you will make it to your destination on time and without incident. Having an effective extended warranty package that includes coverage for general breakdowns can bolster your protection in addition to the above.
Regardless of which Endurance contract you choose to invest in, you will also gain access to a free year of Elite Benefits. This includes bonus perks such as reimbursements for up to two tires per year due to road hazards, key fob replacement, total loss coverage up to a certain amount, and much more.
To find out more and to see which contract may be right for you, contact an Endurance representative at (800) 253-8203. Request a FREE quote or shop online today!
More like this
Expert Auto Tips

Retired professional racecar driver Danica Patrick is a pioneer in the world of motorsports. Her breakthroughs include being the first woman to lead an Indianapolis 500 race (the 89th running..

Read More

Expert Auto Tips

Buying a new car can be incredibly exciting and can open up a whole new world of possibilities. There are so many vehicles on the market, and no matter what..

Read More

Expert Auto Tips

Changing your oil and keeping your tires at the correct PSI are two great ways to keep your car running smoothly and driving safely as the seasons change. Your vehicle's..

Read More