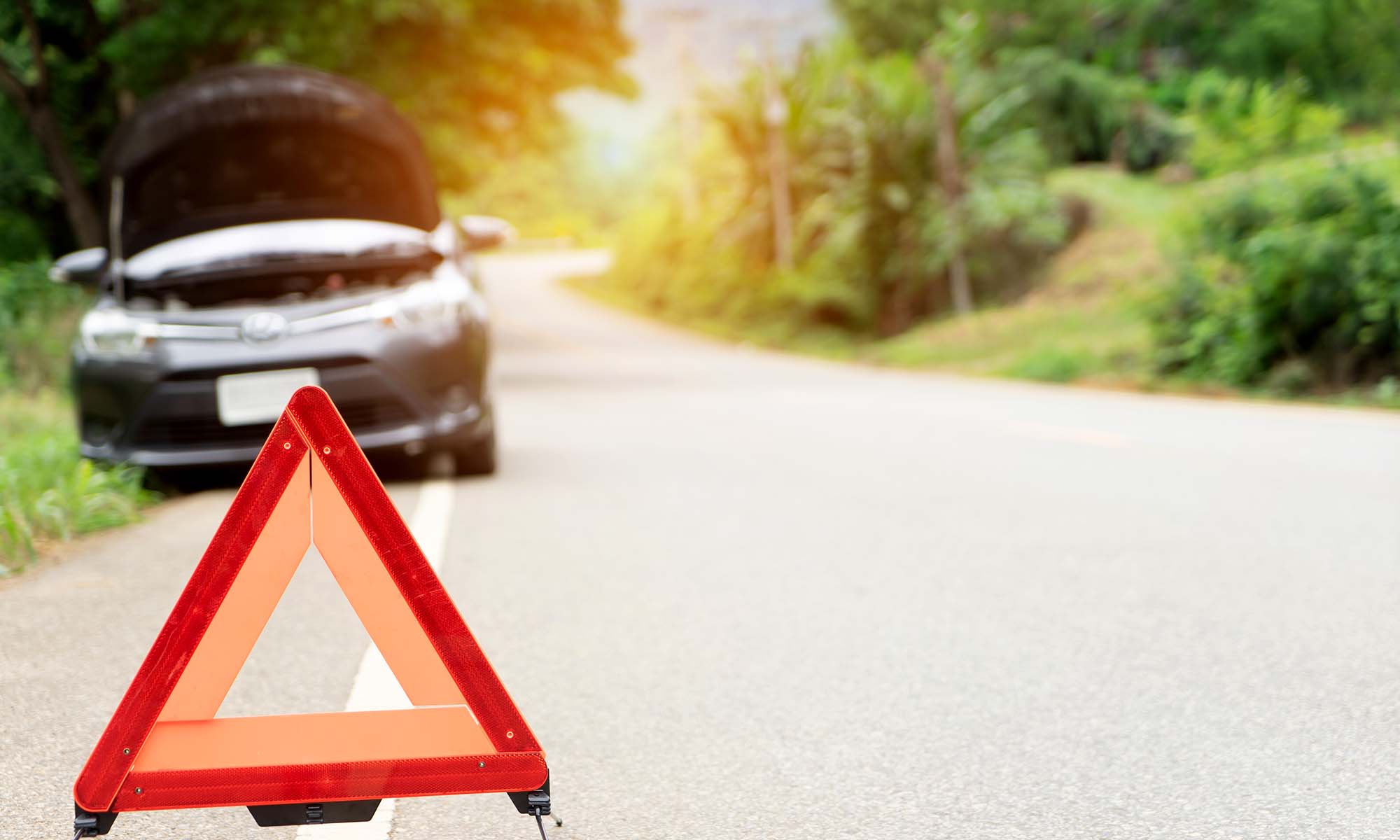 Summertime adventures always seem to go hand in hand with the open road. But while the season brings about plenty of chances to get out and enjoy the sights and sounds of summer, it also brings about new driving challenges you might not have faced during the fall, winter and even spring. 
With schools out and more and more people getting outside, the increase in pedestrians and bikers sharing the roads with cars means more of a chance of human injury. Weather changes can also pose new problems, with almost 1.2 million traffic accidents a year from spring and summer rainstorms. Not to mention that the heat can also wear down your vehicle's parts, leading to potential breakdowns and repairs. 
With all these potential risks, it's best to be prepared for the unexpected before making any long road trips in the summer sun. Knowing what some of the most common summertime issues are and ensuring your emergency kit is ready for the summer are two ways you can prepare for whatever may happen.
Common Driving Issues in the Summer
Like with any season, changes in temperature, weather patterns, and even traffic increases (pedestrian and vehicle) can affect your car differently. In the summer especially, understanding how your vehicle can be impacted by the changing season and the increased traffic around you can help you avoid potential troubles and breakdowns down the road. 
For example, some of the most common issues car owners can face during the summer months can include:
Issue #1: Tire Blowouts
Every vehicle will have a recommended tire pressure range that's laid out either in your owner's manual or on the tires themselves. But, as the temperature rises, the pressure in your tires will also increase. In fact, you can expect to see an increase of at least 1-2 pounds per square inch (PSI) with every 10-degree rise in temperature, meaning if the temperature gets high enough, the pressure can start to exceed its recommended level, thus increasing your chance for a blowout or having to deal with a flat tire.
The cost of repairing a blown-out tire can vary quite a bit depending on the size of the vehicle, desired quality of the replacement tires, and how many tires you decide to replace. Overall, tires can cost anywhere from $50 to over $300 per tire, and labor ranges from $15 to $45 per tire.
Issue #2: Overheated Engine
A car's engine works by converting the energy from small explosions into the power needed to move the vehicle. And as you can guess, these explosions also generate a lot of heat that is helped kept in check by the vehicle's cooling system and radiator. However, the summer heat can strain these systems and the rubber hoses and plastic caps found throughout your car's cooling system. And when these systems fail, your engine loses part of its ability to regulate temperatures and can quickly overheat.
Like any repair, the overall costs will ultimately depend on your vehicle's make/model, its age and the severity of the issue. However, on average, car owners can expect to pay between $995 to $1,132 to professionally replace a radiator.
Issue #3: Broken A/C
Few things are as frustrating as having a car with a broken air conditioning (A/C) system during the summer. After all, the excess heat during this time of year will have most car owners cranking their A/Cs on full blast to try and stay cool. But as you can expect, the excess strain put on the system can lead to the various electrical components short-circuiting. You may even see your A/C condenser or compressor fail or a loss of refrigerant, the chemical component that helps cool down the air in your vehicle when your air conditioning is on, due to leaks or other issues. 
If your vehicle does need any of these various components repaired or replaced, it could cost you, with the average A/C compressor costing between $812 and $1,041. In contrast, A/C condensers are slightly less, with an average cost between $604 and $701. A simple recharge to replenish refrigerant levels will be significantly cheaper. However, it can still cost you anywhere from $123 to $155.
Common summer issues for vehicles can pop up at any moment, even in the most well-maintained vehicles. That's why protecting it and yourself from the cost of unexpected (and potentially expensive) repairs is vital. But, unless you have recently purchased a brand new vehicle and have an active factory warranty, you'd be left paying for any repair bills on your own. However, whether your vehicle is brand new or a few years old, you can get help for unexpected repair bills with an extended warranty or vehicle service contract (VSC), like Endurance's Advantage auto protection plan. 
Like your car's manufacturer's warranty, the Advantage protection plan can help cover you from expensive auto repair bills for your vehicle's most vital components, like the engine, A/C, transmission and more. But unlike other extended warranties or VSCs, the Advantage plan combines comprehensive breakdown protection with up to $3,500 in yearly maintenance services, including tire rotations, PSI checks, alignment checks, engine diagnostic exams and more. You can even enjoy one-time services like cooling system maintenance, a battery replacement and more to get even more coverage and savings for your vehicle at any time of the year.
Updating Your Summer Car Emergency Kit
While being able to prepare your vehicle for potentially common summer issues is vital for any car owner, you can't avoid all of them. Having a properly stocked emergency kit will be vital if you find yourself dealing with an unexpected breakdown while on the road, especially during the scorching summer heat. 
So while every car and every trip has its own unique needs, some items should be included in every summer emergency kit during this time of year, including: 
1. Hat/Sunscreen
While they may seem like minor, commonsense items, having a hat and sunscreen to protect your skin from the harsh sunlight can make a vehicle breakdown that much easier to handle. And if you need to call for a tow truck or other roadside assistance after spending time trying to fix things yourself, a fresh sunburn can make the wait drag on (not to mention being very uncomfortable). 
2. Umbrella/Raincoat
Summer often means unpredictable weather and unexpected rainstorms. So if you find yourself in a roadside emergency during one of these storms, or if one rolls up while you're working on your vehicle, an umbrella, raincoat, or both, can keep you dry while you try to get your car up and running again. 
3. Antifreeze & Coolant
Believe it or not, antifreeze is an important compound that any gas-powered vehicle needs at any time of the year. It helps keep your engine from freezing during the winter months and prevents it from overheating during the summer months and any time you run your car for an extended period. Coolant, which is often just antifreeze mixed with water, is vital to help your car's radiator (and therefore your cooling system) work as intended. But be sure to keep in mind that coolant is not freon, though both are essential to keeping your vehicle running and comfortable for passengers. 
4, A Battery-Powered Fan
One of the biggest threats of being stranded with a dead vehicle in the summer is the risk of overheating, especially on bright, windless days. A battery-powered fan can help keep you personally cool without relying on your car's battery or engine. If this fan has a rechargeable battery or a solar option, it can last even longer to keep you from getting too hot under the sweltering sun.
5. Solar Battery Pack
What good is a battery without a charge? Thankfully, everything is rechargeable these days, but they still need a power source to charge from. A solar battery pack can let you keep essentials like phones and medical devices charged in the case of a dead car battery or if you need to leave your vehicle for any reason. You can also recharge these kinds of battery packs by setting them in direct sunlight if you face a severe emergency and have to spend some time out in the elements.
6. Work Gloves/Protective Gear
It's no secret that things get hot in the summertime, and car parts are no exception. On top of the environmental heat, anything under the hood also has the heat from the engine to consider. Even after waiting the recommended 10-20 minutes before opening the hood of a car after turning off the engine, some parts can easily burn the skin if you're not careful. Having a pair of work gloves or other protective gear is essential to safely work on your car in the event of a breakdown. They can also provide a better grip on smooth surfaces if you need to open or disconnect something.
7. Sunshade Options
The sun directly overhead can take its toll in the middle of summer, especially if you have no way to get out of it. In the event of a breakdown that you can't easily fix, you may have to wait for a tow truck to come to get you and your car, potentially for several hours if you aren't near any towns. However, having a blanket or tarp that you can hang or some other option for getting some shade outside your rapidly heating vehicle interior can help you greatly. 
In addition to the items described above, here are other items you should always look to include in any summer emergency kit;
Tool Kit
Tire Pressure Gauge
Fresh Water & Snacks (Dried Fruit, Protein/Granola Bars, Mixed Nuts…etc.)
Flashlight (with Extra Batteries)
First Aid Kit
Portable Cell Phone Charger
Extra Medications, If Applicable
Safety Hammer with a Seatbelt Cutter
Reflective Warning Triangles or Road Flares
Spare Tire, Tire Iron, and Car Jack
Jumper Cables/Car Starter
Emergency Flares
Foam Tire Sealant
Tow Strap
Duct Tape
Paracord
Bungee Cords
Hand-Cranked Radio
Waterproof Matches/Long-Burning Candles
Map/Compass
Whistle/Air Horn
Glowsticks
Extra Cash (For Emergencies)
Change of Clothes
Shovel
Bug Spray
Fire Extinguisher
Anything can happen on the road. And as summer gets into full swing, temperatures will rise, pedestrian traffic will increase, and you'll see more cars on the road as everyone tries to take advantage of the nice weather and extra free time. Many things can happen with all these changes, and having essential items in an emergency can provide a sense of security. Keeping your kit packed and ready to go in your vehicle can also reduce the stress of ensuring you have everything you might need right before a big trip.
Protect Your Car Year-Round with Endurance
No matter the season, breakdowns can happen and having a fully stocked emergency kit can help you be prepared for whatever may happen. But when it comes to paying for any necessary repairs, you may not be so lucky unless you have an Endurance breakdown protection plan. 
With Endurance, you can have peace of mind and keep your vehicle running properly without worrying about expensive auto repair bills. Some plans, like the Advantage auto protection plan, can even combine comprehensive breakdown protection with up to $3,500 in savings towards your vehicle's preventative maintenance needs, including PSI checks, engine diagnostic exams and even one-time services like cooling system maintenance. 
Plus, as an Endurance customer, you can be confident Endurance will have you covered no matter where you are, thanks to complimentary 24/7 roadside assistance and towing, trip interruption coverage and rental car reimbursements. You'll even be automatically eligible for a full year of Elite Benefits, including up to two tire replacements or repairs, collision discounts and more with the purchase of any Endurance protection plan plus a small activation fee. 
To get started protecting your vehicle this summer, request a free, no-obligation quote or call a member of the award-winning Endurance customer care team directly at (800) 253-8203. The Endurance blog also offers countless articles on topics like expert auto advice, seasonal driving tips, vehicle buying guides, and even more to learn everything to help keep your safe and your vehicle running throughout the year. 
More like this
Expert Auto Tips

Retired professional racecar driver Danica Patrick is a pioneer in the world of motorsports. Her breakthroughs include being the first woman to lead an Indianapolis 500 race (the 89th running..

Read More

Expert Auto Tips

Buying a new car can be incredibly exciting and can open up a whole new world of possibilities. There are so many vehicles on the market, and no matter what..

Read More

Expert Auto Tips

Changing your oil and keeping your tires at the correct PSI are two great ways to keep your car running smoothly and driving safely as the seasons change. Your vehicle's..

Read More