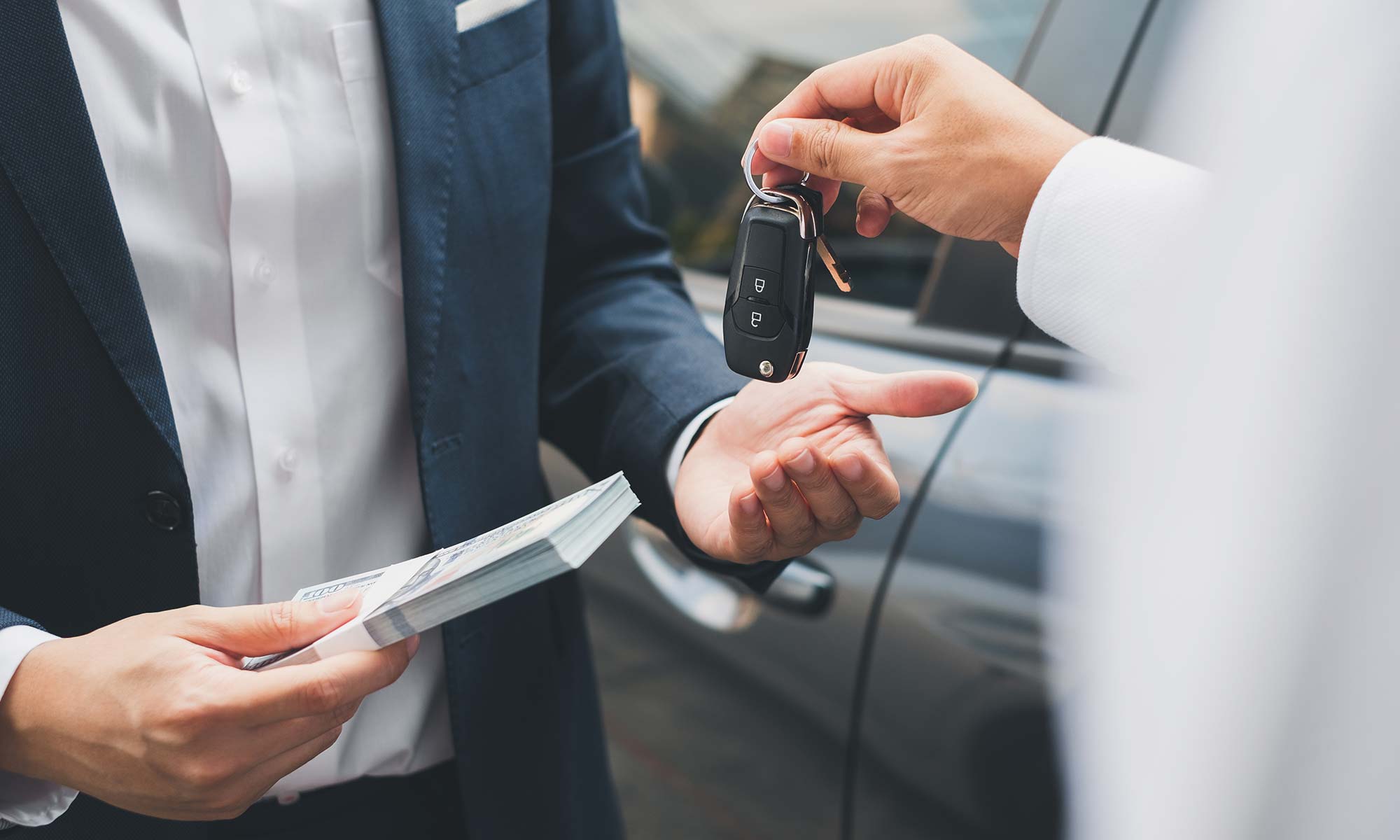 When winter is finally over, getting out and taking a drive can be a great way to shake out the cobwebs and get ready for the warmer weather. And it's hard to argue that spring is one of the best times of the year to have a car and take advantage of the open road after the last few months of dreary winter weather.
No matter what you will use your vehicle for this spring, it is crucial to protect it. An extended warranty can give you confidence that your car will stay in good shape throughout the spring long. Knowing whether extended warranties are worth it can help you decide if one is right for you and your vehicle.  
Why Do I Need an Extended Car Warranty?
Having warranty coverage for your vehicle is a good idea, no matter what car it is. When purchasing a brand new vehicle via a dealership, you will get what is known as a factory warranty issued by the car's manufacturer, which will help cover any problems that may come up due to production problems or design flaws. In fact, you will often find that a manufacturer's warranty can give you true bumper-to-bumper coverage on everything between your front and rear bumpers, like your transmission, water pump, brakes and more.
The only downside of these warranties is that they will eventually run out, usually after 3 years/36,000 miles or 5 years/60,000 miles. However, it can depend on your automaker or the specific warranty coverage you have, so it's always best to check the fine print when finalizing your vehicle purchase, whether with a salesperson or when purchasing a new vehicle online. Your manufacturer's warranty coverage will also typically not include services such as routine maintenance, which can often add up to thousands of dollars each year, depending on the make and model of your vehicle.
Regardless of what your factory warranty does or does not cover, however long your warranty coverage is, it will run out. An extended car warranty provided by a third-party warranty company can help. However, it's important to remember that these plans are technically vehicle service contracts (VSCs), as only the automaker can truly "extend" your original warranty. Still, despite this difference, purchasing a vehicle service contract from a third-party warranty company, such as an auto protection plan from Endurance, can help ensure that your vehicle will be covered for many of the same car repairs as your manufacturer's warranty. You will also find that VSCs often provide many of the same perks and benefits, including some extras, compared to what's provided by most automakers. This will help you get even more coverage and savings than a standard manufacturer's extended warranty coverage.
Another benefit is that while most people will have insurance for their cars, this is different from what a VSC can offer. Insurance will only cover damages sustained during an accident on the road or unexpected circumstances like the weather or if your vehicle is stolen. Even repair-based coverage like mechanical breakdown insurance will not cover most older vehicles. Instead, a vehicle service contract will cover you for repairs due to regular use, which all cars will need at some point. Some vehicles, such as the 2015 Mitsubishi Mirage, the 2016 Lincoln MKZ and the 2015 Land Rover LR2, are known to be unreliable, so if you own any of these cars, a vehicle service contract can help pay for some of the issues that are bound to come up.  
Why Extended Warranties Are a Good Deal
You've most likely stumbled across an internet meme or heard a funny joke about your car's extended warranty. You might also think that extended car warranties may be a scam. But the truth is, an extended warranty can truly be worth it. Depending on the third-party warranty provider you find coverage from, you can be getting comprehensive coverage and great perks from an award-winning team, all at an affordable price. But don't just take our word for it. Here's what some Endurance customers have to say:



And just as you can (and should) be doing your research before purchasing any vehicle, you can do the same with your extended warranty coverage. For example, you can check consumer reports or read through various articles and reviews from experts, such as those at Motor1, Consumer Advocate and Consumer Affairs, to help ensure your chosen provider can help you.
For example, an auto protection plan from Endurance can help you pay for all kinds of car repairs that you might need throughout your new or used vehicle's life. No matter how reliable your vehicle is, issues are bound to come up from day-to-day use, and having an extended warranty is an excellent way to save money. Car repairs can be costly, so they can add up if you aren't covered. Knowing the costs associated with automobile repairs can help you understand the value of any extended warranty, vehicle service contract or auto protection plan you may be considering. 
Some of the most common repairs for popular vehicles in the United States include:
Serpentine Belt Replacement:

$77 – $97

Drive Belt Tensioner Replacement:

$188 – $223

Coolant Reservoir Replacement:

$388 – $403

Electrical System Diagnosis:

$88 – $111
Blower Motor Replacement:

$292 – $306

Timing Belt Replacement:

$567 – $763

Knock Sensor Replacement:

$191 – $266
Brake Light Switch Replacement:

$69 – $106

Distributor Assembly Replacement:

$493 – $986

MAP Sensor Replacement:

$343 – $355

Airbag Occupant Sensor Replacement:

$269 – $285
Common Repairs for a Ford F-150 
Fuel Filter Replacement:

$71 – $97

Intake Manifold Gasket Replacement:

$727- $795

Engine Mount Replacement:

$343 – $355

Windshield Washer Pump Replacement:

$109 – $129
While some automakers may include a version of routine maintenance in their warranty coverage, a vehicle service contract from Endurance can also help you maintain your vehicle. Regular maintenance is one of the most important things you can do as a car owner, and it will add years to the life of your vehicle if you keep up on it, whether you have a Toyota Corolla, Honda Civic or a Ford F-150. It may also be mandatory to keep any factory or extended warranty coverage active. In fact, throughout your years of car ownership, you will have to spend a lot of money on essential maintenance procedures, and having a VSC like Advantage will save you quite a bit while also helping you keep your vehicle in good condition for longer.
But with an Advantage plan from Endurance, you get up to $3,500 per year in maintenance coverage, including services such as up to three oil & filter changes, tire rotations, alignment checks, engine diagnostic exams and more. You can even get help with your vehicle's next state safety inspection. Each Advantage plan will also include other special, one-time services like a battery replacement and cooling system maintenance, among others, to help give you even more coverage and savings. 
Endurance's Highline protection plan is designed to help with car repairs for select luxury vehicles up to eight years old and with less than 80,000 miles from popular automakers like Alpha Romeo, Audi, BMW, Jaguar, Land Rover, Maserati, Mercedes-Benz, and Porsche.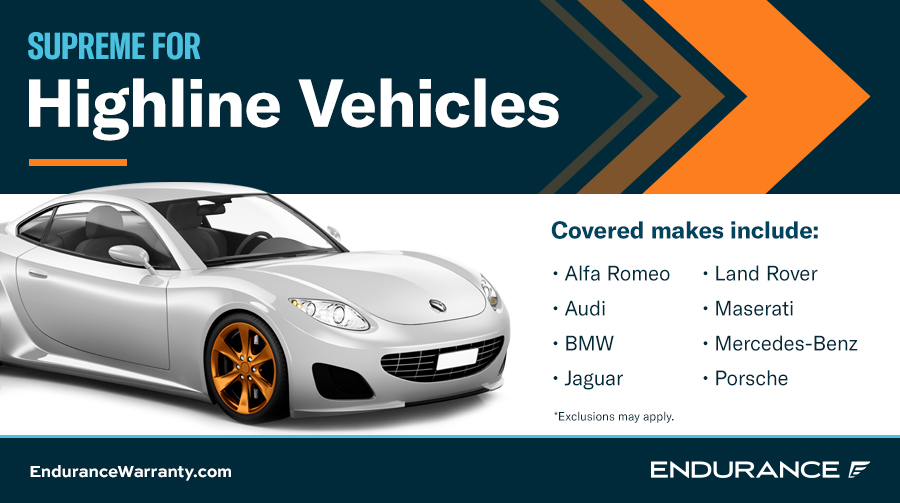 Repairs for these vehicles can be costly, and having the right extended warranty coverage or vehicle service contract, such as the Highline protection plan from Endurance, can help you save. 
Other Benefits of Extended Warranties or VSCs
With some extended warranties and vehicle service contracts, such as the auto protection plans from us at Endurance, you also get a wide variety of extra services that most extended warranties or car insurance policies won't include. You also won't be limited to taking your vehicle to a dealership for repairs. In fact, you can find help at any certified repair shop or ASE Certified mechanics. Simply visit your repair shop of choice, show them your Endurance coverage plan and sit back while we work directly with the shop and you to help you get back on the road quicker. And if your repairs take longer than expected, especially if you find yourself away from home with complimentary 24/7 roadside assistance (including towing), trip interruption coverage and rental car reimbursements, regardless of the Endurance protection plan you choose. You can even enjoy a 30-day money-back guarantee to help ensure you're getting the right protection plan when it comes to unexpected breakdowns and costly repair bills not covered by your average car insurance policy. You'll even have access to the Endurance Mobile App, where you can find all of your plan's important information and more right in the palm of your hand.
You can also get one year of Elite Benefits for just a $29 activation fee, including key fob replacements, collision discounts, and up to two repaired or replaced tires. These extras alone make getting an extended warranty from Endurance worth the money if for nothing else than the peace of mind you can have when you are out on the road. Knowing that you are covered for every eventuality can help you feel confident that you will get where you are going safely without getting stranded or having to worry about breaking down. 
Most Endurance plans are also transferable to new owners, helping you upsell your vehicle should you ever look to switch to a brand new car.
Protect Your Car and Save Money with Endurance 
Every vehicle needs coverage for repair costs and regular maintenance, no matter how often you drive it or what you use it for. And remember, whether it's in three years, five years or longer, your manufacturer's warranty coverage will end. And if you've recently purchased or are considering purchasing a used car, be aware that it may be well past any powertrain warranty or bumper-to-bumper warranty coverage that the automaker may have provided when it was a brand new car on the dealership lot. Instead, get peace of mind and feel safe while you're out and about with an extended warranty or vehicle service contract, such as the auto protection plans offered here at Endurance. 
With Endurance, you can save on unexpected car repairs and other costly breakdowns not covered by your insurance. With the Advantage protection package, you can also save up to $3,500 on your vehicle's essential maintenance needs, including tire rotations, alignment checks, engine diagnostic exams, and several special, one-time services. You can also rest easy if you're an owner of an eligible, high-end luxury vehicle with the comprehensive coverage of the Highline plan. New and existing Endurance customers also receive up to a year of Elite Benefits with the purchase of any Endurance protection plan and a small activation fee, including tire replacements and repairs, discounts and other great perks and savings. 
To learn more about Endurance auto protection plans, request a free quote or call us directly at (800) 253-8203. You can also visit the Endurance blog to find more informative and insightful articles on topics such as car-buying FAQs, expert auto tips, DIY maintenance how-tos and much more.
More like this
Extended Warranty

The advantages of having an extended warranty can't be overstated when a surprise car repair pops up. Coverage can make a difference during a breakdown, thanks to protection against expensive..

Read More

Extended Warranty

Nothing beats being able to hit the open road and head wherever you like, whenever you like. Plenty of drivers fall in love with our vehicles, maintaining them with total..

Read More

Extended Warranty

There's a lot to get excited about buying a new or used car, but one feature that often gets overlooked is the manufacturer's warranty. Understanding this coverage helps owners maximize..

Read More