Nothing beats the feeling of owning a Honda — unless you experience continuous breakdowns that cost thousands of dollars to repair.
Honda has a reputation for being one of the most reliable car makers in the market. It's Automotive Revenue increased from $93.4 billion in 2017 to $99.7 billion in 2019, meaning more consumers are turning to the Japanese car manufacturer for their automotive needs.
As we all know, car breakdowns happen when their least expected. Luckily for you, we have insights on the most common Honda repairs people experienced throughout 2019.
Breakdowns occurred for drivers who drove anything between a 2004 to 2018 Honda with 2011-2012 being the most frequent. The Honda Accord EXL rang in as the most common Honda model that needed work done in 2019. Below are the most common Honda repairs we seen in 2019.
Alternator Replacement: $667 – $871
The alternator powers your Honda's electrical system when the engine is running and charges your battery. Once the battery starts the car, the alternator is responsible for keeping your car running on the road.
Signs you have a faulty alternator can be the battery warning light turning on the dashboard while driving or electrical components losing power. 
Driving with a defective alternator will result in your vehicle stalling, which can be dangerous on long commutes or road trips. Unlike other Honda repairs, replacing your alternator is essential to handle immediately. Failing to do so can result in your car needing to being towed, costing you even more to repair.
In the case this happens, Endurance provides 24/7 roadside assistance through the Endurance Elite Membership which is included with any vehicle service contract. They can take you to the nearest mechanic to get serviced and back on the road before you know it.
Compressor Replacement: $240 – $2,043
The AC system houses multiple components that keep your car cool during the summer months — compressor, condenser, receiver dryer, evaporate, and hoses. The compressor is known as the "heart" of Honda's air conditioning system. 
Common symptoms that indicate a faulty compressor is no cold air blowing from the vents or a clicking sound under the engine.
Now you may ask the question, "is it safe to keep driving my car with a blown AC compressor?" The immediate answer is yes, but there's more to it. If the compressor pulley is rotating without wobble or noise, then this shouldn't affect belt tension or other belt-driven accessories. However, continuing to drive with a faulty part can later affect your car's overall performance.
You won't find your car breaking down from a faulty compressor, but ignoring the Honda repair will only cost you more in the end. We recommend getting auto protection to help cover the costs of an AC compressor and avoid the financial burden.
Starter Motor: $168 – $810
The starter can be found in a circuit that includes the ignition switch, battery, neutral safety switch, and fuses. The starter motor is a compact electric motor that turns on the car's engine when turning the key.
If you experience moments of intermittent operation, meaning some times it works, other times it doesn't — then you might need to replace it. There might also be some unusual sounds while attempting to start the engine.
Failing to repair the starter motor can result in your Honda not turning on and needing to be towed. The cost to repair the starter motor varies depending on the car you own, but can still end up costing a few hundred dollars.
If you find yourself heavily depending on your Honda to get to-and-from places, then an extended car warranty is essential for you.
Auto protection providers typically offer a car rental during the duration of your Honda repair. Endurance, for example, helped cover the cost of many car rentals to keep our customers avoid any setbacks from sudden breakdown.
Learn more about our coverage plans and perks by requesting a quote below!
Rack and Pinion: $89 – $1,440
The rack and pinion steering gear may be assisted hydraulically, electrically, or unassisted. The steering gear pushes or pulls the wheels in the requested direction when the steering wheel is turned. When the wheel is turned, the steering rack forces all of these components out on one side and then pulls them in on the other side. 
One symptom related to a bad rack-and-pinion are a whining or clunking noise when turning the steering wheel. You may also experience difficulty steering the wheel or moving it back to the center after turning. 
Since the rack and pinion pertain to the steering wheel, we recommend handling this repair as soon as detected. The ability to properly steer is essential to drive on the road safely and cannot be ignored for too long. By getting auto protection on your Honda, you can repair this in no time!
Cooling Fan Motor: $271 – $1,008
Honda's engine can reach high temperatures from continually burning fuel. The AC Compressor works on keeping the internal temperature of your car comfortable, while the cooling fan works on keeping your engine from overheating. The fan is in the engine compartment at the front or rear of the radiator. Some fans are part of the crankshaft or water pump and turned off all the time. Other cooling fans are controlled by the vehicle's electrical system and turn on when the engine is idling, and cold air isn't blowing through the grille.
If you have a faulty cooling fan motor, then your car will experience overheating, and a check engine light turned on. Your Honda might suffer additional damage to other car parts if a defective cooling fan is left unchecked.
Although your engine does not need a cooling fan motor to operate, the car part is there for a reason. Our goal is to help customers keep their cars on the road longer, so to do that — car repairs need to be handled promptly.
How Can I Save on Car Repairs?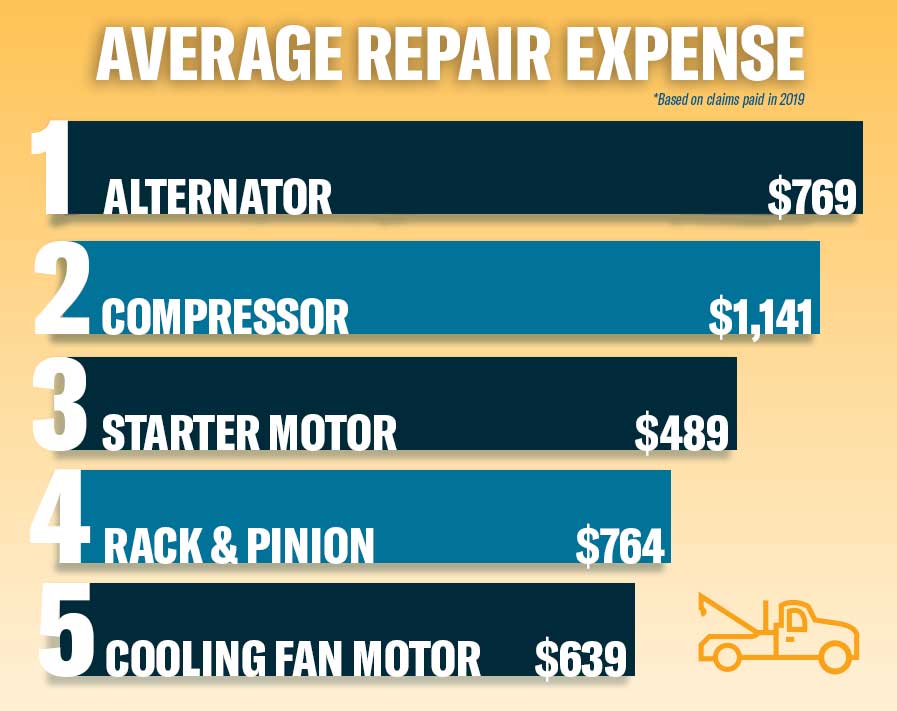 After looking at the most common Honda repairs, you're looking at close to $1,435 – $6,172 in expenses. We would also like to note these are the five most common Honda repairs which don't include the various others we seen in 2019.
An extended car warranty can help you save on car breakdowns that would typically be covered by a manufacturer's warranty. If you've owned your vehicle for 5+ years and want to ensure you're still protected, then Endurance is for you.
One of our priorities as a direct provider is offering plans that are flexible and affordable for everyone. Endurance also offers the Endurance Elite Membership that includes 24/7 roadside assistance and up to 2 tire replacements per year. 
Our Team Members can help you find the perfect plan for you with just a few questions over the phone.
To learn more about our different protection plans, visit our coverage page that outlines each plan and includes sample contracts.
More like this
Make/Model

As the world gradually transitions to renewable energy sources, the adoption of e-vehicles is on the rise, and Tesla has been leading the charge. Their range of electric cars is..

Read More

Make/Model

Originally formed from the remnants of the Henry Ford company, Cadillac is arguably the most quintessential American car brand in existence. Founded over 100 years ago, they were the first..

Read More

Make/Model

Buying a new car or a used car can be a tricky process. The choice of vehicles is almost endless, and while it can be tempting to go for the..

Read More