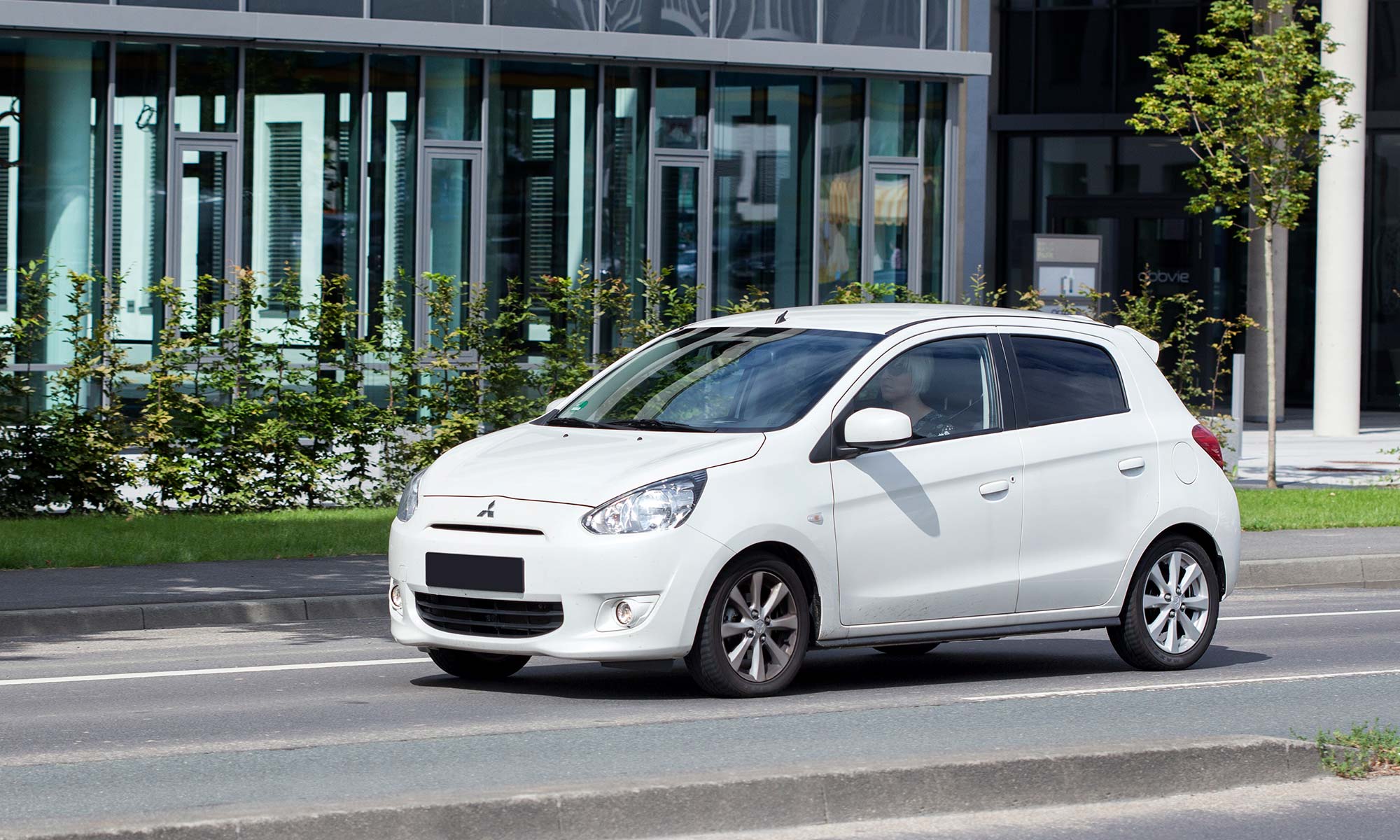 For over 100 years, the Mitsubishi Motors Company has been providing drivers with a line of affordable and reliable vehicles. One such model that has become popular with motorists worldwide is the Mitsubishi Mirage.
Known for its small size and economical design, the Mirage became a favorite for those looking for overall reliability while having a car that was easy to drive, no matter if you found yourself stuck sitting in heavy traffic or cruising down open roads. Yet, despite ranking as the 7th most reliable vehicle in its class, some model years of Mirages, such as the 2015 Mitsubishi Mirage, are known to have several potentially dangerous (and costly) issues.
About the 2015 Mitsubishi Mirage
The 2015 Mitsubishi Mirage is a subcompact economy vehicle designed for drivers looking for a little more cargo room without being limited to a large truck or SUV. The Mirage offers owners an overall low MSRP price of up to $15,395 while featuring an impressive fuel economy, giving drivers 37 miles per gallon (mpg) in the city and up to 44 mpg on the highway. This means that not only can the 2015 Mirage help owners save on the cost of other subcompact hatchbacks like the Honda Fit or Toyota Yaris, but it can also help them save at the pump. The Mirage also gives those looking to find their next new car an option of the type of transmission they'd prefer, coming as both a manual or a continuously variable transmission (CVT). In short, a CVT is a form of automatic transmission that utilizes two cone-shaped pulleys instead of gears to transfer the power generated by the engine to the rest of the drivetrain.
While offering drivers a low-cost and highly fuel-efficient vehicle, the 2015 Mirage lacks other potentially crucial areas for some drivers. In total, the Mirage features a 1.2-liter, three-cylinder engine delivering just 74 horsepower and 74 pound-feet of torque, making it less than ideal for those looking for a high-powered vehicle.
Despite lacking overall performance capabilities, the 2015 Mirage is a relatively cheap vehicle, costing an average of $442 in maintenance and repairs yearly, according to RepairPal. Some of these potential costs can include repairs such as: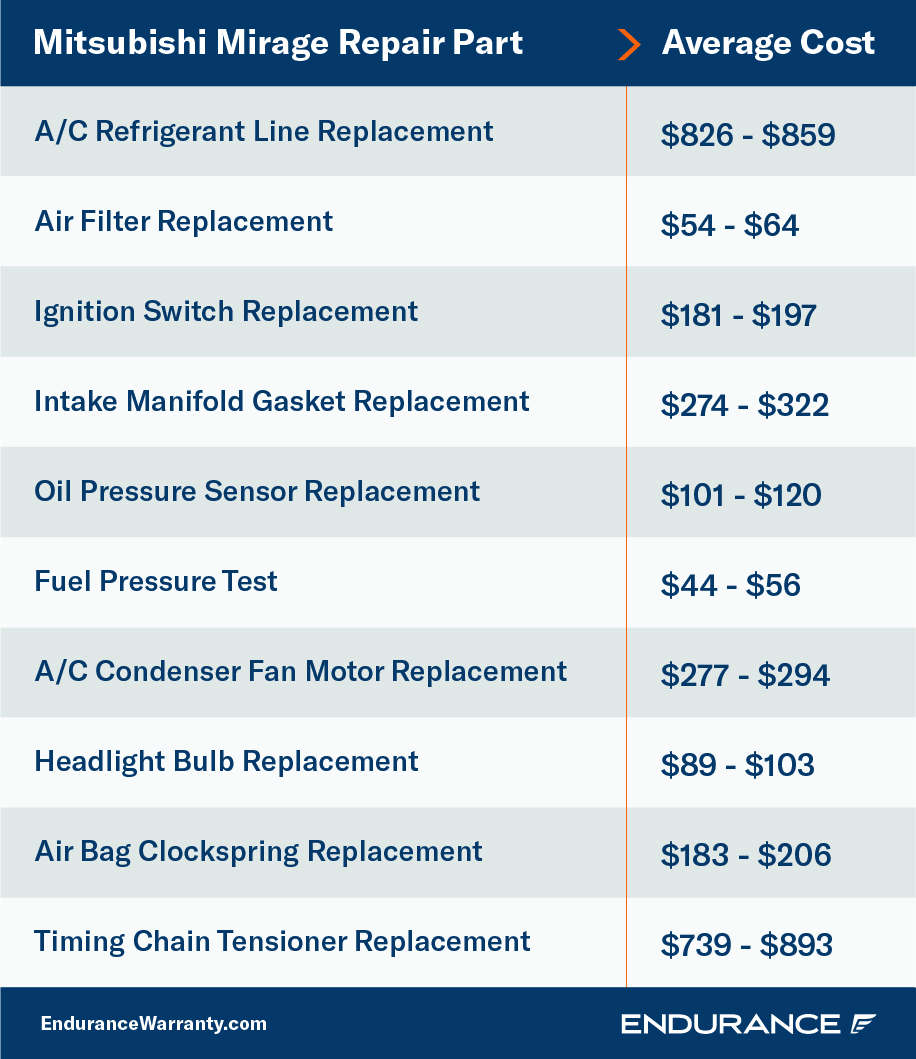 Whether you are considering purchasing a Mirage, a Toyota, Honda or Chevrolet, protect yourself and your vehicle with an Advantage auto protection plan from Endurance. As the most comprehensive auto protection plan available, you can rest easy knowing you'll have coverage for your car's most vital components. Advantage customers can also save even more when maintaining their vehicle by offering up to $3,500 in regular maintenance coverage, including essential services such as engine diagnostic exams and up to three oil and filter changes.
2015 Mitsubishi Mirage Safety Recalls
While some potential car buyers may see the 2015 Mitsubishi Mirage as a viable option for them thanks to its low price and fuel economy, there are still some reasons why car buyers should avoid this particular model year. One of the main reasons is that the 2015 Mirage has had two significant safety recalls, both related to the same vital element of the car — the airbags.
Specifically, Mitsubishi and the National Highway Traffic Safety Administration (NHTSA) found that the airbags in the 2015 Mirage could be faulty due to various issues with when they would choose to deploy. The first recall occurred in December 2015 when the NHTSA determined that the airbags would possibly be delayed when deploying due to corrosion of a wiring connector that sat behind the footrest. This issue can be made worse by owners who regularly get in their Mirage with wet or sandy shoes on, as the wiring connector could quickly start to deteriorate, which could potentially keep the airbag from deploying in the event of an accident.
The second recall occurred in October 2017 and was due to the possibility that the airbag may not deploy at all. This recall had to do with a faulty acceleration sensor, which detects when the vehicle moves or vibrates in a way that signals a crash has happened. The issue with the 2015 Mirage's sensor, however, would misinterpret a crash for regular road vibrations or a flat tire and had a tendency not to deploy when it was supposed to.
While flat tires may not be the right reason for airbags to deploy, they can still be a severe hazard. With a vehicle protection plan like Advantage, you can be sure that your tires are in good condition with the help of up to $3,500 in regular (and essential) maintenance such as tire rotations, tire pressure (PSI) checks and alignment checks. Additionally, customers can also get access to one year of Elite Benefits with the purchases of any Endurance plan and a small activation fee and include great perks, such as 24/7 roadside assistance, up to $500 in collision discounts, and more.
2015 Mitsubishi Mirage Consumer Complaints
The 2015 Mitsubishi Mirage suffers from several consumer complaints, and two major safety recalls. Specifically, those involving:
Brakes
One of the most common complaints about the 2015 Mitsubishi Mirage is premature wear on the front brakes. This is due to an overuse of the front brakes by the overall braking system and can result in symptoms like vibrations when braking, loud 'squeals,' or grinding. This was not an easy issue to fix, as the only remedy is for Mirage owners to replace the front brake pads more often than the car's original recommended maintenance schedule, and it can cost owners anywhere from $221 to $262 to replace each time.
Along with providing comprehensive breakdown protection, each Advantage plan can also help you save when replacing your brake pads and shoes. You can also get several other special, one-time services, such as cooling system maintenance and a battery replacement, for even more coverage and savings.
Transmission
One of the other common complaints with the 2015 Mirage is that the transmission has difficulty shifting, typically for older or higher mileage Mirages. This is caused by binding between the transmission synchronizer, which tells the transmission when to shift. While causing some potential issues, owners could resolve this issue by including an additive with the transmission fluid to help break that binding between the two components. If this doesn't work, owners can purchase a new synchronizer kit from Mitsubishi.
If this issue is left unresolved, the synchronizer could start scraping metal shavings off the gear. When this happens, these shavings will make their way into other components of the CVT, resulting in the transmission failing. As one of the most complex and important aspects of any vehicle, replacing or repairing a severely damaged transmission can be expensive, as a complete replacement can cost between $4,830 and $5,023!
Interior Accessories
Some of the interior accessories in the 2015 Mitsubishi Mirage have also been a source of issues for owners. One of the biggest complaints has been with a possibility of a compatibility issue with the built-in Mitsubishi Multi Entertainment System Bluetooth and more up-to-date smartphones. Many owners have reported that the Bluetooth will not stay connected to newer phones and that they cannot reconnect once this happens. Generally, resetting the CPU by disconnecting the battery for ten seconds will resolve this issue. However, it is likely to happen again in a short time.
Wheels
The wheels and tires on the 2015 Mitsubishi Mirage are a source of trouble for many owners, with one of the most prominent being an issue with the Tire Pressure Monitoring System (TPMS) sensor. Specifically, owners note that the TPMS sensor won't register low tire PSI, which could result from the poor design of the sensor itself or dirt and road dust clogging it up.
This is an essential component of the car that helps keep the tires in good condition and can help prevent another potential (and dangerous) issues, such as a blowout. Due to this, replacing these sensors when they stop working is essential, which can cost an average of $207 to $257 to replace the TPMS sensor.
The Mirage's Electronic Stability Control (ESC) also tends to fail, which has caused some of the most significant concerns with owners. When the stability control fails, this can cause drifting and instability with the handling at high and low speeds, making the car unsafe. ESC failure can also cause a misalignment of the Mirage's front end, which is a significant safety issue, especially at highway speeds. To fix the ESC, owners will need to get their vehicle's engine computer module reprogrammed and recalibrated by either a Mitsubishi dealership, a licensed repair facility or an ASE Certified mechanic, and it will usually cost between $80 and $150.
If you want to ensure your Mirage's handling stays safe, it's essential to get regular wheel alignments. Purchasing an auto protection plan like Advantage can help by offering drivers up to $3,500 in maintenance coverage, including yearly diagnostic exams, so you can be sure that your vehicle's steering and electronic components are in working condition.
Protect Your Vehicle with Endurance
Whether you are considering purchasing or currently own a 2015 Mitsubishi Mirage or any other car, truck or SUV, staying up-to-date on essential maintenance is vital for any vehicle. With a vehicle protection plan like Advantage, you can be sure you're getting comprehensive breakdown protection and up to $3,500 in regular maintenance coverage so you can help keep your car running for longer. You can also access several special, one-time services, including brake pad/shoe replacements, a front or rear wiper blade set replacement, up to two tire repairs or replacements, and more. New and existing Endurance customers can also receive up to a year of Elite Benefits with the purchase of any Endurance protection plan and a small activation fee, including 24/7 roadside assistance, key fob replacements and other great perks.
To learn more about Advantage or any of our other auto protection plans, request a free, no-obligation quote or call us at (800) 253-8203. You can also visit the Learning Center to find more informative and insightful articles on car FAQs, expert auto tips, DIY maintenance and more.
More like this
Make/Model

As the world gradually transitions to renewable energy sources, the adoption of e-vehicles is on the rise, and Tesla has been leading the charge. Their range of electric cars is..

Read More

Make/Model

Originally formed from the remnants of the Henry Ford company, Cadillac is arguably the most quintessential American car brand in existence. Founded over 100 years ago, they were the first..

Read More

Make/Model

Buying a new car or a used car can be a tricky process. The choice of vehicles is almost endless, and while it can be tempting to go for the..

Read More