Whether you're taking a trip up to the mountains to ski, are visiting friends and family, or squeezing in any last-minute holiday shopping, having a car that is safe and able to handle the rain, sleet, and snow is essential. When the weather starts to turn cold, your safety on the road is more important than any other time.
Finding the best car for winter weather can help you stay safe on the road no matter where you're headed. Some cars are better equipped than others for the cold weather and can handle more extreme elements. Knowing which cars these are can help you choose the right vehicle for you and your family. 
Common Winter Hazards
Just as you would take steps to help winterize your home, preparing for winter weather is essential for your vehicle. When the snow starts to fall, you need to ensure that your car, truck or SUV is equipped to handle the snow, rain and other winter hazards you may encounter, such as:
Black ice 
Snow drifts 
Limited visibility 
Flooding 
Mudslides 
Having a vehicle with equipment and safety features designed to handle these hazards can help keep you and your family safe. Staying on top of your car's preventive maintenance will also help keep you safe when the snow starts to fall and the roads start to ice over. A vehicle protection plan like EnduranceAdvantage™ can also help you maintain your winter vehicle by offering up to $3,500 in yearly maintenance, including essential services such as tire rotations, alignment checks, engine diagnostic exams and more.
Top-Rated Cars for Winter Weather
While you can always equip a vehicle with winter-ready accessories like snow tires/winter tires, it is best to find a car designed to handle the ice and snow of the winter months. The best vehicles for winter weather will have features meant to keep them safe and secure, even when the roads are slippery and visibility is low. Knowing some of the top-rated cars for winter driving can help you make the right choice. 
These include:
Subaru Ascent
The Subaru Ascent is a mid-size crossover SUV that is perfectly designed for winter driving. It features 8.7 inches of ground clearance, so you can easily get over deep snowdrifts and packed powder without getting stuck. The Ascent also features an all-wheel-drive system (AWD) with Subaru's X-Mode for adaptive driving and their driver assistance technologies like EyeSight. It's also designed to give you the best possible grip on slippery roads with both traction and hill descent control.
On top of your vehicle's traction control, one of the best ways to keep your car stable on icy roads is to keep the tires free of uneven wear and at the correct tire pressure (PSI). You can save when it comes to repairing or replacing your vehicle's tires with 1 year of  Endurance Elite Benefits. Included with the purchase of any Endurance protection plan and a small activation fee, you get up to 2 repaired or replaced tires per year so you can always have the best possible traction when the roads start to get unsafe. 
Jeep Grand Cherokee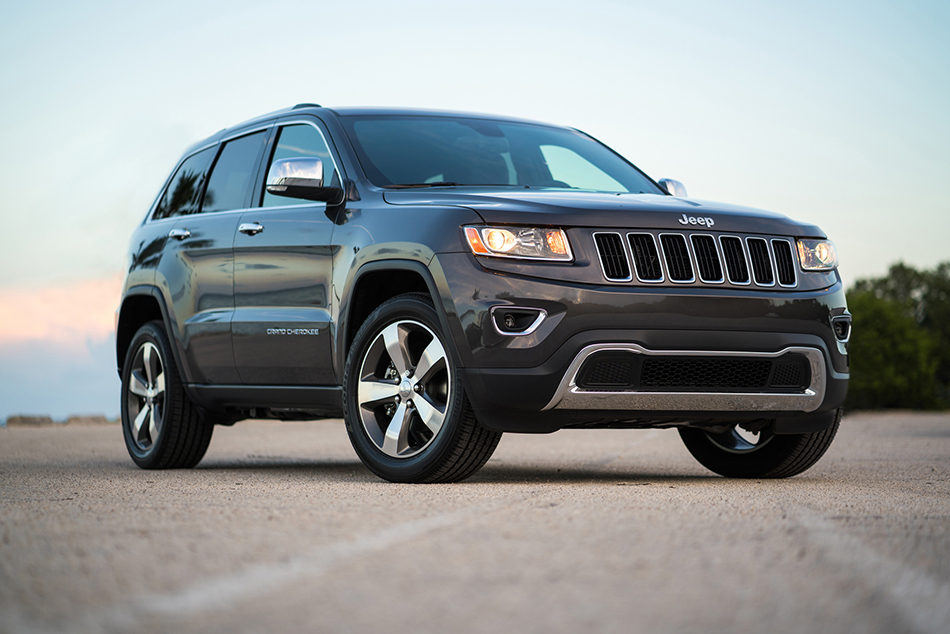 The Jeep Grand Cherokee is well known for its ability to get people safely through inclement weather and less-than-ideal conditions on the road. This is partially due to its famous four-wheel drive (4WD) drivetrain, designed for off-road conditions such as scaling mountains and climbing over rocks and boulders with relative ease. It also features individual brake-lock differentials, which control how fast the axles spin each wheel based on the amount of traction they are getting. This can help keep your Cherokee stable on slippery roads during the winter. 
Keeping your vehicle's wheels in alignment will also help you keep your vehicle under control when there is less grip on the pavement. With $3,500 in maintenance coverage from EnduranceAdvantage, you can get regular wheel alignments checks to make sure your vehicle is under control at all times. 
Dodge Durango SXT
Dodge's mid-size SUV, the Durango, is built on the same base platform as the Jeep Grand Cherokee but with unibody construction and a 3.6-liter Pentastar V6 engine. This SUV features a high curb weight for more traction, while the unibody makes it more durable and stable on the road. It also features a 3rd Generation ZF 8 speed automatic transmission for better control when driving up and down mountain passes. With more control, you can be sure that you will be safe, even if you are driving out in the middle of nowhere. 
With Endurance Elite Benefits, you can rest assured that you are never alone when driving out in the wilderness. With 24/7 roadside assistance, you can have the peace of mind you need to get out into the great outdoors and enjoy yourself without worrying about being stranded due to a flat tire or a dead battery. 
Volvo S90
The Volvo S90 is a premium sedan that is designed to be safe in winter driving conditions. With standard all-wheel-drive and a slippery road alert, you can be sure that both you and your car will be aware when you are driving in dangerous conditions. The S90 also features adaptive LED headlights that adjust to the light and give you the optimal amount of illumination for whatever kind of weather you are driving in. 
Chevrolet Tahoe 4WD
Out of all the winter vehicles available on the market, the Chevrolet Tahoe is perhaps the most popular, and for a good reason. It is designed specifically for cold-weather driving and features 7.9 inches of ground clearance. The Tahoe also comes with a forward collision warning, so you can always be aware of what surrounds your vehicle, even when the visibility is low. It also features rain-sensing windshield wipers that start working automatically when the rain starts to fall. 
Protect Your Winter Vehicle With Endurance
No matter what kind of vehicle you have this winter, staying up-to-date on essential maintenance can help keep you and your passengers safe. With an EnduranceAdvantage auto protection plan, you can get peace of mind when it comes to your vehicle's maintenance needs by offering up to $3,500 in regular maintenance coverage, including up to 3 oil and filter changes, tire rotations, and alignment checks. You can also receive special, one-time services such as brake pad replacement, cooling system maintenance, a battery replacement, and more. Endurance customers will also receive access to 1 year of Endurance Elite Benefits with the purchase of any auto protection plan and a small activation fee for even more perks and savings. 
To learn more about EnduranceAdvantage or for more information about any of Endurance protection plans, you can request a free, no-obligation quote or give us a call directly at (800) 253-8203. You can also visit our Learning Center for other helpful articles on various topics such as expert maintenance tips, make/model comparisons, and more.
More like this
Make/Model

If you're the owner of a Honda Accord, you certainly aren't alone. The brand has a great reputation for producing some of the most reliable cars on the road, with..

Read More

Make/Model

The last thing any Ram driver wants is to hear an odd noise while driving down the road, followed by a mechanical issue within their vehicle. Unfortunately, mechanical breakdowns are..

Read More

Make/Model

Finding yourself in the position where you are notified of a recall affecting your vehicle is never a fun situation, but it should require immediate action on your part. Depending..

Read More