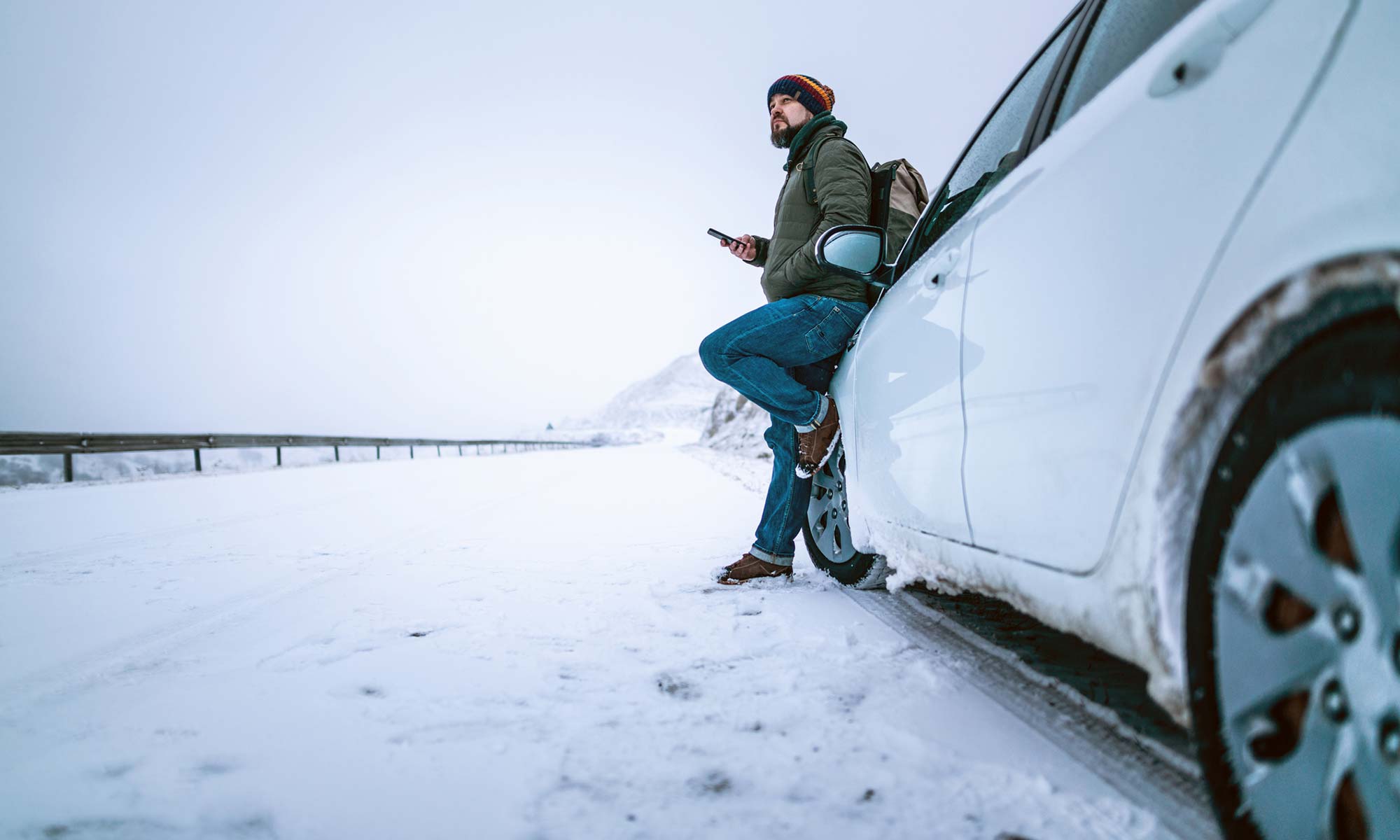 With the holiday season right around the corner, many drivers around the country are getting ready to hit the road. From holiday shopping, visiting friends and family, or taking one last road trip before the end of the year, having a vehicle you can rely on in the cold weather is essential.
One way to make sure your car, truck, or SUV is better suited for everything that winter driving has to offer is by "winterizing" your vehicle.
Winterizing Your Vehicle
While some parts of the country can experience milder winters, such as the South, for drivers in areas like the Midwest or Northeast, having a vehicle suited for winter weather is essential. However, while not every car, truck, or SUV will be a top-rated vehicle for winter driving, there are still steps you can (and should take) to get your vehicle for the cold temperatures ahead.
Some of the most important things you can do include:
1. Check Your Tire Pressure
Having poor tire tread or underinflated tires can be dangerous during the winter months when driving on ice and snow. To ensure your vehicle's tires are ready for winter, there are a few steps you can take.
First, it's vital to check their air pressure. Also referred to as PSI, your tire pressure indicates how inflated your tires are. However, having both underinflated and overinflated tires can have a negative impact on your vehicle. Tries that are underinflated can lead to issues such as longer braking distances and poor handling, which can be dangerous when combined with icy or snowy driving conditions. Underinflated tires can and even lead to an overall lower fuel economy, meaning you'll be making more frequent trips to the gas pump. Overinflated tires can also pose a risk, as they can lead to less responsive steering, as well as accelerated tire wear.
However, while having the correct tire pressure is vital, you can do it at home with the help of a tire pressure gauge. First, refer to your owner's manual to confirm your vehicle's recommended PSI level. Next, follow the instructions listed with your tire pressure gauge to get an accurate reading for your vehicle. If your PSI is too low, you can take your vehicle to a certified repair facility or even to a local gas station to use an available air pump. If the PSI is too high, simply remove your tires' valve caps and use a tool such as a screwdriver (or another item with a pointed end) and press down into the now open valve. This will then begin to release the air pressure, deflating the tires. Once deflated, use your tire pressure gauge again to make sure you are at the recommended PSI level.
2. Check Your Tire Tread
Along with your tire pressure, your tires' tread is also vital for any vehicle — regardless of the season. With poor tread, your tires will be less equipped to grip the road when driving, increasing the risk of a potential spinout or accident. Combining poor tread with icy conditions can also be extremely dangerous, so it's crucial to check the tread of your tires before winter arrives.
For a quick check of your tires' tread, use the penny trick. To do this, simply place a penny into the tread with the top of President Lincoln's upside down in your tread grooves. If you notice that the tread is below Abe's head, it is time to replace your tires. Winter tires (sometimes referred to as snow tires) can also be great to have when the temperature drops, as they are specifically designed to help your vehicle maintain as much traction as possible in any type of winter conditions.
Save when it comes to maintaining your car's tires with the help of an EnduranceAdvantage™ breakdown protection plan. Designed to protect your vehicle's most vital components from unexpected breakdowns and repairs outside of your typical auto insurance coverage, each EnduranceAdvantage package also offers up to $3,500 in regular maintenance services. That means you can get essential services such as alignment checks, tire rotations, PSI checks, and other services that can ensure your vehicle is ready for winter.
3. Change Your Wiper Blades
With more rain, sleet, and snow on the way, having a good set of wiper blades will make sure that you keep your windshield as clear as possible. If you have noticed that your current wipers are leaving behind streaks, are starting to crack, or are falling apart, it is time to change them.
However, while having working wiper blades is important, it is an easy fix as most local auto parts stores will swap them out for free with the purchase of a new wiper blade set. You can also save on replacing your wiper blades with EnduranceAdvantage. Along with providing up to $3,500 in regular maintenance services, you can also receive other special, one-time services with each EnduranceAdvantage package, such as one front or rear wiper blade replacement, a battery replacement, and a brake pad/shoe replacement — at no additional cost to you.
4. Put Together a Winter Safety Kit
During the winter months, there is the possibility of you becoming stranded due to weather or your vehicle experiencing an unexpected breakdown while on the road. This can be dangerous as temperatures start to drop and your car is no longer running to keep you warm.
Keeping a winter safety kit can ensure that you have everything you need to keep yourself safe and secure until towing or emergency services arrive. While essentials such as a first aid kit, food, water, and a warm blanket should always be a part of any winter emergency kit, other items you should also include are:
A portable heating device
A portable phone charger or battery pack
A high visibility vest or jacket
Triangle Reflectors
A flashlight
5. Check Your Heater and Defrost Function
In the hotter months, we rarely turn on the heater or use the defrosting features in our vehicles. Instead, many car owners are focused on any issues taking place with their air conditioning system. Due to this, most drivers only find out that there is a problem with their car's heater or defrost once they try to use it for the first time.
Instead of getting stuck in the cold, it is always a good idea to check your heater and defrost function before the winter months to ensure they are in working order. To help you determine if your heating system needs maintenance, some of the most common signs of issues can include:
Weak or poor air flow from vents
A sweet smell coming from your vents (caused by leaking engine coolant)
Fluctuating air temperature in the car cabin
If you notice any of the above issues, it's vital to bring your vehicle into a certified repair facility or to an ASE Certified mechanic as soon as possible.
6. Fill Up On Essential Fluids
One of the most common tips for drivers in colder climates is checking and refilling your vehicle's essential fluids before the start of winter. Specifically, it's best to ensure that your coolant, antifreeze, engine oil, and windshield wiper fluid are all topped off.
Additionally, it's vital to keep at least half a tank of gas in your vehicle when cold temperatures arrive. This is because excess moisture found in a low or an empty gas tank can begin to freeze, clogging the various gaskets within your tank. When this happens, you could be left stranded and not able to start your vehicle. Even if you are storing your vehicle for the fall and winter months, keeping your gas tank at least half full can help ensure there are no potential issues come the spring.
Get Your Car Ready for Winter with Endurance
Staying up-to-date on your car's maintenance needs during the fall can help ensure you avoid any issues during the colder months ahead. Purchasing an auto protection plan such as EnduranceAdvantage can also help to protect your vehicle any time of the year. Along with providing breakdown protection for your vehicle, each EnduranceAdvantage package comes with up to $3,500 in regular maintenance coverage. That means you can get essential services such as PSI checks, tire rotations, and more to help winterize your vehicle. Additionally, Endurance customers will also receive 1 year of Elite Benefits, including up to 2 tire repairs or replacements, key fob replacements, and much more with the purchase of any Endurance protection plan and a small activation fee.
You can request a free, no-obligation quote to learn more about any Endurance auto protection plan or call 866.918.1438 to speak directly with a representative. You can also find other helpful articles on topics like DIY car tips, expert auto advice, vehicle buying guides, and more by visiting the Learning Center.
More like this
Expert Auto Tips

Retired professional racecar driver Danica Patrick is a pioneer in the world of motorsports. Her breakthroughs include being the first woman to lead an Indianapolis 500 race (the 89th running..

Read More

Expert Auto Tips

Buying a new car can be incredibly exciting and can open up a whole new world of possibilities. There are so many vehicles on the market, and no matter what..

Read More

Expert Auto Tips

Changing your oil and keeping your tires at the correct PSI are two great ways to keep your car running smoothly and driving safely as the seasons change. Your vehicle's..

Read More