Is there anywhere better to enjoy all the colors of Fall than the South? Many would say it's unbeatable, thanks to its distinctive variety of trees. From maple, myrtle, and magnolia to cedar, dogwood, and pine, the south's foliage and scenery are unmissable at this time of year. Taking a quick road trip this Fall is the perfect way to get out of the house before Winter arrives so we've outlined our favorite getaways to visit with the best Fall foliage in the South.
Feel empowered on your next trip by getting your car road trip ready following this how-to provided by our experts. Performing essential car maintenance before any trip is essential to avoiding any sudden hiccups or breakdowns while driving.
How to Prepare Your Car for Your Fall Trip
The first step any driver should perform before a long trip is getting their car checked by a reliable mechanic. Don't risk any punctures or breakdowns getting in the way when you're off exploring the colors of Fall. Visiting a certified repair shop can help you avoid dealing with any pre-existing conditions that could result in a breakdown. You can also follow these steps at home to make sure your car is ready for the drive.
Step 1: Windshield wipers check—Are your wipers missing parts of the windshield, leaving streaks? Look to see if the rubber wiper is cracking or rounding at the edges. Need a new pair? Endurance customers can redeem their $25o discount vouchers provided by Endurance Elite to save on your next purchase at popular stores like Autozone.
Step 2: Oil check—It's sensible to check the engine oil before any long journey. Is the oil within the required range? Top up if needed, but also consider changing the oil if it's due soon.
Step 3: Tire tread and pressure check—Tires looking bare or deflated? A quick air pressure check can help you avoid things like punctures and excessive fuel costs. Also, consider getting a tire rotation which is advisable every time you change the oil or when the tread is worn anywhere near 2/32 of an inch deep.
Step 4: Brake pads check—Not all vehicles display warning lights for brake pads, so be sure to check them. Pads under 1/4 inch thick need replacing.
Step 5: Spark plugs check—Some vehicles benefit from a spark plug change every 30,000 miles or so, otherwise they can experience ignition problems. Check your owner's manual or with your local car dealer or mechanic if in doubt.
For more information on which maintenance you should perform before hitting the road, check out the Endurance Protect App for your car's maintenance schedule and more.
The Best 6 Places to See Fall Foliage in the South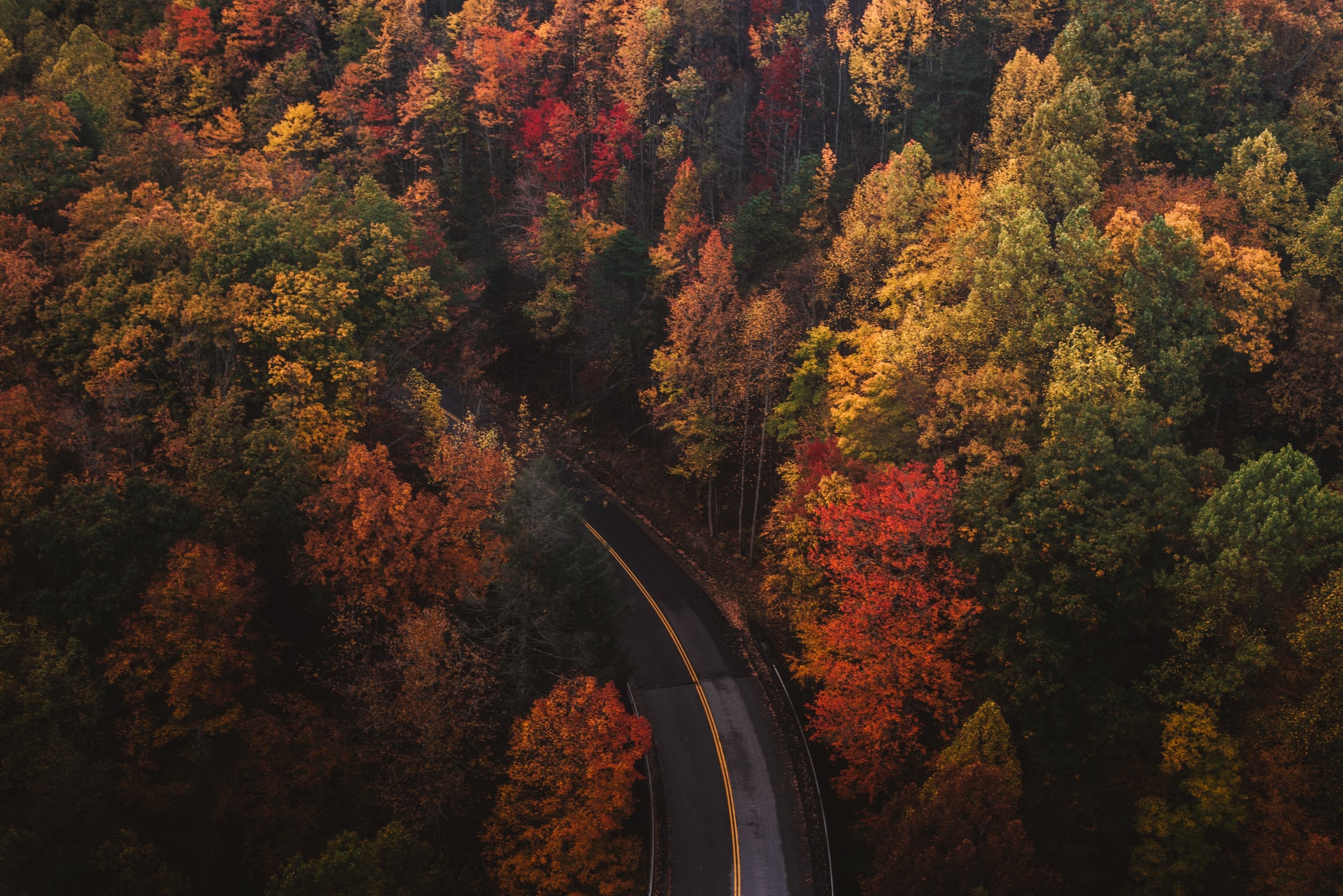 #1: North Carolina: Bryson City and the Great Smoky Mountains
A 3-hour drive from Atlanta, quiet mountain town Bryson City offers a visually spectacular getaway in Fall, with views and adventures in the Great Smoky Mountains National Park all around. Remarkable colors can be seen throughout October and explored by car, foot, steam train, bike, or even zip wire.
#2: Georgia: Cloudland Canyon State Park, Rising Fawn
Fall in the south doesn't get much more beautiful than it does at Cloudland Canyon State Park, known to be one of the most scenic parks in Georgia. The park lies about a half-hour drive from Rising Fawn. Discover over 3,500 acres of caves, plateaus, canyons, waterfalls, and woodland in this stunning state park—offering some of the most impressive fall foliage in the whole of the south.
#3: Virginia: Skyline Drive
Skyline Drive, Virginia's 105-mile-long National Scenic Byway, gives you access to the Shenandoah National Park and runs along the Blue Ridge Mountains, overlooking the Shenandoah Valley.
The drive will take you anywhere between 3 hours and 3 weeks—depending on how many of the 70-odd overlooks you decide to stop to take in. Here you'll find some of the most jaw-dropping Fall scenery in the country that is worth capturing on your phone. Take your time, embrace the 35mph speed limit, and slip into a slower pace. Keep an eye out for the park wildlife, which includes black bears and wild turkeys.
Fall colors tend to be at their most splendid around the second to the third week of October, but they extend well into November too.
#4: Georgia: Dahlonega
A mecca for gold miners in the 1800s, Dahlonega's primary draw in the Fall these days is the spectrum of golden and bronze hues in its foliage. You can still try your luck panning for gold in the rivers here, or if you're staying overnight, you can indulge in some local vintages as you'll be deep in the heart of Georgia wine country.
For possibly the best place to see fall colors in Georgia, head to the Chattahoochee National Forest. This location lies at the southern end of the Appalachian Trail. Visitors also have the option to take the 3.5-hour drive around the Brasstown Bald Loop, taking in the lakes, deep valleys, and waterfalls, along sweeping mountain roads.
#5: Alabama: Lake Lurleen
Take a short 9-mile drive from Tuscaloosa and Northport to this state park spread over 1,625 acres beside 1.5-miles-long Lake Lurleen.
The park offers glorious, gentle views of rolling wooded hills turning shades of red, orange, and gold in the Fall. It's the perfect place for families, birders, and anglers to enjoy some fall color in Alabama. There's a swimming beach, picnic area, and 23+ miles of hiking trails to explore. Keep an eye out for the waterfowl and migrant birds, and try your hand at fishing, paddleboarding, canoeing, and kayaking.
#6: South Carolina: Congaree National Park
Last on our list of the best places in the south to see foliage this Fall is Congaree National Park in South Carolina. Just under 2 hours' drive from Augusta and ideal for a day, weekend, or extended trip, the park is home to the largest section of old-growth bottomland forest left in the USA. With 20,000 acres of wilderness to explore, the park has 25 miles of trails along which you can marvel at the towering national and state champion trees, and magnificent oaks covered with silvery moss. The average canopy height here is over 100 feet.
The large number of old and tall deciduous trees, ranging from alders, dogwoods, and hickories to elms, walnuts, and myrtles, creates one of the most stunning fall foliage experiences in the south.
Don't Pay Directly for Auto Repairs
Before hitting the road for your next road trip, performing essential maintenance for the Fall and getting the proper protection can save thousands on car repairs. Endurance offers various levels of extended warranty protection suitable for any driver and budget.
Receive the most comprehensive protection on the market, as well as a year FREE of the Endurance Elite Membership. Gain access to all the benefits, which include key fob replacement, tire repair/replacement, $250 in discount vouchers, and much more. With each protection plan, gain access to additional benefits, accepted at any certified mechanic, including 24/7 roadside assistance, trip interruption coverage, and substitute transportation. The right cover could save you thousands, so don't leave it to chance if you're heading out on the road this Fall.