Just because winter is right around the corner doesn't mean it's still not a great time to get out and enjoy the great outdoors this fall. For some, they're enjoying the latest blockbuster at a local drive-in or rooting on their favorite teams at a tailgate. But for others, taking a quick road trip is the perfect way to get out of the house before the frigid winter weather arrives.
While the northeast or the midwest can offer some of the most scenic drives in the U.S. during the autumn months, they're not the only places worth taking a visit to. While having milder winters compared to other regions, the south can provide breathtaking views, scenic drives, and incredible scenery not found anywhere else in the country.
However, just as you need to prepare yourself for any road trip, preparing your vehicle is just as important. So before you head off on your adventure through the top locations to visit in the south this fall, be sure to make your vehicle ready for the trip ahead.
Tips to Prepare Your Car for a Road Trip
Getting your car checked by either a certified repair facility or ASE Certified mechanic is always a great idea before any trip. However, there are some things you can do right at home to help ensure your car, truck, or SUV is road trip ready.
Take the right preventative maintenance steps and prepare your vehicle with these 5 tips:
Check Your Windshield Wipers — Look to see if the rubber wiper is cracking or rounding at the edges or if the blade is becoming detached from the frame. Rust or corrosion on the joints can also cause your wiper blades not to work correctly. If you notice these signs and that your wiper blades are often missing parts of your windshield or are leaving streaks, it's time to get them replaced.
Check Your Engine Oil — Even if you're not due for an oil change yet, it's still a great idea to check before a long road trip. One of the simplest ways to check at home is to see the texture of your oil. To do this, use your owner's manual to locate your vehicle's oil tank. Next, remove the cap and check the oil. If you can see small particles or other kinds of debris, it's a good idea to change your oil. If you also notice that your oil level is low, that's also an indication that it's time for a refill.
Check Your Tire Tread and Air Pressure — Driving on worn or underinflated tires can pose a serious risk for a blowout. However, checking both your tire tread and air pressure (also known as PSI) can be quick and cheap. To quickly check your tire tread, all you need is a penny! Simply place the coin with President Lincoln's head upside down in between the grooves of the tread. If you can't see the top of Abe's head, your tires should be okay. As for your tire pressure, all you need is a tire pressure gauge. Simply use the gauge according to its listed instructions to get a reading of your tires' PSI. Next, check with your owner's manual to confirm the recommended PSI your vehicle should have. Your car's tires may also list this information directly on them. If your tire pressure is low, you can refill them at an air pump found at a gas station. By visiting your local repair facility, you can also refill your tires or have them properly deflated if you are above your recommended air pressure.
Check Your Brake Pads — While engine oil is vital in making your car go, you won't be able to stop without working brake pads. So it goes without saying they should be a top component to check before any road trip. If your brake pads are under 1/4 inch thick, it's crucial to get them replaced as soon as possible.
Check Your Spark Plugs — Most vehicles can use a spark plug change every 30,000 miles or so. Failing to do so can lead to potential ignition problems. Check your owner's manual, with your local car dealer or mechanic if you believe your spark plugs are due for a change or if you have any issues starting your vehicle.
Save on all your vehicle's essential maintenance needs with an EnduranceAdvantage™ auto protection plan. Each EnduranceAdvantage package provides comprehensive breakdown protection and up to $3,500 in regular maintenance benefits. That means essential services such as up to 3 oil and filter changes, PSI checks, tire rotations, and more are covered — at no additional cost to you. You can also receive special, one-time services like a brake pad/shoe replacement or a front or rear wiper blade set replacement so you can be sure your car, truck, or SUV is ready for your next fall road trip.
The 6 Best Places to Visit in the South This Fall
Once your vehicle is road trip ready, there's plenty to do and see with our picks for the 6 best places to visit in the south this fall.
#1: North Carolina: Bryson City and the Great Smoky Mountains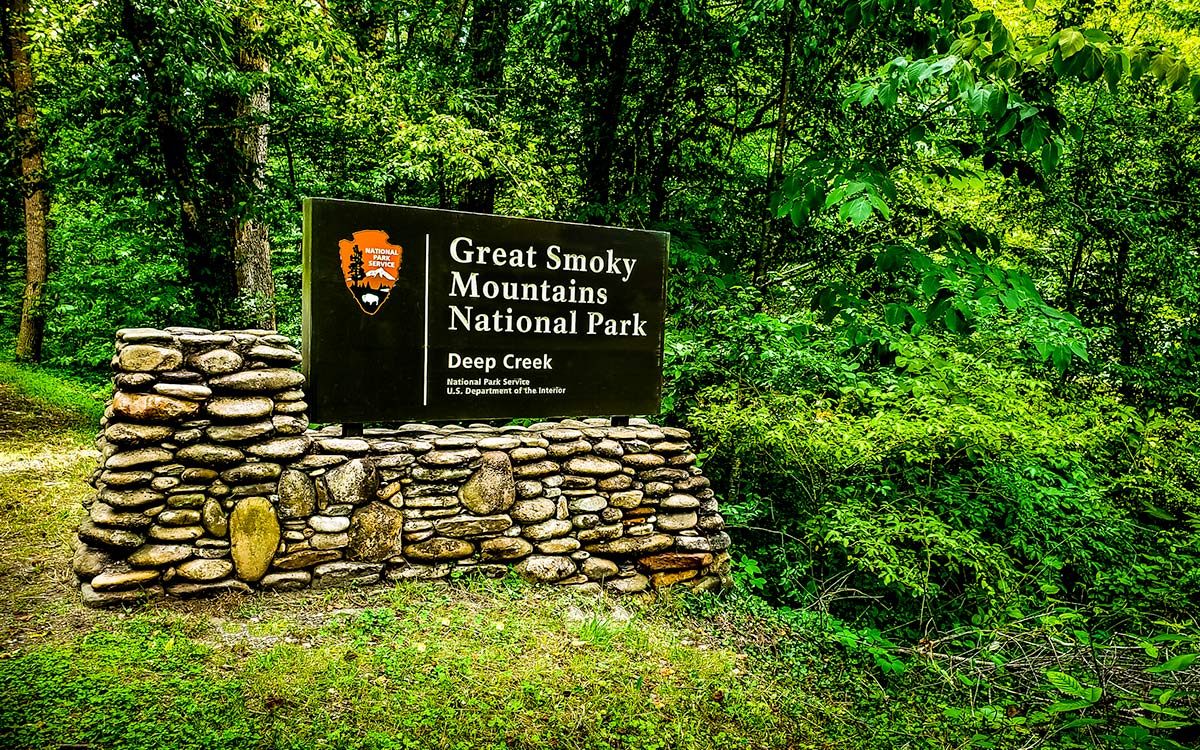 A 3-hour drive from Atlanta, the quiet mountain town of Bryson City, NC, offers a visually spectacular getaway in fall thanks to the Great Smoky Mountains National Park. The remarkable colors of the region can be seen throughout the fall and explored by car, foot, steam train, bike, or even zip wire! Visitors to the area can also try their hand at even more outdoor activities, thanks to available hiking, fishing, tubing, paddle boarding, ATVing, and more.
If you're ready to take a break from nature, don't worry. Bryson City offers some great dining options in the downtown area, including spas and even an aquarium. Even the famous Blue Ridge Parkway is within reach for those looking to continue their road trip in the area.
#2: Georgia: Cloudland Canyon State Park, Rising Fawn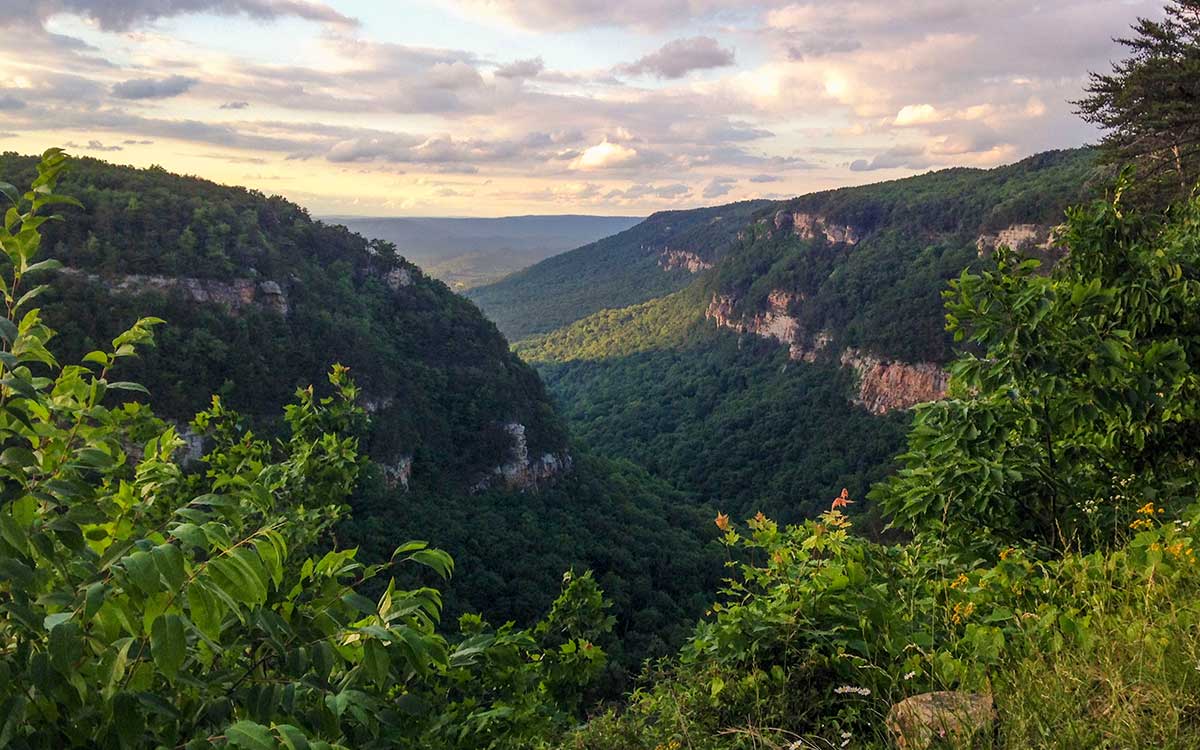 Fall in the south doesn't get much more beautiful than it does at Cloudland Canyon State Park, known to be one of the most scenic parks in Georgia. The park lies about a half-hour drive from Rising Fawn, and visitors can explore over 3,500 acres! From caves, plateaus, canyons, waterfalls, and woodlands, there really is plenty to see at this fall foliage stop.
For those looking to be more hands-on during their stay, there is still plenty to do. Explorers can bike up to 30 miles of trails, horseback ride up to 16 miles, or hike a potential 64 miles. You can even get in a round of disc golf (for a $4 fee per person, per round).
#3: Virginia: Skyline Drive and Shenandoah National Park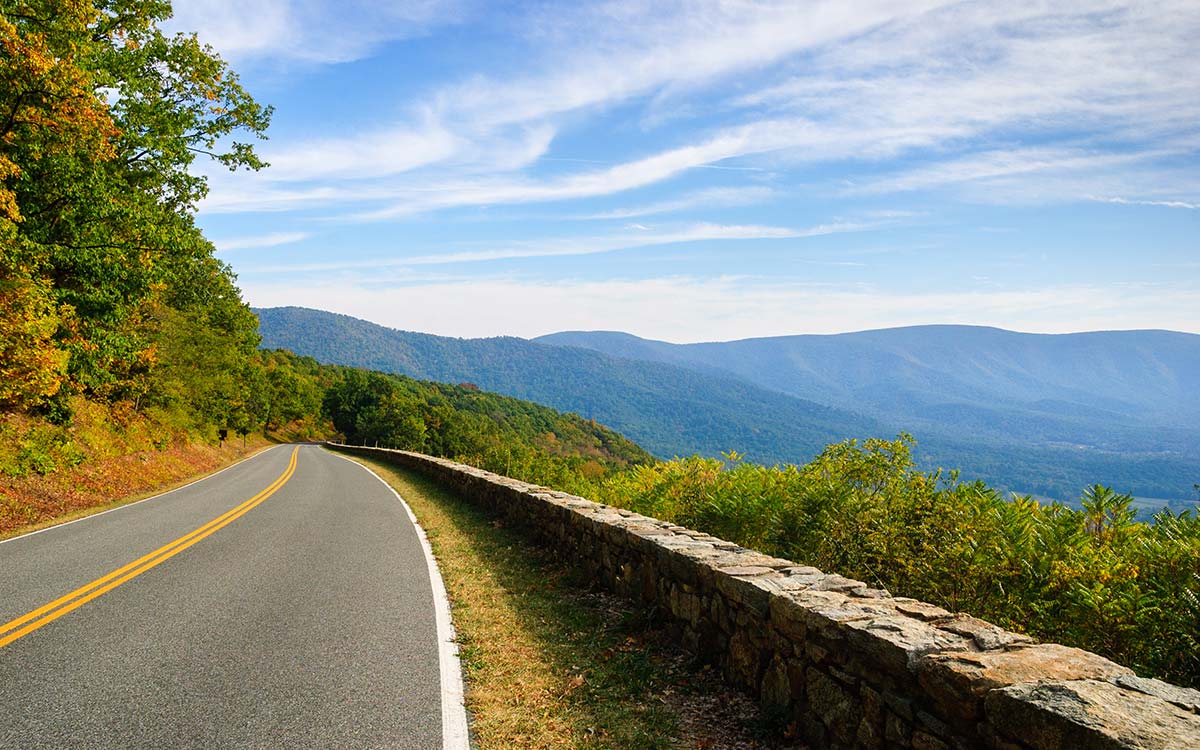 Skyline Drive, Virginia's 105-mile-long National Scenic Byway, gives you access to the Shenandoah National Park and runs along the gorgeous Blue Ridge Mountains, which overlooks the Shenandoah Valley.
The drive will take you anywhere between 3 hours and 3 weeks — depending on how many of the 70-odd overlooks you decide to take in. Here you'll find some of the most jaw-dropping fall scenery in the country. Be sure to take your time and embrace the 35mph speed limit, as the views really are too good to speed by. Remember, keep an eye out for the active park wildlife, including black bears and wild turkeys.
#4: Georgia: Dahlonega
A mecca for gold miners in the 1800s, Dahlonega's primary draw in the fall is the spectrum of golden and bronze hues in its foliage. You can still try your luck panning for gold in the rivers, or if you're staying overnight, you can indulge in some local vintages as you'll be deep in the heart of Georgia's wine country.
For possibly the best place to see fall colors in Georgia, head to the Chattahoochee National Forest. This location lies at the southern end of the Appalachian Trail. Visitors also have the option to take the 3.5-hour drive around the Brasstown Bald Loop, taking in the lakes, deep valleys, and waterfalls along sweeping mountain roads.
#5: Alabama: Lake Lurleen
Take a short 9-mile drive from Tuscaloosa and Northport to this state park, which spreads over 1,625 acres beside the 1.5-miles-long Lake Lurleen.
The park offers glorious, gentle views of rolling wooded hills turning shades of red, orange, and gold in the fall. It's the perfect place for families, birders, and anglers to enjoy fall colors in Alabama. You'll also find a swimming beach, picnic area, and 23+ miles of hiking trails to explore. Be sure to keep an eye out for the waterfowl and migrant birds, and give fishing, paddleboarding, canoeing, or kayaking a try.
#6: South Carolina: Congaree National Park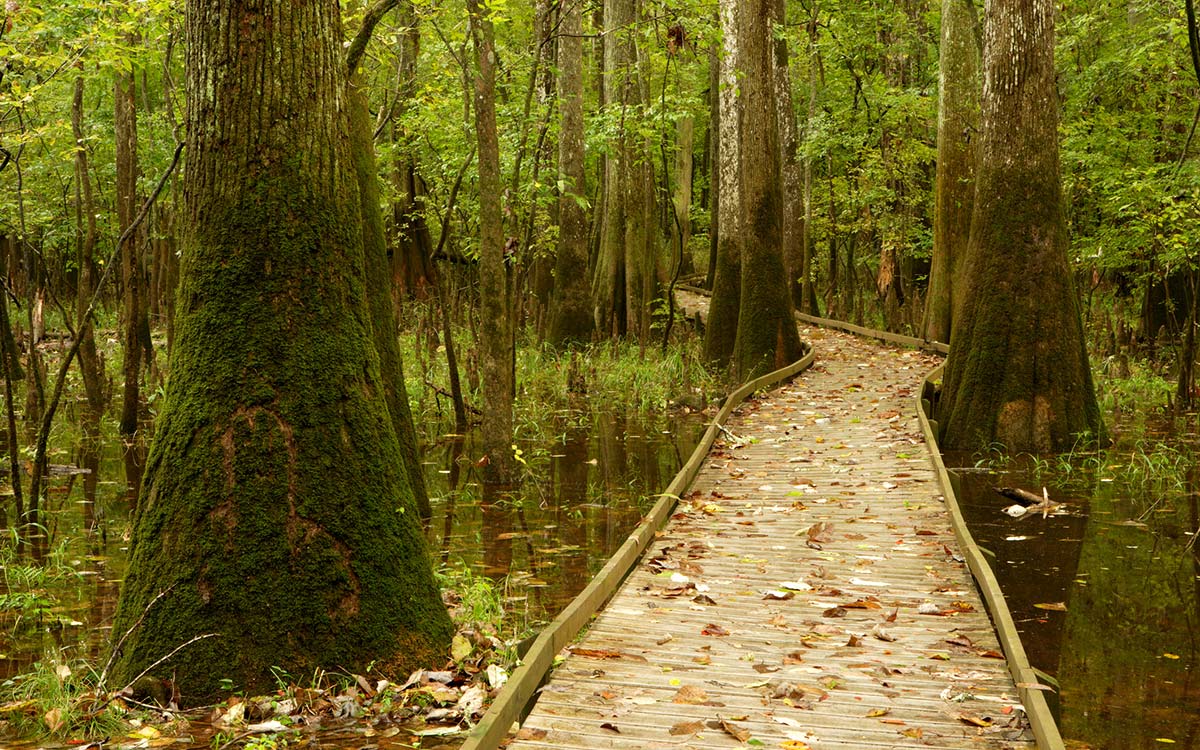 Just under 2 hours' drive from the legendary golf of Augusta, GA, Congaree National Park is ideal for a day, weekend, or extended trip! That's because the park is home to the largest section of old-growth bottomland forest left in the USA. With 20,000 acres of wilderness to explore, the park has 25 miles of trails along which you can marvel at the towering national and state champion trees and magnificent oaks covered with silvery moss. The average canopy height here is over 100 feet.
You can also find other species of trees, such as alders, dogwoods, hickories, elms, walnuts, and myrtles, which together help to create one of the most stunning fall foliage experiences in the south. Don't forget to take a stroll down the 2.4-mile long Boardwalk Loop, where you'll get an up-close and personal view of some of the park's majestic oaks.
Protect Your Vehicle with Endurance
Before hitting the road for your next road trip, performing essential maintenance is vital in helping you to avoid any unexpected breakdowns and costly repair bills while on the road. With an EnduranceAdvantage auto protection plan, you can rest easy when it comes to your vehicle's maintenance needs with up to $3,500 in regular maintenance coverage. Endurance customers will also receive a year of Elite Benefits with the purchase of any Endurance protection plan. That means you can find even more savings thanks to perks like 24/7 roadside assistance, tire repairs/rotations and key fob replacements, and more.
For more information about any Endurance protection plan, call 866.918.1438 or request a free online quote. You can also visit the Learning Center to find other great road trip adventures, expert auto tips, make/model comparisons, and much more!
More like this
Travel

In the warmer weather of summer, many people plan off-road excursions and road trips with the entire family. The only thing that can ruin these outdoor adventures is an unexpected..

Read More

Travel

Thanksgiving is fast approaching, and if you're like many across the country, you're probably gearing up to head home (or somewhere) to spend quality time with loved ones and enjoy..

Read More

Travel

With the end of summer near, the Labor Day holiday weekend is just around the corner. It also means that millions of drivers will be hitting the highway for one..

Read More