For many, the summertime is the perfect season for a road trip. Whether you make your way down the historic Route 66 or stopping by some of America's best rest stops, a summer road trip is hard to beat. 
While June or July may be the ideal time for some, there are still plenty of places to go and sights to see during the fall months. One such road trip that is scenic during autumn is "America's favorite drive" — the Blue Ridge Parkway.
What is the Blue Ridge Parkway?
Located between North Carolina and Virginia, the Blue Ridge Parkway is a 469-mile road that follows the Blue Ridge Mountains and is a part of America's National Park System as the longest linear park. The Parkway itself will even connect you to two other national parks, the Shenandoah National Park in Virginia and the Great Smoky Mountains National Park in both North Carolina and Tennessee.
The journey itself can be broken down into four separate parts: the Ridge, Plateau, Highlands, and Pisgah. The Ridge portion of the journey will have you starting from the Shenandoah National Park and stretches from milepost 0 to 106, followed by the Plateau region from mileposts 106 to 217. After that, your trip will take you into North Carolina and the Highlands portion, spanning from mileposts 217 to 340 before ultimately making your way through the Pisgah region for the last 129 miles of the Parkway.
Explore the Fall Colors Along the Parkway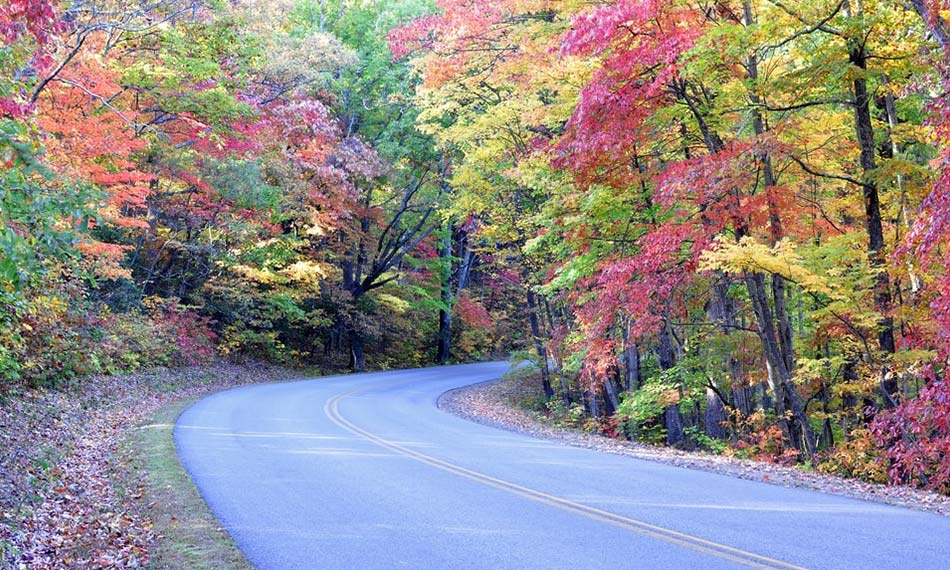 Thanks to the differing elevation levels along the road, you will see different sets of fall colors depending on where you are and at what time of the season it is. However, the prime foliage season typically stretches from the end of September to mid-November, so be sure to plan your road trip accordingly.
While full of fall colors, the truly amazing aspect of this near-500 mile road is that the speed limit never exceeds 45 miles per hour, which gives you the ideal pace to really soak in your surroundings. Better yet, you are permitted to pull over and park at any point along this road. If you find a scene that catches your eye, do not hesitate to stop and capture the moment on photo.
Along with providing breathtaking and scenic views, this route is the ideal trek for a family looking to experience some fall foliage first-hand, thanks to a variety of activities and attractions you can do along the parkway.
Hundreds of Miles of Hiking Available
If you love to go hiking, you should know that the trails in North Carolina and Virginia come ready for all skill levels. With over 369 miles of hiking trails, there is a path for everyone, though it is always encouraged to follow any guidelines or safety notices posted along the Parkway or on the hiking trails. Another rule of thumb along the trails is to be sure you finish your trek before it gets dark.
One of our favorites is the "Graveyard Fields Loop Trail" which can be found around the 418.8 milepost. Given its name thanks to the old tree trunks that covered the area until a fire in 1925, this 2.3-mile loop is a more moderately easy journey compared to others along the parkway. Along your way, you'll have access to some idyllic views of the surrounding mountains, Yellowstone Falls, and some really vibrant fall colors. Other popular trails along the Parkway include Roanoke Valley, Mount Pisgah, Peaks of Otter, and Doughton Park.
View the Sights Along the Linn Cove Viaduct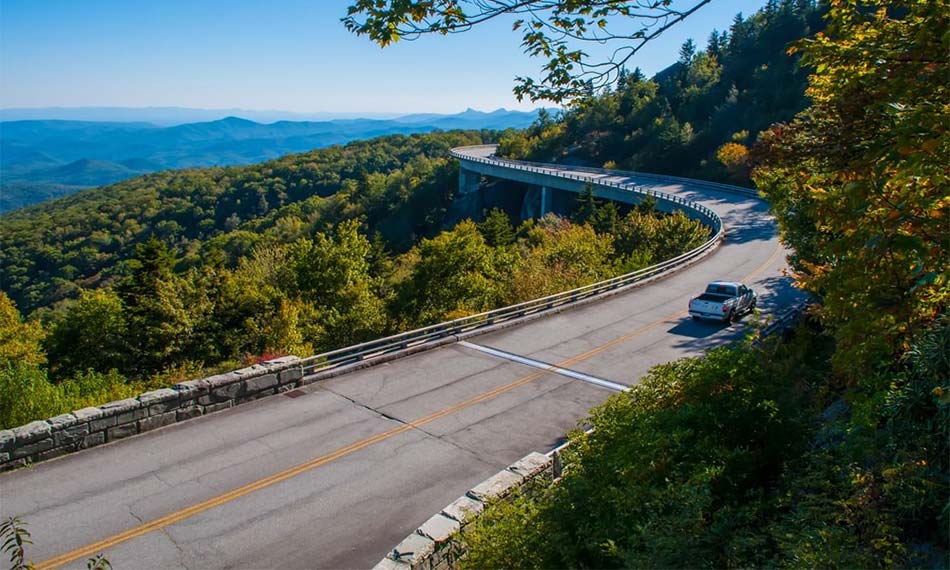 No matter if you decide to head north or south along the Parkway, you will see great scenery on all sides and lanes. For example, the Linn Cove Viaduct at milepost 304.4 is often photographed on cameras with panoramic features along with being a National Civil Engineering landmark.
As one of the last pieces of the parkway completed in 1983 at the cost of $10 million, the signature "S" curve of the Linn Cove Viaduct spans 1,243 feet and was designed specifically to help protect the landscapes around it. To do this, the architects of the viaduct decided that it would need to be elevated over 4,100 feet in the air in order to avoid damaging the landscape surrounding it!
You Can Stop and Go Camping
If you do not feel like driving non-stop, why not pull over and have a little camping getaway. However, be sure to plan ahead as many of the Parkway's camp groups are only open from May through late October (weather permitting) and are on a first-come, first-serve basis. One spot that stays open would be the Bear Den Campground at MP 324.8, where you'll have over 400+ acres of campground to explore. 
Protect Your Vehicle With Endurance
Avoid sudden breakdowns or repairs during your journey on the Blue Ridge Parkway with a vehicle protection plan like EnduranceAdvantage™. Offering up to $3,500 in regular maintenance coverage, you can rest easy knowing your car is ready for any road trip with essential services. All of our Advantage packages include up to three oil and filter changes, tire rotations, and alignment checks – all covered at no additional cost to you. 
Endurance customers can also receive 1 year of free Endurance Elite Benefits. With more perks such as 24/7 roadside assistance, tire repair/replacement, and key fob replacement, you'll never have to worry about missing out on any of the sights of your next road trip.  
Request a free, no-obligation quote for EnduranceAdvantage or any of our other vehicle protection plans. You can also visit our Learning Center to find more articles on topics such as maintenance how-tos, expert auto tips, and more.
More like this
Travel

In the warmer weather of summer, many people plan off-road excursions and road trips with the entire family. The only thing that can ruin these outdoor adventures is an unexpected..

Read More

Travel

Thanksgiving is fast approaching, and if you're like many across the country, you're probably gearing up to head home (or somewhere) to spend quality time with loved ones and enjoy..

Read More

Travel

With the end of summer near, the Labor Day holiday weekend is just around the corner. It also means that millions of drivers will be hitting the highway for one..

Read More