Depending on where you're headed, you may be relieved to find a rest stop or be dreading the worst of them that make you itch for a full shower away from them. A truly great rest stop will break up that road trip in a good way.
Today on ShopTalk, we're going over what we believe are the 10 best rest stops in America. Plan the route of your next road trip accordingly
The Iowa 80 Truck Stop
If you find yourself off of I-80, on exit 284 in Walcott, Iowa you will see none other than the world's largest truck stop. This place has close to everything anyone on a road trip may need. There's a mega mall's worth of restaurants, shops, a movie theater, Laundromat, showers, a trucking museum and even non-denominational services on Sundays. It is a 100,000 square foot facility that regularly takes in 5,000 people a day.
South of the Border
You will stumble onto this spot off of I-95 in Dillon, South Carolina. It has six different restaurants, ranging from fast food, casual dining to a full on steakhouse. The Border, is renowned for being home to the largest indoor reptile exhibit in the United States and it is open every day. All the more notable is Pedroland, an amusement park with a ferris wheel, carousel, bumper cards, mini golf, and an arcade. The Border even has an inn and a campground if you need to stay the night.
Buc-ee's
Everything is bigger in Texas and when it comes to Buc-ee's they weren't kidding. It is a chain with over 22 locations in the large state, All of them have huge restrooms, tons of gas pumps, and fully stocked delis. A big achievement is that the New Braunfels location won Cintas' 2012 America's Best Restroom Award. The facility is about 68,000 square feet with 80 soda fountains and conveniently contains a total of 83 bathroom stalls.
Little America
There's nothing little about it. Located at Exit 198 off of I-40 in Flagstaff, Arizona, the place is not even built or designed like a typical rest stop. In fact it is a beautiful resort with a 500-acre golf course, swimming pool, fitness center, and a fully functional business center. It even as a travel center with the expected a gas station and 24/7 convenience store that comes stocked with enough books, groceries, CDs, DVDs, and souvenirs to just be a full on mini mall.
R-Place Restaurant
If your hunger pangs get you while passing through Morris, Illinois on I-80, this is the place to park for a break. R-Place is a 24/7 haven for baked goods and American comfort food. It is infamous for their food challenges too. If you manage to wolf down a 2-pound hamburger—half of which is meat and the other half is cheese, bun, and two toppings of your choice within one hour without leaving the table, you win your meal for free. R-Place's food is so popular outside of being considered a rest stop, they even cater in their neighborhood.
Sapp Bros
You can find this place off-80 where there are sixteen locations between Salt Lake City, Utah and Clearfield, Pennsylvania. Sapp Bros. Travel Center is more than just a rest stop, they even provide 24-hour roadside service. Of the 16 locations, 6 of them are home to Apple Barrel, which serves reasonably priced American food.
Tamarack Tourist Information Center
This stop is found on Exit 45 off of I-77 and I-64 in Beckley, West Virginia. They have all the expected food courts and tourist information centers, but they even have a fine arts gallery, a theater with live performances, a conference center, and tons of. It has been said that more than alf a million people stop at the center every year.
Jubitz Truck Stop and Travel Center
FOX Travel Channel called this spot the "World's Classiest Truck Stop." Judge for yourself should you wind up off of I-5 in Portland, Oregon. On the property is the Portlander Inn with over 100 rooms for anyone too tired to keep driving. If you are there just for a quick rest they have a restaurant, convenience store, and even an 80-seat movie theater. Jubitz is also famous for the Ponderosa Lounge complete with with pool tables, TVs, dance lessons, video poker, and even live music on weekends.
Bear Lake Rest Area and Overlook
There was a Travel Channel special claiming this rest stop has the best view in the U.S. We can see that given how it is located off of Route 89 in Bear Lake, Utah. It such a great spot to take a look at Bear Lake and the iconic mountains that circle it. As a bonus, try taking the time at this stop for some fresh air at the hiking trail
Trail's Travel Center
Finally we have a hidden gem in the show-me state, just off I-35 in Albert Lea, Minnesota. This spot has all the expected fast food restaurants but they have a famous tavern with the largest whiskey selection in southern Minnesota. For those breaking up a long haul, there's a  movie theater, WiFi, and church services on Sundays.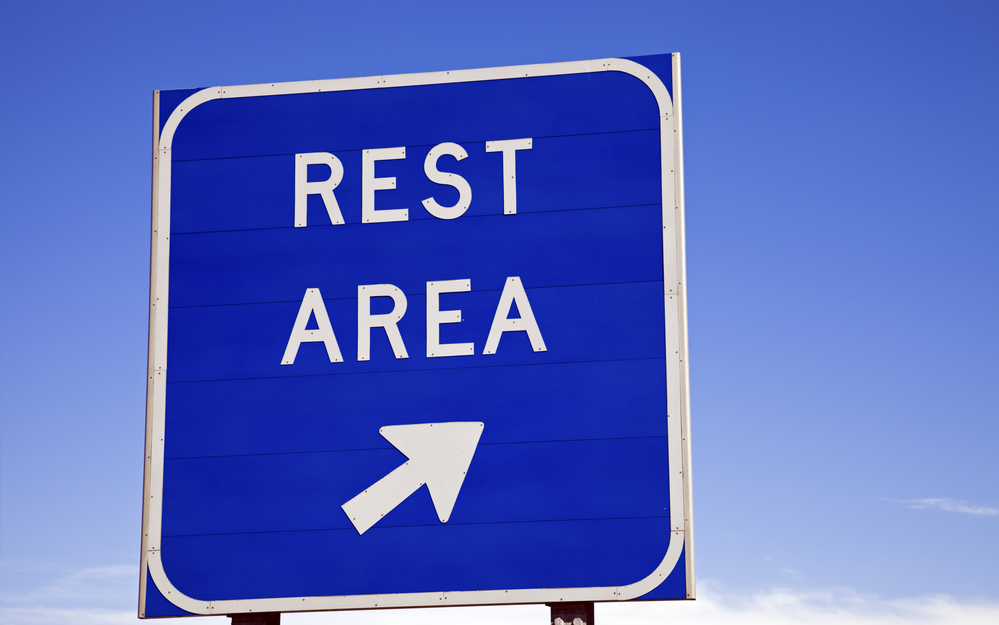 We hope this guide will come in handy for you road trippers out there dreading the next pit stop you make. It can get tiresome crossing state lines, so why not mix things up and try to hit one of these spots as sort of a mini quest? If you have, tell us what you thought! Or send a souvenir or photo our way!