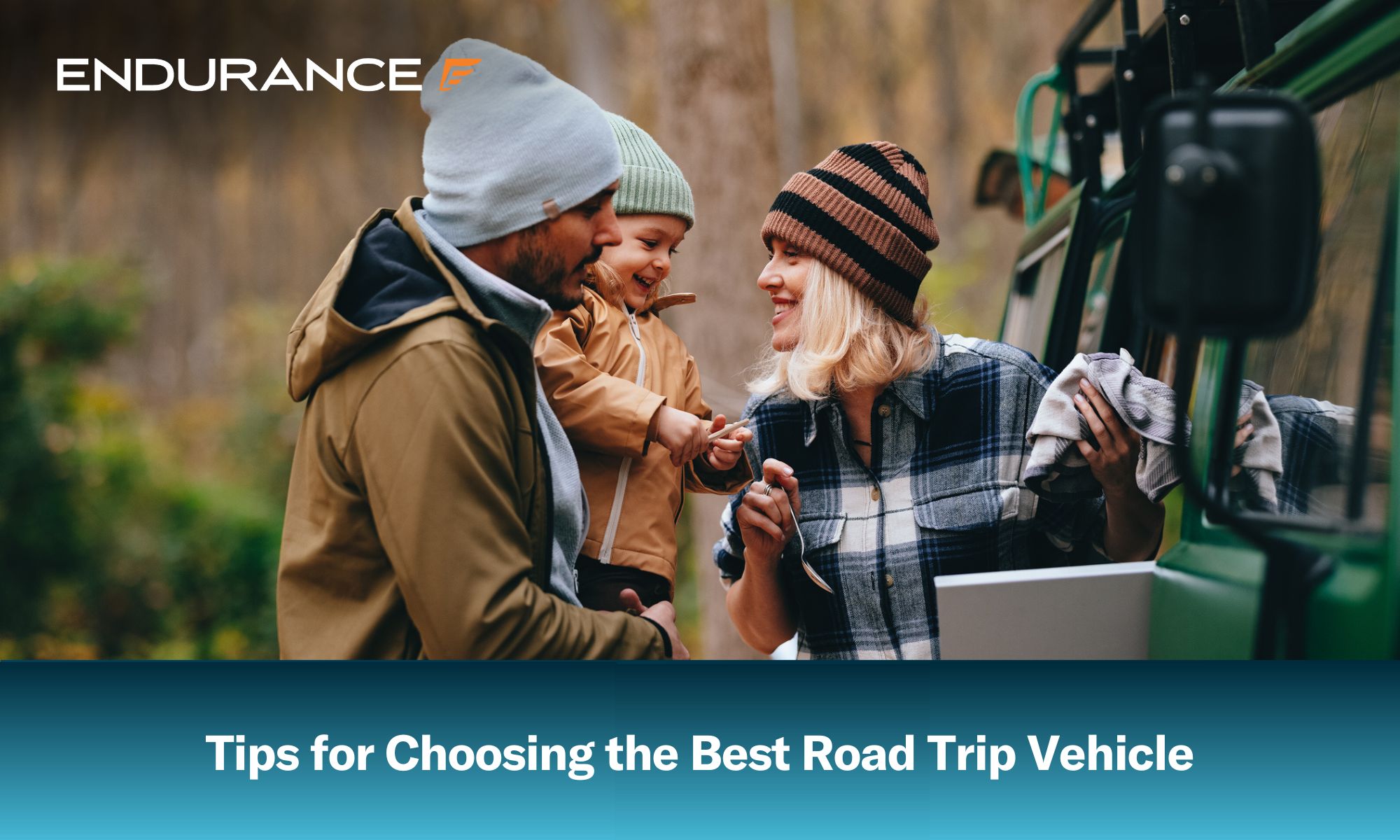 With the cooler months creeping in, it's the perfect time to begin planning a fall road trip to enjoy the best of what the season brings. However, weather conditions during this time of year will begin to become harsher than what you were accustomed to during the summer months.
For those in the market for a new or used vehicle and planning a long road trip, it's important to take the time to learn how to choose the best vehicle for your upcoming long drives. Whether you're heading to a national park or hitting the highway for the holidays, we've got the road trip tips for you.
Key Factors to Consider When Choosing a Road Trip Vehicle
When beginning to shop for a new car or used car, there will be a myriad of options to consider. While purchasing a sports car may be of interest to you, it's not the best vehicle to purchase for roadtrippers. Specifically, there are four main factors to keep at the top of mind when considering your next vehicle so that it can be used for a road trip:
1. The Overall Size
The first of the four factors to keep in mind when considering a road trip vehicle is the overall size of the car itself. To be fair, the ideal best car for a road tripper can vary dramatically depending on whether they plan on having people with them or not. For example, if you have a family that loves to travel just as much as you, then going for a larger Toyota with an infamously big back seat can be an excellent choice.
On the other hand, if you are planning to go on a solo road trip, then you don't necessarily need something with a large size, so long as you have enough room for yourself and your luggage.
2. The Fuel Efficiency
Naturally, taking a solo or family road trip will require being on the road for an extended period of time doing nothing more than driving. Therefore, the second factor to consider when choosing a car is the fuel economy it offers you. Nobody wants to be stopping for gas at every other town just because they chose the wrong vehicle for their needs, so take the time to review the posted fuel economy for the vehicle. However, go further and also look at customer reviews to determine how accurate that estimated fuel economy truly is.
3. The Comfort in the Cabin
The classic all-American road trip you might be planning can potentially go on for weeks with you doing nothing more than sitting and driving behind the wheel. To that end, focus on finding a vehicle that you personally enjoy sitting in and one that is quite comfortable. When looking at different cars, be sure to take each one for a test drive so that you can be sure it aligns with what you're looking for. Go further than just determining if it's comfortable to sit in, though, and focus on feeling how the car drives and if you are comfortable with its responsiveness.
4. The Reliability Rating
Finally, the fourth and final factor to consider when looking at a new vehicle or a used vehicle is the reliability rating that it has received. While referring to the manufacturer of the car can be a good start, you should look to external sources to get an unbiased opinion on how reliable the vehicle actually is, along with additional information. For example, the Toyota Sequoia is rated at a 3.5/5.0 by RepairPal, but they go further to mention that this is actually above average and that the vehicle is ranked fifth among fourteen full-size SUVs. If you had just gone by the manufacturer rating, as an example, you may have missed out on a solid car.
The Best Vehicles for Road Trips
With the above factors outlined, it's time to take a look at three of the best vehicles to consider for your upcoming road trip:
Hyundai Tucson Hybrid
Hyundai is an extremely reliable brand as a whole, and its relatively new Tucson Hybrid vehicle is no exception. This vehicle can get up to 38 miles per gallon on the highway, though the total range of the vehicle can be bolstered by the added 33 miles it can travel on just electricity alone. This can be helpful in a pinch where you are stuck somewhere on the road without a gas station nearby when running on fumes.
Additionally, the Tucson Hybrid excels in the comfort category with ample USB ports, Apple CarPlay, a touch screen, and comfortable seating. This is a relatively affordable vehicle, starting at only around $32,000, which makes it an excellent option to consider.
Lincoln Navigator
For those who have larger families that they plan to bring to campgrounds or on a road trip in general, the Lincoln Navigator is a vehicle that must be considered. This car features three comfortable rows and advanced safety features such as lane-keep assistance, which can help on long journeys.
The MPG that you receive is slightly lower at only 23 on the highway, which is worth noting. However, this vehicle also comes with additional amenities such as Wi-Fi, USB ports, touch screens, and more. These technological features come at a higher starting cost of around $80,000, making this a stretch purchase for some.
Toyota Rav4 Hybrid
Finally, the Toyota Rav4 Hybrid is a staple vehicle that many people have considered at some point or another. With up to 41 MPG on the highway and two rows of comfortable seating for passengers, this can be an excellent road trip car to consider. Safety features such as adaptive cruise control and traffic sign recognition are particularly helpful on the road, and this vehicle comes with all the bells and whistles of the prior two on this list. For those looking to save money, this can be a great option as the price point begins at just $30,000 on average.
How to Prepare for Your Vehicle for a Road Trip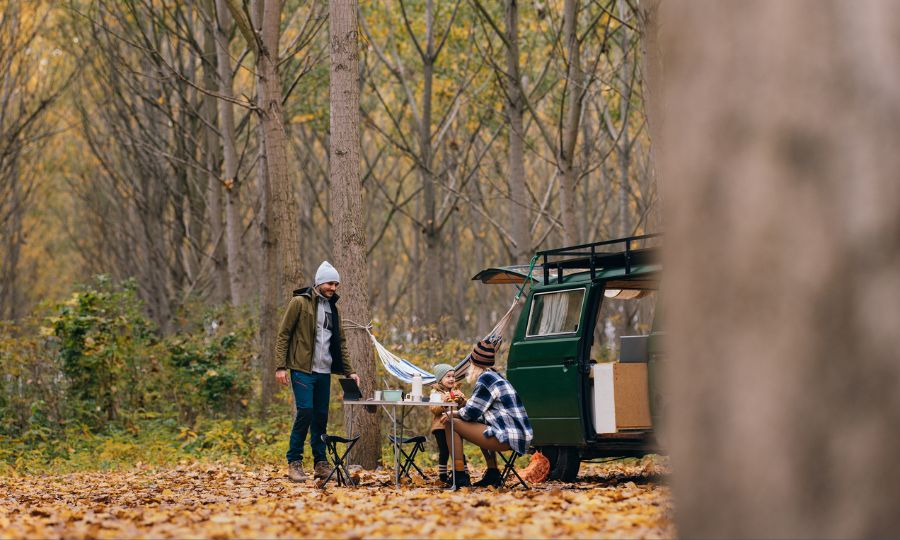 Once you have decided on the perfect vehicle that suits your needs the most, you will need to start prepping it for your upcoming road trip. Regardless of whether you are taking a large camper van or a smaller vehicle on your trip, utilize the following tips to ensure it can handle the stress of the road:
Double-check the air conditioning: Even though you may be traveling during the cooler months, having multiple people inside one vehicle for hours on end will heat the car up. While you may be able to just open the windows, it's still a best practice to check that your air conditioning works before taking off.
Inspect the tire pressure: Naturally, the tires on your vehicle will take the brunt of the force of the road on your trip. Taking off with low tires is a recipe for disaster, so instead, take the time to visually inspect your tires for damage and then test them manually to see their level.
Change the oil: Even if you aren't quite due for an oil change yet, it may be worth getting it changed anyway prior to your journey. This can help to ensure your engine runs smoothly when it handles the strain of travel.
Test the car battery: A dead battery means a dead car on your road trip, which is something nobody wants. Test your battery manually to ensure it is within the right range ahead of your trip.
Pack safety items in the trunk: Beyond your luggage, think about packing safety items such as a first aid kit, non-perishable food, a physical map (as opposed to only using Google or Apple Maps), flares, and other precautionary items in case you become stranded.
Helpful Packing Tips for a Road Trip
With your car purchased and prepared for your journey, there is only one thing remaining: packing everything into your vehicle. To accomplish this and to ensure you have storage space for other crucial items, use the following tips:
Pack up everything the night before you depart rather than the day of
Roll clothes together as tightly as possible to create more space in your suitcase or duffel
Don't forget to pack items such as a tire jack and pressure reader
Consider using packing cubes if your vehicle is tight on space
Invest in a trunk organizer for your journey to keep things accessible
Stay Safe on Your Road Trip With Endurance
The last thing you need when starting out on a long-distance road trip is to hear an odd noise followed by the sputtering of your engine. Being stranded in an unfamiliar place can be a daunting and dangerous experience, but having a reliable vehicle will help.
All vehicles, regardless of their reliability, will break down at one point or another. That's why purchasing an extended warranty contract is important!
Endurance offers customizable auto protection plans, with three main options to choose from depending on your specific needs. With packages ranging from stated coverage designed for older vehicles with the Secure Plus plan all the way up to near bumper-to-bumper coverage with the Supreme plan, there is something for everyone.
Each Endurance plan comes with a suite of standard perks, including 24/7 roadside assistance and towing, lockout services, fuel delivery, and more. On top of this, new customers can enjoy a year of complimentary Elite Benefits for a small activation fee, which offers added bonuses such as key fob replacement, $1,000 in total loss protection, $500 in collision coverage, and more.
To learn more about how an Endurance contract can help protect your vehicle on an upcoming road trip, don't hesitate to call our award-winning customer service team at (800) 253-8203 to request a FREE quote. You can also shop online to view your price right away.
More like this
Travel

In the warmer weather of summer, many people plan off-road excursions and road trips with the entire family. The only thing that can ruin these outdoor adventures is an unexpected..

Read More

Travel

Thanksgiving is fast approaching, and if you're like many across the country, you're probably gearing up to head home (or somewhere) to spend quality time with loved ones and enjoy..

Read More

Travel

With the end of summer near, the Labor Day holiday weekend is just around the corner. It also means that millions of drivers will be hitting the highway for one..

Read More