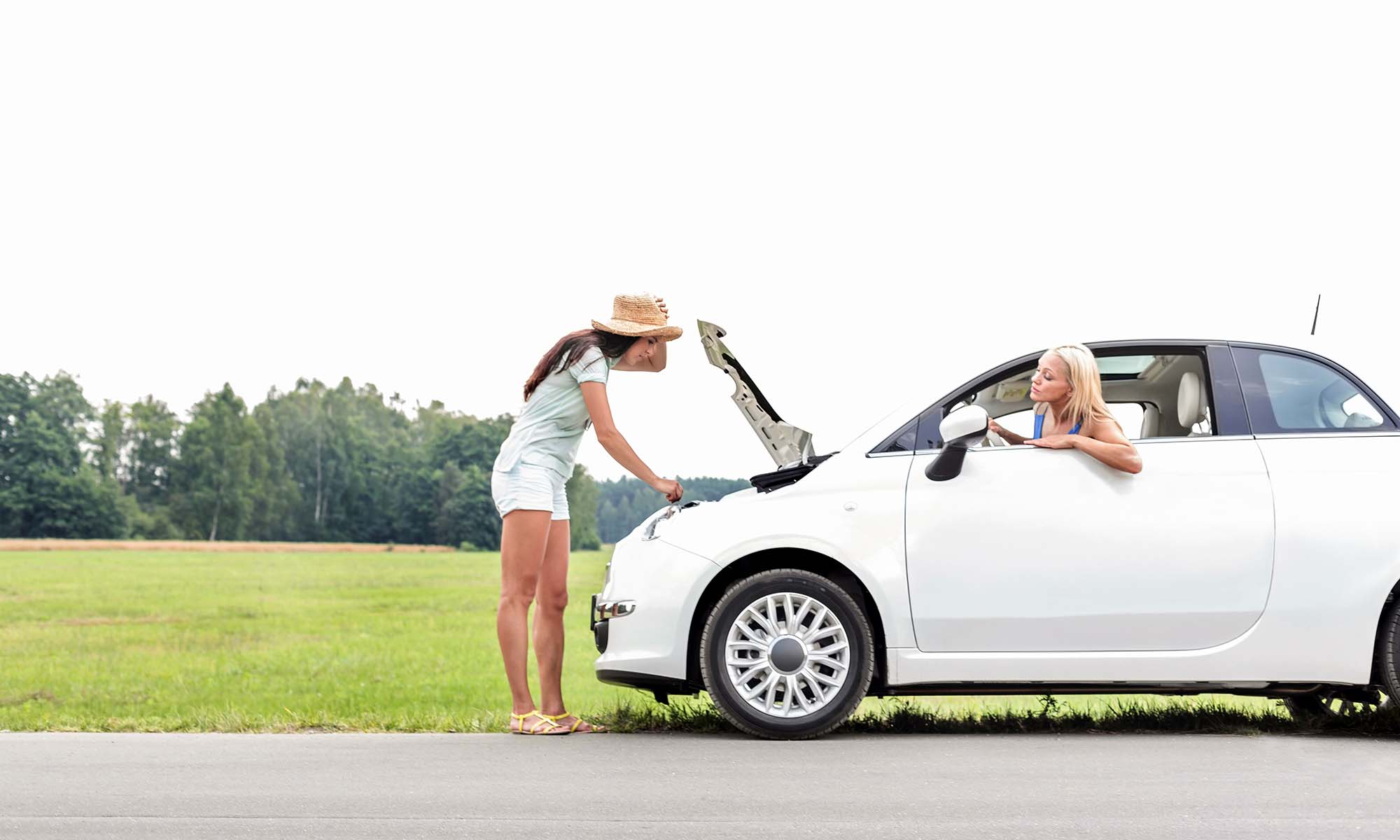 With school out and summer here, millions of Americans will be looking to hit the road to enjoy the sights and sounds the season offers. And while preparing for the journey ahead is a must for anyone looking to take an extended summer road trip, it's hard to plan for things like an unexpected car breakdown. 
But, knowing how to deal with auto troubles before they even occur can make the situation less stressful and help you get back on the road sooner. 
What to Do Before a Road Trip
Preparing your vehicle with the help of preventative maintenance before setting out is the best way to avoid a breakdown in the first place. As part of routine service, a basic mechanical inspection can spot potentially serious issues like worn tires, transmission problems, and other potential repairs or breakdowns before hitting the road.
Some of the most important things you can do to help prepare your vehicle for any road trip will include:
Checking Fluid Levels:

The summer heat doesn't just take a toll on you but your car as well. So be sure that the car's fluids are topped off. The proper amount of engine oil helps prevent nasty surprises. And keeping the right amount of

coolant

in the cooling system and having the recommended amount of brake fluid,

power steering fluid

, and more will all help ensure your vehicle is ready for the journey.

Checking the Tires:

Staying within the recommended

tire pressure (PSI)

range helps with braking, handling, and fuel economy. But, a tire check should also include inspecting the sidewalls and treads for

any damaged areas

, which can help you stay ahead of any potential flat or blowout. Also, don't forget

your car's spare tire

as well as the last thing you need when dealing with a flat is a spare that isn't driveable.  

Inspecting Lights & Windshield Wipers:

Weather can be unpredictable, especially when moving between states. Ensuring your car's headlights, taillights, brake lights, and more are working can help ensure you have visibility when driving and that other cars on the road can see you. Also, check that your windshield wiper blades are working properly, as worn blades can severely limit your visibility when driving in the rain. 

Filling Up the Tank:

This may sound like a given, but filling up with

a full tank of gas

before leaving can actually save you some money as rest stop gas can be more expensive. Plus, no one wants to get stuck in sudden bumper-to-bumper traffic while running low on gas. 

Planing Out the Destination:

Don't just rely on a navigation system or Google Maps to determine the route. Technology failures happen, and cell service can be spotty. Bring an old-school map or print directions. At the same time, identify locations for a 15-minute break every two hours and hotel stops, as needed.

Preparing an Emergency Kit:

If you haven't already done so, always look to prepare an emergency kit for every season. In fact, think of

an emergency kit

like

a car insurance policy

; you hope it's never used, but you'll be grateful to have one if the need arises. To begin with, keep essentials like bottled drinking water and energy bars on board (summer backups can leave cars stuck for hours). You should also have a first aid kit, a fire extinguisher, jumper cables, spare fluids for your vehicle (like spare engine coolant and windshield wiper flood), emergency reflectors and even a small tool kit with wrenches, screwdrivers and more to help you do

a quick DIY fix

if able. In addition, keep a spare/portable cell phone battery charger, gloves, a reflective vest and a flashlight on hand.
While having car insurance is a must for any driver and can help give you some peace of mind while on the road, it can't help you with everything. With a typical car insurance policy, you'll only be able to get help with repairs if your vehicle was involved in an accident, damaged by weather, or was stolen. That means any unexpected car repairs to vital parts like your engine, transmission, brakes and more will all be left to you to pay for—unless you have an extended warranty or vehicle service contract.
For example, with an Endurance auto protection plan, you can be confident that your brand new or used vehicle will have comprehensive breakdown protection that your car insurance policy won't be able to match. You can even help ensure your vehicle is road trip ready with the Advantage auto protection plan, which comes with up to $3,500 in yearly maintenance services, including tire rotations, alignment checks, engine diagnostic exams and more. Plus, each Advantage plan also comes with special, one-time services like cooling system maintenance, a brake pad/shoe replacement, a front or rear wiper blade set replacement and more to give you even more coverage and savings.
What to Do If Your Car Breaks Down on a Road Trip
Even the most well-maintained and reliable vehicles can experience unexpected car problems. But, whether you're just down the street from home or across the country, knowing what to do in response to an unexpected breakdown or car repairs can go a long way in reducing stress and helping you get back on the road fast.
Get Off the Road
First and foremost, always look to drive the disabled car to a safe place away from traffic. For example, on a suburban street, pull into a parking lot. If you're on the highway, try for an exit and a nearby service station. At the very least, move to the right shoulder of the road. 
Most importantly, always slow down when operating a vehicle with mechanical problems and engage the emergency flashers/hazard lights to alert other drivers—especially if you are driving at night. This will help ensure other drivers can see you and your vehicle and drastically reduce the risk of a potential accident occurring.
Observe Safety Protocols
Above all else, the most important thing to focus on during a breakdown is the safety of your car's occupants and fellow motorists. According to the Insurance Information Institute, everyone should stay in a disabled vehicle while on a highway or busy road. In fact, unless there's a fire or other risk, it's usually safer to wait inside the car for help to arrive. 
If you must leave the vehicle, ensure you pull over entirely, and that hazard lights are on. Next, set the parking brake and turn the wheels to either face straight or toward the side of the road to ensure the vehicle does not roll into traffic. Then, put on the reflective vest you packed in your emergency kit to help other drives spot you more clearly and place emergency reflectors behind the vehicle. Finally, be sure to stand a safe distance from the car and traffic away from the traffic side of the vehicle. 
Get 24/7 Roadside Help with the Endurance Mobile App
The key to quickly getting back to the trip is calling for assistance, so dial any roadside assistance services you have, such as those often found through your auto insurance. Or, with an Endurance auto protection plan, you will automatically have 24/7 roadside assistance and towing, trip interruption coverage and rental car reimbursements for free. All you'd have to do is click on the Endurance Mobile app (available on Google Play and the Apple App Store) on your phone or mobile device and call for a tow truck without searching for the closest towing company to you. 
And along with calling a towing service to help you, the Endurance Mobile app also lets you get into contact with a member of our award-winning customer service team, get vital policy details, and review a summary of benefits. 
File a Claim and Search for a Repair Shop with the Endurance Mobile App 
Along with letting you call for roadside assistance, speak with a customer service rep and more, it can also help make dealing with a car breakdown less challenging as you can find a nearby repair shop and file a claim right from your smartphone. Real-time claim updates are available on the app, too.
Plus, with Endurance, you can choose any ASE Certified mechanic or certified repair facility, from a local mechanic to a dealership, to get your repairs done. So no matter where you are on your road trip, you can be certain that Endurance can help get you to the shop for some much-needed car repairs and that we'll be able to work directly with you throughout your claims process to get you back on the road fast.
Prepare for the Next Breakdown
Unfortunately, it's likely to happen again once a car breaks down, especially for an older vehicle. In fact, AAA looked at its roadside assistance data to discover that cars more than ten years old are twice as likely to have a breakdown. And these same vehicles are 400 percent more likely to need a tow to a repair shop. 
So, while there is no way to eliminate breakdowns completely, you can help give yourself peace of mind when it comes to expensive car repairs with an Endurance auto protection plan. That's because, with Endurance, you can find comprehensive coverage for a wide range of vehicles, including those up to 20 years old (with no mileage cut off), luxury vehicles, Canadian Grey Market vehicles, vehicles with salvaged or rebuilt titles, and even cars used for rideshare and delivery services.  
Not only that, but with the Advantage plan, you can save up to $3,500 in yearly maintenance services, including oil and filter changes, alignment checks, engine diagnostic exams and much more to help ensure your vehicle is road-ready any time of the year. Plus, every Endurance customer is eligible to enjoy a full year of Endurance Elite Benefits for a small activation fee. This includes extra perks and savings such as up to two tire replacements or repairs, collision discounts, key fob replacements, and even total loss protection. 
Keep Your Vehicle Road-Trip Ready with Endurance
Whether you're making your way across the country or across town, an Endurance auto protection plan can give you the peace of mind you need for unexpected car repairs and breakdowns. All you have to do is find the Endurance plan that fits your needs and budget to get comprehensive breakdown protection plus 24/7 roadside assistance and towing services for free and trip interruption coverage, and rental car reimbursements. And as an Endurance customer, you'll be able to enjoy flexible payment plans (starting as low as $79/month) and a 30-day money-back guarantee to help ensure you find the right plan for your needs and budget. 
So before heading out on your next road trip, ensure your vehicle is protected with Endurance by requesting a free, no-obligation quote or calling a member of our customer service team at (800) 253-8203. Or, explore the Endurance blog to find even more fun and informative articles to help take care of your vehicle any time of the year, including expert maintenance tips, DIY car care how-tos, extended warranty comparisons, and more. 
More like this
Expert Auto Tips

Being a car owner can be an incredibly rewarding experience, especially if you take pride in your vehicle's condition and performance. Cars that are well taken care of will generally..

Read More

Expert Auto Tips

No matter what kind of vehicle you own, staying on top of its care and maintenance should always be a top priority. Cars that are well taken care of and..

Read More

Expert Auto Tips

There is one integral system of your vehicle, which without it would result in your vehicle being nothing more than a paperweight. The fuel system keeps your vehicle moving down..

Read More