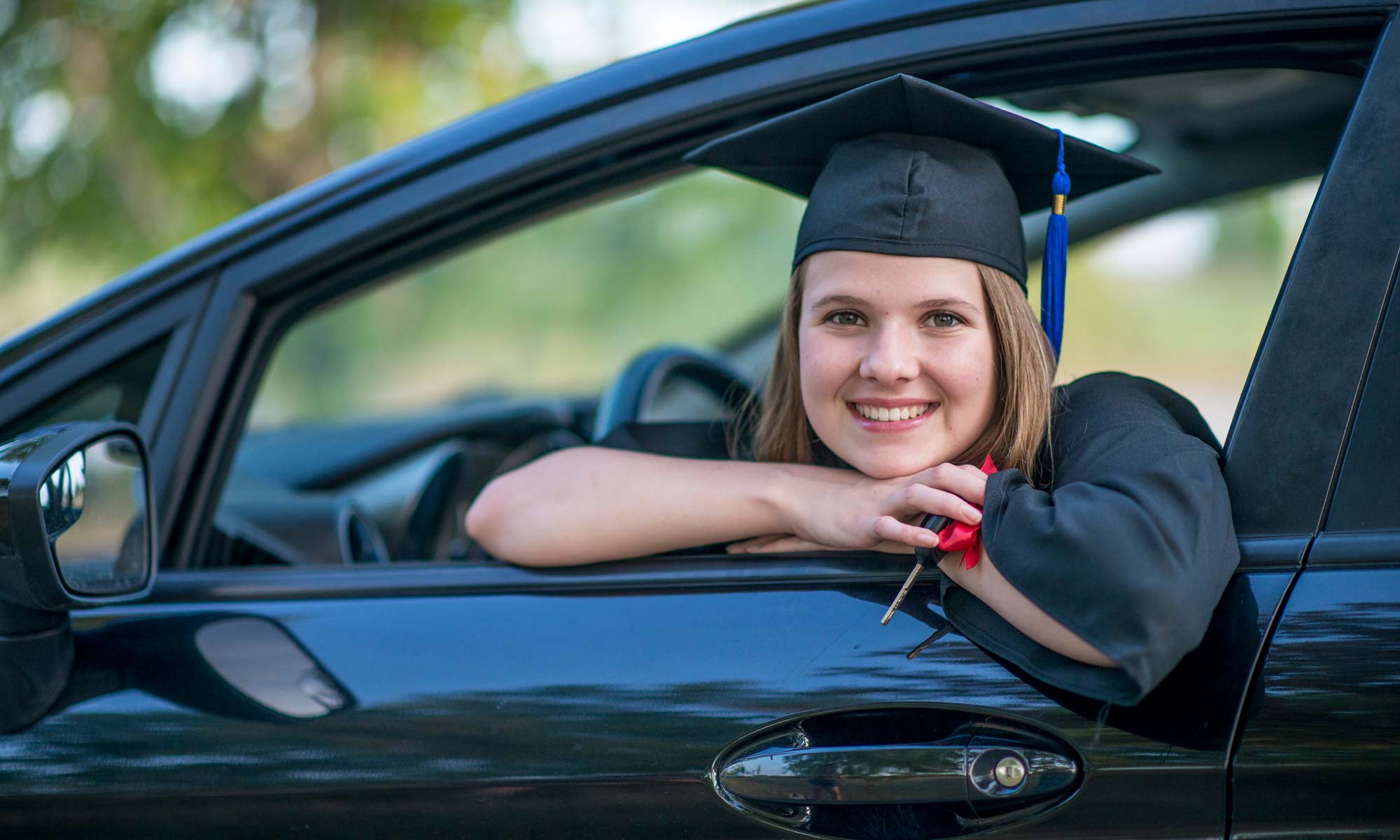 Graduating high school is a major step into adulthood and often represents the true first taste of "freedom." After all, high school graduation is all about the chance to leave home, head to college, make new friends and have new experiences is as exciting as it gets. But getting around and enjoying that newfound freedom isn't easy if you need to rely on public transportation. That's why for many, high school graduation is the perfect time to get their first car. 
Like graduation, getting a car is one of the most liberating things you can do, giving you the ability to go anywhere at any time. For graduates getting ready to head off to college, having a vehicle makes getting to class and shopping for groceries much more convenient. It can even allow you to head back home to visit friends and family more often. And if you're in the market for a first car, chances are you'll be looking to buy a used vehicle that's both a reliable car and budget-friendly, and these vehicles can fit the bill perfectly for a new grad.
The Best Budget-Friendly Vehicles for New Grads
A cheap yet reliable ride is the ideal first car for graduates, so we've chosen five of the best money can buy. Their MSRPs are very reasonable, so you can expect used versions to be even more affordable than the latest model year. 
And while it can be tempting to splash out on something fancier like a luxury vehicle or a trendy sports car to celebrate the end of high school, it's worth keeping in mind that these kinds of vehicles have much higher repair costs. They're also notorious for being expensive to maintain compared to your standard Fords, Toyotas, Nissans and Hondas available. 
Here are our picks for the five best budget-friendly vehicles for high school grads:
Nissan Versa
2022 Starting MSRP:

$15,180
Yearly Maintenance Cost:

$456
The Nissan Versa held the title of 'least expensive cars sold in America' for two whole years. Since then, the design has been revamped, and prices have increased, but it's still a great choice for anyone looking for an affordable and reliable vehicle. And with a powerful engine and recent models including state-of-the-art safety features like automatic emergency braking, automatic high beams, and lane-departure warnings, it's the ideal choice for first-time car owners to feel safe and secure while on the road. 
Kia Rio
2022 Starting MSRP:

$16,250 
Yearly Maintenance Cost:

$434
While it may be one of our more expensive picks, you get a lot of bang for your buck with a Kia Rio. Models from the last few years include many standard features, with the base model coming with a front USB port, a four-speaker sound system, Apple CarPlay and Android Auto integration, and an 8-inch infotainment screen. Higher trim levels will even come with keyless remote entry, cruise control, LED headlights, and even a push-button start. The S Technology package even comes with lane departure warnings and both lane keeping and lane following assistance to go along with driver attention warnings. Aesthetically it's simple, sleek, and not too imposing. Plus, with a reliability score of 4.5/5, college students could even use a ride like this to make a little money on the side as a rideshare or delivery driver.
Hyundai Accent
2022 Starting MSRP:

$16,645
Yearly Maintenance Cost:

$444
Priced just a little lower than the Kia Rio, the Hyundai Accent is still an absolute steal for the price. The interiors are roomy, and the list of standard features is surprisingly comprehensive. You can expect 15-inch wheels, cruise control, power windows and locks, and built-in USB and Bluetooth capabilities from the base model. Higher trim levels also benefit from a 7-inch touchscreen display, foglights, heated front seats, and forward collision mitigation. Combined with that incredible 4.5 out of 5 for reliability, there really isn't much you can argue with here about being a reliable car for college.
Mitsubishi Mirage 
2022 Starting MSRP:

$14,645
Yearly Maintenance Cost:

$457
The Mitsubishi Mirage may be relatively basic as far as modern subcompact or compact cars go, but it has everything a high school graduate could want. With room for five inside, there's more space to fit friends for summer road trips, and the plethora of standard features will make each adventure as enjoyable as the last. The base model will come as a manual five-speed transmission. Still, you'll get cruise control and keyless entry, a 7-inch audio display, Bluetooth, a four-speaker system with a USB input, and even an Apple CarPlay and Andriod Auto smartphone connection. It even comes automatically with forward collision mitigation. Even better, higher trims will come with an option for a continuously variable transmission (CVT), foglights, headlights, heated seats and lane departure warnings. 
Chevrolet Spark
2022 Starting MSRP:

$13,600 
Yearly Maintenance Cost:

$434
A classic budget-friendly car with a great reputation, the Chevrolet Spark is actually cheaper than a semester at some colleges. Starting at under $14,000, it boasts many features despite the low price tag. A 7-inch touch screen with Apple CarPlay and Android Auto (even in the base model) makes journeys much more fun, while a great fuel economy (29 city/38 highway) helps you go further for less. Its only major downside is the lack of interior space, but that shouldn't be an issue for most high school grads.
Head to College with Confidence with Endurance
While used cars may be cheaper upfront, the unfortunate fact is that their factory warranty will no longer cover most—meaning you'll need to foot the bill should expensive repairs rear their head. But that's where Endurance can help.
For young drivers, money can be tight, so investing in a vehicle service contract is more important than ever. Endurance plans start at just $79 a month, and they can drastically cut the cost of car ownership. Our Advantage plan even includes up to $3,500 in annual maintenance costs, keeping your car in top running condition and reducing the chance of breakdowns.
Each Endurance plan also includes standard benefits such as 24/7 roadside assistance, trip interruption coverage and rental car reimbursements. And better still, every Endurance customer can also receive a year's worth of  Elite Benefits, including tire replacements/repairs, key fob replacements, collision discounts and more. Just choose the Endurance plan that's right for you and your budget, pay a small $29 activation fee, and you're good to go.
Get in touch with our award-winning customer care team at (800) 253-8203 or request a free, no-obligation quote to learn more about how Endurance can help you. And don't forget to check out more automobile-related resources on the Endurance blog, including more expert auto tips, vehicle buying guides, answers to extended warranty FAQs and more.
More like this
Cost and Price

If one thing's true about car ownership, it's that it doesn't come cheap. No matter what vehicle you own, whether a used or new car, maintenance fees and unexpected repairs..

Read More

Cost and Price

An extended car warranty provides new and used car buyers with a financial safety net against expensive car repairs due to mechanical breakdowns after a factory warranty expires. However, every..

Read More

Cost and Price

Today, many car owners are having difficulty paying for unexpected and expensive car repairs. Recent reports indicate that less than half of Americans can pay for more than $1,000 in..

Read More