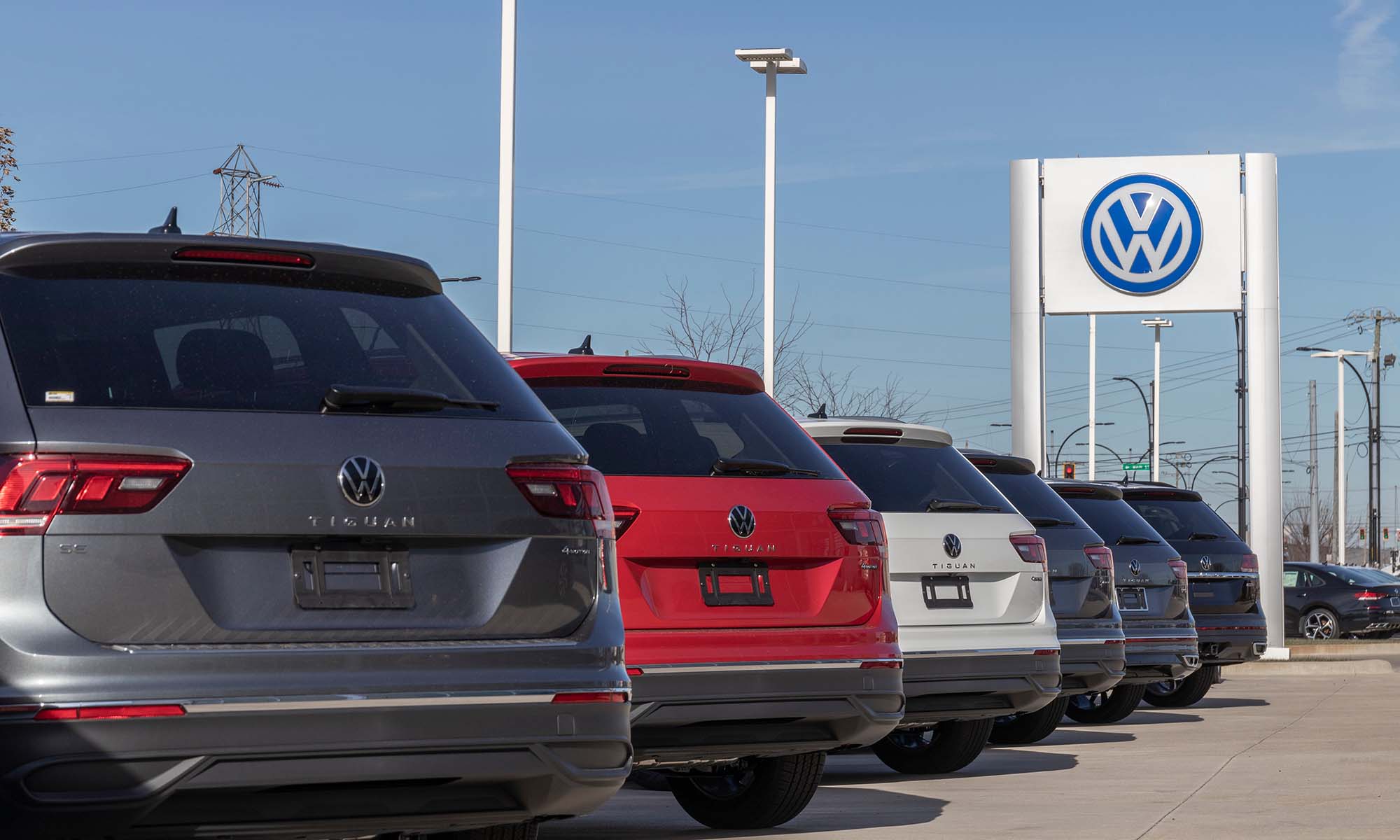 Shopping for a new vehicle can be a challenging experience when balancing the many purchasing factors. After all, there's more to buying and new (or used) car than just the sticker price. Maintenance costs, repairs and even the high-tech features like infotainment systems and add-ons can all add up long after you've signed on the dotted line. 
And with summer around the corner, you surely want a safe and reliable vehicle that also has good performance without breaking the bank. But, with so many different makes and models to choose from, finding the right vehicle for you can be tricky, with many relying on well-known automakers is always a great start. One such brand, Volkswagen, is often a popular choice for those looking for an all-around vehicle. But while over 375,000 "VWs" were sold in America in 2021, there's still more to learn about this iconic automaker. For example, you should ask yourself before purchasing one is, "are Volkswagens reliable?" 
Are Volkswagens Reliable?
The Volkswagen brand has been around for decades. Being over 80 years old, Volkswagen cars have grown in popularity and become one of the most common vehicles out on the road. Over the years, and as their vehicles grew more technologically advanced, Volkswagen became known as a reliable car brand around the world, but is that actually the case? 
To help you in your next car purchase, here are some popular models from the brand and their reliability ratings, as well as known common repairs:  
Volkswagen Jetta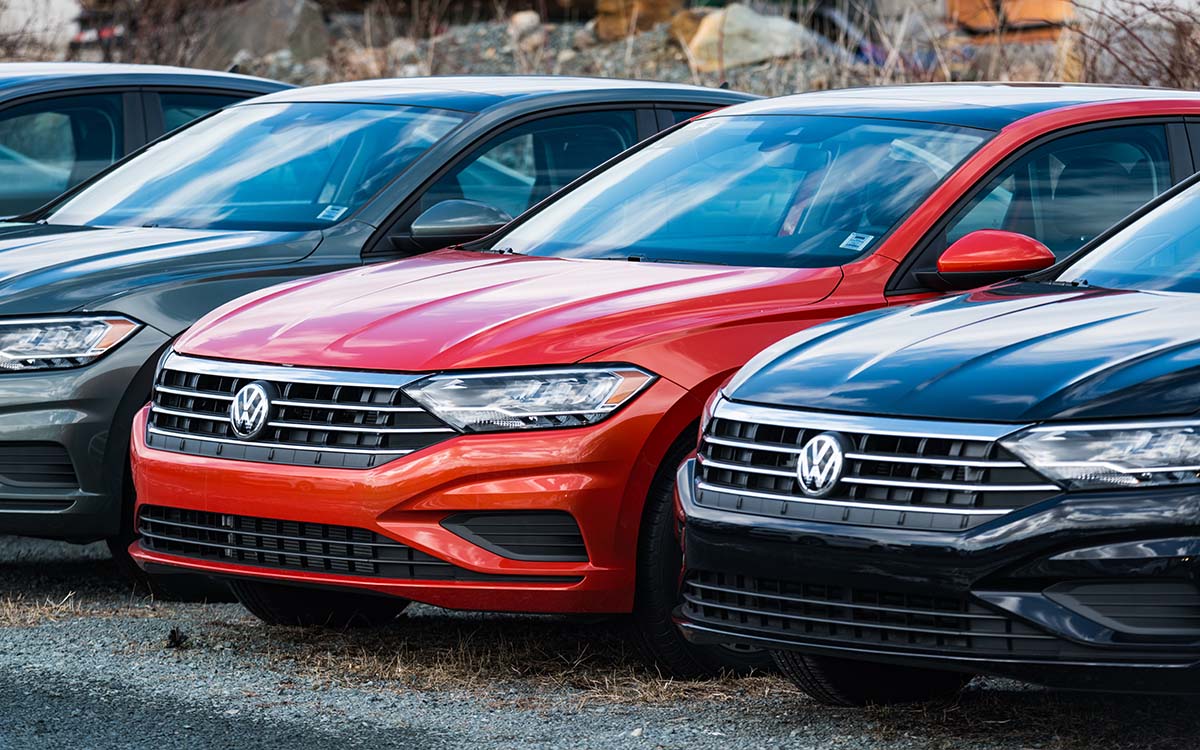 The Jetta is, without a doubt, one of Volkswagen's most well-known models. And with an estimated yearly repair cost of $609 and an overall reliability rating of 4.0/5.0 (ranking it 21st out of 36 vehicles in its class), owning a Jetta can be a great choice for those looking for a reliable and budget-friendly vehicle. 
But, while the Jetta is above average in overall reliability, there are still some repairs that can pop up at some time or another, including the following listed by RepairPal as of May 2022: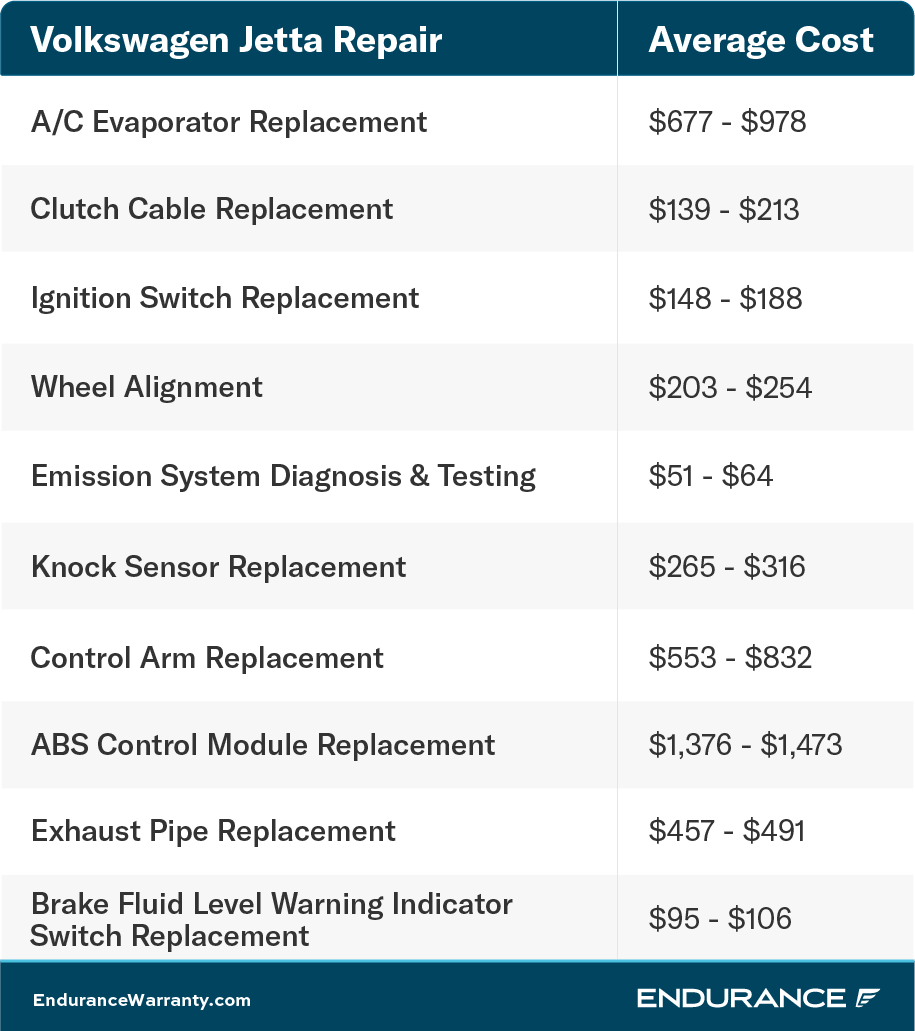 Volkswagen Beetle
As one of the more iconic vehicles in the Volkswagen lineup (or ever), the Beetle is estimated to be slightly more expensive yearly than the Jetta at $612. However, this also places the Beetle at a slightly higher average repair cost than the $526 it costs across all other compact cars on average. It also sits three spots behind the Jetta in terms of overall reliability, coming in as the 24th most reliable compact car out of 36 with a 4.0/5.0 rating. 
And just like the Jetta, the Beetle can be prone to possible repairs that would require you to go to a certified repair shop or ASE Certified mechanic, including: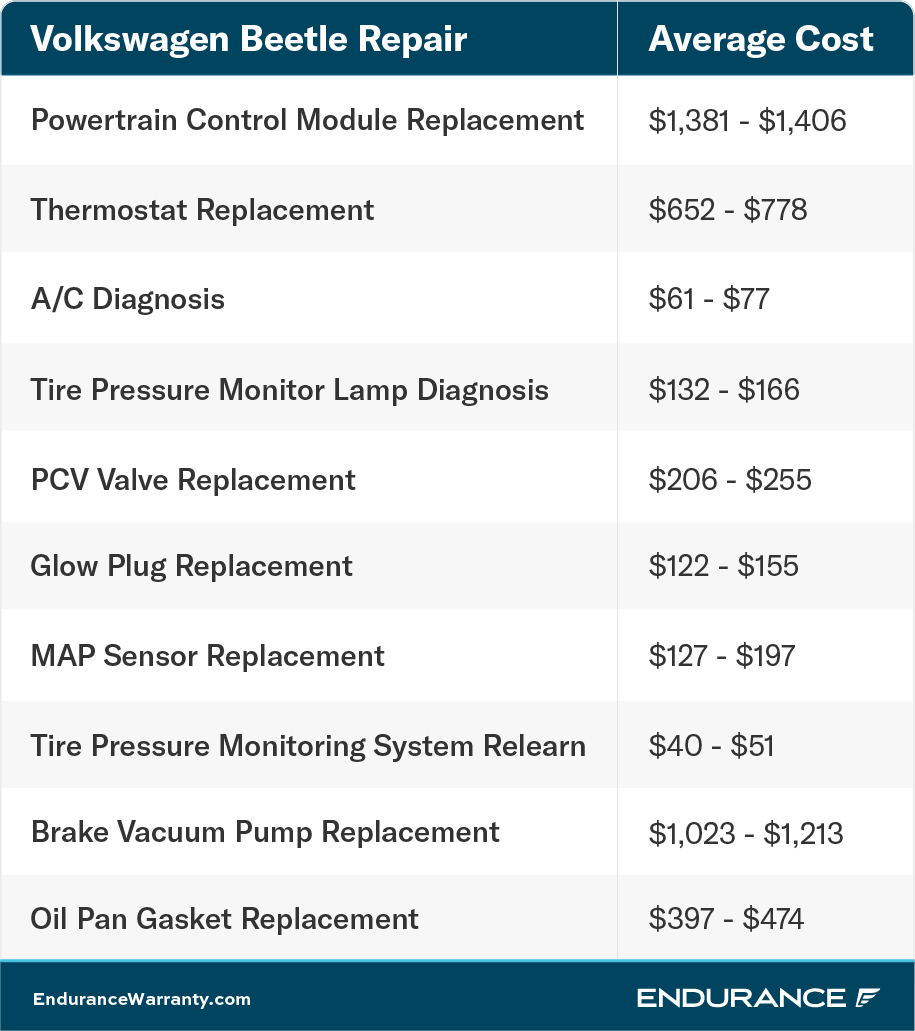 Volkswagen Golf
Going even slightly higher than the Beetle and Jetta in an average repair and maintenance cost of $630, the Volkswagen Golf is still a somewhat reliable vehicle compared to other makes and models. However, while the Golf is more highly rated than other compact vehicles like the Chevy Cruze, it ranks as just the 25th most reliable vehicle in its class out of 36, with another 4.0/5.0 reliability rating. 
Overall, Golf owners should still feel somewhat comfortable behind the wheel, but keep an eye out for potential repairs such as: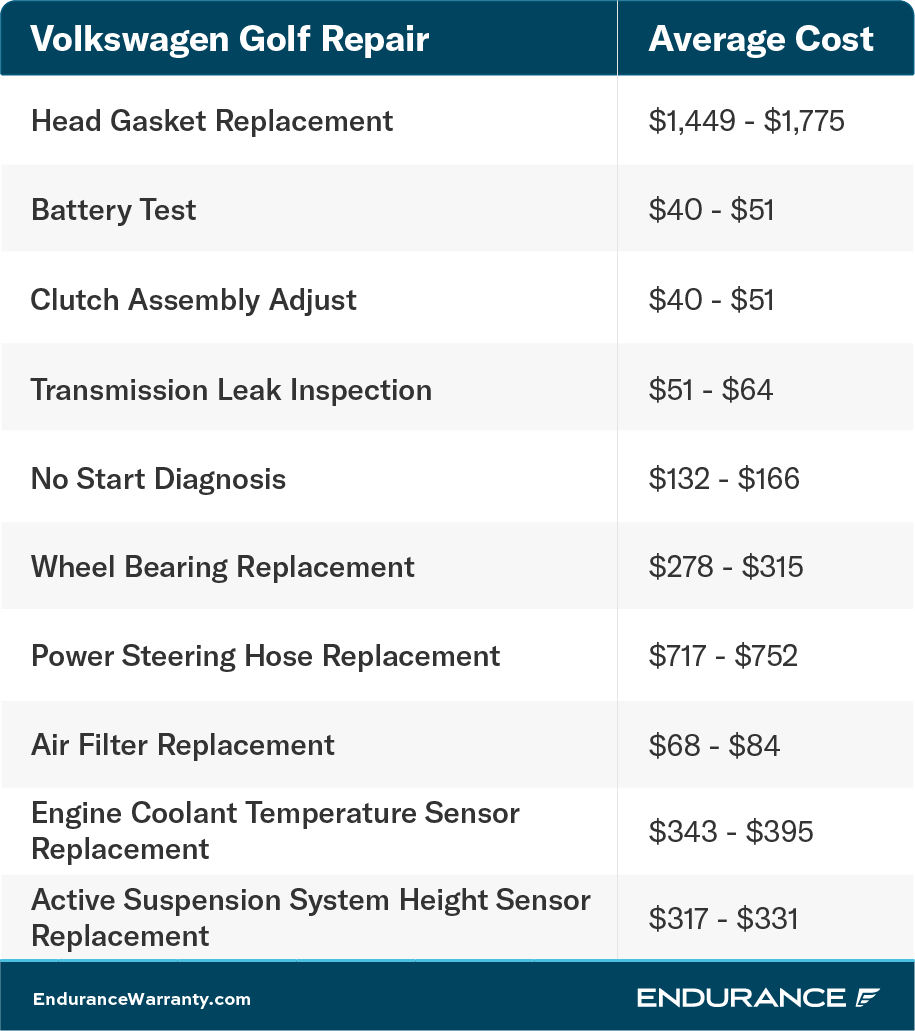 Volkswagen Passat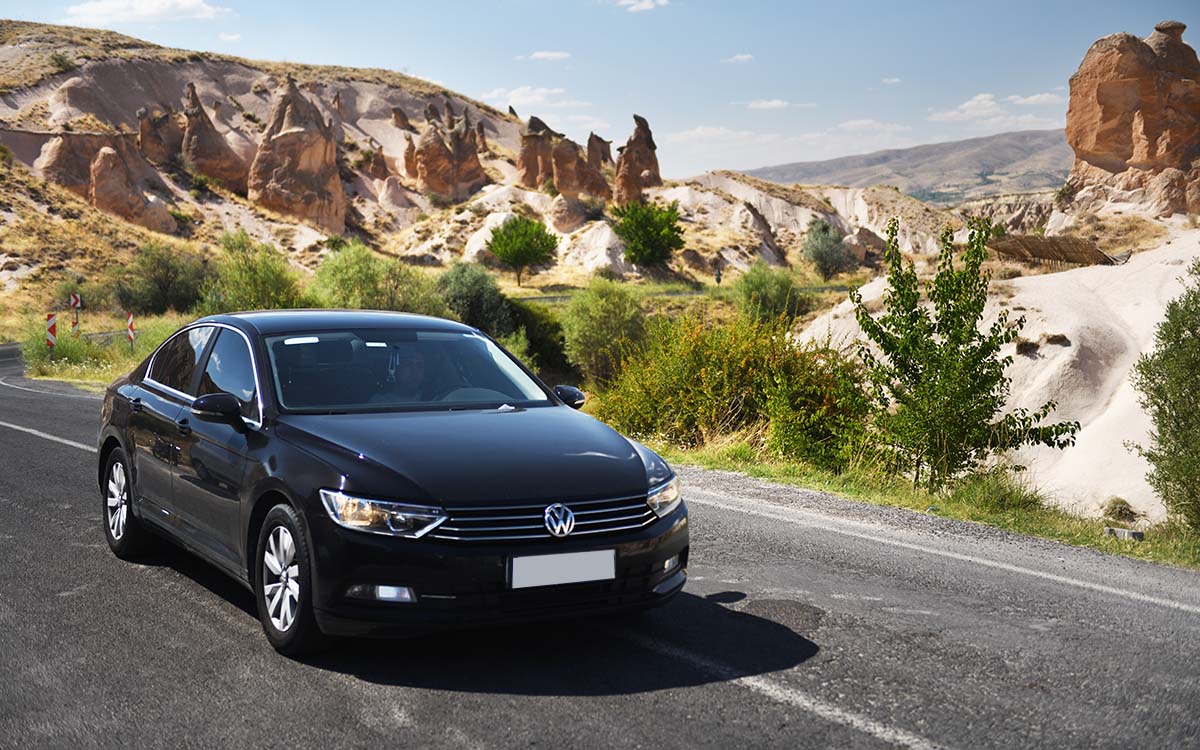 Finally, the Volkswagen Passat has the most expensive estimated repair and maintenance costs at $639 per year. And just like the other VW models on this list, the Passat holds an above-average reliability rating of 4.0/5.0. However, while still a great overall score, the Passat is on the back-end when it comes to reliable midsize cars, ranking 17th out of 24 total cars in its class. 
Still, despite ranking lower than the other VWs on this list, the Passat can see several repairs, though most won't break the bank compared to vehicles like your average Audi, Porsche, BMW, Jaguar or Land Rover. 
Some to keep an eye out for will include: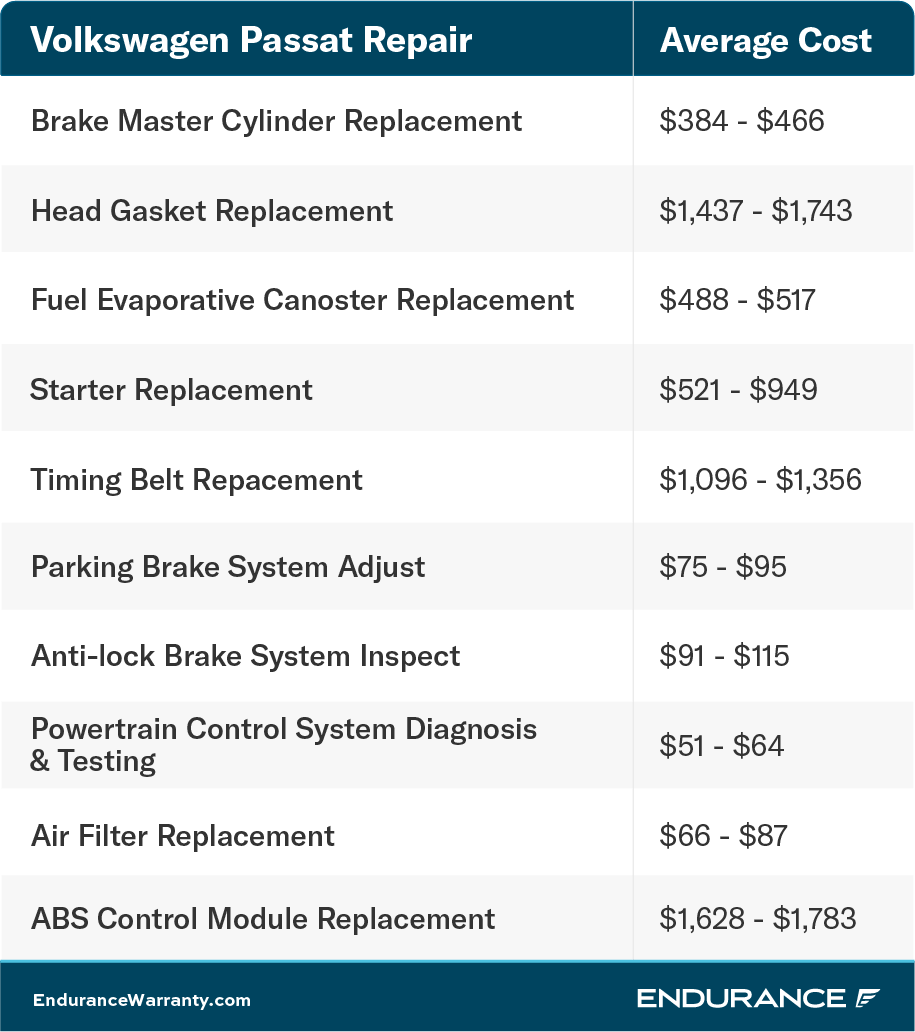 As you can see, while Volkswagen models may come in at the back-half of reliability for their classes, they still come with above-average reliability ratings. However, this doesn't mean that serious repairs can't be needed, only that they are unlikely. Still, if major repairs are needed, ensuring your vehicle is protected should be a top priority.
Can VWs Get a Warranty?
Like most other automakers, Volkswagens come with a factory warranty whenever you purchase a VW brand new from a dealership. However, VW recently reduced their original 6 year/72,000 mile bumper-to-bumper warranty to a 4-year/50,000-mile warranty on all 2020 and newer model years. But, to help make up for the change, Volkswagen has begun offering owners a 2 years/20,000 miles of "Carefree Maintenance," which includes two scheduled services (1 year/10,00 miles and 2 years/20,000 miles) and will include things like oil and filter changes, brake inspections and more. However, like every factory warranty, VWs won't have coverage forever. So once your factory coverage expires, you'd be left paying for any repairs or services on your own. 
To help protect you against situations like this, VW offers owners the choice of three levels of extended warranty coverage: Platinum, Gold and Powertrain. Each is designed to protect your vehicle's vital components, though each will also have certain exclusions or inclusions between them. But overall, VW owners for 2018 and new models can get coverage for up to 10 years/150,000 miles, while vehicles from the 2017 model year and older can find coverage for 10 years/120.000 miles, though it is noted that these periods are based on the VW's original service date. 
Still, even though Volkswagen offers extended warranties for their vehicles, you can often find the same kind of coverage, available perks/benefits, and then some from third-party providers, and for a lower price. However, while you will often see plans from third-party providers referred to as an "extended warranty," they are actually vehicle service contracts (VSC) as only your automaker can extend your factory coverage. But, despite this, choosing a VSC from providers like Endurance can be a great choice.
For example, with an Endurance auto protection plan, you can get comprehensive breakdown protection, complimentary roadside assistance and towing, trip interruption coverage and rental car reimbursements starting at just $99 per month. You can also get a full year of Elite Benefits, including tire replacements or repairs, collision discounts, key fob replacements and more for just a $29 activation fee. You can even combine your coverage with up to $3,500 in essential maintenance services, including tire rotations, alignment checks, engine diagnostic exams and even help with your car's next state safety inspection service with the Advantage protection plan. And not only that, but each Advantage plan also comes with several one-time services to help give you even more coverage and savings, including cooling system maintenance, a brake pad/shoe replacement, a battery replacement and more.
Protect Your VW for Years to Come with Endurance
After purchasing your next vehicle, getting the protection it deserves should be your top priority. And while Volkswagen offers a lineup of above-average vehicles in terms of reliability that can save you money in future repairs, having an affordable vehicle protection plan can help to give you even more peace of mind. 
With Endurance, you can be confident that your VW, Ford, Honda, Toyota and more will have the breakdown coverage you're looking for without breaking the bank. And with the Advantage plan, you can help stay up-to-date on your car's maintenance needs, including savings of up to $3,500 on oil and filter changes, alignment checks, tire rotations and more. Additionally, for a small activation fee, our Elite Benefits offer added perks such as key fob replacements, total loss protection, tire replacements/repairs and more. 
To learn more about how Endurance can protect your VW or any other vehicle you own, give our award-winning customer care team a call at (800) 253-8203 or request a free, no-obligation quote. You can also find even more articles on automotive topics like DIY maintenance tips, road trip planning guides, extended warranty comparisons and more by visiting the Endurance blog.
More like this
Make/Model

As the most rugged SUV Honda has ever offered, the Pilot offers a wide variety of benefits for those looking for an off-road capable SUV with adequate features. Like any..

Read More

Make/Model

As the world gradually transitions to renewable energy sources, the adoption of e-vehicles is on the rise, and Tesla has been leading the charge. Their range of electric cars is..

Read More

Make/Model

Originally formed from the remnants of the Henry Ford company, Cadillac is arguably the most quintessential American car brand in existence. Founded over 100 years ago, they were the first..

Read More