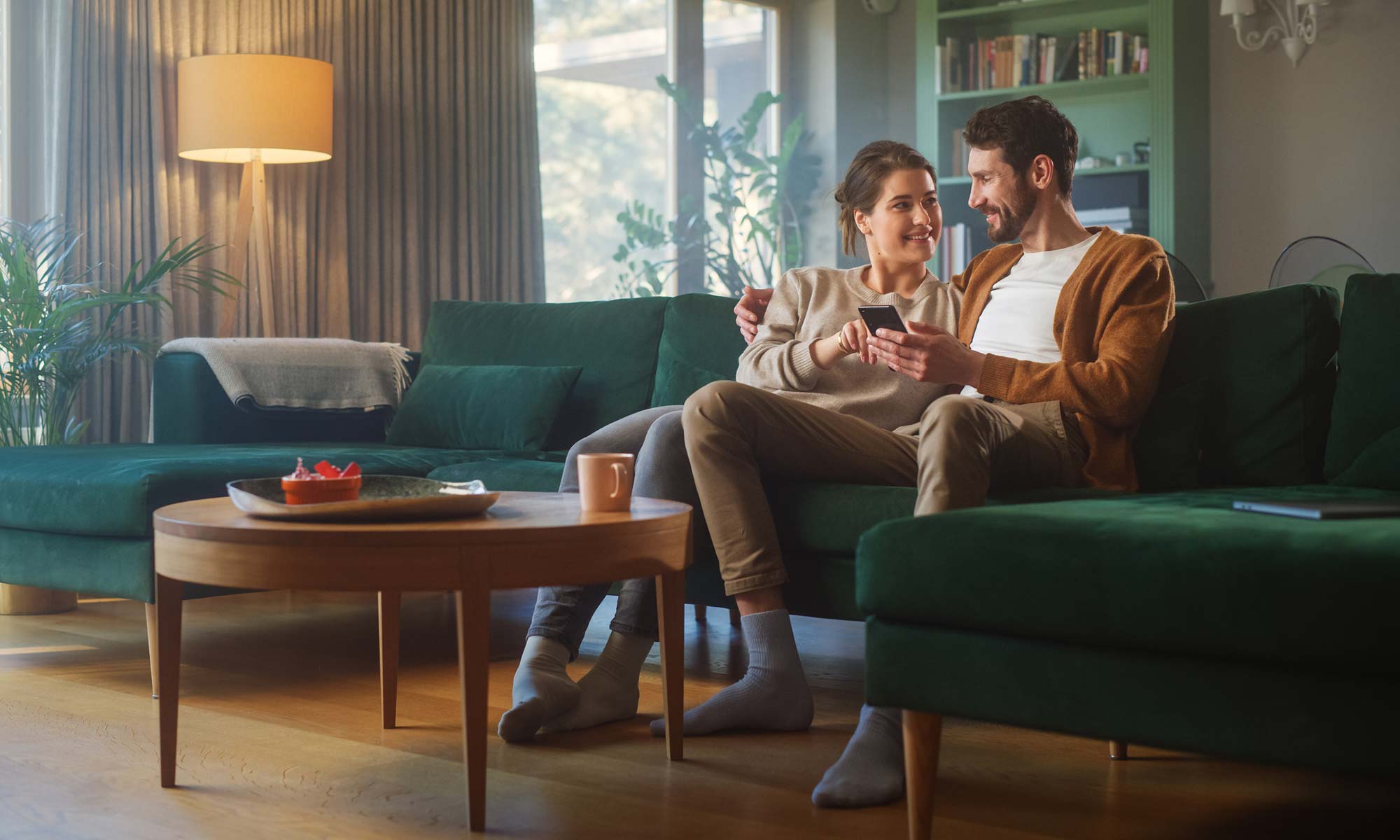 Whether you're looking to purchase a brand new car at a dealership or are considering a reliable used car, ensuring that your purchase is protected long into the future should be a top priority — especially if you no longer have the coverage of a manufacturer's warranty. With an extended auto warranty, you can get coverage from unexpected breakdowns and costly repair bills that can happen to even the most well-maintained vehicles. But while there are countless extended warranty plans available from automakers or third-party warranty companies alike, finding the right one can be challenging.
By learning more about extended warranties, how they can help you and what you should be looking for in a plan, you can be sure that you'll find the right coverage for your vehicle and your budget.  
Why Do I Need an Extended Warranty?
While you may have heard the term "extended warranty" somewhere or another, you might not know what it exactly is. But before you can understand the ins and outs of an extended warranty, including how one can help you, you have to first know about manufacturer's warranties.
A manufacturer's warranty (also known as a factory warranty) is given to car owners by their automakers when purchasing a brand new vehicle to help cover the cost of repairs caused by manufacturing defects or issues. Typically, manufacturer's warranties range anywhere from 3 years/36,000 miles to 5 years/60,000 miles, with some automakers providing coverage for as high as 10 years/100,000 miles. 
You may also find that your vehicle has multiple levels of coverage, each lasting for a different amount of time. For example, most automakers offer a bumper-to-bumper warranty that will last for 3 years/36,000 miles while also offering you powertrain warranty coverage for 5 years/60,000 miles. If you are unsure of the factory warranty coverage you have, or if your coverage is still active, your owner's manual may be able to help. You can also contact your vehicle's dealership or automaker to learn more about your factory warranty and how long it's active. However, regardless of the factory coverage your car may have, it won't last forever, which is where having an extended warranty can help. 
An extended warranty acts exactly as it sounds — an extension of your factory warranty coverage that you can purchase directly from your car's manufacturer. But, while this type of coverage can help when it comes to unexpected car repairs, there are often limitations. For example, most automakers will require you only to visit the dealership or specified (and authorized) repair facilities, limiting where and how you can repair your vehicle. Some extended warranties from automakers also require you to purchase the coverage while your factory warranty is still active. Meaning that if you have purchased a used car or if you were unaware that your coverage was expiring soon, you'd be left paying for expensive repairs on your own, such as these repairs on some of the most popular vehicles on the road:
Instead, third-party providers like Endurance, CARCHEX, Carshield, Protect My Car, and more can help take the worry out of costly and unexpected repairs. In fact, you can find the same comprehensive coverage and covered repairs as your automaker for a lower price while also enjoying additional benefits, savings and perks with third-party providers. However, while you will often see the plans from providers like Endurance described as being "extended warranties," that's not the case, as only an automaker can truly "extend" your coverage. Still, the coverage options available from third-party providers, known formally as vehicle service contracts (VSCs), will provide you with the same coverage for repairs and breakdowns as an automaker while not limiting you to just the dealership for repairs. With a vehicle service contract, you can visit any repair shop of your choice. You can also purchase VSCs at any time throughout your ownership, so you can be confident your vehicle will be covered no matter if you've had it for a few weeks, three years or 10 years. 
Some providers like us at Endurance will also include perks such as complimentary 24/7 roadside assistance and towing, trip interruption coverage and rental car reimbursements. Endurance customers can even enjoy a full year of Endurance Elite Benefits, including tire replacements or repairs, collision discounts and more for just a small activation fee. Most Endurance plans are also transferable, meaning you can upsell your vehicle to any potential buyer should you ever look to sell it.
Additionally, it's vital to know that there is a difference between factory warranties and extended warranties or VSCs and insurance. Specifically, car insurance can help you pay for repairs caused by accidents, inclement weather and more, not those caused by breakdowns or other types of issues. Even any mechanical breakdown insurance (MBI) policy you may have won't be able to give you the same comprehensive breakdown coverage as a warranty or vehicle service contract.
How Endurance Can Help You
Choosing the right extended warranty or VSC can be daunting, considering the number of providers and coverage plans available. To help you, consider your vehicle's age and mileage, your driving habits, and your budget. Even looking at your vehicle's overall reliability and average annual maintenance costs can help make the difference between finding the right plan or the wrong one. 
But, when you have Endurance, you can be certain that you're getting comprehensive breakdown protection, standard benefits and additional perks and savings, all starting as low as just $79/month with flexible payment plans. You may even be able to save up to $3,500 each year on your vehicle's essential maintenance needs! And if you change your mind, that's okay, as each Endurance plan also comes with a 30-day money-back guarantee so you can ensure you are getting the right plan for you and your vehicle.
To help show you why Endurance is the right choice for you and your vehicle, here's how we can help:
You Can Visit Any Certified Repair Shop or ASE Certified Mechanic 
As an Endurance customer, you won't be stuck to just the dealership or specific shops for repairs. Instead, you can take your vehicle to any certified auto repair facility or ASE Certified mechanic of your choice. You just need to show them your Endurance membership, wait for authorization on repairs, pay any applicable deductible, and sit back and relax as we work directly with the repair shop or mechanic. And as we're a direct administrator of most of our plans, you can be certain that a member of the Endurace customer care will be with you throughout every step of your claims process. 
Expanded Eligibility
When it comes to automobiles, older cars or high-mileage vehicles can be challenging to find coverage for, but not with Endurance. When you're an Endurance customer, you can find coverage on vehicles up to 150,000 miles, those with salvaged or rebuilt titles, Canadian Gray Market vehicles, and hybrid vehicles (minus the battery). Even those who drive their cars commercially, such as for rideshare or delivery services, can also find coverage with Endurance.
Maintenance Coverage
With the Advantage protection plan, you can combine Endurance's breakdown protection with up to $3,500 in yearly maintenance services like tire rotations, alignment checks, engine diagnostic exams and more to help ensure your vehicle can stay running at its best for longer. You'll even be able to enjoy some special, one-time services that include a battery replacement, cooling system maintenance and a brake pad/shoe replacement for even more coverage and savings.
Luxury Vehicle Coverage
Luxury vehicles are often some of the costliest vehicles to repair. They also happen to be some of the least reliable. For example, according to RepairPal, some popular luxury automakers make up the bottom six in terms of overall reliability, including:
But, when you have the exclusionary coverage of the Highline protection plan from Endurance, you can get the peace of mind you're looking for when it comes to costly repair bills. With Highline, you'll have Endurance's comprehensive breakdown protection for select models that are up to eight years old and have less than 80,000 miles from all of the popular automakers mentioned above and vehicles from Alpha Romeo and Maserati.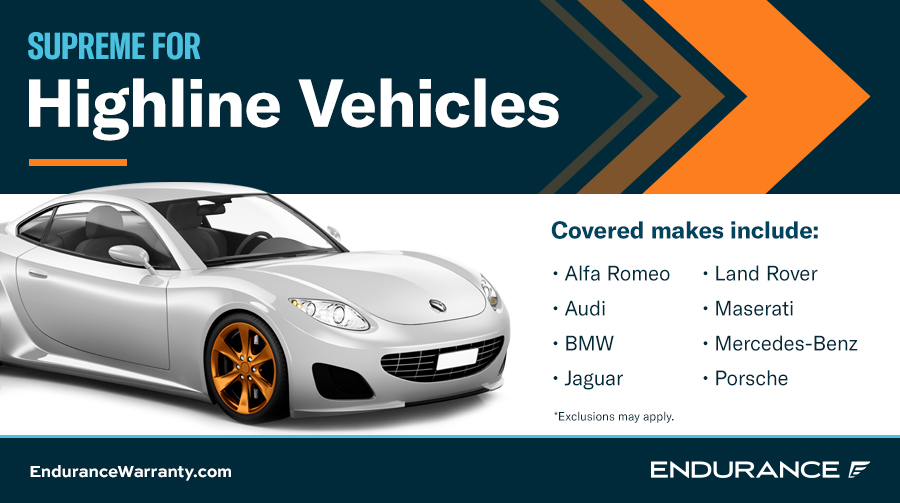 Standard & Elite Benefits
Unexpected breakdowns can happen anywhere — whether at the store, on your way to work or in the middle of a road trip. But whenever a breakdown does happen, there's no need to worry. With Endurance, you'll automatically be able to enjoy complimentary 24/7 roadside assistance and towing to help get you and your vehicle to the nearest certified repair shop or ASE Certified mechanic of your choice. You'll also be able to enjoy trip interruption coverage and rental car reimbursements to help you out until your vehicle is back on the road.
But that's not all. For just a small $29 activation fee, you can enjoy an entire year's worth of Endurance Elite Benefits to give you even more coverage and savings. That includes bonuses such as up to two tire replacements or repairs, collision discounts (up to $500 per collision), key fob replacements and total loss protection (up to $1,000). You'll also be given access to the Endurance Mobile App. You can do everything from reviewing your policy, checking the status of your claims, calling for roadside assistance, or viewing your Elite Benefits if you've activated them.
You'll Have Award-Winning Coverage & Service
When you have an Endurance vehicle protection plan, you can be certain that you won't be scammed. In fact, you'll have award-winning coverage and service from the nation's leading provider in automotive protection plans. We're also backed by real people on sites such as Trustpilot (4.4 rating) and more, including customers such as:


Keeping you and your vehicle protected out on the road is our goal. To help you find the right plan for you and your budget, give us a call or request a free quote today. 
Protect Your Vehicle and Your Wallet with Endurance
Whether it's brand new or you've had it for years, protecting your vehicle from the cost of unexpected repairs should be at the top of your to-do list. With Endurance vehicle protection plans starting as low as $79/month, you can be certain that you'll be getting the award-winning coverage you deserve without worrying about your budget. 
You can even save up to $3,500 on some of your car, truck, or SUV's routine maintenance needs with Advantage, or you can find coverage for high-cost luxury vehicles with Highline. You'll even be able to rest easy knowing you'll have 24/7 roadside assistance and more for free, regardless of the Endurance plan you choose. And, for just $29 more, you can activate an entire year's worth of bonus perks and savings with your Elite Benefits, including collision discounts, tire replacements or repairs, and more. 
To learn more about how Endurance can help you and your vehicle, give us a call directly at (800) 253-8203, or you can get started right away by requesting a free, no-obligation quote. Don't forget to check out the Endurance blog, where you can find even more articles on topics like expert maintenance tips, extended warranty FAQs, vehicle buying guides and more. 
More like this
Cost and Price

If one thing's true about car ownership, it's that it doesn't come cheap. No matter what vehicle you own, whether a used or new car, maintenance fees and unexpected repairs..

Read More

Cost and Price

An extended car warranty provides new and used car buyers with a financial safety net against expensive car repairs due to mechanical breakdowns after a factory warranty expires. However, every..

Read More

Cost and Price

Today, many car owners are having difficulty paying for unexpected and expensive car repairs. Recent reports indicate that less than half of Americans can pay for more than $1,000 in..

Read More