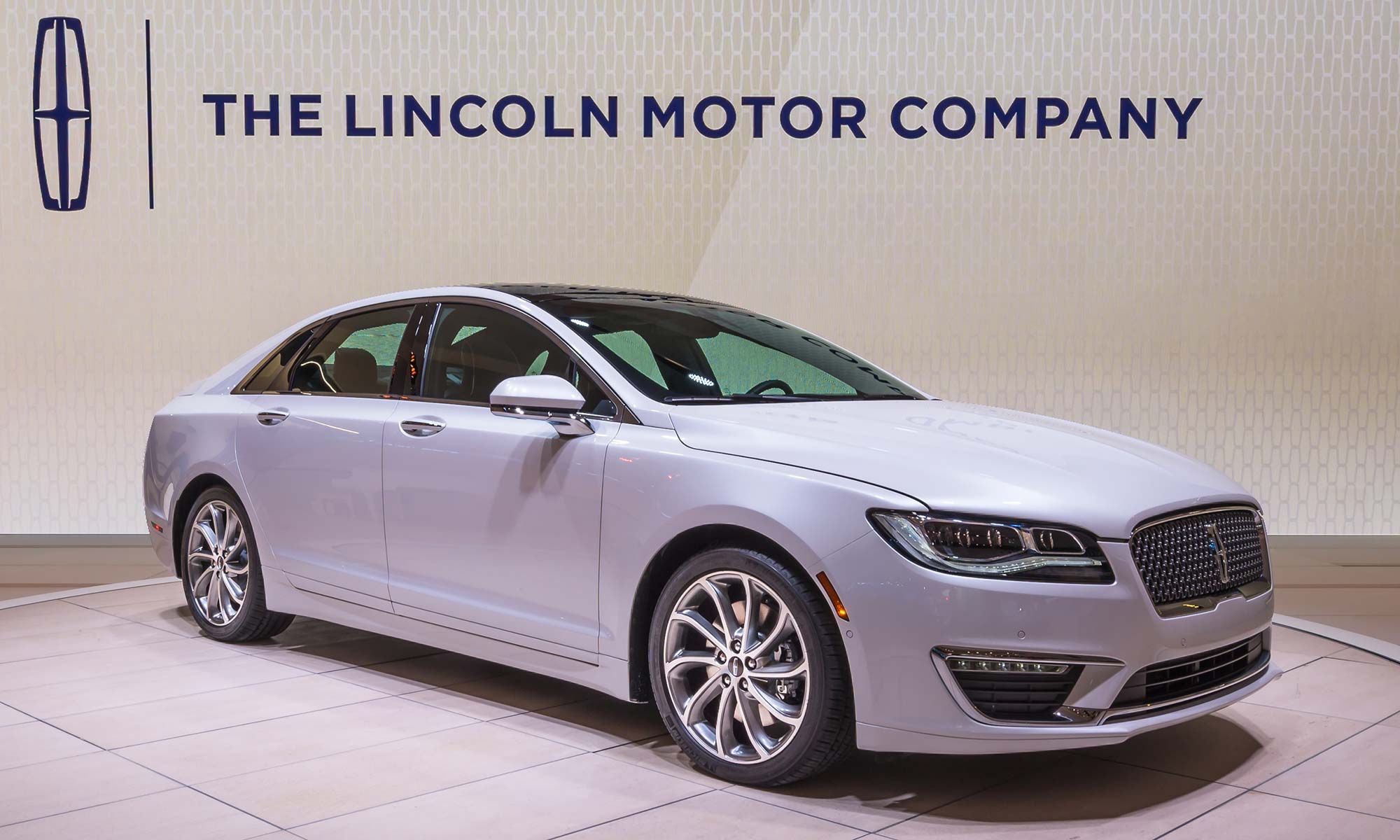 Since 1917, the Lincoln automotive brand has become known for providing drivers with some of the most luxurious vehicles on the market. As the luxury division of the Ford Motor Company, it's no wonder why models such as the Lincoln Continental, the Lincoln Town Car and others have helped pave the way for the personal luxury vehicles segment of the automotive world dating back to the 1940s. In fact, Lincolns became so popular that President Kennedy often used a Lincoln Continental nicknamed "X-100" by his Secret Service as his presidential vehicle, helping to make it one of the most popular cars of the 1960s. 
While purchasing a new or used Lincoln can often be an excellent choice for drivers, it's essential to look at more than just the overall sticker price. You must consider the overall maintenance cost, any noted safety issues, and general repair costs before making any significant purchase. Failing to do so could leave you dealing with several unexpected (and costly issues) down the road. And, as the 24th ranked brand in overall reliability (out of 32), chances are your Lincoln will be faced with an unexpected breakdown sooner than later. Some models and model years in particular, such as the 2016 Lincoln MKZ, can also be more prone to potential issues or suffer from previous safety recalls, making it an easy choice to avoid when looking for your next vehicle.
About the 2016 Lincoln MKZ
The 2016 Lincoln MKZ is a midsize luxury sedan that was discontinued in 2020. While no longer in production, each MKZ seats five passengers and gets an EPA estimated 22 mpg in the city and 33 mpg on the highway. The MKZ base model comes with an efficient four-cylinder engine that produces about 240 horsepower. You can also find an upgraded version that features a V6 engine that can produce about 300 hp in the highest trim levels.  
Despite these attractive features, as a luxury vehicle, the 2016 Lincoln MKZ will cost owners an average of $1,194 in annual repair and maintenance costs. Combined with the MKZ in general ranking 20th out of 30 vehicles for overall reliability in its class, the costs can increase significantly if you are faced with any unexpected breakdowns or other repair issues you haven't accounted for. 
Per RepairPal, some general repair costs that MKZ owners can expect can include: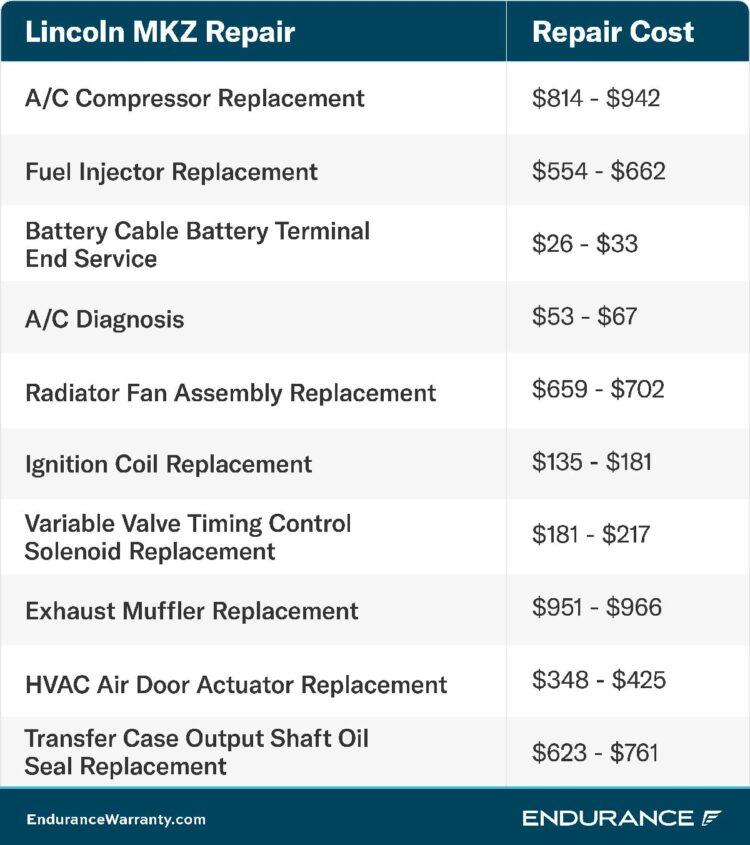 Save when it comes to protecting and maintaining your MKZ by purchasing a vehicle service contract (VSC) such as EnduranceAdvantage™. Along with providing you with the most comprehensive breakdown protection available on the market, each EnduranceAdvantage plan also comes with up to $3,500 in regular maintenance coverages. This includes such essential services as up to 3 oil and filter changes, tire rotations, and engine diagnostic exams. You can also have access to several other special, one-time services for even more coverage and savings.
2016 Lincoln MKZ Safety Recalls
Apart from being one of the costliest vehicles to maintain, the 2016 MKZ also suffered several safety recalls. Issued by the National Highway Traffic Safety Administration (NHTSA), there have been five total safety recalls for the 2016 Lincoln MKZ revolving around issues such as:
Fuel Tank Cracks

Power Steering

Issues

Steering Wheel Detachment

Doors Not Latching Shut

Incorrect Headlights
The first recall regarding fuel tank cracks is an issue plaguing many other Lincoln vehicles as of late. This particular recall will examine whether the MKZ's gas tanks could crack and cause a fuel leak or fire hazard. The loss of power steering caused another recall to be issued as it could lead to an increased risk for an accident and loss of control. 
Some drivers also reported issues of their steering wheel detaching from their vehicle entirely due to a retaining bolt loosening, leading to another recall. Similarly, a recall was issued as recently as March 2020 due to a defect affecting the door latches being found, resulting in the MKZ's doors opening while the vehicle was in motion.
The most recent recall for the 2016 MKZ took place on April 24, 2020, regarding the vehicle's headlights not meeting the Federal Motor Vehicle Safety Standard (FMVSS) number 108, "Lamps, Reflective Devices, and Associated Equipment." Simply put, a vehicle's headlights must be properly aligned so drivers can see without any issues at night or in low-light situations. If they aren't working correctly, it could lead to crashes and other dangers while driving. For the 2016 MKZ, the headlights were found to have an improper beam pattern as well as being improperly aligned, resulting in less overall visibility for drivers on the road at night or in severe weather conditions. 
Consumer Complaints
Along with several significant recalls, there have been several notable complaints about the 2016 Lincoln MKZ from general consumers. Specifically, most complaints involve: 
Air Bags
The NHTSA has yet to issue any recalls for airbag defects with the 2016 Lincoln MKZ, but it is still important to note that this is a possibility. If the airbags in your MKZ are defective, they might not go off when you need them most, which could lead to severe injury or death if an accident were to happen. If you believe your airbags are not working correctly, visit your local Lincoln dealership or visit a certified repair facility as soon as possible. If there is a recall, Lincoln will notify you directly with information on the issue and how you can remedy it.
Steering
There have been quite a few complaints about steering problems with the 2016 Lincoln MKZ, which makes sense considering there have been multiple recalls for power steering issues. These problems include power steering failure, loss of control, and even the possible chance that your car might not turn at all.
Electrical System
Several complaints discuss electrical system issues with the 2016 Lincoln MKZ. These include issues not being able to turn on any electrical accessories, motion sensors failing to activate, and wires starting to melt.
Transmission & Engine Failure
Some drivers have noted some transmission problems and engine failure with the 2016 Lincoln MKZ. As some of the most critical components in any vehicle, ensuring your MKZ is free of any engine or transmission is vital. With an Endurance breakdown protection plan, you can rest easy knowing your MKZ's engine, transmission and other vital drivetrain components are covered from unexpected breakdowns and other costly repairs. 
Protect Yourself and Your Car with Endurance
Whether you purchase a used MKZ or any other vehicle, staying up-to-date on your car, truck, or SUV's regular maintenance needs is essential. With EnduranceAdvantage, you can protect yourself and your wallet from costly out-of-pocket repairs while staying up-to-date on your vehicle's essential maintenance needs. Offering up to $3,500 in regular maintenance coverage, you can rest easy knowing services such as up to 3 oil and filter changes, tire rotations, alignment checks and more are covered — at no additional cost to you.
Endurance customers will also have access to 1 year of Elite Benefits when purchasing any breakdown protection plan and a small activation fee. These benefits include extra perks such as 24/7 roadside assistance, up to two tire repairs or replacements per year, up to $500 in collision discounts, and more.
To learn more about how Endurance can help you and your vehicle, you can request a free quote or give us a call directly at (800) 253-8203 to get started. Make sure you also check out our Learning Center to find other articles on topics to help you keep your car in tip-top shape!
More like this
Make/Model

As the world gradually transitions to renewable energy sources, the adoption of e-vehicles is on the rise, and Tesla has been leading the charge. Their range of electric cars is..

Read More

Make/Model

Originally formed from the remnants of the Henry Ford company, Cadillac is arguably the most quintessential American car brand in existence. Founded over 100 years ago, they were the first..

Read More

Make/Model

Buying a new car or a used car can be a tricky process. The choice of vehicles is almost endless, and while it can be tempting to go for the..

Read More