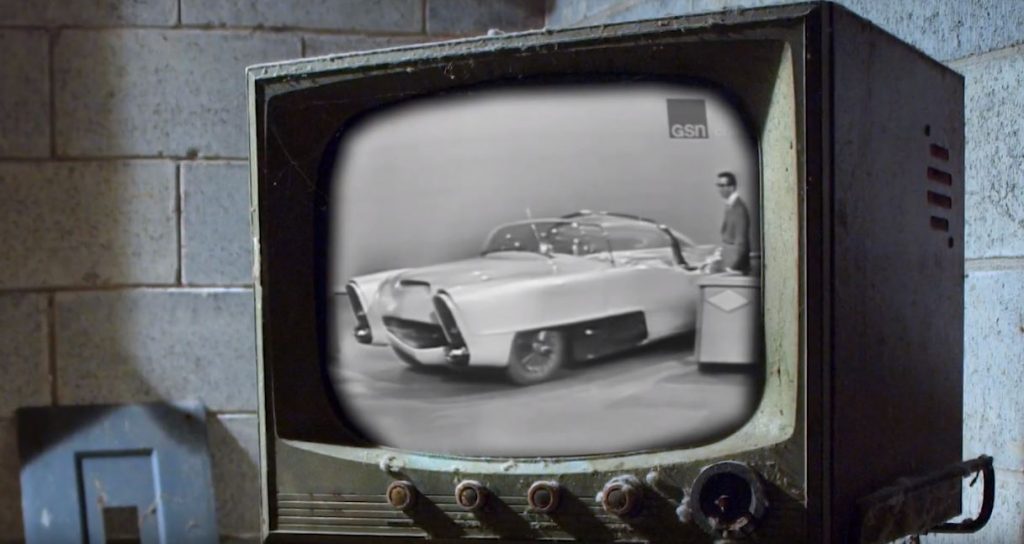 Back in the 1950s there was a custom car known as the "Golden Sahara." It was specially made as a concept of what "future" cars would look as envisioned by people in the 50s. The Golden Sahara was downright famous and managed to delight onlookers at the 1954 Petersen Motorama in L.A. Eventually it became one of the stars of an automotive traveling show circuit. Then it was forever immortalized on the silver screen. And then it disappeared from the public in the 1960s. Fast forward to 2018 and the last owner passed away leading the car to emerge from the shadows. And it was at none other than Mecum's May 2018 Indianapolis auction where the car finally came back.
The Golden Sahara
Pictures of this car aren't actually all that difficult to find. Now of course, you wouldn't know it from looking at it but this car once sparkled in a way that brought awe and inspiration across America.
Embed from Getty Images
This custom concept was a reshaped, technology-loaded, beautifully-painted '53 Lincoln Capri. The Capri actually once belonged to the famous custom-car magnate George Barris. Barris himself peeled open the top of the car before he teamed up Jim Skonzakes, an Ohio customer of Barris' better known as Jim Street, to fund and completely rebuild the car from the ground up. However it must be said that neither of the two saw just how sensational the car would be.
Barris overhauled the car from the ground up. He used all-new Space Age body and painted it using a really glowing pearlescent 24-karat gold paint that was actually made out of actual fish scales. The car then was fitted with a half-bubble top, and the interior used white mink carpeting. The Golden Sahara is also brimming with luxury. There's a cocktail bar with built-in refrigerator, a high-end (at the time) radio with a tape recorder and it even came with an in-dash television. Back then it cost a very high stunning 25-grand, leading to a May 1955 Motor Trend cover story, "The $25,000 Custom" (that's more in today's money).
How it Drives… if it Still Drives: Return to the Sahara
So back in 1956 then-owner Street took the customization even further with more glitz and glamour. He even added new tech to it as well. That's when he renamed it the Golden Sahara II. Mostly Street improved the drivability with selectable electronic steering, push-button steering, aircraft-style centered uni-controls for acceleration and braking. He even managed a crude attempt at remote functionality with front bumper sensors that would activate automatic braking. That ended up increasing the price to an even heftier $75,000 and made the car an actual celebrity. It had a starring role in the 1960 Jerry Lewis movie Cinderfella.
By the time the 60s wrapped up the Golden Sahara II was left in the collective memory. There were simply no more public appearances for it anymore. The rumor was that it was hidden away in Street's garage. As far as we know, Street occasionally took it out for night cruises into the 1980s. However no one saw it after even in December 2017 when Barris died.
Until now.
Now it's set to be auctioned off by Mecum. They're actually going to be auctioning off several vehicles from what they refer to as "Jim Street Estate Collection." However anyone in the know it's the Golden Sahara that is the main event. The auction is set to be held between May 15th and 19th in Indiana. So if this kind of item is something you want to see if not have, that's when you can.
More like this
Autotainment

Once reserved for high-powered consoles, gaming has exploded on cell phone platforms thanks to robust technology and high-speed internet connections. In particular, car enthusiasts have hopped on the mobile gaming..

Read More

Autotainment

Car enthusiasts are always looking to learn more about a complex and constantly changing industry. One way to tackle this task is through automotive podcasts. These shows offer a treasure..

Read More

Autotainment

Moviegoers don't need to be car lovers to appreciate the legendary vehicles that have graced the big screen over the decades. These automobiles have helped to tell the stories and..

Read More