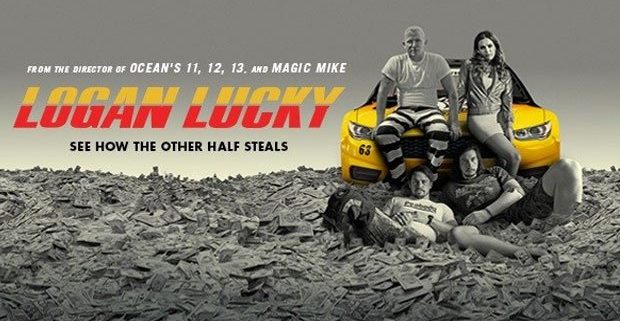 The director who brought us Ocean's Eleven and Magic Mike is back from his so-called "retirement" with a new movie called Logan Lucky. So what does this have to do with cars? Well this movie just so happens to be a NASCAR collaboration!
What is Logan Lucky?
NASCAR® has teamed up with Academy Award-winning director Steven Soderbergh on Logan Lucky. It's  a clever heist comedy starring Daniel Craig (James Bond himself), Channing Tatum alongside Katherine Waterston, Mad Max Fury Road's Riley Keough, Adam Driver and Seth MacFarlane. Our crew of working class misfits are setting about robbing the real-life famous Charlotte Motor Speedway.
And guess what? It was filmed and takes place at the Charlotte Motor Speedway in North Carolina during none other than the 2016 NASCAR Sprint Cup race. This movie is a cross between Days of Thunder and Ocean's Eleven but with more fun & clever "real world" references.
Filming began over the weekend during the Coca-Cola 600 in 2016, and Logan Lucky is now in theaters as of August 2017.
But here's a fun little secret we uncovered: most of the filming was actually done at Atlanta Motor Speedway. This track may be similar in size and style to Charlotte (they are both Speedway Motorsports Inc. tracks) but the crew had the walls painted yellow. So much meticulous effort was made to get Atlanta to resemble Charlotte and get the details right.
NASCAR and the Movies
Regardless of liberties, Zane Stoddard, NASCAR vice president of entertainment marketing and content development is excited. He believes that Logan Lucky will be a big-hearted, fun and exciting story. Stoddard also says that is helps to showcase NASCAR and the "Charlotte Motor Speedway" as the world-class sports entertainment property. NASCAR hopes that it will work in a similar manner as the Bellagio hotel & casino in Ocean's Eleven.
Another big deal is that six real life NASCAR drivers feature heavily in the movie. As themselves AND other characters! That includes Carl Edwards and Kyle Busch playing both themselves and West Virginia state troopers. Brad Keselowski and Joey Logano are themselves and a couple of security guards, Meanwhile Kyle Larson is himself and a limo driver, and finally Ryan Blaney is himself and a delivery boy.
For most non-NASCAR fans, they may not notice the clever fact/fiction joke. For true-NASCAR fans those cameo's non racing character beats serve as clever inside jokes that have gone around before.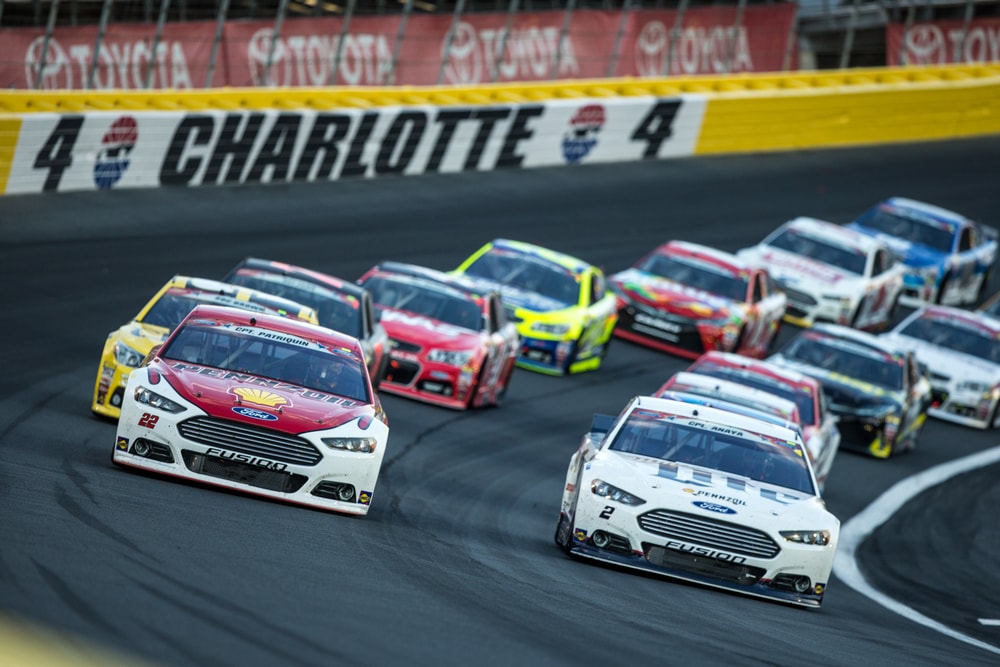 Behind Every Great Heist Movie is a Great Car
The Italian Job has Mini Coopers. The Fast & Furious movies have a seemingly endless list of cars to choose from. Baby Driver has a WRX and Dodge Challenger. It's only appropriate that a high speed heist movie, no matter how mostly focused on making you laugh rather than on the edge of your seat, would have some great cars.
First off we have a Ford Mustang Shelby GT350. This is driven by Riley Keough who for all intents and purposes is the…well without spoiling let's call her the wheel-woman for this plan. She's as fast behind the wheel as she is when she runs her mouth and the Shelby makes for one hell of a partner in crime. The Shelby is one heck of a pony car with V* the pumps out 526 hp with 429 lb-ft of torque in order to hit a 4.3-second zero-to-60-mph run.
Next up we have a 1970s Pontiac Grand Prix. I'm unclear as to which year exactly but my guess is that it's the 1972 version. This one is driven by Adam Driver. In the movie it's a little worn down but it still has plenty of muscle for what Driver needs it to do, which again, we won't spoil.  It packs a modified V8 rated between 370 and 390 hp (based on character dialogue) with about 500 lb·ft of torque give or take at 3,100 rpm. It's got a heck of a punch, perfect for getting in and out of tough situations.
The Real NASCAR is here
Finally, we have plenty of NASCAR race cars. Part of the fun will be spotting ones you recognize. A fun fact about modern racing "stock" cars: they are stock in name only. Most of them only incorporate a body template vaguely modeled after currently available cars. Everything about a NASCAR stock car is custom. That includes the chassis, transmission and even engine build. The main brands in NASCAR: Chevy, Dodge, Ford, and Toyota have all redesigned their motorsport racing sheet metal in a better effort to merely resemble the street models of their cars but they are more like distant cousins than anything else.
Logan Lucky
 is the 1
st
 film directed by Steven Soderbergh after his retirement. But it is also notable for its unique independent financing. That saw Soderbergh coming to NASCAR officials directly as opposed to through a Hollywood studio. Critics are hyping up the movie (currently sitting at a 93% Rotten Tomatoes score). And we'd like to think NASCAR fans will get a kick out of it too. Let us know if they're right this weekend!
More like this
Autotainment

Car enthusiasts are always looking to learn more about a complex and constantly changing industry. One way to tackle this task is through automotive podcasts. These shows offer a treasure..

Read More

Autotainment

Moviegoers don't need to be car lovers to appreciate the legendary vehicles that have graced the big screen over the decades. These automobiles have helped to tell the stories and..

Read More

Autotainment

When football season arrives, it only means one thing—tailgates! But while die-hard fans are sure to have enjoyed a tailgate or two (or 200) in their time, many might not..

Read More