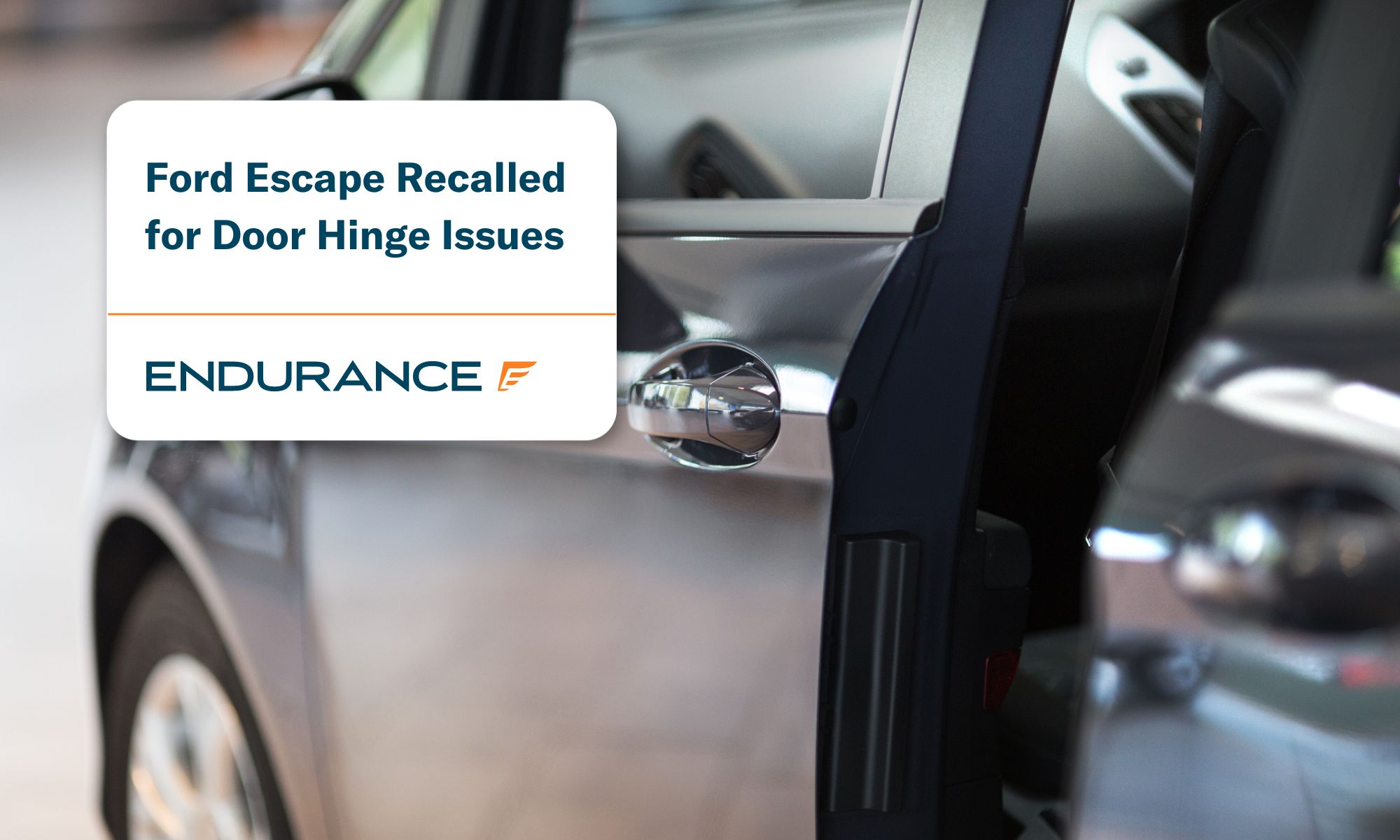 Finding yourself in the position where you are notified of a recall affecting your vehicle is never a fun situation, but it should require immediate action on your part. Depending on the severity of the reason for the recall, there may be a risk of injury or death due to mechanical breakdowns on the road. In particular, the Ford Escape has seen a number of recalls over the years ranging in severity, with one of the most recent being issues with the door assembly, specifically the hinge.
Learn everything there is to know about this recall, including affected vehicles, to determine if action is required on your part.
Details of the Ford Recall
While Ford may be a notoriously reliable brand, they ran into some unique issues with the Ford Escape in recent years, which could affect hundreds of thousands of vehicles on the road. Specifically, the National Highway Traffic Safety Administration (NHTSA) is investigating a door welding problem that could affect over 340,000 Ford Escape vehicles manufactured in 2020 and 2021.
Risks and Hazards With the Ford Escape Recall
After receiving over 100 complaints regarding the same situation, the NHTSA began interviewing affected vehicle owners to learn the details of the situation. What they have discovered as of recent data is that welding issues on the front door in the vehicle, particularly faulty spot welds in the check arm attachment points of the door, have resulted in a sudden popping noise followed by the door opening while the vehicle is in motion.
To make matters worse, some vehicle owners have also reported being unable to close the vehicle after this occurs. On top of this, some 2020 Ford Escape owners and 2021 owners have reported the opposite, claiming that their doors will not open at all after they hear a sudden creaking noise.
Ford's Response and Solution to the Issue
Currently, the investigation is still in its early stages, and Ford has not announced any potential solutions while this is occurring. However, the company has promised that they are actively working with the NHTSA to investigate the Ford Escapes with a specific model year, which may be impacted. Should the investigation prove a widespread issue poses an unreasonable risk to highway safety, an official recall will be issued, and Ford will announce their action plan.
What Ford Escape Owners Need to Do
At this point in time, if you own a Ford Escape that was manufactured in 2020 or 2021 and you haven't noticed any issues with your door, then there is no action needed on your part. However, if you have noticed odd sounds or difficult resistance with your door, consider reducing the amount you are driving your vehicle until the investigation is complete. In the event that a formal recall does not occur, or if you are particularly nervous about an issue your vehicle is having, take it to the dealership for a diagnosis.
Previous Recalls of the Ford Escape
The Ford Escape has been a vehicle that has had notorious issues in recent years. In fact, according to data from the NHTSA, there have been 11 recalls for the 2020 Ford Escape and Ford Escape SUV ranging across issues, including side curtain airbags not inflating properly, problems with the tire pressure, an inoperative rearview camera, and more.
The 2021 Ford Escape has also been plagued with eight issues since its release, with the most prominent being a recall due to potential engine failure leading to fires, cracked fuel injectors leading to engine failure, high voltage battery failure, and more. To check if your vehicle has been impacted by a recall, you can always visit the NHTSA website yourself and type in the year, make, and model of your vehicle.
Consumer Reactions and Implications
Currently, consumer reaction to the news of a potential recall for 2020 and 2021 Ford Escape models has primarily been apprehension. This vehicle model has seen numerous recalls over the years, as well as recalls for popular other models such as the Ford F-150, Ford Fusion, Ford Focus, and others, which has led some to be concerned that the recall will occur.
Should this recall occur, over 340,000 vehicles (preliminarily) would be included in the scope. However, it's possible that this number could rise drastically if the investigation finds that more models are affected by this hinge problem. Additionally, minor injuries and property damage as a result of door hinge issues have been discovered on other vehicles manufactured by Ford Motor Company in previous years, with 2 million vehicles being recalled in early 2020 due to the exact same issue. This means that should the investigation deem the issue on the Ford Escape to be the same as before, it's almost a guarantee that a recall will occur.
Use Endurance to Protect Against Mechanical Breakdowns
While recall issues will always be handled on behalf of the manufacturer of a vehicle, there is a slew of potential mechanical issues that can emerge over time. However, if you don't have a factory warranty on your vehicle and they aren't covered by a recall, you'll be on the hook for the repair cost.
By taking advantage of a vehicle service contract, also known as an extended car warranty, you can receive financial coverage for covered repairs.
Endurance Auto Warranty offers numerous extended warranty plans to choose from, as well as customizable coverage:
Secure Plus: Affordable coverage designed specifically for older vehicles
Superior: Extensive coverage that covers a wide array of components
Supreme: Near bumper-to-bumper warranty, reaching the closest level of coverage to manufacturer warranties
As an added perk, all Endurance contracts come with Elite Benefits for a small activation fee, which provides additional benefits such as up to $1,000 in total loss protection, tire reimbursements up to two times per year due to road hazards, and much more.
To determine which auto protection plan may be right for you, give our award-winning customer service team a call at (800) 253-8203 to request a FREE quote. You can also shop online to see your price now.
More like this
Make/Model

If you're the owner of a Honda Accord, you certainly aren't alone. The brand has a great reputation for producing some of the most reliable cars on the road, with..

Read More

Make/Model

The last thing any Ram driver wants is to hear an odd noise while driving down the road, followed by a mechanical issue within their vehicle. Unfortunately, mechanical breakdowns are..

Read More

Make/Model

Buying a new or used car can be incredibly exciting and can take your life in new directions that you didn't see coming. With a vehicle that you love and..

Read More