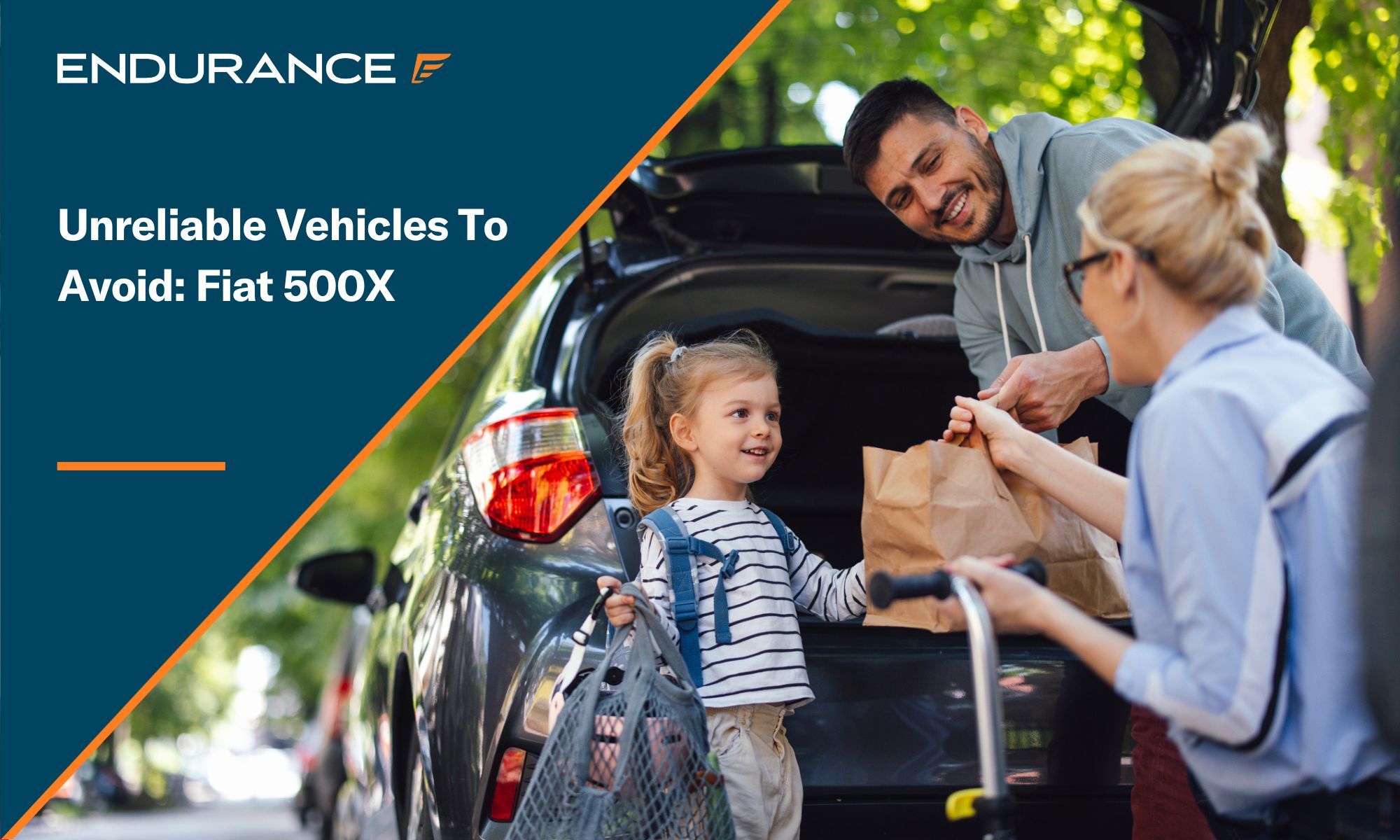 Buying a new car or a used car can be a tricky process. The choice of vehicles is almost endless, and while it can be tempting to go for the make and model you find most aesthetically pleasing, looks don't mean much if it doesn't run well.
More than anything, no one wants to be caught out by unexpected component failure, so your top consideration for a vehicle should be its reliability. And some vehicles are much more dependable than others.
The Fiat 500 is an iconic Italian car, and you'd be forgiven for thinking the Fiat 500X (its compact SUV counterpart) is a good buy. Unfortunately, however, it's an unreliable vehicle you should probably avoid.
Here, we'll take a look at some common issues raised by Fiat 500X owners, manufacturer responses and recalls, plus some of the most frequently asked Fiat 500X questions.
An Overview of the Fiat 500X
Like other vehicles produced by the automaker, the Fiat 500X is a bold-looking car. Current models come in Pop and Sport variations, with the latter being the more expensive of the two. All Fiat 500X models come with a turbocharged 1.3-liter four-cylinder engine that makes 177 horsepower.
A nine-speed automatic transmission and all-wheel drive are also standard. The all-wheel-drive system has three driver-selectable settings to optimize traction in varying conditions.
With a starting price of approx $29,505, it's a little expensive for the class. The advanced Sport trim comes in at $32,495, adding amenities like Beats speakers, dual-zone automatic climate control, and front and rear parking sensors. However, the basic Pop trim should meet most people's needs, with standard features including a 7-inch touch screen, Apple CarPlay, Android Auto, forward collision warning, and forward automatic emergency braking.
The interior is made from quality materials, the infotainment system is easy to use, and the peppy engine is great for driving around town—but the list of positives pretty much ends there. Reviewers report low stability on bumpy roads, poor performance at higher speeds, limited seat support, and little rear passenger space. Considering the price point, you can certainly get much more for your money with other compact SUVs.
7 Common Issues Raised by Fiat 500X Owners
According to data found on Car Complaints, the most common Fiat 500X issues fall into the following categories:
1. Engine Problems
Arguably the most important part of any vehicle, the fact that engine problems received the most complaints, should be cause for concern. Owners have experienced issues including burning oil, broken motor mounts, and stalling while driving.
2. Electrical Problems
Several complaints report continuous electrical issues during ownership, including batteries needing to be replaced several times, headlamps intermittently losing power, and infotainment systems failing.
3. Transmission Problems
As well as complete transmission failure, some complaints more specifically mention reverse synchronizer failure—which stopped working at just 15k miles in one case.
4. Exterior Accessory Problems
You can't drive your car if you can't even get into it. The most common exterior accessory failure is the driver's door handle, which has been known to fall off with use.
5. Brake Problems
Issues with brakes are always very concerning. The top reported brake problem for the Fiat 500X is the electronic parking brake, which can get stuck in the locked position and immobilize the vehicle.
6. Drivetrain Problems
Transmission slipping is the top reported issue, with one owner noting that of the 19 days they'd owned their Fiat 500X, it was being worked on at the dealership for 12 of them.
7. Light Problems
Daytime lights not operating properly is a common concern, with them turning off and on intermittently.
Comparisons with Competitor Car Brands
We need to put it alongside its competitors to give us a clearer picture of the Fiat 500X's performance. U.S. News gave the car a poor reliability rating of 5.2/10, making it 17th out of 17 subcompact SUVs. The top three scorers were:
2023 Mazda CX-30
With a starting MSRP of just $22,950, the Mazda CX-30 doesn't just score much higher than the Fiat 500X—it's also significantly cheaper. It scored 8.6/10 for reliability, with reviewers praising its spry handling and roomy, luxurious interior.
2023 Kia Soul
Coming in at an even more affordable $19,790, the Kia Soul is notable for its low starting price, spacious cabin, and responsive handling. Its score of 8.5/10 is only slightly lower than the Mazda CX-30 and still significantly higher than the Fiat 500X.
2023 Hyundai Kona
The Hyundai Kona is another high-scoring subcompact SUV, achieving a respectable 8.4/10. While the cargo hold is smaller than its two closest rivals, it has potent turbocharged engine options, lots of standard driver-assistance features, and balanced handling.
Resale Value Implications
The Fiat 500X's reliability will have a number of negative implications on resale value. Most obviously, the car's reputation will no doubt make it a more difficult sell. A buyer who knows anything about the model will not be willing to pay a high ticket price, especially if they factor in the cost of potential component failure based on common complaints. Even if the buyer isn't aware of the car's low-reliability score, a history of frequent repairs will be a red flag.
What could potentially recover your resale value somewhat is an extended auto warranty. Investing in one that you can easily transfer to subsequent owners will reassure them that whatever happens, the cost of any unexpected repairs will be completely covered. While it won't completely save them from the inconvenience of breakdowns, the financial security might be enough to make them more comfortable with the risk.
Manufacturer Responses and Recalls
There have been five Fiat 500X recalls to date, ranging from minor fixes to critical issues:
Right rear brake caliper cracks and fails. – A cracked right rear brake caliper can fail, drastically reducing braking performance. This is extremely dangerous and increases the risk of a crash.
Passive safety features disabled in error. – If passive safety features are disabled, you are much more likely to be injured in the event of a crash.
Engine stalls and fails to start. – The vehicle stalling while driving is a huge hazard. The driver will be unable to control the vehicle and could ultimately crash.
Tire pressure warning light does not illuminate with low tire pressure condition. – Driving a vehicle with an underinflated tire could result in a tire blowout, increasing the chances of a serious incident.
Transmission shifts to neutral unexpectedly. – Unexpectedly shifting to neutral when at speed is a serious issue that could result in a collision.
Fiat 500X Pros and Cons
Even when a vehicle doesn't have the best reputation, there are always at least a few upsides. To give you the most rounded view possible, let's take a look at the pros and cons of the Fiat 500X side by side:
Fiat 500X pros:
Unique styling with an iconic Italian aesthetic
User-friendly infotainment system with a 7-inch touch screen, Apple CarPlay, and Android Auto
Quality interior materials with an attractive finish
Fiat 500X cons:
Uncomfortable ride with little seat support and rear-passenger space
Small cargo area with limited storage
Engine lacks power at higher speeds
Poor fuel economy for the class
High starting price in comparison with better-performing alternatives
Multiple recalls for safety-critical issues
Long list of common complaints, including stalling while driving
Increased risk of low resale value
Discontinued as of 2023 after manufacturer switched to all-electric
Fiat 500X FAQs
If you still have some questions about the Fiat 500X, you might find the answers here:
What are the most common Fiat 500X problems?
There are many common problems with the Fiat 500X, with the top reported including engine problems, electrical problems, and transmission problems. According to the most recent data, the 2016 model year has received the most complaints.
How much does the Fiat 500X cost to maintain?
RepairPal puts the average annual maintenance and repair cost for a Fiat 500X at $503, which is above the subcompact SUV average of $466 per year. 9% of annual repairs are expected to be severe, driving that cost upwards in many cases.
Is the Fiat 500X a reliable car?
Unfortunately, the Fiat 500X has a reputation for being unreliable, with many owners complaining of a wide variety of problems. There have also been a number of safety recalls, including critical brake issues and instances of vehicles stalling while driving.
Is the Fiat 500X being discontinued?
Yes. The 2023 generation of the Fiat 500X will be the last to be sold in North America, with the model being completely discontinued when the brand goes fully electric. Fiat's brand chief has stated that the only Fiat model to be sold in the US and Canada after that point will be the smaller 500e.
Top Tier Protection for Almost Any Kind of Car
There's no doubt that reliability is important, but it's an unfortunate reality that no component lasts forever. When something eventually fails, you can be sure it'll be at the worst possible moment, leaving you stranded at the roadside and faced with a painful car repair bill. To keep the cost of car ownership as low as possible, drivers across the country are investing in an extended auto warranty—and Endurance is America's most trusted provider.
Since opening our doors way back in 2006, we've helped thousands of drivers save some money with our winning combination of quality coverage and excellent customer service. We offer a wide range of plans aimed at an even wider range of drivers, with programs for casual commuters, select luxury car owners, rideshare drivers, and even high-mileage vehicles. We're also known for our unrivaled eligibility and flexibility, so if our base offering isn't quite right for your needs and budget, we'll be more than happy to tailor a bespoke contract that is.
But it doesn't stop at component coverage. All of our plans come with a suite of incredible benefits as standard, including 24/7 roadside assistance, trip interruption costs, and replacement travel reimbursement. If that wasn't enough, every new Endurance customer receives a year's free access to our Elite benefits package, which opens up tire repair/replacement, total loss protection, key fob replacement, and much more.
Across the web, industry experts rate us as the number one extended warranty money can buy—but don't just take their word for it. We also have thousands of five-star reviews from happy customers on sites like Trustpilot.
If this sounds like something you'd like to hear more about, all you need to do is get in touch. Call our customer care team at (800) 253-8203 for a FREE quote, or shop online today. Or, if you'd like to keep reading about all things automobile, make sure to check out the rest of the articles over our extended warranty blog.
More like this
Make/Model

As the most rugged SUV Honda has ever offered, the Pilot offers a wide variety of benefits for those looking for an off-road capable SUV with adequate features. Like any..

Read More

Make/Model

As the world gradually transitions to renewable energy sources, the adoption of e-vehicles is on the rise, and Tesla has been leading the charge. Their range of electric cars is..

Read More

Make/Model

Originally formed from the remnants of the Henry Ford company, Cadillac is arguably the most quintessential American car brand in existence. Founded over 100 years ago, they were the first..

Read More