You don't have to go for broke for truly amazing performance cars. And with a little extended coverage, maintenance and reliability can be protected in the long run. The 10 following vehicles are head over shoulders faster and more powerful than any new commuter at a significantly lower price point.
Audi S4 (B6)
Under the hood of this 2008 handsome luxury sedan is a 4.2-liter, 40-valve V8 making 339 horses in its stock form alone. You get Audi's dynamics and "Quattro" all-wheel drive, all for less than $10,000 with a little hunting and haggling but ultimately it's an easy find worth it.
BMW 540i (E39)
Yes, the M5 version is the better driver's car, but the 540i is the E39 you want to own thanks to its higher reliability. It doesn't have 400 horsepower but the 540i's you'll still feel the low-end torque in your neck.
Chevrolet Camaro SS (F Body)
In terms of hitting 0-60 in a way you feel it, the Chevrolet Camaro's got plenty of bang for the buck. It is not a good car for sharp turns and corners, but you'll sure have fun on  zippy straight lines.
Dodge Neon SRT-4
The Dodge Neon has always been just kind of cute and generally competent, but there was a  turbocharged SRT-4  that is deceptively and viciously quick on its wheels. WARNING: do not even think about buying someone's heavily modified project. Keep an eye out for "torque steer."
Infiniti G35 Coupe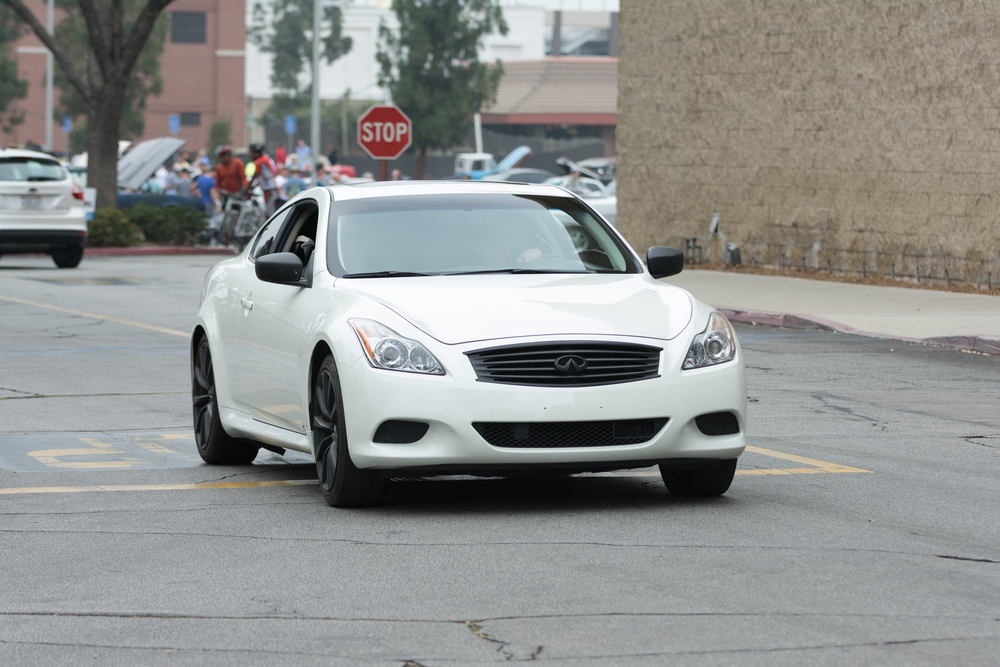 The remaining G35 coupes are all going to be at least 10 years old meaning it's going to be difficult but not impossible to find coverage for it. However, it's an extraordinarily reliable car with a gorgeous that  still looks great, even today. They're fun, they're quick and they are a great deal.
Lexus IS300
You might be considering a used BMW 3 Series that's a huge risk in terms of maintenance/reliability/ Opt instead for the first-generation Lexus IS. The IS300 may only have had 215 horsepower, but it's got excellent handling and a timelessly handsome design.
Mitsubishi 3000GT
We'll admit we are saddened by a lot of the current Mitsubishi lineup today, since it's getting harder and harder to imagine that the company behind the Mirage used to build world-class sports cars. In its heyday the 3000GT was exactly that. It comes in a twin-turbo, all-wheel drive VR4. NOTE: this has become one of those sought after cars that are steadily INCREASING in value, so get one cheaply while you can.
Nissan 300ZX
In the 90s, before we had the Nissan 350Z, there was the 300ZX. Anyone looking to get their hands on a rear-drive Japanese sports car should look into this. Look harder for an in-tact Twin Turbo coupe and you'll find yourself behind the wheel of one of the true darlings of 1990s import performance.
Porsche 944
While it's true that used Porsche 911 prices are skyrocketing, you could still buy one theoretically. The 944 might not be the 911, but it's still one of their all-time performers. And vintage is totally in these days!
Volvo V70 R
So, you want a performance car but still need something practical to take the kids to soccer practice? The Volvo V70 R is the correct answer. It may be a station wagon but its packing 300 horsepower, all-wheel drive, and an available manual transmission. Soccer practice is over, and you need to PICK IT UP!
The cars on this list run a little older but they are worthy finds if you believe in getting the biggest bang for your bunch. At $10,000 or less and hopefully well-maintained or protected by an extended auto warranty will let you indulge that need for speed at a fraction of what seems to be expected these day if you want genuine performance from a vehicle.
More like this
Finance

Calling the U.S. auto market of the past few years "unusual" is an understatement. The effects of the COVID-19 pandemic, manufacturing slow-downs, and low inventories have challenged car buyers. The..

Read More

Finance

For many car enthusiasts around the world, finally saving up enough money to purchase a luxury car is a huge goal in life. Whether that new car is manufactured by..

Read More

Finance

With the annual cost of car ownership only ever on the increase, it isn't surprising that so many drivers are investing in extended warranties. After all, why empty your wallet..

Read More