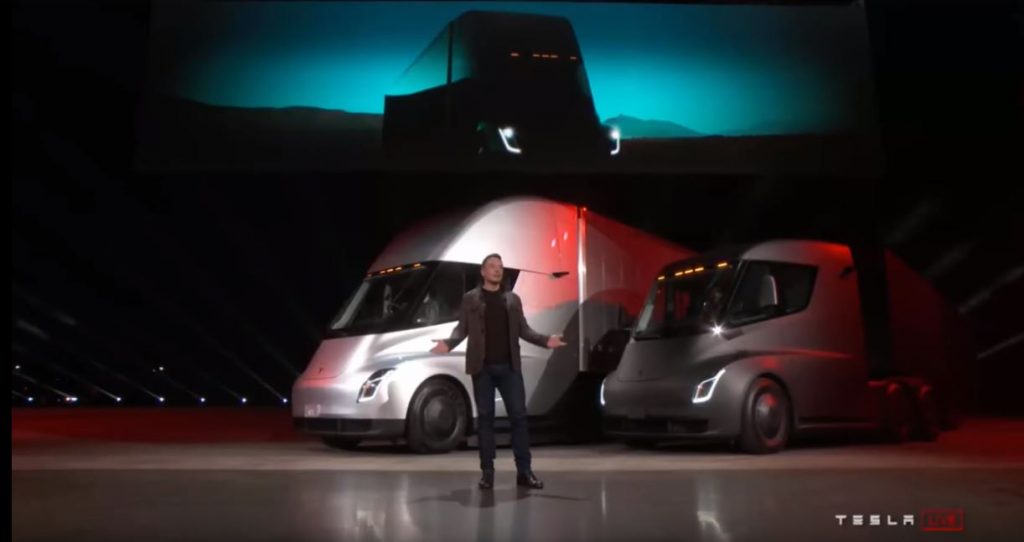 Tesla's founder, a 46-year-old entrepreneur/inventor/investor/would-be-space pioneer did manage to take in more than half a million preorders of the Tesla Model 3, though they remained unfulfilled. Meanwhile he also managed to launch a whole new company. This one is set to dig tunnels beneath Earth's surface. Finally he publicly announced plans for his company to build a "Big Freaking Rocket" for the purpose of get us on our way to colonizing Mars and other planets, too. He did all of this while Tesla came under fire for alleged union violations. Also several investors were upset that none of the expected product launch dates came to pass. And even still Elon Musk is excited to share with us new ideas and concepts. The latest would be a Tesla pickup truck.
The Tesla of 2018
Even amidst several setbacks Musk and Tesla don't seem to be slowing down. Known for his regular use of social media, Musk took to Twitter to thank current and prospective Tesla owners for believing in his company and vision for the future. He then took Twitter by storm when he decided to crowd-source for ways in which the company could improve moving forward. And among the jokes and cynical replies Twitter users may have caught wind of some very real possibilities for Tesla. You see, right after the Model Y is finished and ready for mass production, mind you that the Model Y is the upcoming crossover variant of the Model 3, they will make a pickup truck.
Elon Musk Actually Promised a Tesla Pickup Truck a Few Years Ago
The first time Elon Musk ever mentioned the possibilities of Tesla making a pickup truck was about 5 years ago in 2013. Musk was quoted by reporters saying that his ambition was to make a truck that would directly compete with the Ford F150. That is no small feat, given that the Ford F-150 is in fact the best -selling vehicle of any kind in the U.S. market. And it has stayed in that position for the last several decades. Elon Musk was not discouraged, however. He told the press he was well aware of the fact that if you wished to challenge or replace a car with the most gasoline miles driven, they'd have to look and know exactly what people are buying and why. Musk says that this is especially important because it is the best-selling car in America. Musk even predicted that it would take at least five years before Tesla could manage to offer a pickup.
Shifting Truck Buyers Towards Tesla
There is a big unknown in this. There's no precedent for anyone to have a true sense of whether or not there is genuine demand for an electric or plug-in pickup truck. Most American truck buyers remain very loyal to the brands they currently own such as Ford, GM and FCA's Dodge Ram. It is notoriously difficult to convert buyers between those let alone towards another brand all together.
For example, based on sales figures corroborated by Autodata, the Japanese automakers Toyota, Honda and Nissan only make up about 14% of the total U.S. pickup market.  That is without a doubt the smallest market share of any vehicle segment. This is in part why many foreign automakers don't bother to even offer a pickup in the United States markets.
Unveiling the Tesla Pickup Truck
The last time we heard about Tesla's truck was in November of 2017. Again they iterated that production has a start date in 2019. It remains to be seen if this will come to pass. Elon Musk does have a track record of being overly optimistic about launch dates and delivery. Tesla has only made a reported 260 Model 3 vehicles of the 1,500 he promised by the third quarter of 2017. And yet we can't help but feel admiration and excitement as Tesla has indeed come further in bringing attention to all-electric vehicles than most predicted when the company first made waves. Perhaps we will see a Tesla pickup truck someday.
More like this
News

There are a number of important components that allow your vehicle to operate, and each individual piece serves a purpose. Given the intricacies of these pieces, the value is naturally..

Read More

News

For decades, used cars have been the go-to solution for budget-conscious buyers. American shoppers could readily find quality second-hand vehicles for under the average price of $20,000 at most dealerships...

Read More

News

Now more than ever before, consumers and automakers are looking at alternative sources of transportation and different ways to power automobiles. More likely than not, the automobile industry is going..

Read More