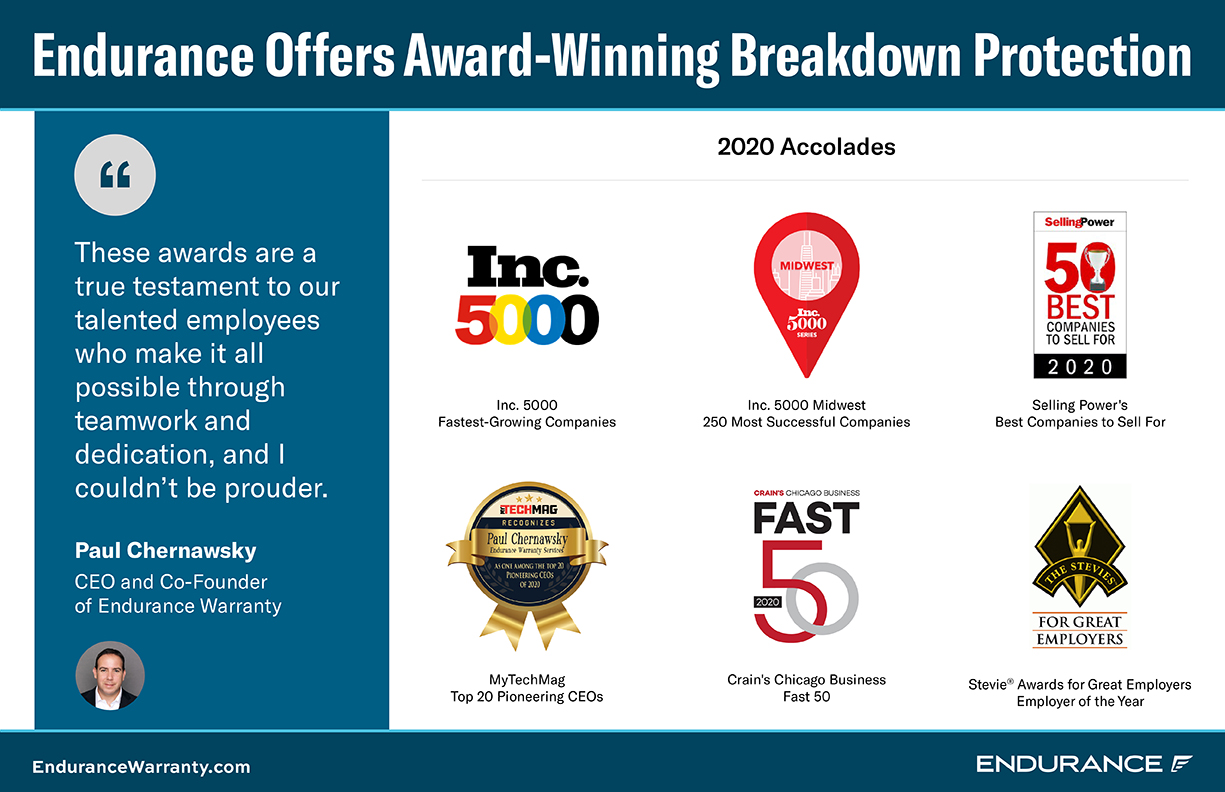 CHICAGO, Dec. 01, 2020 — While 2020 has been a challenging year for most, Endurance Breakdown Protection has persevered, earning global and national accolades from multiple reputable parties. For nearly two decades, Endurance has been a nationwide leader in vehicle service contracts, commonly known as extended auto warranties. Now, they are deepening their commitment to customers and employees amidst unprecedented economic conditions.
From successfully expanding their Endurance Elite Membership with added benefits for drivers, to implementing cloud-based technology to adapt to work-from-home needs, Endurance is proud to work as a diverse team to serve their customers and is equally proud of the recognition they've received as a result of these efforts.
"Endurance was built on saving people from the extremely high cost of breakdowns, and this is a year when Americans have needed economic relief the most," said Paul Chernawsky, CEO and co-founder of Endurance Breakdown Protection. "Endurance's mission is to 'Empower Confidence for the Road Ahead,' and we set out to build a company that people can trust and depend on. These awards are a true testament to our talented employees who make it all possible through teamwork and dedication, and I couldn't be prouder."
Endurance has won the following 2020 awards:
Company Growth
Earlier this year, Inc. magazine recognized Endurance on its 39th annual Inc. 5000 Fastest-Growing Companies. The list represents a unique look at the most successful companies within America's most dynamic segment—independent small businesses. Endurance has revolutionized the aftermarket vehicle service contract (VSC) industry by providing education, options, security, and service—both before and beyond the sale of a coverage plan—and with a 229% increase in sales over the past three years, customers are seeing the value.
Inc. also recognized Endurance as one of the 250 most successful companies in the Midwest, earning a spot on the annual Inc. 5000 Midwest list. Born of the annual Inc. 5000 franchise, this is the most prestigious ranking of the fastest-growing private companies in Illinois, Indiana, Iowa, Kansas, Michigan, Minnesota, Missouri, Nebraska, North Dakota, Ohio, South Dakota, and Wisconsin. In 2018 alone, companies on the Inc. Midwest list employed more than 27,000 people and added $13 billion to the Midwest economy. Endurance has offices in Illinois and Missouri, and with an average growth rate of 215% from 2016 to 2018, they have had a strong impact on the Midwest automotive industry market since 2006.
Endurance gained global accolades after being recognized by Crain's Chicago Business for two awards—Crain's Fast 50 Company—with 5-year growth of 321%—and Chicago's Largest Privately Held Companies. Both awards recognize companies with outstanding revenue growth between 2017 and 2019.
Leadership & Employee Culture
Endurance's CEO and co-founder, Paul Chernawsky, was recognized as one of the Top 20 Pioneering CEOs in 2020 by MyTechMag. In the September 2020 CEO Edition of the magazine, Paul shared how the company leverages technology to deliver great products and best-in-class customer service—the reason Endurance leads in affordable auto protection for the modern driver. MyTechMag's selection criteria included a review of the complex challenges overcome by the business, company growth, and the CEO's ability to harness employee talent and technology to drive the business forward.
Recently Endurance's employee benefits were also globally recognized, winning Employer of the Year in the 2020 Gold Stevie® Awards for Great Employers for the second year in a row. The company was applauded for its work creating a thriving place for employees and promoting their values through exemplary work ethics. The Stevie Awards for Great Employers recognizes the world's best companies to work for as determined by a unique blend of factors, from remote working conditions to employee benefits and competitive salaries.
Lastly, Endurance's sales department landed its second placement on Selling Power's Best Companies to Sell For—a distinguished ranking honoring the top sales forces in the United States. The magazine celebrates the country's leading companies, offering competitive benefits and training opportunities, setting up top talent to truly succeed.
Endurance is proud to be an award-winning company that continues to revolutionize the vehicle service contract industry through premium protection plans. They have provided comprehensive breakdown protection for nearly two decades, have paid over $80 million in claims, and currently protect over 750,000 vehicles on the road. Request a free, no-obligation quote today and make sure to follow Endurance on Facebook, Instagram, and Twitter.
About Endurance Vehicle Protection
Founded in 2006, Endurance Breakdown Protection is the nation's premier provider of vehicle service contracts, providing the most comprehensive and customer-centric auto protection in the market for nearly two decades. Named one of the largest and fastest-growing companies in Chicago by Crain's and continuously climbing the Inc. 5000 list of fastest-growing companies in America, Endurance protects thousands of drivers from the high cost of repair bills every day.
More like this
Press

For the second consecutive year, the Automotive Awards have returned to spotlight a selection of award-winning businesses in this dynamic industry. Endurance Warranty Services, a leading provider of vehicle service..

Read More

Press

Endurance Vehicle Services, the leading vehicle protection provider serving both direct-to-consumer and auto dealerships nationwide, is pleased to announce the appointment of Justin C. Thomas as its new Chief Executive..

Read More

Press

Endurance Warranty Services celebrates its eighth year on the Inc. 5000, an annual list of the fastest-growing private companies in America. The prestigious ranking provides a data-driven look at the most..

Read More