Audi is the car of choice for the Marvel Superheroes.
When Tony Stark isn't flying around in an Iron Man suit, you can find the fictional character doubling as the ultimate face for the Audi brand in several Marvel superhero blockbusters as he drives the streets in the many variations of the R8. This "All New, All Different" relationship between the German automaker and the Merry Marvel Marching Society is nothing new for Hollywood, where product placement is a good way to help fund your $200 million mega blockbuster.
So how did this begin?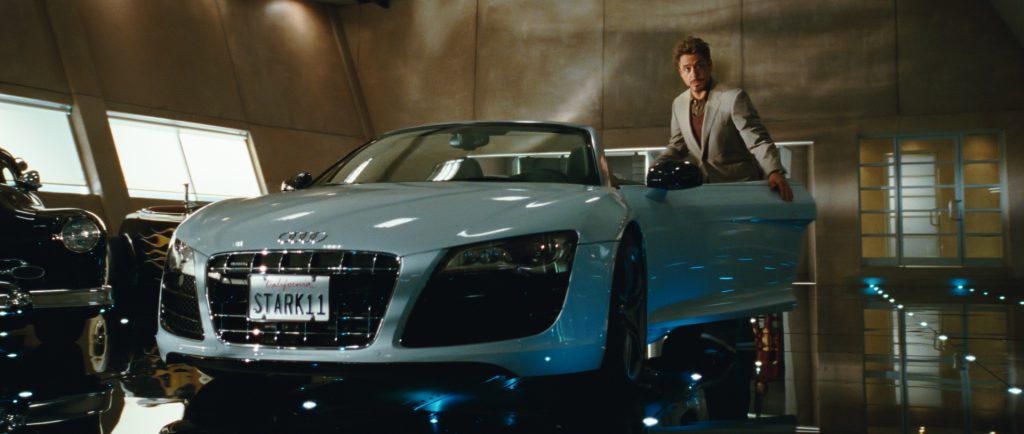 So like how the "Marvel Cinematic Universe" (MCU) was kick-started by none other than 2008's Iron Man, so began Audi's relationship with the Marvel division of Disney. 2008 was also a marquee year for Audi. They used the all new tech-laden R8 supercar as a means to help reshape the image of the brand, according to Loren Angelo, Audi of America's director of marketing. Their team-up with Iron Man was apparently integral to setting the tone for Audi moving forward.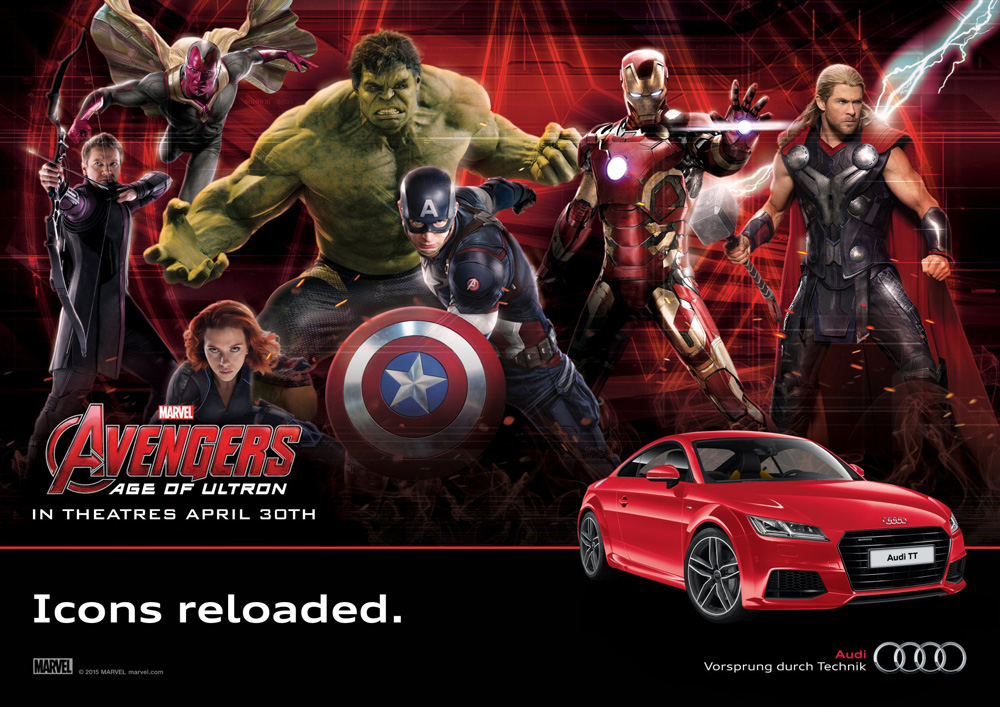 So the first-generation R8 was almost like another character in Iron Man, the R8 Spyder replaced that star in Iron Man 2. Most recently, the electrified R8 e-tron sped its way through Iron Man 3 and finally the R8 coupe and TTs managed to show off very real self-driving capabilities in Avengers: Age of Ultron.
As befitting Iron Man, the R8 has always had the starring role in these movies but other Audi products have received significant screen time as well.
The Audi A3 made multiple appearances in 2015's Ant-Man, for example. Now with latest Marvel episode, Captain America: Civil War, Iron Man can be spotted driving the 610-hp R8 V10 plus coupe while Captain America is caught up in a freeway chase driving the Audi SQ7 on a road that's filled with nothing but Audi vehicles such as the A4, A7 Sportback.
"Back when we read the script for the first 'Iron Man,' he was someone who was self-made. He utilized technology and a certain level of personal intelligence to create great things," Angelo told Automotive News. "That was a perfect fit for Audi because that's exactly what we've done with our brand."
Disney's MCU and their ongoing series of movies and shows is not only the biggest blockbuster franchise in the world right now, it's quickly evolved into an example of the ideal environment for automakers looking to partner up and associate their brands to pop-culture icons and ingrain themselves into big audiences. Audi has been using this super silver-screen presence as one of their primary platforms through which dealers can build upon by even offering early-screening events for customers. At the same time Hyundai has slowly but surely been leveraging their product placement for the Marvel Netflix productions in order to reach those Audi isn't: those without cable TV subscriptions.
So for all of the special powers superheroes all show off, they share a common gift for getting attention, which is something every automaker wants when it counts.
"Consumers are much more difficult to find these days," said Monique Kumpis, Hyundai's senior group manager of advertising (Automotive News), "Not everybody is watching linear television, and even when they are, our competitors there are outspending us, so we always have to be on the lookout for smarter ways to reach these audiences."
While Audi focuses on the theatrical side of Marvel's stable, Hyundai is focused on the Netflix side of things. Back in 2015, Hyundai formed a two-year deal with Marvel and Netflix in 2015 that gave it product-placement rights with the following series productions: Daredevil, Jessica Jones, Luke Cage, and Iron Fist. Look forward to seeing Audi's in 2017's The Defenders, Which will be Marvel's Netflix equivalent to their big screen counterpart The Avengers.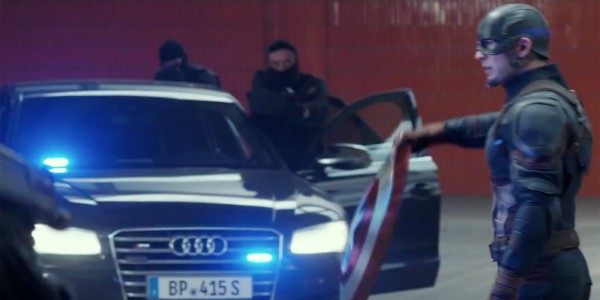 "Our goal is to be a silent but constant character," Kumpis said. "We understand and appreciate that our role is not to interrupt the audience and their enjoyment. It always should feel organic."
Audi's integration with the Marvel films has only grown thanks to the perceived success of the brand since then.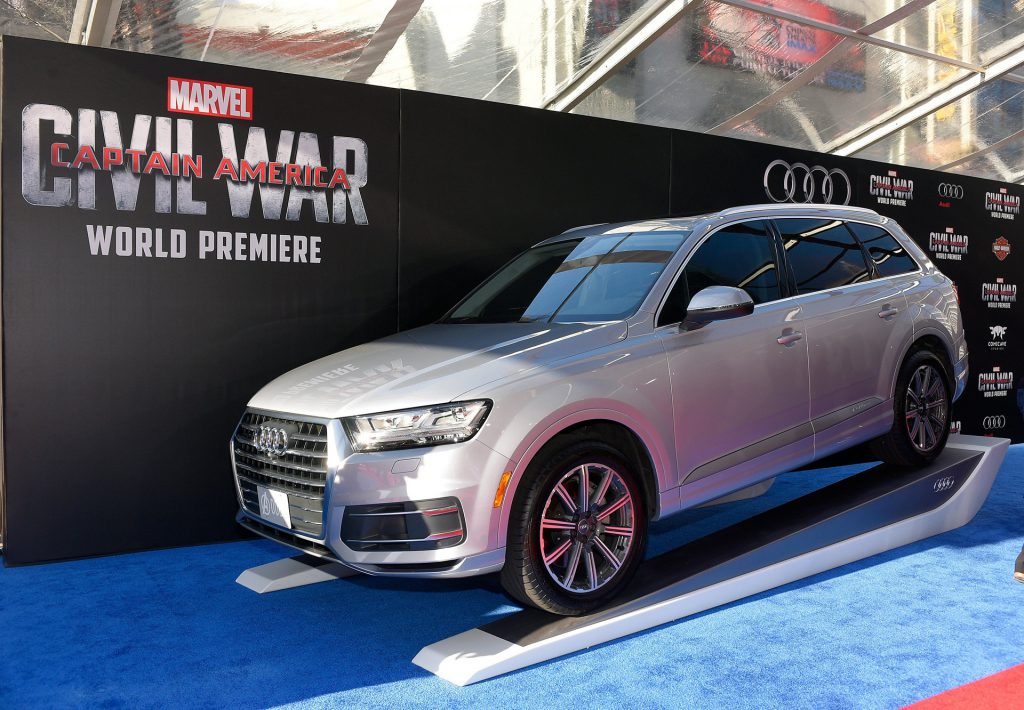 "To look at it over the many years that we've been involved with them, it truly demonstrates how a studio is willing to work with a brand to make sure that we're doing what can best benefit both of our products," Angelo said (Automotive News).
David Branch, general manager of Town Audi has also said Audi's product placement has been an effective brand builder due to it being rooted in the idea that car owners/buyers "appreciate seeing the cars they drive every day." (Automotive News). "There's great hype just before the movie as they begin to market [it], and Audi utilizes some of the footage for its own commercials," Branch said. "Then, usually two or three months afterward, there's great residual showroom traffic."
Like GM's relationship with the Transformers and GI Joe movies, Aston Martin with James Bond and unlike the multiple brands in the Fast & Furious movies, exclusive marketing partnerships like Audi and GM have not only helped pay for these large movies: they help us to further appreciate the cars themselves. So the next time you're in the theater watching superpowered being duke it out on the road, see if you can spot the cars used and if it's only one make. Comment below and tell us what you found!
More like this
Autotainment

Car enthusiasts are always looking to learn more about a complex and constantly changing industry. One way to tackle this task is through automotive podcasts. These shows offer a treasure..

Read More

Autotainment

Moviegoers don't need to be car lovers to appreciate the legendary vehicles that have graced the big screen over the decades. These automobiles have helped to tell the stories and..

Read More

Autotainment

When football season arrives, it only means one thing—tailgates! But while die-hard fans are sure to have enjoyed a tailgate or two (or 200) in their time, many might not..

Read More