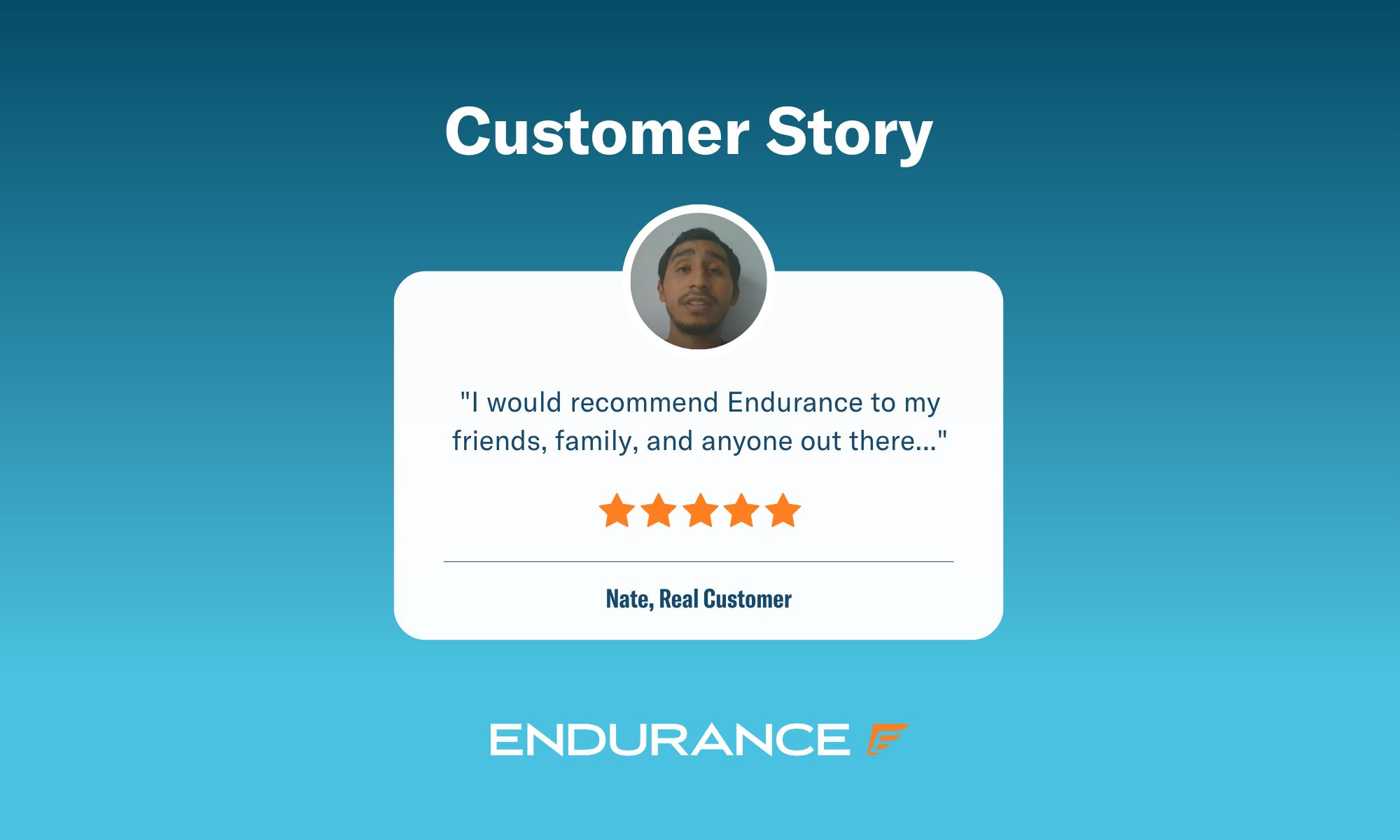 Your decision to purchase an extended warranty will likely come down to the company with the best reputation. According to Qualtrics, 93% of customers read online reviews before buying a product, and these reviews often influence their purchase decisions down the road. Looking at online reviews before you buy an extended car warranty can allow you to get an unbiased, honest opinion from consumers who have first-hand knowledge of a provider. Reading reviews can also give you insight into the quality of the auto warranty, the customer service, and any potential issues you may encounter.
At Endurance, we encourage our customers to share their side of the story – from purchasing their auto protection plan to submitting a claim for a costly repair. Nate, in particular, is one of the thousands of Endurance customers who have shared their experience.
Nate offered his insight: "I would recommend Endurance to my friends, family, and anyone out there really looking for a good service provider just based on my own experience with them. They have good customer service. They have great pricing that'll match your needs. And anyone out there who's on a budget, they can help you with that as well."
How Much Does Endurance Warranty Cost?
Affordability and comprehensive coverage can also be deciding factors for many drivers looking for auto protection. Endurance offers monthly payments as low as $99 per month for a vehicle protection plan and customizable options based on your car and your needs. Explore our levels of coverage below.
Secure Plus Plan
Secure Plus is a budget-friendly option with competitive pricing that is great for any driver. It includes stated component coverage, which protects you from costly repairs on the parts and systems specifically covered in your vehicle service contract. It protects the most vital parts of your car, truck, or SUV, and can include additional coverage for components other than your vehicle's engine and transmission.
View a sample contract for the Secure Plus plan.
Superior Plan
The Superior auto protection plan delivers high-level stated component coverage (or coverage on a specific list of named parts and systems of your vehicle). It provides transparent protection and includes electronics with additional high-tech options available. Compared to our Secure Plus plan, it can offer additional coverage on your car's cooling system, suspension, and fuel system.
View a sample contract for the Superior plan.
Supreme Plan
This vehicle protection option offers exclusionary coverage with the most comprehensive protection in the industry. Supreme covers nearly every part, component, and system of your vehicle and is the closest to manufacturer-level coverage you can get. This plan offers one more level of protection above the Superior plan, providing coverage for your vehicle's seals and gaskets.
View a sample contract for the Supreme plan.
Nate shared his experience regarding his Endurance auto protection plan: "The most valuable benefit from my coverage plan, I would have to say, is the amount I would save on cost and repairs, as opposed to paying upfront and out-of-pocket."
Other Customer Reviews About Endurance Warranty Plans
Online testimonials are incredibly valuable for drivers shopping for vehicle protection. Reviews serve as social proof and assure potential consumers that they are making the right decision by choosing an extended warranty provider. Here are some other Endurance reviews detailing what customers have experienced using our coverage options.
Robert W. shared his thoughts:

"I was a bit hesitant when my mechanic recommended…Endurance Warranty. However, with more than one year of using the Secure Plan from Endurance Warranty, I have been convinced otherwise. I highly recommend this plan. It has been a lifesaver. It has saved me from many costly repairs. Endurance Warranty coverage plans are the best in the industry. They will protect your car in and out."
Estelle J. used Endurance to prepare her adult kids for college:

"I have a second kid going off to college in January. I purchased a Secure Plus plan with Endurance Warranty for my first kid and it paid off last year. This year I am going to purchase another Secure Plus plan for my second kid, but he will have the advantages of the benefits that come with the Elite plan for a year."
View more Endurance reviews and our 4.0 Trustpilot rating here. We also rank highly among car warranty companies like CarShield and CARCHEX on ConsumersAdvocate (5/5 Excellent rating) and Google (4.5 stars).
*Ratings as of December 2022. 
Why Choose Endurance Warranty?
An auto protection plan or extended warranty can be a great way to protect your used car and give you peace of mind. It can provide coverage for repairs and replacements beyond the manufacturer's warranty period, which can help save you money if something goes wrong with your vehicle. It can also cover accidental damage, which the manufacturer's warranty may not cover. Ultimately, a vehicle protection contract can give you extra protection for your car and help you feel more secure about your purchase.
Endurance is one of the most reputable and reliable auto protection plan providers in the industry. We offer a wide range of coverage plans for customers to choose from and are committed to providing fast and reliable service. We also have a well-trained team of professionals available to assist with any questions or issues that may arise.
You can also enjoy better benefits with Endurance. In addition to a 30-day money-back guarantee, when you sign up for any auto protection plan, you get one FREE year of Endurance Elite Benefits – a $2,000 value that includes:
Tire repair or replacement – Complete tire coverage to get reimbursed for two tires per year.
Key fob replacement – If you lose or damage your car key or key fob, we'll replace it for you (up to $500).
Collision discounts – If you have an accident, we'll pay up to $500 to repair any damages to your car.
Total loss protection – Get up to $1,000 toward a replacement vehicle if yours is totaled.
Endurance offers 24/7 roadside assistance for towing, fuel delivery service, trip reimbursement or trip interruption coverage, rental car reimbursement, and much more as standard benefits with our vehicle service contracts. We only work with ASE Certified repair shops and mechanics, ensuring the most qualified and experienced technicians provide the best service to diagnose and fix your auto repairs.
Get the custom coverage you need and start saving on vehicle repairs. Endurance offers protection for high-mileage cars, older vehicles, salvaged or rebuilt titles, and more to protect you from mechanical breakdowns or malfunctions. Call (800) 253-8203 to request a free quote or shop online to find the plan that's right for you.
More like this
Customer Stories

Car repairs can be expensive, especially if your vehicle is no longer covered under the manufacturer's warranty. Many third-party providers offer vehicle service contracts for those looking to extend their..

Read More