With everything going on globally, we can confidently say 2020 is the year to prepare in any way possible. 
In 2019 alone, Endurance customers reported over 27,000 car repairs for different makes and models at various mileages. With that big of a number in auto repair claims, we identified auto trends worth knowing for 2020.
Chevrolet owners benefited the most from auto protection
Chevrolet owners submitted over 13% of total claims compared to the other 34 car brands we protected in 2019. The car maker's reliability rating has been questionable the past few years, but that hasn't stopped consumers from purchasing their own.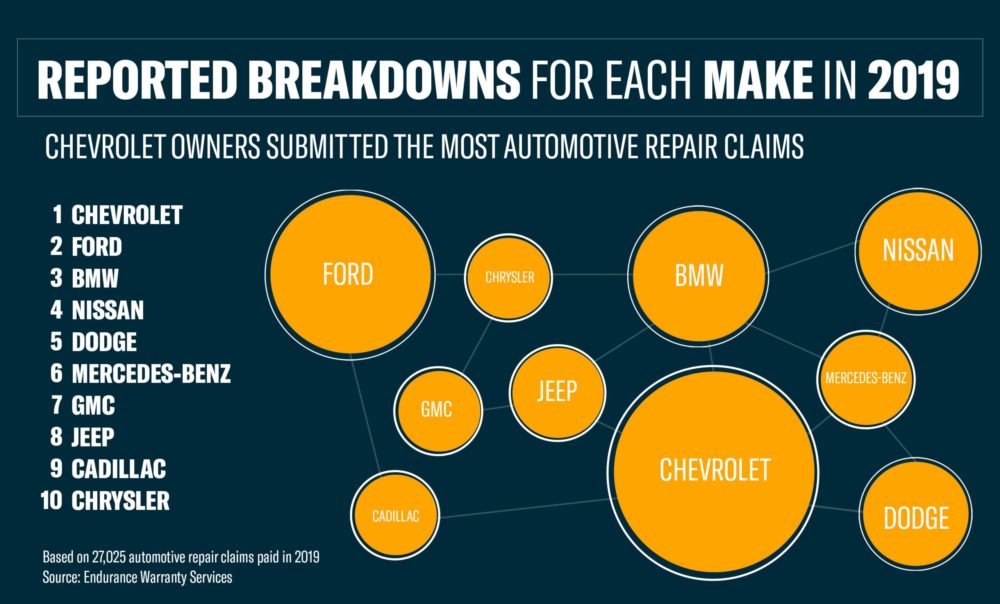 When looking at types of car repairs, the A/C condenser replacement accounted for 6% of all reported issues. This auto repair alone costs anywhere between $450 to $950 to be fixed. 
Often, we prepare for the more significant repairs like the alternator, compressor, and water pump – but they only account for 9% of car breakdowns. So what about the other 270 repairs?
In this instance, we would suggest looking into an extended warranty for 2020. Auto protection helps protect you from paying out-of-pocket expenses for car breakdowns like the ones mentioned above. Many providers in the market also include 24/7 roadside assistance and rental car reimbursement to ensure you're back on the road!
Providers like Endurance also includes the Endurance Elite Membership, which consists of a $250 voucher, two tire replacement and reimbursement, and even more. 
Where You Live Can Impact Your Car's Health.
35% of auto repair claims came from drivers based in Texas, Florida, and New York.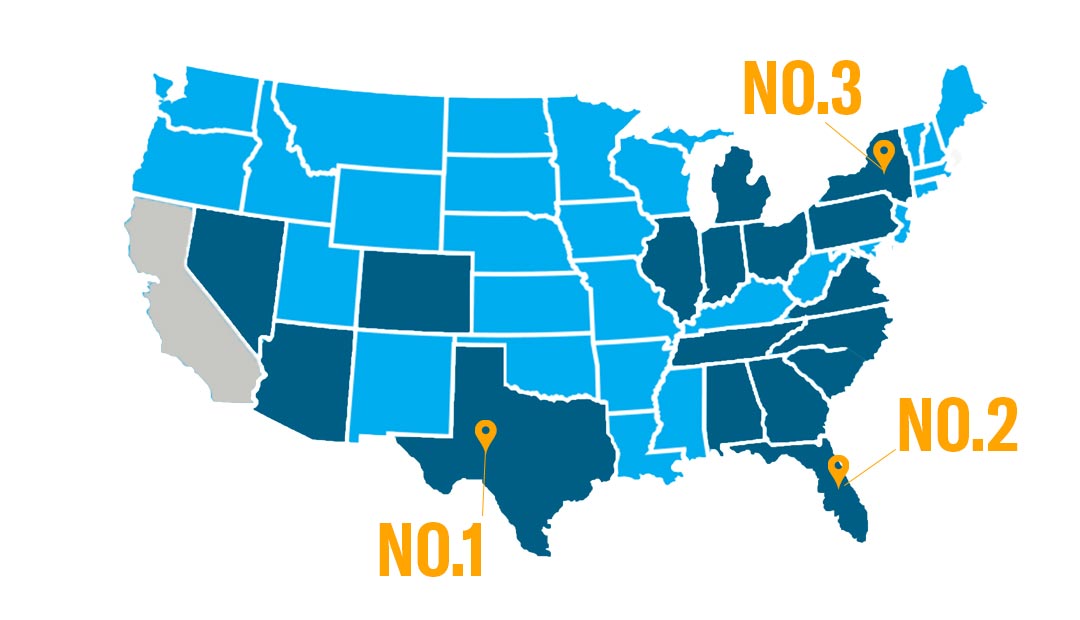 The top three locations are known for their extreme weather patterns. Texas, for example, regularly experiences hot seasons with daily temperatures reaching above 88°F – yikes! Now when looking at the correlation between states and car repairs, it's hard to determine which are caused by weather conditions.
However, being in severe weather conditions requires your car to work harder and can induce wear-and-tear at a faster rate. 
If you live in an area that regularly experiences harsh weather conditions, then an extended warranty can give you peace of mind on the road.
As mentioned previously, they act as a protector against sudden car repair expenses that pop up. Most importantly, they come with 24/7 roadside assistance. Let's say you're on the road in the middle of heavy rain, and then your car stops working – pretty terrifying if you ask us.
The last thing anyone wants is their car not starting in poor weather conditions or worse – Texas rush hour.
Having a low-mileage does not equal fewer repairs.
Drivers like yourself are looking for reliable cars to get you where needed. 
We want to be able to drive our car past the 150,000-mile mark and get our money's worth. 
High-mileage cars have a pre-conceived notion of experiencing more car breakdowns, and although there is some truth to that – having under 100,000-miles does not exempt you. 
Breakdowns are not caused by mileage and more so with car maintenance. One driver can have a car with 160,000+ miles, but change their oil when necessary and ensure their vehicle is taken care of promptly. The other can have a 2018 Model and neglect the necessary steps needed and experience more breakdowns.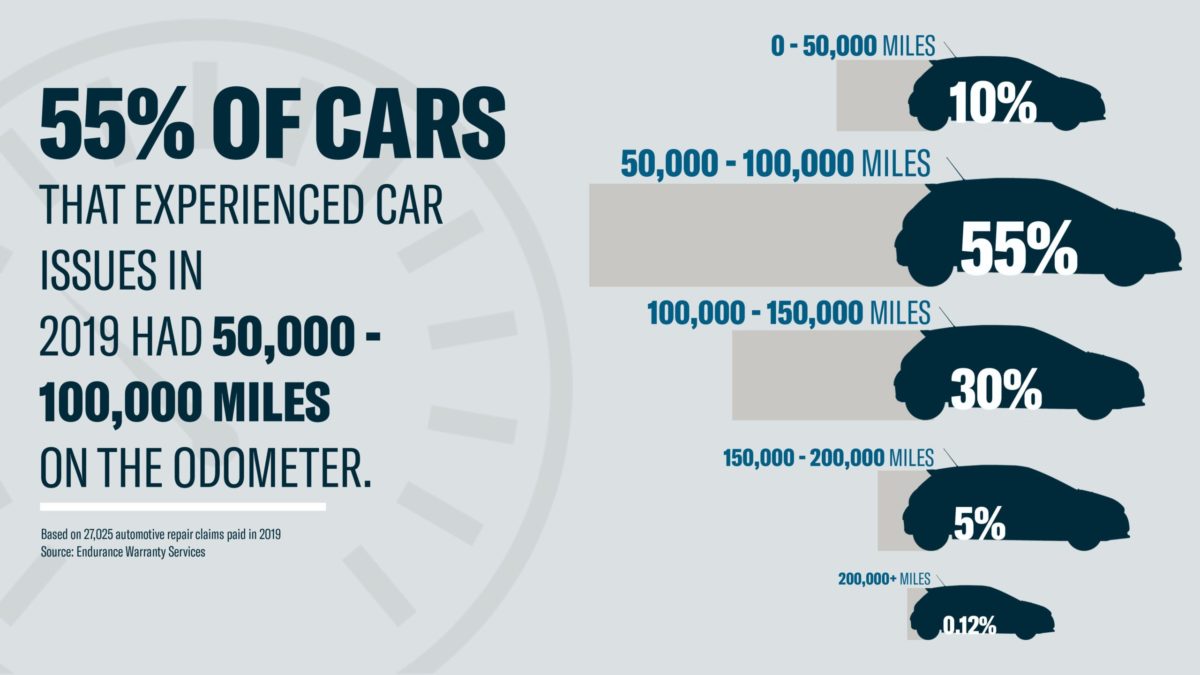 About 55% of auto repair claims in 2019 had a mileage of anything between 50,000 to 100,000 miles. On the other hand, cars with 100,000 to 200,000 miles accounted for 35% of 2019 claims – a 20% difference.
Preparing for the worst is essential at any point in your car's lifespan – but the earlier, the better.
If you own an older vehicle and are looking for more information on protection for your car, learn more about extended warranties for cars with over 150k-miles.
Young Cars are just as vulnerable to car breakdowns.
As mentioned previously, drivers are purchasing vehicles based on a car's reliability rating and for a good reason. Strong reliability ratings mean fewer hiccups on the road and expensive car repair expenses. 
Unfortunately, even the best in reliability will experience breakdowns depending on driving habits, manufacturing errors, or out of coincidence.
In 2019, the most reported cases of car repairs were for car makes from 2011 to 2014, which accounted for about 51% of automotive repair claims. We also saw instances of auto repair claims with models as new as 2018, and the oldest is 2001.
Which 2020 auto repair trends will have a significant impact on your vehicle?
If we're honest – all of these major trends will impact both you and your wallet at some point in owning your car.
The good thing about knowing these trends is now you can prepare for what's to come. Whether you decide to start saving to pay out of pocket or find a reliable extended warranty provider, preparation is critical when it comes to auto repairs.