How to Choose the Right Car Sunshade to Maximize Interior Protection and Comfort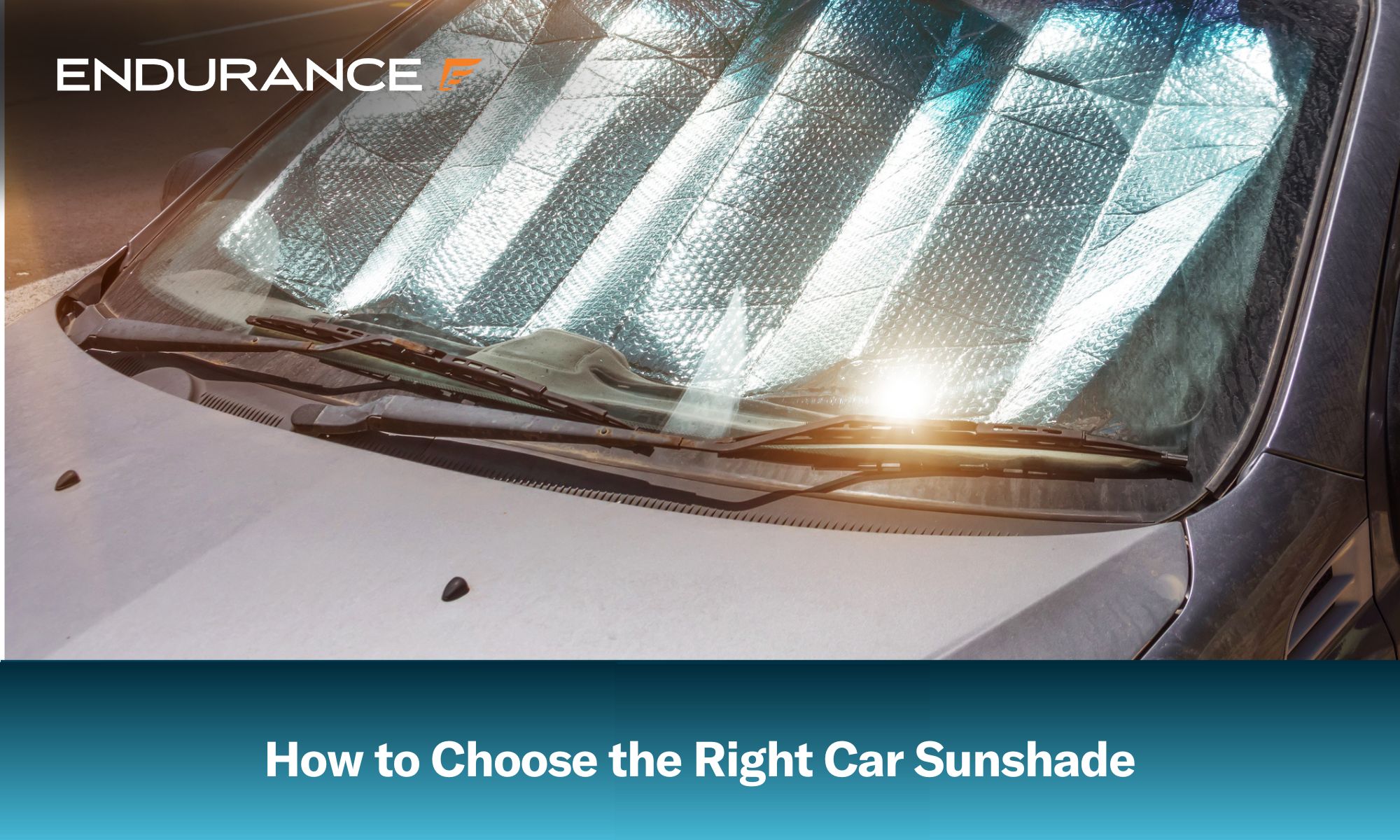 When it comes to customizing and protecting your vehicle, there are a multitude of strategies to take advantage of. However, one often overlooked method that can be particularly helpful to those in sunnier states around the country is investing in a car sunshade.
Learn everything you need to know about the benefits of sunshades, along with tips for choosing the right sunshade for your vehicle.
Understanding the 3 Primary Benefits of Sunshades
For those unfamiliar, a sunshade, or car window shade, is a material that is placed in a car under the windshield to block the sun's rays from coming in. While this may not seem necessary, a windshield sunshade has three major benefits to keep in mind:
1. Protection against UV rays and heat damage.
The car's interior can be heavily damaged by the constant battering of the UV rays from the sun. This can lead to serious heat damage within the vehicle, not to mention making it an uncomfortable place to sit in when you get into your vehicle. These harmful UV rays can burn the skin and damage materials in your car.
2. Preserving the integrity of the vehicle interior.
The last thing any driver wants is to see their high-quality vehicle damaged over time by the sun's rays coming in through the windshield. Of the many downsides to not using sun protection in your car, the loss of integrity on interior components is the worst. They can fade heavily over time and even degrade if your car consistently sits in a particularly warm area for years.
3. Enhancing comfort by reducing heat.
Finally, a sunshade makes a car cooler for the driver when they get in, meaning it is more comfortable. On top of this, a driver will not need to blast the air conditioning the minute they get into the car in order to cool it off.
Key Considerations for Choosing a Sunshade
For those considering getting a window sun shade, there are a number of different key considerations to keep in mind. The most notable of these include:
The Windshield Size and Fit
While it may not be the first thought that pops into mind, remember that a sun shield or sun visor will come in different shapes and sizes. Take the time to measure your own front windshield and rear windows to determine what size and fit are required for your car.
Material Types and Durability
The best car sunshades don't come in one single material or durability. Therefore, consider different materials that may be more effective at blocking out UVA or UVB rays depending on the area of the country you are in.
The Ease of Installation and Storage
With different sizes and different materials come varying levels of difficulty in regard to installation. Keep this in mind, as few drivers would like to spend 20 minutes setting up a rigid sunshade every day. To avoid this and keep your vehicle cool, choose a flexible fabric that has easy installation and can be stored quickly.
Additional Features and Functionality
The best windshield sunshade will do more than just stop the sunlight from entering your vehicle. Certain window shades will come with additional features, such as automatic cooling technology or quick pack features. Consider these when determining which sunshade is best for you.
Material Options to Consider for Car Sunshades
As mentioned, the choice of material that a driver makes can make a major difference in the effectiveness of their sunshade. Below are a few key considerations to keep at the top of mind:
Reflective or metallic sunshades: Reflective sunshades avoid a buildup of heat by redirecting the UV rays rather than absorbing the majority of them. On the other hand, metallic sunshades absorb the heat instead. While they can block heat more effectively in the short term, they allow more heat to be retained in the vehicle in the long run.
Fabric or mesh sunshades: Fabric sunshades are more common than mesh sunshades and tend to be cheaper, whereas mesh sunshades are more complex to manufacture. Despite this higher cost, mesh sun shades allow a breeze to get through, which can help keep your car cool while also stopping the heat.
Custom-fit vs. universal sunshades: Finally, you will need to choose between a universal sunshade that you force to fit your windshield or paying more for a custom-made version that is a perfect fit for your car.
4 Different Types of Car Sunshades
As mentioned earlier, there are a variety of types of sunshades that are suitable for all cars ranging from tiny models all the way up to SUVs. The following four types of car sunshades are the most prominent in the industry:
1. Folding or Accordion-Style Sunshades
This first type of sunshade is likely the most commonly seen on the road. It folds inwards from the sides like an accordion when it is ready to be put away, which is particularly helpful for storage as it condenses into a rectangle. However, given that the folds are exposed when blocking the sun, it may protrude into your vehicle or allow some heat to stay between the cracks.
2. Roll-Up or Retractable Sunshades
The second type of sunshade to consider is a roll-up or retractable sunshade. This sun shade rolls up instead of folds, which means it can be laid flat against the windshield without having any creases. The retractable version requires mounting a small piece at the top, which can then be pulled down to cover the window.
3. Suction Cup or Cling Sunshades
The suction cup variant of the sunshade sticks to your window itself and then is pulled off when it is time for removal. From a storage standpoint, it is the worst, but from a sun-clocking standpoint, it is one of the best, as it completely blocks light when it is custom-made.
4. Magnetic Sunshades
Magnetic sunshades take suction cup sunshades a step further by actually permanently securing the shade to your windows using magnets. This type of shade tends not to obstruct a driver's view, which means this doesn't need to be a concern for drivers.
Proper Placement and Usage of Car Sunshades 101
After purchasing your first sunshade, it's time to learn how to maximize the car windshield sunshade you have in your possession. The following three tips can help you figure out how to maximize the efficacy of your tool:
Correct positioning for maximum effectiveness.
If you have not ordered a custom sunshade for your car, you will need to figure out the best placement on your windshield to reduce the amount of sunlight coming in. Try to line up the corners of the sunshade with your window as best as possible, but in a worst-case scenario simply ensure that the majority of the driver and passenger cabin is covered.
Tips for securely attaching sunshades.
Second, if you don't have a magnetic or suction sunshade, you will have an issue securing your sunshade. To get around this, consider using tape that will not damage your vehicle or perhaps latching the sunshade to your rearview mirror to hold it in place.
Proper storage and care of sunshades.
Finally, if the integrity of your sunshade is compromised, then the integrity of your vehicle will also be compromised. Always store your sunshade in a dark place when it is not in use to avoid overexposure to the sun. Aim to clean off any dust or dirt that may accumulate over time so that you keep your sunshade looking fresh and presentable.
Additional Considerations for Enhanced Protection
Acquiring a sunshade for your front windshield is only the beginning of your battle against the sun. There are three primary additional considerations to consider when it comes to enhancing your protection:
Sunshades for side windows and rear windshield.
When purchasing a sunshade for your front windshield, don't forget that this will only stop the sun from the front. To maximize your protection, consider investing in a window shade for the side windows and the rear windshield as well to keep things cool.
Sunshades with UV protection or insulation properties.
Certain sunshades on sites such as Amazon will either be basic or come with advanced features such as UV protection that goes further than simply blocking the sun. Evaluate your personal budget to determine if this is something you need.
Compatibility with vehicle features.
Do keep in mind that a sunshade will impede your vehicle in certain ways, such as potentially blocking your rearview mirror or messing with the vehicle sensors, if applicable. Rather than risking this, research the sunshade you are considering to be certain that it is compatible with your vehicle.
The Importance of Reading Customer Reviews and Ratings
When you are going through and deciding which sunshade is right for your vehicle, it's important to lean on the experience of others. The past reviews of various sunshades should be the starting point for considering which shade is right for you. However, don't just look at the number of stars a person has given to the brand or product, rather, read their reviews to see what their specific likes and dislikes were.
Take note of any key points, such as if a sunshade isn't truly foldable or if it isn't effective at blocking the sun. Look into the reviews to see if they mention how much heat is retained in the vehicle. Factors such as these can make or break your purchase decision.
Highly Recommended Car Sunshade Brands
There are a wide variety of sunshade brands for a driver to consider purchasing from, but the following names are among the most popular to consider:
Kinder Fluff
EcoNour
McButy
Sailead
Ontell Brella
The Best Online Resources for Researching and Comparing Sunshades
Knowing where to start when trying to find the right sunshade can be difficult, but the best way to start is to simply visit a large website such as Amazon. Type in something as simple as "car sunshade" to see what search results come up, and then begin researching different brands to see who has the highest reviews and why. Always read reviews to be sure it isn't bots recommending the product.
Utilize Endurance to Protect Your Vehicle
While a sunshade provides excellent protection for your vehicle, maintaining its integrity requires much more long-term maintenance. However, maintenance costs can quickly pile up when paying out-of-pocket. This is why investing in a strong extended warranty contract, such as those offered by Endurance Warranty, can be an excellent idea.
With three primary contracts ranging from competitive and stated protection with the Secure Plus plan all the way up to near bumper-to-bumper protection with the Supreme coverage plan, there is something for everyone. On top of this, each Endurance contract comes with Elite Benefits, for a small activation fee, that provides bonus perks such as 24/7 roadside assistance, up to $1,000 in total loss protection, and reimbursements for up to two tires per year due to road hazards.
Endurance has over $300 million in paid claims since 2012, showing just how beneficial an extended warranty contract can be. Call our award-winning customer service team at (800) 253-8203 or request a FREE quote online to find out more.
More like this
How To

In the event of a breakdown, having an extended warranty or vehicle service contract watching your back can be a total lifesaver. With some major repairs costing thousands of dollars,..

Read More

How To

Keeping a Hyundai Accent running for the foreseeable future is about more than simply being a safe driver on the road. While keeping your eyes peeled and attention on the..

Read More

How To

While reliability is always a factor when choosing a vehicle, many more considerations are involved when kids are in the picture. Safety, space, and comfort must also be part of..

Read More