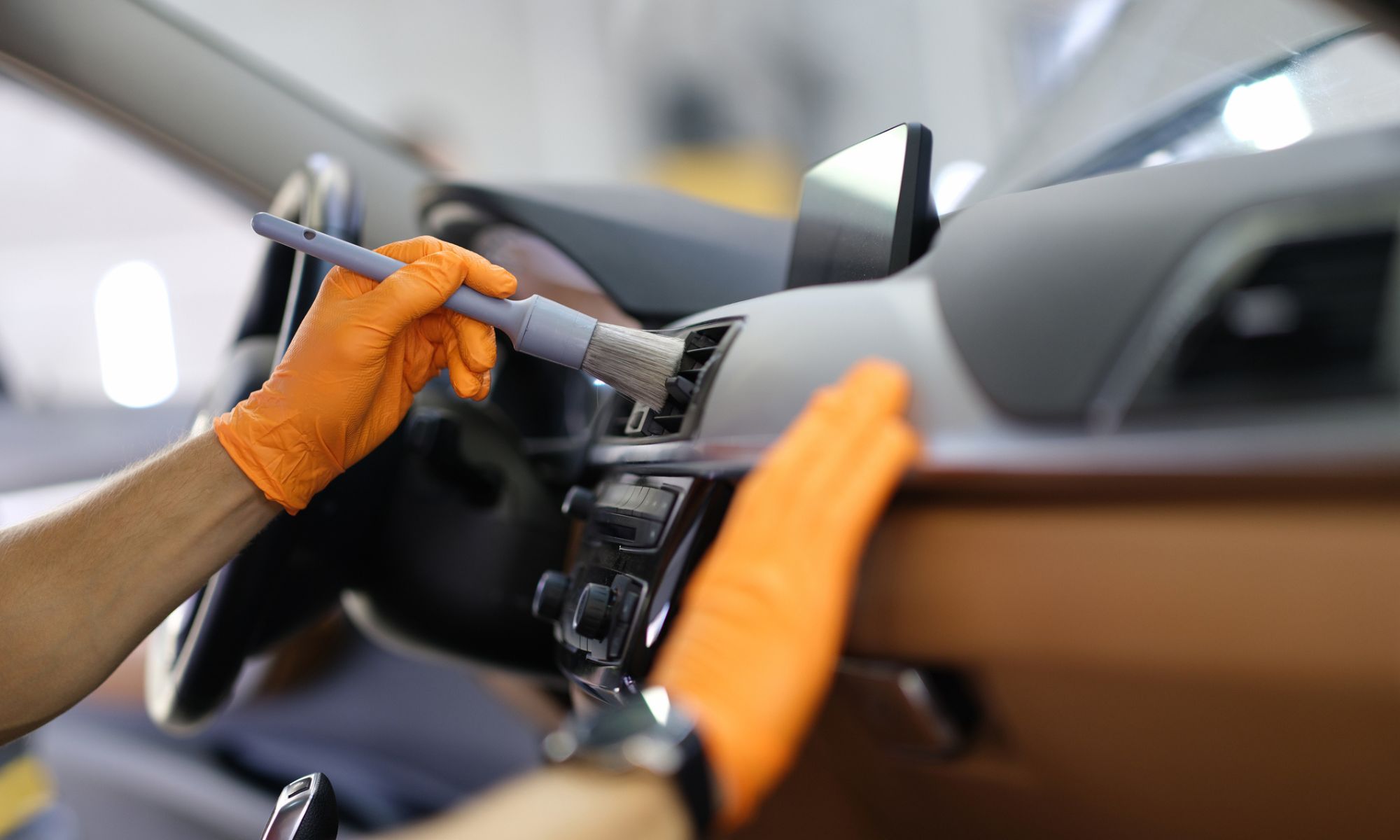 As a car owner, it can be easy to let repair or maintenance fall to the wayside; however, taking better care of your vehicle can help you save money in the long run. Following your vehicle's maintenance schedule is highly recommended to keep it running at its best, and other maintenance tasks can help prevent unexpected repairs, such as cleaning your car's air conditioning (A/C) evaporator.
Cleaning the evaporator in your vehicle's air conditioning system can help keep your air blowing cold and prevent unexpected A/C failure. Going into the spring and summer months with no A/C is something most will want to avoid, so taking preventative measures now can help avoid these situations.
What Is An A/C Evaporator?
Your car's air conditioning and heating system are made up of various components that work in unison to provide you with cold and hot air. The A/C system in your vehicle operates similarly to your home's A/C system, just in a smaller system. While there are many different components to discuss in your A/C system, today, we will focus on the A/C evaporator.
The A/C evaporator in your vehicle is a small radiator whose job is to absorb heat, remove the humidity from this air, and distribute it to your vehicle's cabin with the help of a blower fan. It is a vital component of your A/C system that helps to circulate cool air into your vehicle. When this component becomes dirty or fails, you will notice that your A/C is no longer blowing cold air.
How Much Does An A/C Evaporator Repair Cost?
If your A/C evaporator has failed, you will need to have it replaced to restore the function of your A/C system. The cost of replacing an A/C evaporator will depend on your vehicle type and where you have the repairs done. If your evaporator is covered under warranty, it can be a very affordable repair, but the cost can add up for those without a factory or extended warranty. We have put together a list of the average costs of an A/C evaporator replacement on various vehicles to give you a better idea of what you can expect to pay.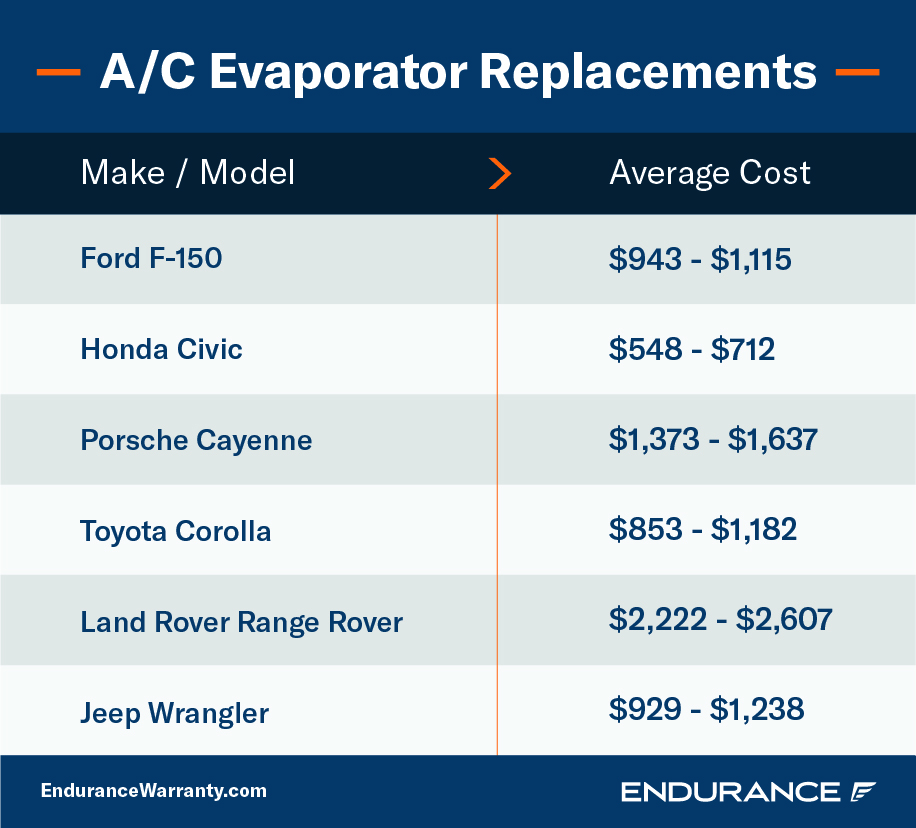 Since every vehicle is built differently, the cost of your A/C evaporator repair can vary. For vehicles with A/C evaporators that are easy to access, the overall cost of the repair should be on the lower end of the price spectrum. If your vehicle has an evaporator that is harder to get to, has more components to remove to get to it, or you have a luxury car, you can expect the cost to be much higher. Keeping your car's A/C evaporator clean and maintained can help extend the life of your evaporator to avoid larger repair bills.
How To Clean A Car's A/C Evaporator
Cleaning the evaporator in your car's A/C system can be done with common hand tools if your vehicle's HVAC box is easily accessible. Most are located behind the glove box, inside the HVAC box. Let's take a closer look at the steps of how to clean your car's A/C evaporator.
1. Remove Glove Box
The first step is to remove the glove box from the dashboard. For most vehicles, this will require you to open the glove box, remove the content of the glove box, and squeeze the rearward section to release it from the dash. In most cases, some vehicles may require you to remove a couple of screws, which should be Phillips heads or hex heads.
2. Locate the HVAC Box
Once your glove box is removed, you must examine the area directly behind the glove box. You will be looking for a large plastic box, usually black. This is the HVAC box and will be where your A/C condenser and heater core are located.
3. Remove Any Coverings To Access The A/C Evaporator Coil
Once you have located the HVAC box, an access panel or cover should be removed with a screwdriver or socket wrench. Once you remove this covering, you should see 1 or 2 small radiators. One will be the A/C evaporator coil, and the other will be a heater core. If your HVAC has both in the box, the easiest way to tell the difference between the two will be the size. The condenser will be larger than the heater core in length and thickness.
4. Cleaning Your A/C Evaporator Core In Car
When it comes to cleaning your A/C evaporator, there are two ways you can go about it, cleaning it inside the car or outside of the car. Cleaning your A/C condenser outside of the car will allow you to get a deeper clean, but depending on how your evaporator is oriented, it may be easier to clean it inside the car.
Use Compressed Air & Vacuum
If you want to clean your A/C condenser inside the vehicle, you can use compressed air and a vacuum to blow out and clean up any dirt and debris. This is the easiest way to clean your A/C evaporator and remove any dirt buildup from the coils.
5. Cleaning Your A/C Evaporator Out Of Car
If you have the tools, time, and access to remove your A/C condenser from your car, you can get a deeper clean that will keep your evaporator maintained for longer periods of time.
Remove the Evaporator From the Car
Carefully remove the evaporator from the vehicle and cover any exposed lines with a ziplock bag and a rubber band. This will keep contaminants from getting into your A/C lines. Using a mild soap and water mixture in a spray bottle, clean the condenser to remove any dirt and debris. Allow for it to dry before reinstalling into the vehicle.
6. Inspect For Any Damage
While your condenser is out and has fully dried, take this time to inspect it for any damage. If you notice any damage, now is the time to replace it while you have it out. Look for any cracks, dents, and other defects that could cause issues later down the road.
7. Reinstall Any Removed Components
Lastly, you will want to reinstall all components in reverse order to ensure everything is installed correctly. Once you have reinstalled all your components, turn your A/C on and check for operation.
How Endurance Can Help You Keep Your Car Maintained
As a car owner, one of your most important responsibilities is maintaining your car. Not only does this help keep your car running at its best, but it can also help to save you on unneeded repair bills. While keeping your car maintained will help prevent these types of breakdowns, you may still experience part failure due to old age or manufacturing defects. This is where having a protection plan from Endurance can help.
Endurance's auto protection plans, particularly the Advantage plan, offer breakdown protection for your vehicle and up to $3,500 in regular maintenance coverage. This includes great maintenance services such as PSI checks, tire rotations, oil changes, etc. All Endurance customers will have access to one year of free Elite Benefits, including two tire repairs/replacements, key fob replacements, and much more with any Endurance protection plan.
Request a free quote by calling (800) 253-8203 or shop online to learn more about Endurance protection plans that fit your specific budget and needs. For more information, such as DIY car tips, auto expert buying guides, or Endurance protection plans, visit our blog.
More like this
How To

In the event of a breakdown, having an extended warranty or vehicle service contract watching your back can be a total lifesaver. With some major repairs costing thousands of dollars,..

Read More

How To

Keeping a Hyundai Accent running for the foreseeable future is about more than simply being a safe driver on the road. While keeping your eyes peeled and attention on the..

Read More

How To

While reliability is always a factor when choosing a vehicle, many more considerations are involved when kids are in the picture. Safety, space, and comfort must also be part of..

Read More