Hybrid and fully electric vehicles (EVs) are more popular than ever — and for a good reason. While hybrids and EVs have been helping drivers to protect the environment and save at the pump for years, they often left drivers having to sacrifice things such as style or performance. Instead, with various innovations within the automotive field over the last few years, drivers can now find hybrids and electric vehicles that have great handling, top-notch acceleration, and are just as powerful as traditional gas-powered vehicles. One such electric vehicle is the Nissan LEAF. 
Before you purchase your next new car or used vehicle, learning everything you need to know about the Nissan LEAF can help determine if it may be the right choice for you.
History of the Nissan LEAF 
The Nissan LEAF was first introduced in 2010 as an alternative to the more specialized EVs. To help separate themselves from the pack, Nissan designed the LEAF to appeal to mainstream drivers that needed something practical instead of the popular high-end vehicles like the Tesla Roadster or the Fisker Karma. Since then, Nissan has helped keep the LEAF's reputation for being dependable while maintaining a steady schedule of improvements over the years. 
Some of the most significant improvements to the Nissan LEAF can be seen in its battery life and driving range. When it was first introduced, the LEAF had a 24 kWh lithium-ion battery pack that gave the driver just 84 miles of driving range on a single charge. While this was relatively long-range for the time, it was not enough for most commuters who might not have access to a charging station outside their homes. To help solve these issues, the newest LEAF models feature a much larger 62 kWh lithium-ion battery pack. With this capability, the LEAF delivers drivers roughly 226 miles on one charge, making it an excellent choice for people who want an electric car but need to drive long distances.    
Who Could Benefit from a Nissan LEAF? 
If you have been considering purchasing an electric car for its efficiency and ease of maintenance, a Nissan LEAF could be a great choice. The LEAF has a reputation for being easy and fun to drive while still allowing you the freedom that comes with breaking away from fossil fuels. 
Overall, the LEAF is a versatile vehicle with a lot to offer in the way of features and performance without paying for a high-end luxury vehicle like a Tesla Model 3, a Porsche Taycan, or a Polestar 2. Instead, the LEAF provides a fun option for drivers and families looking to utilize the extra cargo space offered by its hatchback design without driving a large van or SUV. It is also a fairly reliable vehicle. According to RepairPal, the LEAF boasts an impressive 4.0 overall reliability rating, making it a more reliable choice for drivers than some popular gas-powered vehicles such as the Ford F-150 (a 3.5 rating) and the Jeep Wrangler (a 3.5 rating).
Along with these features, the LEAF is also a great choice for those who don't want to worry about some common maintenance and repairs required with a plug-in hybrid or more traditional gas-powered vehicle. For example, a fully electric car like the LEAF doesn't have a catalytic converter, which not only needs to be replaced throughout the life of the vehicle but is also a prime target for theft. Along with the lack of needing a catalytic converter, EVs such as the LEAF also don't need any emissions testing, which can be costly over time (not to mention inconvenient). 
Common LEAF Maintenance Procedures and Repairs 
Even though the LEAF doesn't have an internal combustion engine, it still needs regular maintenance on the other parts of the vehicle, which will cost owners up to $748 each year. Components like brake pads, tires and even your windshield wiper blades will all need to be replaced on the same schedule that a traditional vehicle has, along with more extensive maintenance and repairs. Eventually, you will also need a new battery, although these usually last between eight and 10 years. 
The LEAF also has some common issues that will need to be addressed if they happen on your particular vehicle. One of these is an issue with the airbag control module. This module measures the vibrations and amount of shock in the car. When it reads a measurement that may indicate a collision, the module will decide if the airbag needs to be deployed. When this fails, your airbag may not activate when needed, which is a severe safety issue. If your Nissan LEAF experiences this issue, it could cost you between $838 and $869 to replace this module. 
Another common issue can be seen in the coolant reservoir. This reservoir is where you put the coolant that runs through all the electrical components and keeps them from overheating. For the LEAF, this reservoir tends to crack over time which can cause leaks or other serious damage to the various components inside of LEAF's engine, so it is best to get it fixed as soon as possible if it happens to you. In total, a new coolant reservoir can cost you between $179 and $190. 
LEAF owners have also noted an issue regarding their tire pressure monitoring system needing to be reset. As the name states, this system monitors the air pressure (PSI) in the tires and signals a warning on the dashboard, so you know when to put more air in them. Sometimes this system needs to be reset and re-calibrated, which is called a "relearn." If this happens to your Nissan LEAF, it can be done for relatively cheap, usually costing between $35 and $44 to do.
According to RepairPal, other possible repairs you may expect when owning a Nissan LEAF can include: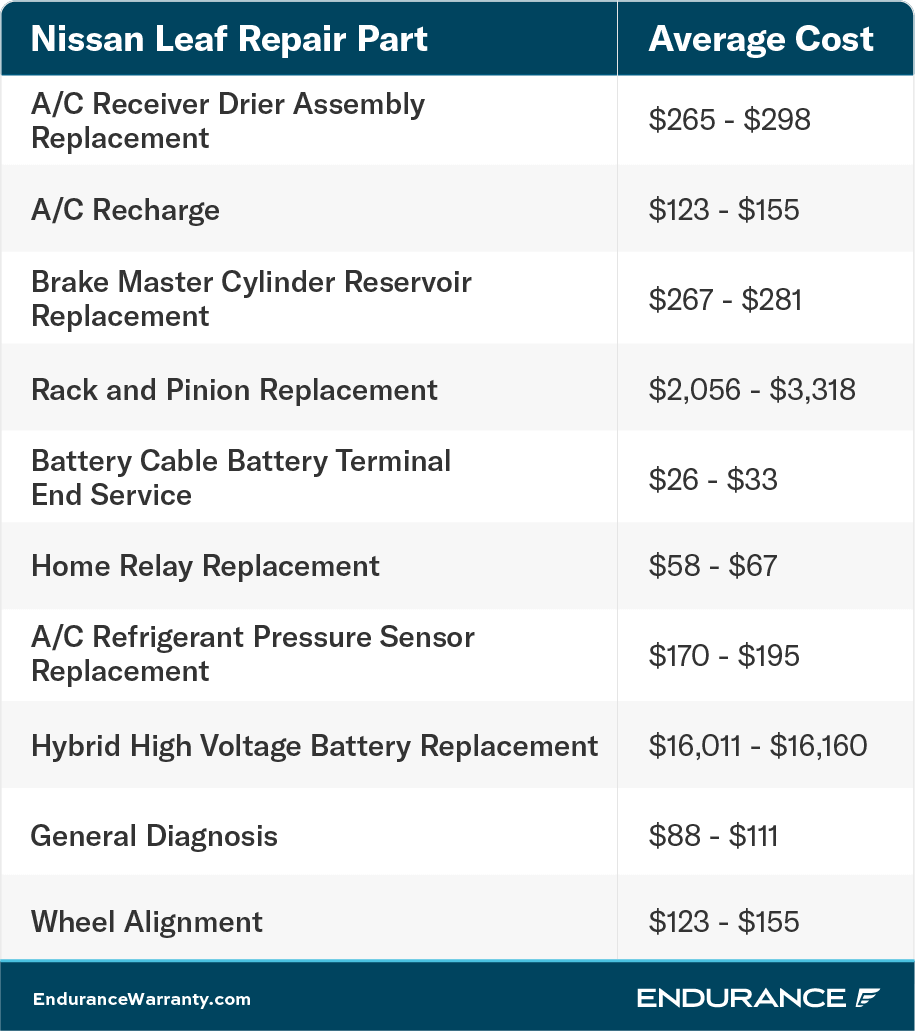 Whether you own a Nissan LEAF or any other type of vehicle, it's important to protect yourself and your wallet from the cost of unexpected repairs and breakdowns. With an EnduranceAdvantage™ auto protection plan, you can rest easy knowing your car, truck or SUV's most vital components are covered without the need for any out-of-pocket expenses. You can also save when it comes to your car's essential maintenance with up to $3,500 in regular maintenance coverage included with every EnduranceAdvantage package, including tire rotations, alignment checks, engine diagnostic exams and more — at no additional cost to you. Endurance customers will also automatically receive 24/7 roadside assistance with the purchase of any Endurance plan, meaning you're covered in case of a flat tire, a dead battery or any other unexpected issues you may face while on the road.
What is the Best LEAF?
While most new model years of the Nissan LEAF will have the reliability and sporty handling you want, your best option would be to purchase a used Nissan LEAF, particularly the 2017 or 2018 model years. These LEAFs will have many of the same features as a brand new or late-model LEAF that would come off a dealership lot while being much less expensive due to them being a few years old. The battery will also be in good condition and should have at least five years of life in it before it needs to be replaced. 
Nissan LEAF Standard Safety Features
One of the major benefits of a Nissan LEAF is that it comes packed with various safety features. If you want to feel confident and safe in your EV, the LEAF could be a great choice as every LEAF comes with Nissan's Safety Shield 360 suite of safety features. 
This includes: 
Automatic Emergency Braking with Pedestrian Detection
Rear Automatic Braking
Rear Cross-Traffic Alert
Blind Spot Warning
Lane Departure Warning
High-Beam Assist
Nissan LEAF Frequently Asked Questions (FAQs)
Is the Nissan LEAF a reliable car?
According to RepairPal, the Nissan LEAF has an above-average reliability rating of four out of five, making it a vehicle you can depend on. Its simple design and wealth of safety features make it an excellent car for families or commuters who need to rely on their vehicle all year long while also being able to save when it comes to trips to the gas station.
How long does the Nissan LEAF battery last?
While it will ultimately depend on factors such as how often you drive or the weather conditions where you live, typically with regular charging and proper storage, the lithium-ion battery pack in a Nissan LEAF should last between eight and 10 years.
How much does it cost to replace the battery on a Nissan LEAF?
When it does come time to replace your LEAF's battery, it won't be cheap, as a new battery can cost you potentially up to $5,000 or more. Despite this hefty price, it is also important to remember that the battery of Nissan LEAF has an average lifespan of eight to 10 years, meaning you stretch out this cost over several years. 
Keep Your Nissan LEAF Running Smoothly with Endurance
Advantage
No matter the type of vehicle you own, staying up-to-date on your car, truck or SUV's essential maintenance is vital. With EnduranceAdvantage, you can get comprehensive vehicle protection as well as up to $3,500 in regular maintenance coverage, including oil changes, alignment checks, and more to help keep your car running properly for longer. Each EnduranceAdvantage package also comes with several other special, one-time services like a brake pad/shoe replacement, a front or rear wiper blade set replacement and other great services.
New and existing Endurance Customers will also automatically receive 24/7 roadside assistance by purchasing any Endurance plan. On top of that, for just a small activation fee more, you will also be able to receive a year's worth of Elite Benefits, including perks such as collision discounts, key fob replacements, tire repairs or replacements and more for even more coverage and savings. 
To learn more about how EnduranceAdvantage or any other Endurance protection plan can help you, request a free quote or give us a call directly at (800) 253-8203. You can also visit our Learning Center to discover even more helpful and informative articles, including seasonal maintenance tips, vehicle buying guides, answers to FAQs and other resourceful topics.
More like this
Make/Model

If you're the owner of a Honda Accord, you certainly aren't alone. The brand has a great reputation for producing some of the most reliable cars on the road, with..

Read More

Make/Model

The last thing any Ram driver wants is to hear an odd noise while driving down the road, followed by a mechanical issue within their vehicle. Unfortunately, mechanical breakdowns are..

Read More

Make/Model

Finding yourself in the position where you are notified of a recall affecting your vehicle is never a fun situation, but it should require immediate action on your part. Depending..

Read More