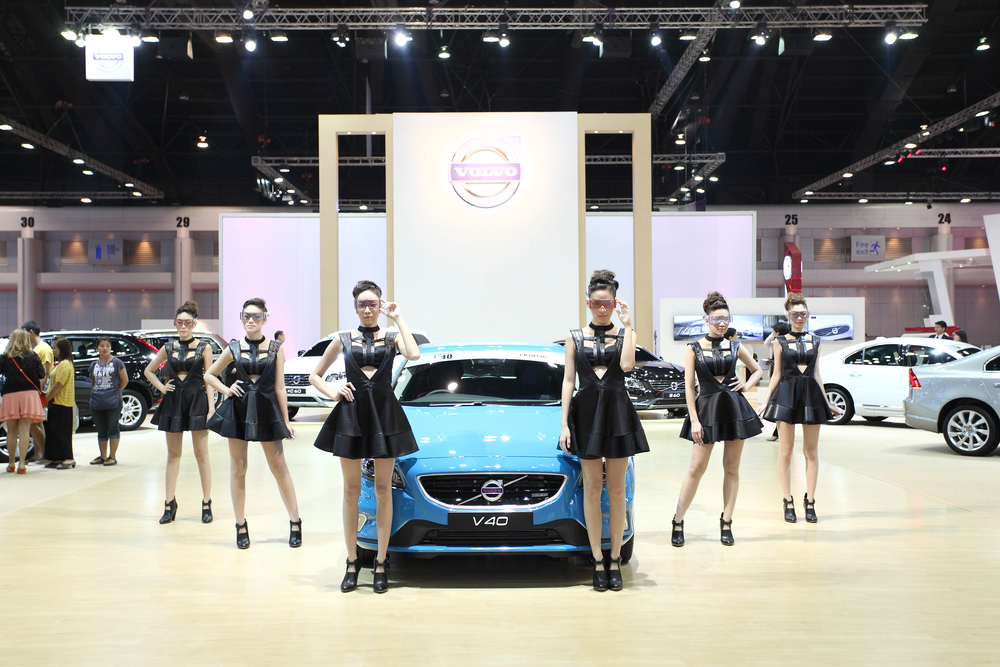 Volvo is undergoing a massive re-launch of their smaller vehicles for the upcoming model years. Recently, the Swedish automaker has taken to the press a rather comprehensive preview of what is to come. Now, that does not necessarily mean that Volvo is providing all the juicy details about production versions of the concepts they showed off unveiled, but lucky enough they made a lot of really interesting info on various outlets and publications.
Here's we've compiled some of the best tidbits about what we can expect from Volvo's new  40-series compact lineup.
They're based on the all new CMA platform.
Volvo did not go the expected route of making their proprietary platform, the SPA (Scalable Product Architecture) used on the current gen XC90, S90, and V90. Instead the engineers at Volvo engineers created a whole new smaller and more cost-efficient platform they have dubbed CMA, or Compact Modular Architecture. It's not like they threw away the lessons learned from the SPA: it's similarly scalable in order to accommodate vehicles of varying lengths and wheelbases and powertrains. What sets it apart is a modified front and rear which allow for a changing floor pan for the different vehicles and fit batteries when required.
The CMA is Electrifying By Nature.
The CMA platform is designed with hybrid and full-EVs in mind. Volvo is going to offer plug-in hybrids using a 9.7-kWh lithium-ion battery as well as a battery-electric powertrain good for at least 215 miles of range or so we are told. As mentioned above the platform is designed to accommodate a battery. Volvo is proud too, they have allegedly created a platform more advanced than the current projected numbers for the Tesla Model 3 and Chevy Bolt. Hopefully this is true.
The plug-in powertrain uses a hybridized dual-clutch transmission.
Volvo calls the plug-in hybrid powertrain the T5 Twin Engine. What makes it unique is that it's very different from Volvo's T8 Twin Engine their other models. With an electric motor in mind, it gets packaged outside of the transmission and connected to the reverse-second-fourth-sixth shaft by a system of gears. That means that the connection is made after the clutch which allows the electric motor to consistently add more power, regardless of what gear the transmission is in and whether or not the engine is on or off. It will be able to feed in electric power even when the transmission is shifting. Volvo told sources that the electric motor acts as the starter and handles regeneration with a new three-cylinder turbo engine contributes about 180 horsepower combined with a 55kw electric motor produces 55 kW this total system power should be somewhere around 250 hp.
The 40 series will come in a new shapes.
We've seen the small crossover (XC40), the wagon (V40) and the 40.2 high-riding sedan-hatchback. Volvo's new aesthetic is a small but noticeable alteration and they seem to be set on this shape as opposed to the traditional sedan silhouette. Volvo reps told the press they felt the market was overcrowded so they needed to be more than a little different to stand out in the crowd.
Mechanical all-wheel drive comes first and a hybrid version *MIGHT* follow.
AutoBlog predicts that the CMA cars will be available with a traditional mechanical all-wheel-drive system and that the T5 Twin Engine will be front-drive.
Autonomous features.
Volvo is consistently rated high in terms of safety and they've leaked that they will be bringing their semi-autonomous tech to even its least-expensive cars. The upcoming 40-series models built on CMA will get the expected some advanced safety features as standard, in addition to all new optional ones such as the Volvo City Safety, Parking Assist Pilot, and Pilot Assist adaptive cruise control.
Use your phone as the car's key.
Certainly not the first automaker to think of this, Vovlo is promising all sorts of new connectivity with this series. They are updating their On Call mobile app which will allows for Bluetooth-enabled smart phones to unlock and start the car. Owner will even be able to virtually send their keys to friends and relatives so they can drive your Volvo if they need to, with time limits and expiration dates.
They will go into production next year.
Volvo has publicly announced that they will start building CMA compacts at its Ghent, Belgium, factory in 2017. They have not shared which model will launch first, but right now we hope it is the small crossover that looks like the 40.1 concept. Because that's the new hotness in our objective opinion.
More like this
News

As we transition away from combustion engines, electric vehicles (EVs) continue to dominate the automotive conversation. The latest development involves Honda's joint venture with General Motors to co-produce affordable electric..

Read More

News

There are a number of important components that allow your vehicle to operate, and each individual piece serves a purpose. Given the intricacies of these pieces, the value is naturally..

Read More

News

For decades, used cars have been the go-to solution for budget-conscious buyers. American shoppers could readily find quality second-hand vehicles for under the average price of $20,000 at most dealerships...

Read More