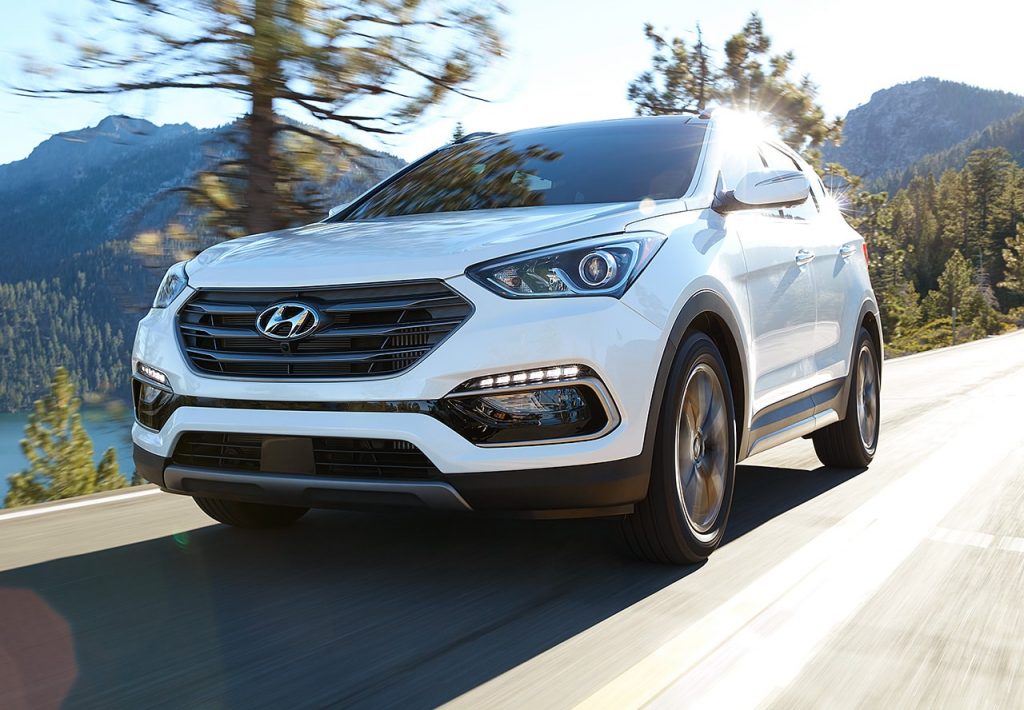 It didn't just make it in time for the New York Auto Show it also made its debut in dealerships nationwide: the 2017 Hyundai Santa Fe Sport is here and better than ever.
What Makes the New Model Better?
First thing is first, the Santa Fe Sport distinguishes itself from the previously released Santa Fe crossover in being a shorter two-row version that's not only lighter but more agile and fuel efficient than its bigger and older sibling.
Right now the Santa Fe Sport is setting itself up to compete with the likes of the Ford Edge, the Jeep Grand Cherokee, and the Volkswagen Touareg. Where Hyundai has the advantage, beyond its unique attributes is that the Santa Fe Sport is the least expensive of that lineup and it still manages to offer a more upscale interior and driving experience.
You can argue that the Sport's rear row is a little too tight for this vehicle class but the model's fuel economy is anything but underwhelming thanks to that tighter build. And best of all it is more than generous in terms of cargo capacity.
While the Ford Explorer is currently outpacing the Santa Fe in US sales it is still very well regarded by trade publications and reviewers.
What's New for 2017
On the surface there's newly updated front and rear detailing or fascias that accentuate Hyundai's newly revamped line-wide styling. Many owners will initially notice the new headlight design, which aren't even just cosmetic, they utilize special high-intensity discharge headlamps in addition to running revised LED daytime running lights and fog lights. The taillights have been changed too with new square-shaped LEDs that compliment the re-styled dual exhaust outlet.
Other body updates include the new rocker panel design along the sides. These panels come with unique silver accents that play well with the stock alloy wheels. You may not think this is a dramatic redesign of the Santa Fe's exterior but it's a much more modern look to keep it in line with the rest of Hyundai's 2017 and 2018 vehicles they've shown to the press.
Trims and Options
We've mentioned this in the past but the best part about buying a new car these days really is all the options available to you. With the Santa Fe Sport you can decide between its 240-hp turbocharged 2.0-liter four-cylinder engine and the stock 2.4-liter non-turbo four. If the price is right the upgrade gives it some noticeable power.
And it's only the mid-level trim too.
Starting at $32,59, the mid-level 2.0T trim includes:
A 7.0-inch touchscreen infotainment system that is compatible with both Apple CarPlay and Android Auto
Power-adjustable driver's and front-passenger's seats
Sliding second-row seats
Leather seats, steering wheel, and shift knob
If you're curious about the higher trim level, it gives you an all-wheel drive to add more towing capacity and tighter handling against the elements for an additional $1750.
More like this
News

As we transition away from combustion engines, electric vehicles (EVs) continue to dominate the automotive conversation. The latest development involves Honda's joint venture with General Motors to co-produce affordable electric..

Read More

News

There are a number of important components that allow your vehicle to operate, and each individual piece serves a purpose. Given the intricacies of these pieces, the value is naturally..

Read More

News

For decades, used cars have been the go-to solution for budget-conscious buyers. American shoppers could readily find quality second-hand vehicles for under the average price of $20,000 at most dealerships...

Read More