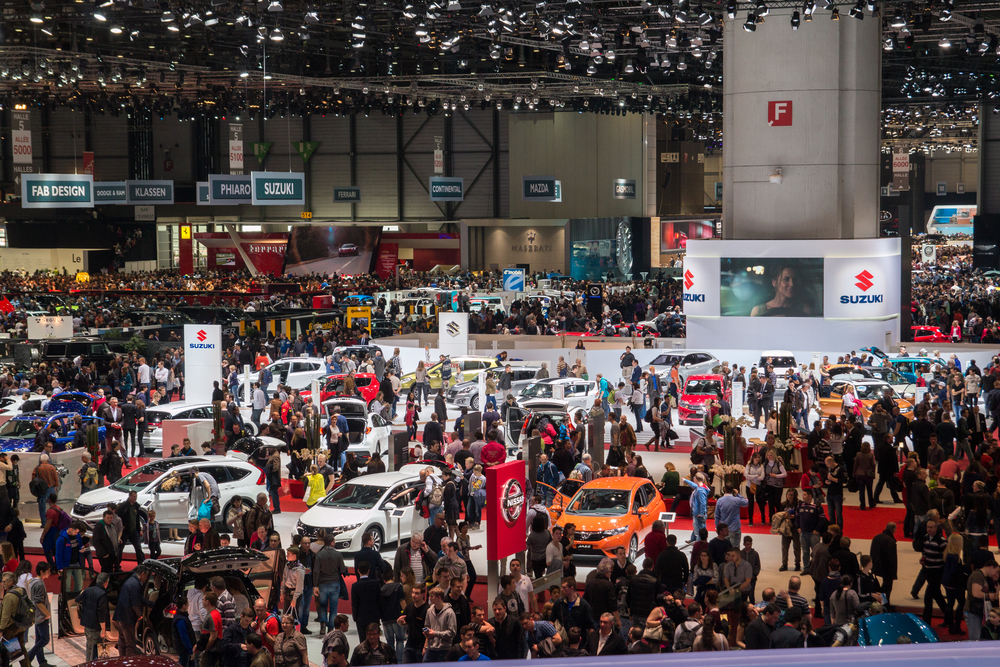 The Geneva Motor Show isn't our favorite car show of the year but it may be the most fascinating. No automaker has a home field advantage and it becomes a tense battleground to show off an impressive lineup never before seen. Every automaker is all cylinders here. And there were 10 cars that had us salivating for what is to come from these brands and companies!
Bugatti Chiron
Literally waking up in a new Bugatti, we could not be more taken with the replacement for the iconic but played out Veyron. Now, the Chiron isn't the hybrid with electric turbos we thought Bugatti was gunning for. Don't yawn: it's still a 1500 horsepower car with a top speed that is limited to 261. This is madness we tell you. Madness
Chevrolet Corvette Grand Sport
What happens when the Z06 has too much power and the  Stingray it too gorgeous for you to show off? Chevrolet answers with Grand Sport, it combines two of our most favorite things from Corvettes past: a Stingray's engine and the handling of the Z06. It is absolutely hands down the best of the latest generation of Corvettes.
Ferrari GTC4Lusso
The name is silly. Pay no mind to what is the worst named Ferrari because this car packs 30 more horses and tightened up looks than the Ferrari FF. The name is terrible though.
Lamborghini Centenario
In celebrating founder Ferruccio Lamborghini's birthday the company made a 770-hp, special edition car that looks like it came from a comic book. This exclusive is limited to 20 coupes and 20 roadsters of the and will go on to be one of the rare collector's items of our generation. Just awesome.
Opel GT
We're not that familiar with Opel but they really impressed us with their GT: a lightweight sports car. It's a concept that Opel claims will never see production, but we can dream. I mean the thing looks flipping cool!
Aston Martin DB11
Forget the DB10 from Spectre, the real replacement for the long-serving DB9 is the DB11. The design is a huge update of Aston's consistent theme but under the hood lies a surprise. Unlike the movie only car: this thing packs an all-new, 600-hp, twin-turbo, 5.2 liter V12. And it will be available to the public. So take that Mr. Bond.
Porsche 911 R
You can't spell perfect without "R." Yes that's right this is the perfected vision of the marquee 911 Porsche. It is basically everything fans have been dreaming that a GT3 and GT3 RS didn't offer with its unique a manual gearbox. This is excellence in vehicle form.
Spyker C8 Preliator
We have no idea how Spyker continues to be around. To be honest we almost never see their cars on the road. However each time they remind us that they exist they do so with an all new even  better looking car. It isn't just looks: the C8 Preliator has a supercharged V8 with 525 horsepower from Audi, with manual gearbox. Drivers: pick one of these up so we can stare jealously during our commutes.
Apollo Arrow
The sun god is known for his archery skills, is that why this is named as such? Formerly known as Gumpert is now Apollo. And after spending time in the automotive netherworld, they have returned with a better looking car with 1000 horses fit for an Olympian god. I guess that makes us fans!
Fiat 124 Abarth Rally Car
A 300 horsepower Fiat for rally racing. That's all you need to know. Sure they showed off the Abarth version of the 124 Spider but we can't wait to see this car hugging hairpins on the track. Hopefully it performs as well as it looks!
The Geneva Auto Show is world renowned and we are literally salivating with every photo of new cars that were hidden from us before. We hope to see some of these on the road and better yet, we hope to have a chance behind the wheel!
More like this
News

Odometer rollback fraud is a less-visible crime with significant consequences for unsuspecting car buyers. According to the National Highway Traffic Safety Administration (NHTSA), there are more than 450,000 cases of..

Read More

News

It isn't unusual for cars to be recalled by manufacturers for a major fault, but some seem more problematic than others. In the past 12 years, more than 3,100 Hyundai..

Read More

Make/Model

Concept cars have a knack for getting people talking, and that's exactly what happened with the BMW i Vision Dee that the automaker showcased at the 2023 Consumer Electronics Show..

Read More