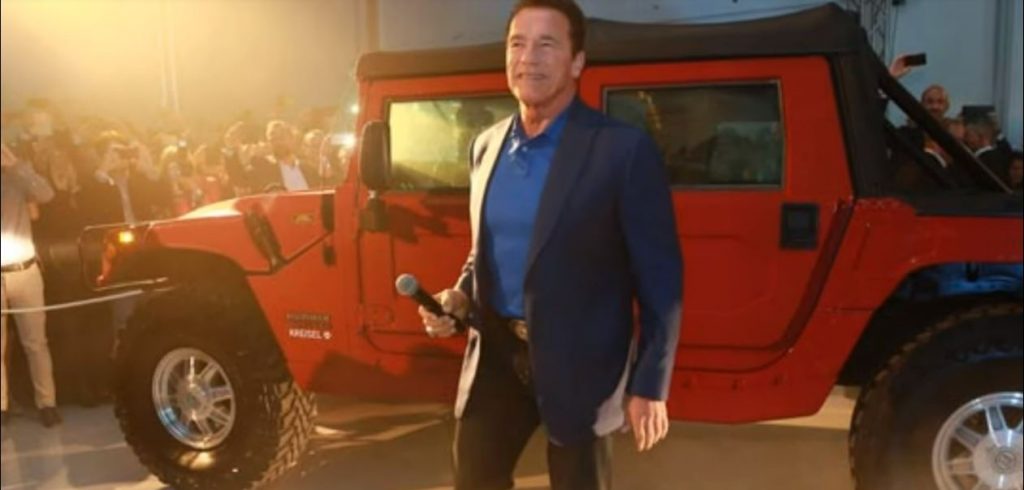 Movie star, former bodybuilder, and former California Governor Arnold Schwarzenegger was instrumental in pushing for Hummer vehicles to be available to the public. Back in the day, Hummers were originally created by a company called AM General Corporation. They were a subsidiary of American Motors Corporation out of Indiana.
In 1979 the US Army contracted them to create a new kind of "High Mobility Multi-Purpose Wheeled Vehicle" (HMMWV) to go along with the Army SUVs and trucks. Then in 1982, the "Humvees" became a part of the Army. Of course, AM General did have ambitions to release a version for civilians, nothing came of it until the 90s. The story goes the Arnold was shooting a movie and noticed a military convoy. His persistence and willingness to be a branding partner pushed AM General to convert and create a Humvee for people to own and drive. Fast forward to 2017 and Schwarzenegger had a new challenge for the makers of Humvee.
The All-Electric Hummer by Kreisel Electric
Earlier in the year there were rumors that Arnold Schwarzenegger was pushing for an all-electric version of the Mercedes G-Wagon. He was going to have one made and maybe be the face of that car and lineup. Well it turns out that those rumors were maybe a bit premature. He has gone ahead with the company rumored to be tasked with electrifying that SUV for a bigger project.
Kreisel Electric, a company that specializes in the development of prototype electric cars revealed an all new, all-electric Hummer H1. Thanks to the persistence of the Terminator himself, this soft top prototype is a reality.
How does an All-Electric Hummer Work?
The all-electric Hummer H1 soft-top prototype is one of a kind. It comes equipped with electric motors on each axle. And if that's not enough it also comes packed with over 100 kWh worth of batteries. Of course, it has a few limits. It only tops out at about 75-mph. However in exchange for that humble top speed, it also has a 186-mile range. Finally it also boasts a ludicrous 7275-lb curb weight.
The prototype has a unique build. The platform was built upon the next year's H1 model. Kreisel Electric outfitted it with more than 100 kilowatt-hour high-performance batteries made in-house. Even if the top speed is not much to write home about, it still utilizes dual electric motors. These are ones that are truly worthy of being in a Hummer. All of the motors are on the front and rear axles of the car. All the more notable is that in total this electrifying Hummer should be faster. It has a grand total horsepower of 483. I expect much of that power goes to weight and towing capability.
Arnold Schwarzenegger and Kreisel Electric
Embed from Getty Images
The idea of an all electric Hummer has been something of a dream for Schwarzenegger. Even as governor he's often talked about it. And he consistently donates money and invests in Kreisel Electric. Kreisel Electric themselves opened up a new research and development center in Schwarzenegger's home country Austria. It was as the unveiling of the center where Schwarzenegger and the electric Hummer made their debut.
The all-electric SUV was built just under a two month timeline, which is notable. According to Schwarzenegger, who was also surprised by the quick turnaround on this, he believes that Kreisel will one day develop an electric jet from him to fly between Austria and LA. Perhaps that will be Kreisel's next challenge.
What are your thoughts on this all-electric powerhouse? For any of you readers that has ever driven an electric vehicle, you might note the mileage range can be a bit lacking. For that case we are a bit skeptic as to how far a full charge would get such a massive automobile, but we remain optimistic. Tell us your thoughts in the comments section below.
More like this
News

As we transition away from combustion engines, electric vehicles (EVs) continue to dominate the automotive conversation. The latest development involves Honda's joint venture with General Motors to co-produce affordable electric..

Read More

News

There are a number of important components that allow your vehicle to operate, and each individual piece serves a purpose. Given the intricacies of these pieces, the value is naturally..

Read More

News

For decades, used cars have been the go-to solution for budget-conscious buyers. American shoppers could readily find quality second-hand vehicles for under the average price of $20,000 at most dealerships...

Read More