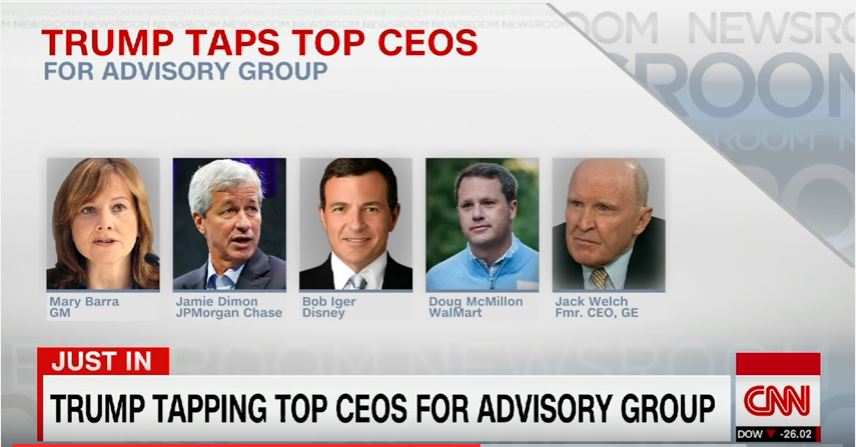 President-elect Donald Trump is busy choosing people to fill the over 4,000 positions in his new administration. Despite the daunting number of people who need to be hired, Trump isn't scaling back, but rather expanding the unit that will be advising him as president.
President-elect has named General Motors CEO Mary Barra as a part of the "Strategic and Policy Forum" that will act as an advisory group on handling economic issues and facilitating job growth. The forum is comprised of America's top business leaders, ranging from companies like JP Morgan Chase, Walt Disney, Boeing, IBM and a number of other playmakers. The panel's first meeting is set for some time in February.
Barra will be one of only two women within the group, the other one being Ginni Rometty who is the CEO of IBM. Trump is quoted saying that the panel is "designed to provide direct input to the president from many of the best and brightest in the business world in a frank, non-bureaucratic and non-partisan manner."
Barra is reported as being pleased to accept the role, citing that she wants to "support a strong and competitive economy and automotive industry."
Yes, what about the automotive industry?
Car manufacturers are still waiting to see what Trump's policies will mean for the automotive world – specifically relating to fuel economy standards and free trade rules. During the campaign, Trump was big on criticizing carmakers who outsource their production facilities to places like Mexico so that they can have a cheaper cost of labor. Ford was the one that took the biggest brunt. Trade agreement-wise, he threatened to renegotiate (or break) the North American Free Trade Agreement by imposing a steep 35 percent tariff on Mexican goods making their way to the United States.
Recently, Ford folded on its plans of expanding to Mexico, instead it will focus on creating jobs in Michigan within Ford's autonomous driving unit. 700 jobs are planned on being created and the prerequisites for getting those jobs are not looking fairly steep. High school degrees simply are not enough to get you a job in the factory (at least these types of factories) anymore.
Though Ford omitted Trump being a reason for keeping those jobs in America saying "the reason that we are not building the new plant, the primary reason, is just demand has gone down for small cars."
Even Barra's company cannot escape Trump's unending scrutiny. Just after Ford rescinded their plans in Mexico, Trump turned his sights to GM for the same exact reason: GM's importation of small cars from Mexico to the US. GM's response was pretty curt, "only a small number of Chevy Cruzes are sent to the US from Mexican plants."
Barra has forged through her fair share of controversy as CEO of GM. In 2014 a defective ignition switch made Chevy Cobalts and Pontiac G5s far too dangerous to drive. 124 people died and 275 were severely injured. GM had known about the defect for nearly 10 years and it took them that long to address it. By the end of 2014, 30 million cars were recalled.
Of course, GM paid their dues (nearly $900 million in criminal costs and $1 million to each family who lost a family member) and it seems now that this is old news as Barra awaits her first advisory meeting this February.
More like this
News

As we transition away from combustion engines, electric vehicles (EVs) continue to dominate the automotive conversation. The latest development involves Honda's joint venture with General Motors to co-produce affordable electric..

Read More

News

There are a number of important components that allow your vehicle to operate, and each individual piece serves a purpose. Given the intricacies of these pieces, the value is naturally..

Read More

News

For decades, used cars have been the go-to solution for budget-conscious buyers. American shoppers could readily find quality second-hand vehicles for under the average price of $20,000 at most dealerships...

Read More