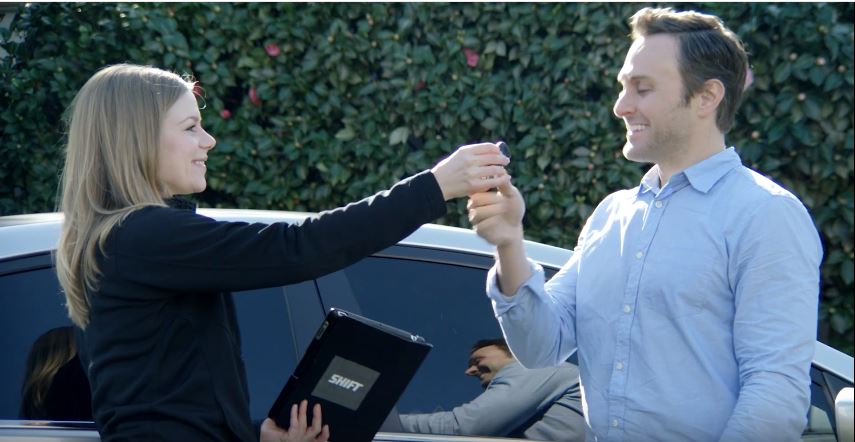 Vroom isn't the only company out to change the way we buy cars online.  Shift, a San Francisco startup has just announced a $50 million funding round on Tuesday morning. Shift's mission is to make it easy for one person to sell their used car to another person without all the trust issues, amateur photography, and insecurities about what the right price really should be.
Like other new-economy players, Shift is not interested in owning things. They don't ever hold the titles to the cars that they help sell — much like Airbnb does not own deeds for the charming bungalows that their guests book. No one working there has a dealer's license and no one is paid on commission. In fact, having previously been a car dealer is sure way not to get hired. "Our goal is to be really transparent. If you've got an extra thousand miles or dents, those things matter," says Minnie Ingersoll, who left Google to become COO of Shift. "We're not trying to screw anybody."
Here's  How the "Shift" Process Works:
As a seller, you first go to their website and enter some basic information about the vehicle you wish to sell like the year, mileage, and trim level to get a preliminary quote and "guaranteed minimum." The quote is preliminary because the information is inevitably incomplete, given that few humans can recite from memory every single option or flaw their vehicle has (part of what makes it hard to correctly price yourself). Those details can make a huge difference for
buyers and sellers
: In the case of a Prius, Craigslist ads offered that make and model in the Bay Area for prices ranging from $12,000 to $17,000. Shift's algorithms spat out a guaranteed minimum of $13,100, with a likely sales price of $14,700.
Next Shift dispatches a person — who (in an oh-so-Silicon-Valley way) they call a "car enthusiast" — to come to your home at a time you pick and look over the vehicle. This agent arrives carrying a tablet that would spit out a new, more precise estimate after entering all of my car's actual date. They will get in the driver's seat and check the car's equipment and stats such as the lights, windows, doors, the engine, and more. After taking in the odometer reading, they will ask you questions before giving you a list price where you will get a profit from their services.
After that evaluation, the agent will drive the car to "The Hub" where Shift details and professionally photographs vehicles — including all their flaws — after mechanics give them a 150-point inspection. If they find a flaw related to safety, Shift will not sell the car until it's fixed. In the case of something like my cosmetic wheel rash, they'll offer the option to fix it, something they can provide at a lower-than-average price, because they get high-volume discounts from local mechanics.
Hired copywriters will craft the ad or listing as well as any other SEO-related improvements that Ingersoll says are better handled by professionals. Shift will also take care of all the DMV filings and other paperwork so you don't have to.
On the buying side, Shift is pushing the convenience angle hard. All an interested party has to do is go on their site, peruse the listings, and request a test drive. An enthusiast will bring the car to wherever they are in that local market — though some enthusiasts have driven up to two hours away — in as little as 45 minutes, absolutely free with zero catches.  Once you have made a request (currently they get more than a dozen each day), an enthusiast will bring the car right to you  and let you tool around (while covered by their insurance policy). These gents, not unlike Uber drivers, are paid by the company (hourly). Should you choose to buy it you would have been assured it was in good shape and given a seven-day window to return the car.
The big question, of course, is whether is whether  you could sell your car and even bought the next one for less by going through all the headache of a pure peer-to-peer transaction. The answer is probably yes, though perhaps by merely a couple hundred of dollars. CEO Irakly George Arison will say on the record that the price points they offer both buyers and sellers are better than what anyone could hope for at a dealership and more accurate than anything they'll get from Kelley Blue Book, because Shift is constantly tuning algorithms to learn from comparison prices in local markets.
If Shift's business model pans out, the amount drivers are charged to use the service will decrease as the company grows. At this stage, the gap between the projected sale price and guaranteed minimum is how Shift makes money. If Shift can sell a car for more than the minimum, the company and seller split that profit 50/50. But they plan to eventually make their cash from other services, possibly setting up their own in-house body shop, likely providing on-demand oil changes and definitely offering financing.

The latter is already happening and was the original mission of the company founded in 2013. Arison had tried to get his own loan for a peer-to-peer purchase and was told by banks that he had to go through a dealership (who could, essentially, vouch for the "worth" of an asset that banks aren't set up to assess). He says he found that silly, giving dealerships control over people's access to financing. Yet he says when he set out to offer people another option for capital, what they really wanted was to wash their hands of the whole process, except the part where they make or save a lot of money. So Shift pivoted, as startups do, and is setting out to give car buyers and sellers a lot fewer headaches and a few extra bucks in their pockets.
More like this
News

Snow is a fact of life for many drivers in the country, so selecting the right vehicle is crucial for getting around while the flakes gather on the roads. Sure,..

Read More

News

The pandemic affected everyone in the last couple of years, from weeks-long quarantines to working from home and beyond. Even bustling industries came to a screeching halt during the pandemic,..

Read More

News

In today's day and age, a subscription option is available for just about any valuable and marketable service. Do you want to watch your favorite shows without paying for cable?..

Read More