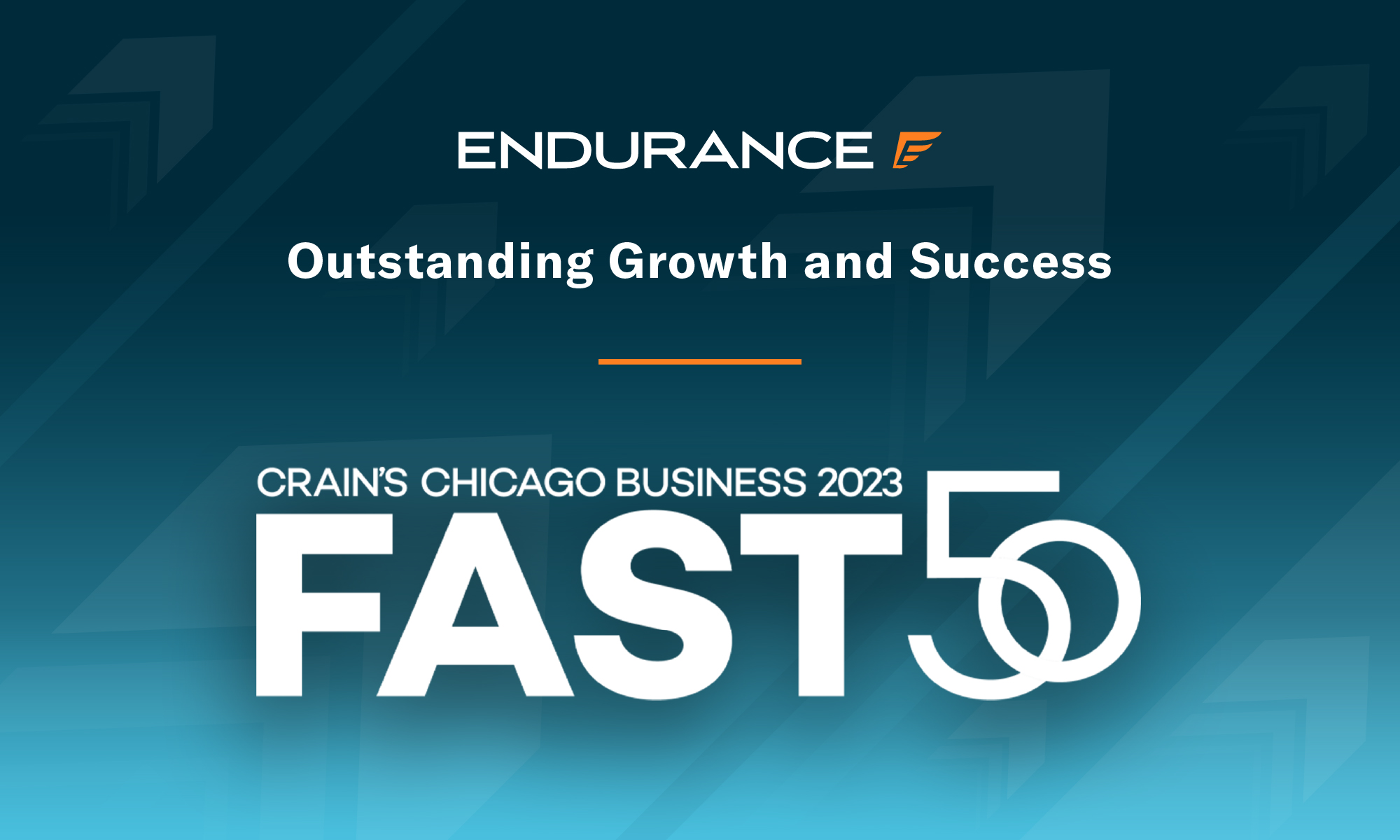 Endurance Warranty Services, the leading provider of direct-to-consumer auto protection plans, is thrilled to announce its remarkable achievement of ranking for the fifth time on the prestigious Crain's Chicago Business "Fast 50" list. This recognition highlights Endurance's outstanding growth and success in the face of economic challenges, solidifying its position as one of Chicago's fastest-growing private companies. Previous year wins include 2022, 2021, 2020, and 2018.
Out of a highly competitive pool of applicants, Endurance stood out with its outstanding performance and secured its place on the "Fast 50" list. This achievement underscores the company's ongoing commitment to delivering reliable breakdown coverage and outstanding service to its valued customers.
The ranking process, conducted in collaboration with renowned accounting firm Plante Moran, involved a rigorous evaluation based on specific criteria:
Companies headquartered in the Chicago area
Independent company from 2017 to 2022
Founded on or before Dec. 31, 2016, and grew revenue consistently
Generated at least $15 million in revenue in 2022
Plante Moran thoroughly examined the financial documents provided by the applicants for the years 2017 and 2022 to compile the highly respected Crain's Fast 50 list for 2023. Katie Arnold-Ratliff, of Crain's Chicago Business, shared: "Last year was a flurry of activity for Endurance Warranty Services, which supplements auto insurance to cover high out-of-pocket consumer costs. In 2022, the company added an e-commerce experience; changed up its approach to its brand, creative, analytics and marketing; and kept a sharp eye out for strong acquisition targets."
"We are incredibly proud to be ranked again on the esteemed Crain's Chicago Business 'Fast 50' list, a testament to our continued growth and success as a leading provider of auto protection plans," said Rich Holland, Chief Executive Officer (CEO) of Endurance. "This recognition validates our dedication to meeting customer needs, delivering superior coverage and service, and driving innovation in the industry. We remain committed to providing peace of mind and exceptional value to our customers as they navigate the road ahead," Holland added.
Endurance has consistently demonstrated its commitment to delivering top-tier protection plans and expanding its offerings to meet the evolving needs of drivers. The company's comprehensive suite of plans, including customizable coverage options, has gained significant popularity among customers. Endurance has also forged strategic partnerships and expanded its network of dealers and agency partners, further solidifying its position as an industry leader.
About Endurance Warranty Services, LLC
For the most comprehensive auto protection plans in the industry, drivers turn to Endurance. Endorsed by real customers, recommended by ASE Certified mechanics, and highly rated on consumer advocate websites, Endurance plans shield drivers from the high costs of parts and labor when an unexpected breakdown occurs. Since 2012, the company has paid over $300 million in claims, helping customers save thousands on vehicle repairs and Empowering Confidence for the Road Ahead™.
Endurance Warranty Services, LLC, operates corporate headquarters in Northbrook, Ill., with an additional office in St. Peters, Mo. To learn more about Endurance, visit http://www.endurancewarranty.com.
More like this
Press

Endurance Warranty Services celebrates its eighth year on the Inc. 5000, an annual list of the fastest-growing private companies in America. The prestigious ranking provides a data-driven look at the most..

Read More

Press

As a leader in auto protection plans that extend drivers' mechanical coverage once the manufacturer's warranty runs out, Endurance is proud to announce that professional racecar driver and sports personality,..

Read More

Press

We are thrilled to announce that Colleen Sugarman, Chief Marketing Officer at Endurance Warranty Services, has been recognized as one of the "Top 10 Inspiring CMOs" of 2023 by C..

Read More