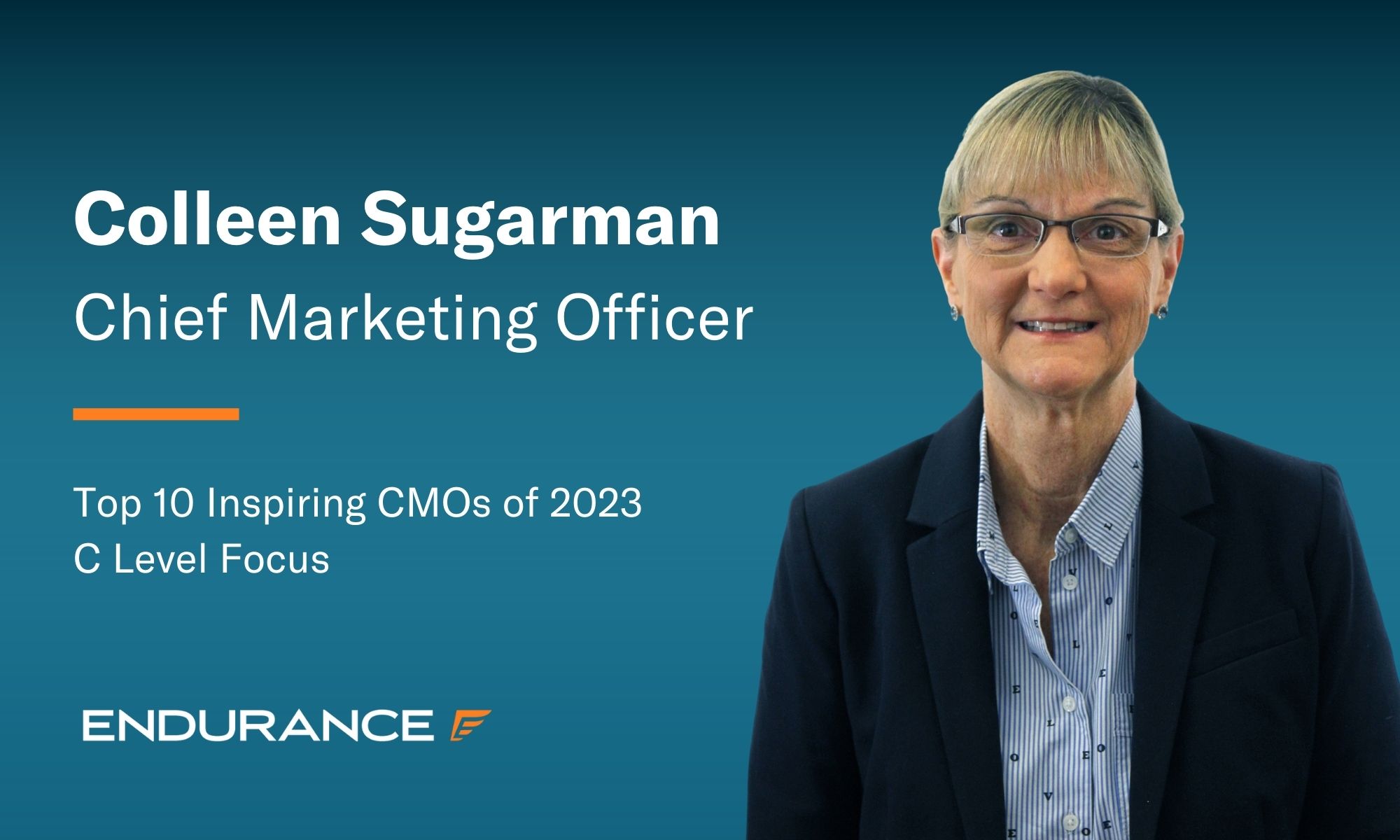 We are thrilled to announce that Colleen Sugarman, Chief Marketing Officer at Endurance Warranty Services, has been recognized as one of the "Top 10 Inspiring CMOs" of 2023 by C Level Focus (CLF). This prestigious accolade celebrates Colleen's exceptional leadership, innovative strategies, and outstanding contributions to Endurance and the field of marketing.
With her visionary approach and unwavering commitment to excellence, Colleen has played a pivotal role in shaping Endurance Warranty's brand identity and driving its growth. Colleen's remarkable achievements and inspiring philosophies as a CMO are explored in the feature below, highlighted in C Level Focus.
"Focus on direct communication and evaluate your own decision-making"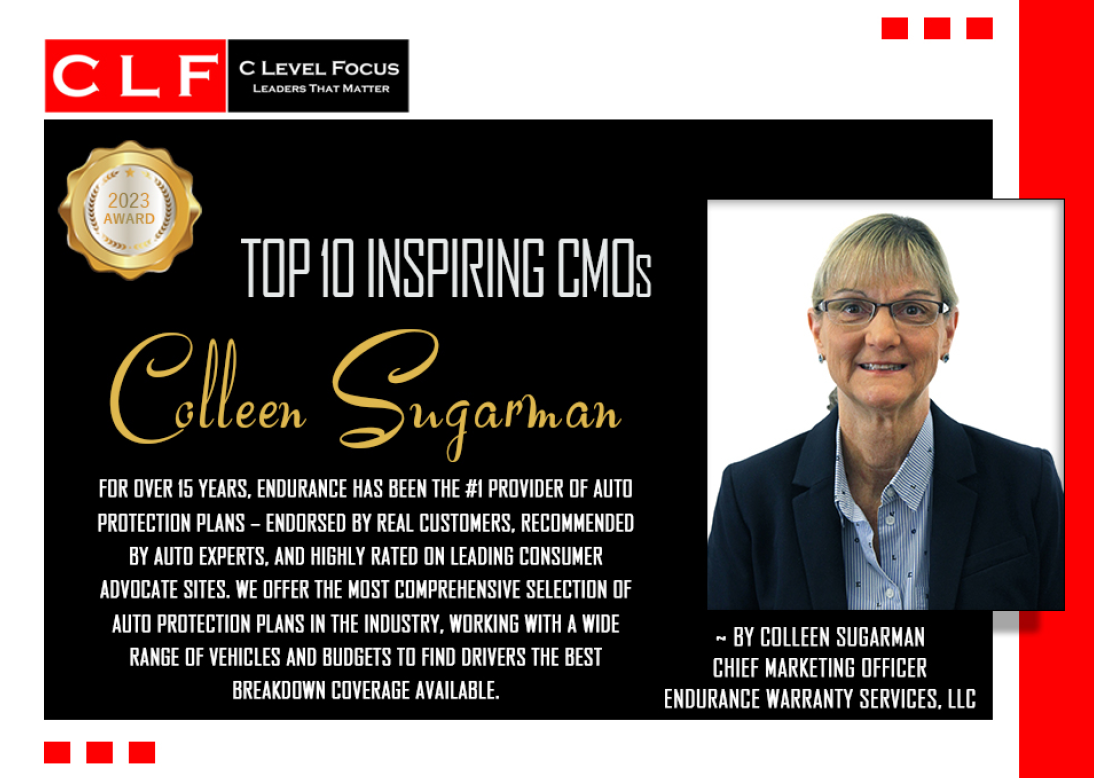 With the increasing complexity and diversity of modern challenges, leadership today demands a more nuanced approach than simply answering questions or cultivating a strong personal brand. Top executives must demonstrate their significance to create a relationship, gain focus, and progress the careers of those who need motivation. Colleen Sugarman, the Chief Marketing Officer of Endurance Warranty Services, LLC, is an excellent example of such a leader.
Endurance is a renowned provider of comprehensive and personalized auto protection plans. In 2021, Colleen joined the organization, drawn to CEO Rich Holland's vision for achieving significant revenue growth and his leadership style and philosophy around providing autonomy to his business leaders. Colleen was also attracted to the company's strong industry reputation and because its products and services are highly valued by consumers. For over 15 years, Endurance has provided auto protection plans (more commonly known as extended warranties) to drivers, earning high customer sentiment ratings on review websites like Consumer Affairs, Motor1, Google, and Trustpilot. With a direct-to-consumer approach, Endurance has paid over $287 million in claims since 2012, making it a leader in automotive service contracts.
Under Colleen's direction over the last two years, the Endurance marketing team has implemented an omnichannel marketing approach that increased lead volume by 155% and sales by 139% in 2022 compared to 2021. Colleen also oversaw the overhaul of Endurance's customer-facing website, providing a modern and succinct design to educate customers about the company's products and services. The launch of an eCommerce online shopping experience in November 2022 enables users to get quotes and purchase vehicle protection plans online. Customers can also receive free auto protection quotes by phone or email.
Colleen's leadership philosophy emphasizes clear strategic direction, active listening, accountability, building an elite team, and establishing strong internal and external relationships. She values verbal feedback, encouraging honest dialogue during weekly one-on-one and team meetings. Colleen believes this approach enhances decision-making, accountability, and teamwork. Alongside Colleen's collaborative learning approach, Endurance invests heavily in leadership and skill-based training for its employees, recognizing them as the company's biggest asset.
Over the years, Endurance has received numerous awards and recognition for its service to customers and growth in business. In 2022, Colleen was recognized with a Bronze Stevie® Award for Women in Business, among other global women executives, entrepreneurs, employees, and companies. For nearly a decade, Endurance has won Stevie® Awards for sales, customer service, and employer assessments – with past wins in 2014, 2015, 2016, 2018, 2020, and 2022. Endurance recently received a 2023 Silver Stevie® Award for Sales and Customer Service, a top distinction for customer service, contact centers, business development, and sales professionals. Endurance also placed on the Inc. 5000 list of the fastest-growing private companies for seven years.
To continue its growth and success, Endurance is planning new initiatives under Colleen's marketing direction, including:
Releasing a mechanical breakdown insurance (MBI) product for California residents
Launching Spanish-language advertising to include Spanish-speaking sales representatives and customer support.
Producing new TV digital campaigns, including short-form and long-form TV spots
Initiating a home warranty cross-sell partnership
Endurance as a whole aims to persistently innovate and improve operations, providing a world-class quote-to-claim experience to increase consumer value. The company also focuses on customer-driven product innovation, with future plans to expand coverage to electric vehicles (EVs), power sports, and more. Colleen Sugarman and her marketing team are set to further enhance the customer experience by improving internal Customer Relationship Management (CRM) and eCommerce programs, while also utilizing the Endurance blog, email marketing, and social media channels to provide automotive consumers with valuable educational content.
More like this
Press

For the second consecutive year, the Automotive Awards have returned to spotlight a selection of award-winning businesses in this dynamic industry. Endurance Warranty Services, a leading provider of vehicle service..

Read More

Press

Endurance Vehicle Services, the leading vehicle protection provider serving both direct-to-consumer and auto dealerships nationwide, is pleased to announce the appointment of Justin C. Thomas as its new Chief Executive..

Read More

Press

Endurance Warranty Services celebrates its eighth year on the Inc. 5000, an annual list of the fastest-growing private companies in America. The prestigious ranking provides a data-driven look at the most..

Read More