Here on ShopTalk, our Rewind articles are pleasant indulgences into nostalgia. Automotive history is rich and filled with all manner of interesting developments and cars that should be remembered fondly. In fact, many automakers feel the same way, sometimes bringing back old models for the new generation. However, there are other times where nostalgia takes a wrong turn.
The following vehicles provide a perfect example of these failed attempts at automotive nostalgia.
2002–2005 Ford Thunderbird
One of the automobile stars of the 2002 James Bond film Die Another Day did in fact die another day after it's revival following a five-year absence from Ford's lineup. When the Thunderbird came back in the early 2000s it was conceived as a tribute to the classic Ford cars of the 50s. Many vintage gearheads found much to love about this slick machine but unfortunately they weren't enough as many drivers just weren't feeling the old school aesthetic. It's not like it drove like an old car either: it used the same rear-drive chassis as the Lincoln LS and Jaguar S-Type (beck in the day, Jaguar was owned by Ford) and used a version of the Jag V-8 engine allowing it to pump out 252 hp on a five-speed automatic. It's actually a pretty easy car to find in used lots now, but unfortunately, it was not the hot seller Ford had hoped for when it was new.
2003–2006 Chevrolet SSR
In response to Ford, Chevrolet made their own 50s remake: the SSR was a strangely proportioned revival of an old 1950s Chevy pickup truck. Take one part truck, one part muscle car, and shake it up in the body of an open-air convertible. In our opinion, even though the SSR (Super Sport Roadster) blended all of these types together…it was a pretty shoddy take on them.  The Chevy Trailblazer SUV chassis was not made for a pickup truck so it had no real hauling capacity and even worse it is decidedly un-sporty. The folding hardtop made for an annoyingly noisy interior and the over on the truck bed was prone to leaks. The cabin was two sizes too tight, the folding hardtop was prone to wind noise, and the hard tone cover over the bed often leaked. The cabin was very tight and behind the wheel the 4800 pounds prevents you from reaping the benefits of the 300-hp 5.3-liter V-8 that was also found in the Trailblazer. It should be noted that in 2005 GM fitted a 390-hp version of the Corvette's LS2 6.0-liter V-8 into the engine bay of the SSR, and that car received rave reviews…but it was too late for Ford's ill-fated $50,000 toy.
1997–2002 Plymouth/Chrysler Prowler
Plymouth wanted to be fun again to Chrysler developed this retro hot rod for 1997. This is pretty much the precursor to all of these nostalgic revivals on this list and it was the last new Plymouth before the brand died. They came in purple-only and were equipped with a pokey 215-hp 3.5-liter V-6 that was featured in Chrysler's front-drive family sedans at the time. However, even the 1999-2002 38-hp boost and new color options were not enough for people to seek the Prowler.
2005–2011 Chevy HHR
The Chevy Heritage High Roof (HHR) has a pretty uninspiring name and if that wasn't enough of a knock against it, it also was a blatant rip-off of the successful 2000–2010 Chrysler PT Cruiser. No it wasn't even a competitor, it was in fact designed by the same person, Bryan Nesbitt,  and championed by auto industry big-shot Bob Lutz once both men moved from Chrysler to GM. The HHR actually sold well in comparison to the others on this list but never came close to the numbers the PR Cruiser did in its prime. It faded away culturally too.
2004–2006 Pontiac GTO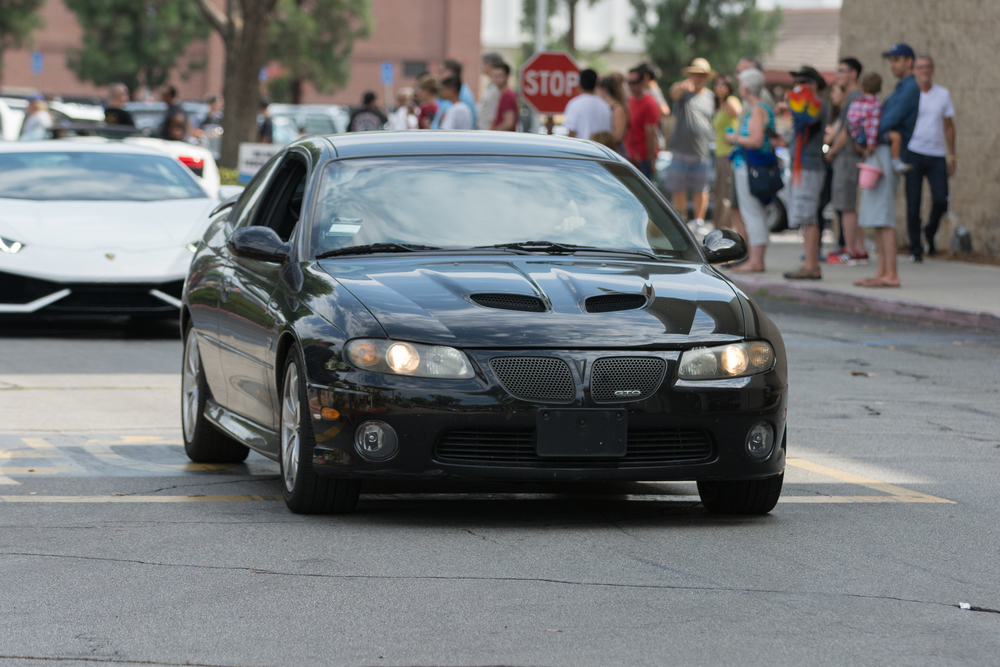 The original Pontiac GTO was perhaps the pinnacle of 1960s muscle car. In 2004, more than three decades after Pontiac's last GTO (which was little more than a Chevy Nova clone), the brand decided to revive the nameplate with a brand new one. Some speculated it was related to the 60s GTO's popularity following a starring role in the Vin Diesel blockbuster XXX. And gearheads were salivating modern take on this beast like what Ford was doing with Mustang in the 2000s. But the new GTO looked like a bloated Garand AM, not the edgy and muscular take on the 1960s classic people were hoping for. The new GTO was essentially a rebadged Australian Holden Monaro, with the same 350-hp Corvette-derived 5.7-liter V8, a six-speed manual. Critics noted that the chassis was fun and there was a 400-hp 6.0-liter V-8 option in 2005. But the styling was a huge hurdle for buyers.
2004–2008 Chrysler Crossfire
The Chrysler Crossfire was a concept that made its debut back in 2001 and it was a cool retro sports car that borrowed liberally from the Audi TT and blended it with classic Chrysler designs and an 30s Art Deco aesthetic. However the leap from show floor to showroom was rather unfortunate. Thusly, the Chrysler Crossfire is considered the poster child for the tumultuous marriage between Daimler (Mercedes-Benz) and Chrysler in 1990s. This car not only looked awkward, it was cramped inside. Sure, the performance was neat, with the SRT-6 model that mimicked the Mercedes-Benz SLK 32 AMG. But critics hated the rough ride and sales were slow. This is possibly the most unloved car by both American and German car fans.
More like this
Rewind

Can you feel it? There's a big change coming in the American automotive landscape. For the past couple of years we've seen the steady increase of sales in trucks and..

Read More

Rewind

Ever-increasing numbers of cup holders large enough to accommodate super-sized jugs  and an expanding suite of electronic features and entertainment invade our vehicles. However, there comes a time where we..

Read More

Rewind

The Corvette is not just an "American classic," it's one of the most famous cars around. There are so many models and variations that every fan probably has a favorite...

Read More