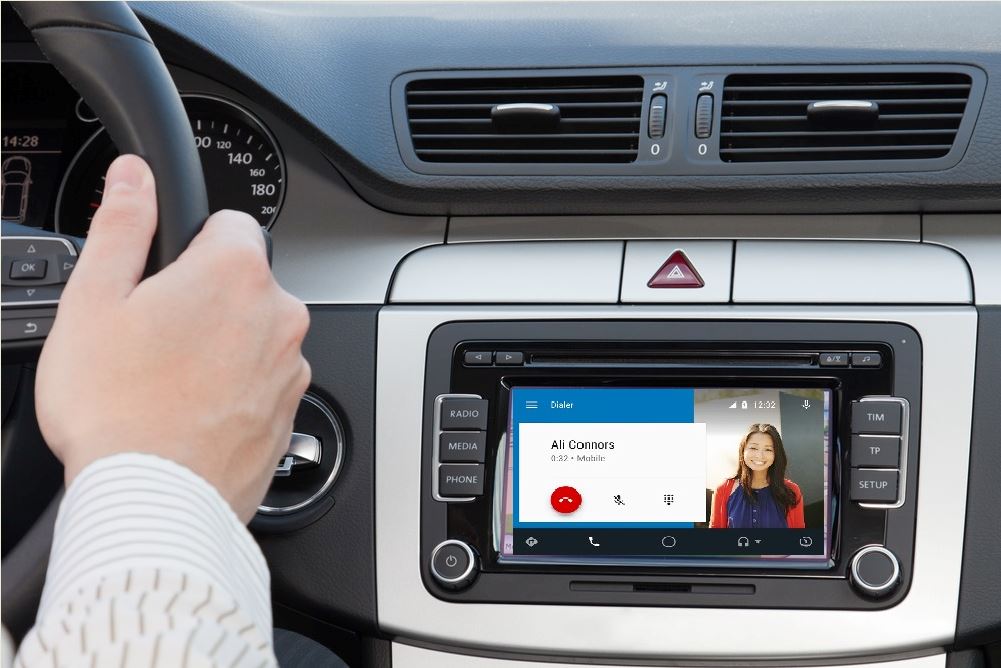 Fiat/Chrysler and Google already have a partnership to further the development of self-driving automobiles. But they recently unveiled at CES (Consumers Electronic Show) that the auto and tech giants are joining forces to upgrade the generally mediocre state of in-car infotainment systems.
Android 7.0 Nougat is being demoed as a concept infotainment system this year at the CES 2017 event in Las Vegas, Nevada. Google is teaming up with Fiat Chrysler to sport the latest Android OS in Chrysler's 300 models. The overall demo is to show off how an Android operating system would look when fully integrated into its own infotainment system – as opposed to merely connecting a phone through Bluetooth.
FCA's UConnect is what makes this sort of thing possible, which means that Android's smorgasbord of apps like Google Assistant, Google Maps, Spotify, Pandora, SoundCloud, and pretty much any other app you can think of will be able to be seamlessly utilized through UConnect's system.
Chris Barman, FCA's head of electrical engineering says it best, "With Android, we are able to maintain our unique and intuitive UConnect user interface, all while integrating our easy-to-use systems with Android's features and ecosystem of applications."
This is not the first time that Fiat Chrysler and Google have joined forces either. Android Auto, which differs from this demo in that it's a secondary interface, or, one that compliments the car's current operating system rather than
being
its own operating system, integrated a specialized user experience for car's console monitors. On top of that, Google has also worked closely with FCA in developing the software side of self-driving cars. We're talking about Waymo here, and the squadron of Chrysler Pacificas have proven revolutionary as they develop their ride-share unit. The Nougat-to-vehicle integration is merely the latest collaboration the FCA-Google alliance released.
To be blunt, you won't need an Android to have an Android operated car – it's literally made and integrated into the car. To quote an article published by Ars Technica, "With Google/FCA project, we're seeing another analog to the world of smartphones: custum OEM skins."
Google is showing us what's possible with their design features. It's not like when you enter a car like this, that you'll see Google, Google, Google plastered everywhere – that's not how branding works. Carmakers want to be able to replace that with a unique interface. Enter: UConnect.
However, this begs the question, where does Google actually come in then if the interface we are seeing will be something different? Well, even if the design interface is slightly off, the entire basis is still derived from the Google foundation. Compare that to the current state of car-operating systems, and well, trust me, it's an improvement.
This is also where the bevy of Google apps comes into play. Things like the applications mentioned above (Google Assistant, Google Maps, etc.) will come preloaded into a car, making it more convenient for a driver to take advantage of.
All of this will be available for your viewing pleasure on the CES 2017 show floor. If you get a chance to check out this display, let us know what you thought in the comments section below!
More like this
Tech

Artificial intelligence (AI) is everywhere at the moment. With the rise of Midjourney and ChatGPT, it's been dominating the headlines for the last year or so, but these applications are..

Read More

Tech

Technology has changed many aspects of people's daily lives. Things like phonebooks and VCRs have given way to devices and systems that make accessing information quicker and more convenient. Artificial..

Read More

News

Since the early days of the automobile, carmakers have sought to introduce ever-increasing levels of automotive technology to their offerings. General Motors gets credit for the first automatic transmission in..

Read More