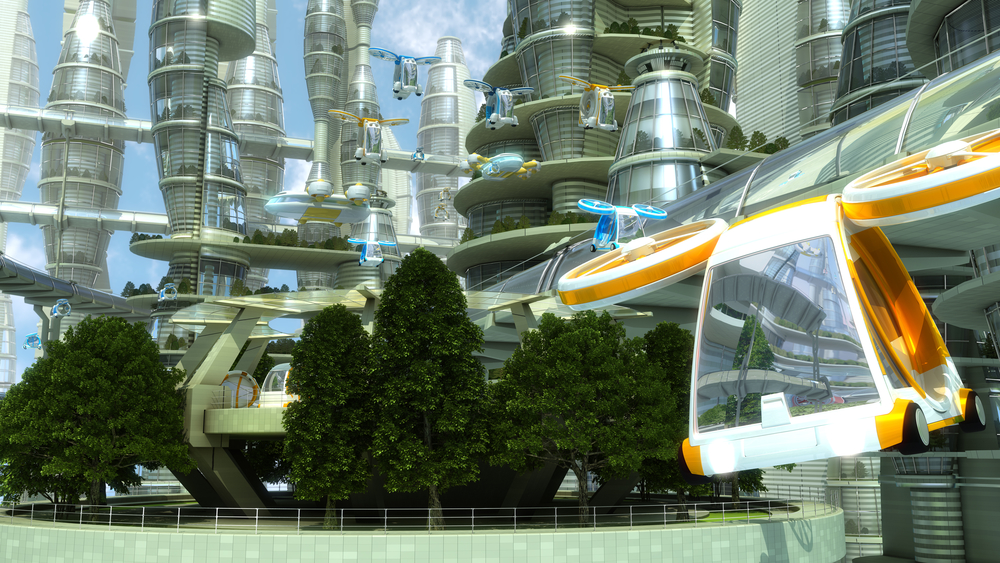 After decades of movies and pop culture telling us that flying cars were just on the horizon, it's honestly quite disappointing to not see a single highway in the sky now more than halfway through the 2010s. However, it seems the dream has not been forgotten. In fact, Google co-founder Larry Page apparently never gave up on his goal to build a flying car. In early 2010, Page expressed his wish to build a flying car when rumors connected him to a Silicon Valley startup called Zee.Aero, which has supposedly been hard at work making these flying cars. And yet according to Bloomberg, Page believed the Zee.Aero team was progressing too slowly and thus he went and set about this whole endeavor on his own by funding a  competing startup company called Kitty Hawk.
So what has Zee.Aero been doing for the past few years?
Zee.Aero was a bit of a mystery when it first opened its doors next to Google headquarters in Mountain View, Calif. The company is known chiefly for a patent filed for a small, all-electric aircraft with the capability of vertical take-offs and landings. Various press outlets have managed to interview a number of insiders and former Zee.Aero employees and they have all together confirmed that Page invested millions of his own money into the company and is hiring talent from the aerospace and automotive industry to make his flying car dream real. Bloomberg alone claims Page has spent $100 million on Zee.Aero ad he is now expected to invest more in Kitty Hawk.
Zee.Aero prototypes have actually been spotted many times throughout the San Francisco Bay Area. In fact there were genuine photos of a strange aircraft prototype found at a local airbase that matched the Zee.Aero patent designs back in 2013. A fully built prototype features a narrow body with front and rear wings, and rows of horizontal propellers running alongside the body and yet it all seemed too small for actual passengers.
Many of their prototypes were scrapped according to a report by Bloomberg. Today, Zee.Aero works under a new CEO, Eric Allison, who was formerly known as the company's chief engineer. Allison's predecessor was Ilan Kroo, a Stanford aeronautics professor who helped launch Zee.Aero. Most recently  Zee.Aero has developed and begun testing two new prototypes at the Hollister Municipal Airport located south of San Jose. Many airport employees who caught glimpses of the prototypes were interviewed for the press and Bloomberg  managed to corroborate what one of these un-photographed designs ended up looking like with rotors running along the body, likely for vertical take-off and landing maneuvers.
So where does Larry Page fit into all of this?
According to recent reports, Page began funding Kitty Hawk around the time Zee.Aero went through the CEO transition from Kroo to Allison. The Kitty Hawk team now mixes Zee.Aero veterans and previous employees from Google's self-driving car project (coming soon!). Speaking of Google and their dream of self driving cars, Bloomberg has reported that Zee.Aero and Kitty Hawk may be funded by Page, but are in no way officially not affiliated with Google. This is Page's baby through and through. Page apparently feels passionately enough about flying cars, envisioning them becoming a reality in his lifetime so much that he is doing this outside of Google.
So what about other companies?

Now, Page isn't the only entrepreneur going all in on flying cars flying car. Terrafugia, for example, is currently developing a "street-legal airplane," meanwhile Joby Aviation is another competitor whose CEO, JoeBen Bevirt is a big Silicon Valley entrepreneur is allegedly working on his own. On the other side of the world, a passenger drone from Chinese company EHang has garnered plenty of attention for the potential is means for flying passenger vehicles.
More like this
Tech

Artificial intelligence (AI) is everywhere at the moment. With the rise of Midjourney and ChatGPT, it's been dominating the headlines for the last year or so, but these applications are..

Read More

Tech

Technology has changed many aspects of people's daily lives. Things like phonebooks and VCRs have given way to devices and systems that make accessing information quicker and more convenient. Artificial..

Read More

News

Since the early days of the automobile, carmakers have sought to introduce ever-increasing levels of automotive technology to their offerings. General Motors gets credit for the first automatic transmission in..

Read More