We've seen so many glimpses of flying car concepts throughout what feels like decades of pop culture. And yet technology and engineering has not quite caught up yet to the idea.
Flying cars just can't seem to get off the ground.
Things seemed to be looking up when start-up backed by Japanese automaker Toyota revealed a rudimentary prototype of a flying car. Their projected goal was to demonstrate the flying car when lighting the Olympic torch in Tokyo in summer 2020.
This partnership with Toyota is not officially on the books.  However Toyota confirmed to USA TODAY that they are exploring "aerial solutions" and have been for quite some time. Many Toyota employees gave word to the press that they are aiding the start-up on a voluntary basis.
In terms of what the main body of Toyota has been working on: Their in-house flying car ambitions are "in the very early stages."  Toyota told USA Today that nothing has been decided in terms of commercial application yet.
Still, the involvement of the world's second-largest automaker reflects a serious step forward for flying cars amid a swirling debate over whether they're realistic at all.
"Within Toyota, we are advancing broad research and development on ways of transportation — including aerial solutions — that can lead to a prosperous society in the future," the company said in a statement.
Let's take a step back for a moment. The startup in question is none other than Cartivator Resource Management.
Their most recent attempt at a flying car…sadly sputtered off.
The prototype utilizes aluminum framing, eight propellers and sensors to fly. It was even protected by basketballs attached to the bottom of its frame.
Cartivator's "Sky Drive" vehicle managed to levitate to human eye level for several seconds before crashing back to the earth and suffering major damage.
After that, Cartivator cancelled all future tests.
Cartivator is working from a nearly $400,000 investment from Toyota. They and Toyota did wind up deeming this test a success. Representatives from both companies told associated press that this is a major step towards manned flight in 2019.
What does the future hold?
Cartivator's project leader Tsubasa Nakamura took to their company's blog to discuss what this means for their project. On his latest entry he announced that Cartivator would reveal a redesigned prototype in November.
The race to the sky:
Cartivator is not the only company with their eye on the sky. Two of their biggest competitors come from Google co-founder Larry Page and ride-hailing app Uber.
Other start-ups taking a crack at flying cars include Netherlands-based PAL-V and Slovakia-based AeroMobil. Both of these companies are already accepting advanced orders for flying cars. There is a catch: in order to order you have to have a runway and a pilot's license. Meanwhile Massachusetts-based Terrafugia and Germany's Lilium Aviation are also developing cars with the ability to take off and land vertically.
Will this happen? Some experts disagree.
The prospect of flying cars is not exciting for everyone. Tesla CEO Elon Musk may be the most vocal skeptic. Even as he shares with the press (and anyone on Twitter) his dreams of colonizing Mars, Musk consistently tells TED Talks that he likes flying things but that flying cars aren't viable.
Many consumers are apprehensive as well. According to a recent survey by Michael Sivak and Brandon Schoettle of the University of Michigan's Transportation Research Institute 83% of new car buyers say they're very concerned or moderately concerned about the overall safety of the endeavor.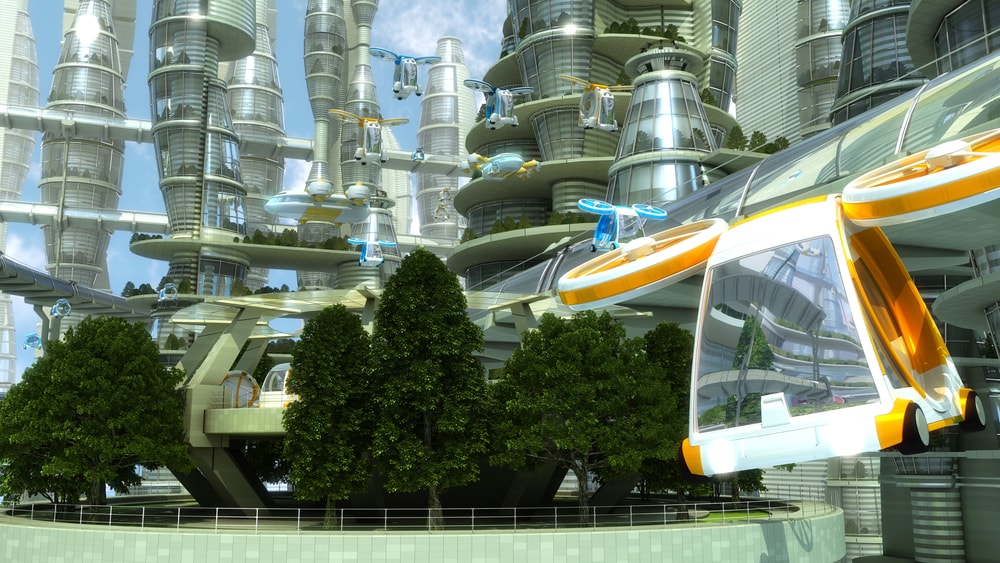 In the end, as move towards an autonomous driving future, it should be no surprises that companies are already racing to find the next frontier for transportation technology. But is it really up in the air or down to Earth?
More like this
Tech

Believe it or not, it's almost December. And chances are ads plastered all over TVs, billboards, social media feeds, and more have reminded you that the holiday season is here,..

Read More

Tech

Nowadays, people of all ages can find an app for anything and everything—I mean there's even an app called nothing that stays very true to its name. While many see..

Read More

Tech

The future is finally here. And it looks ridiculous. No we're not talking about the increasingly gaudy looking hybrid and electric vehicles taking our roads by storm. We are talking..

Read More