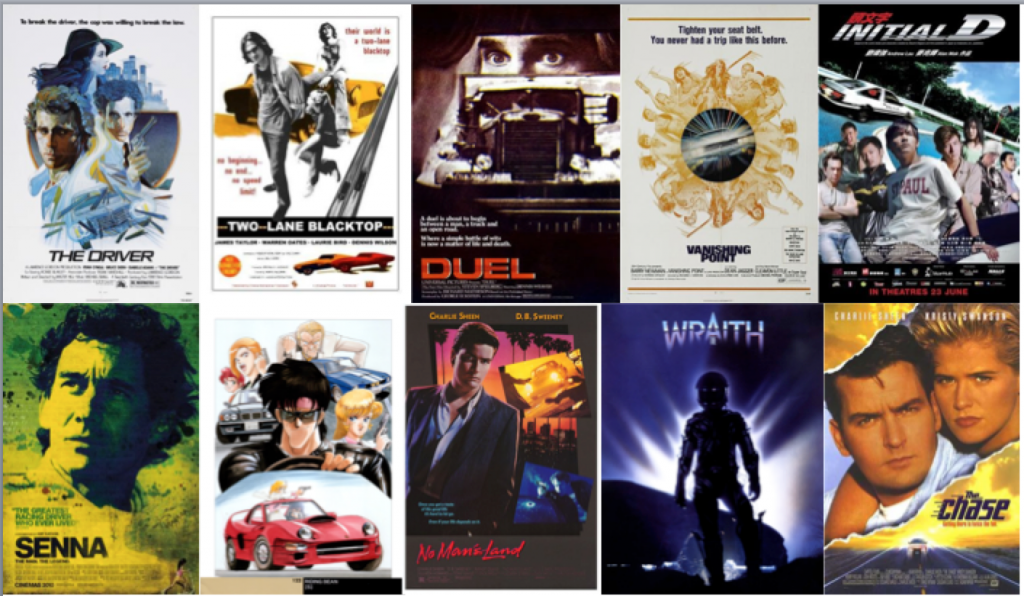 With a new James Bond movies in the works and a new Fast & Furious film less than a month away, what better way for both film fans and auto enthusiasts to come together than to revisit their favorite movies featuring cars, car chases or just movies about cars in general. Many auto enthusiasts came to be interested in cars through these motion pictures after all. However, most people can name and find the more popular iconic "Car Movies" such as Bullitt, The French Connection, Christine, etcbut there are a few rarities and lesser known movies out there that car fans ought to check out and film fans may enjoy. So here's a few of the lesser seen "car movies" featuring everything from classics, iconic Detroit Muscle cars, Formula One,  fleets of Porsches, Japanese street racers, cartoon bandits in Corvettes, and even Charlie Sheen.
The Driver (1978)
Long before Ryan Gosling starred in Nicolas winding Refn's Drive there was Walter Hill's The Driver. This classic crime caper follows a no-name stuntman (who speaks a total of 350 words in the film) who moonlights as a getaway driver, the tenacious cop obsessed with him and the woman caught between them. Since 2011s Drive has become something of a cult classic, anyone in the know would be remiss if they didn't give a shout out to some of the films that helped inspire it. The Driver is certainly less cerebral and stylish but it makes up for that with deliberate pacing and a stripped-down action aesthetic. Filled to the brim with classic cars from the 70s such as the 1974 Ford Galaxie 500 or the 1970 Mercedes-Benz 280 S (W108) with the iconic set piece involving  "The Driver's" 1976 Pontiac Trans Am being chased by a 1977 Chevrolet Stepside pickup truck.
Two-Lane Blacktop (1971)
This is secretly one of the pioneers of the "road movie" subgenre that would be mimicked in the various Cannonball Run movies, Death Race, and even Easy Rider. The premise involves two street racers who live on the road in their brutal, highly-modified, grey Chevrolet 150 two-door sedan and drift from town to town, making their income by challenging local residents to impromptu races. As they drive east on Route 66 from Needles, California, they pick up a female hitchhiker in Flagstaff, Arizona and another car driver in a 1970 Pontiac GTO and they challenge each other to a cross-country race to Washington, D.C. "for pinks," or legal ownership of the loser's car. This film is definitely a showcase for motor enthusiasts, and rightly so when characters are referred to as "Driver," "Mechanic," and "GTO" but overall this is a much slower burning affair rooted in the ideas of vehicles as a cinematic symbol. Whether or not the cast makes it to the destination is unimportant as it is all about their vehicles as a symbol of freedom, status and power. This film really captures the sentiment that it's the journey, not the destination, which shapes us.
Duel (1971)
Long before Steven Spielberg would become a household name with the shark attack horror of Jaws, his 2nd theatrical feature Duel gave us the ultimate car chase movie. Sure there have been plenty of other movies with bigger and bolder car chases but  this film is notable because the WHOLE movie is essentially one long car chase. David Mann (Dennis Weaver) is a middle-aged Los Angeles electronics salesman driving his red 1971 Plymouth Valiant sedan on a business trip. On a two-lane highway in the California desert, he encounters a grimy and rusty 1955 Peterbilt 281 tanker truck (whose driver is never seen) which begins stalking him in an increasingly deadly game of cat & mouse. The truck was customized for the film, given a shadowy and rusted exterior morphing the American classic into an almost spectral reaper, which is only magnified by the truck's aggressive exhaust profile, giving it a consistent smoky black aura. It's every driver's nightmare scenario, being consistently stuck on a highway with quite possibly the most dangerous truck driver impeding you path every single mile. You'll never drive on the highway the same way again.
Vanishing Point (1971)
Released little less than a year after Two Lane Blacktop, Vanishing Point is a much more action-packed driving movie than its more cerebral counterpart. The film follows a man assigned to deliver a white 1970 Dodge Challenger R/T 440 Magnum to San Francisco starting from Denver, Colorado. His delivery isn't due till the next week but the man makes a bet that he'll be able to deliver it by the next day. Along his adrenaline-fueled journey he outraces the police, motorcycle gangs, roadblocks and a Jaguar E-Type convertible that challenges him to a head-to-head race. This film is a high-octane cult favorite for a reason: it really captures the thrills and dangers of high-speed driving and how it affects drives in ways Hollywood action movies rarely ever do.
Initial D (2005)
Andy Lau (Infernal Affairs) directs this Hong Kong live action adaptation of a Japanese comic and media franchise and it is probably one of the better films about youth and street racing culture out there. It's also a strong showcase for "drifting" or downhill races with an emphasis on hairpin turns. Taking place in the Gunma prefecture in Japan, the film concerns a young tofu-delivery driver named Takumi Fujiwara, who uses a heavily modified Toyota Sprinter Trueno GT-APEX (AE86) and gains the attention of local street racers all across the prefecture. Soon Takumi is challenged by all manners of opponents ranging from young thugs to fellow gearheads driving a plethora of modified cars such as a Nissan Skyline GT-R (R32, Mazda RX-7 (FC), Mitsubishi Lancer Evolution IV and even a Mercedes S-Class. This film is noticeable for its sparse use of special effects, instead relying on showcasing actual driving stunts and the skills of several professional racers as stuntmen.  Also, true to the comics it'd based upon, it gets heavy into the technical details about cars and aftermarket modifications but not so much as to alienate viewers who are in it for the teen drama and its pop star/model cast.
Senna (2010)
Senna is a 2010 British documentary film that depicts the life and death of Brazilian motor-racing champion, Ayrton Senna, directed by Asif Kapadia. The film plays around with the typical documentary structure to focuses on Senna's racing career in Formula One, from his debut in the 1984 Brazilian Grand Prix to his death in an accident at the 1994 San Marino Grand Prix, with particular emphasis on his rivalry with fellow driver Alain Prost. What's great is that it relies primarily on archive racetrack footage and home video clips provided by the Senna family, rather than retrospective video interviews, and has no formal commentary. Anyone even tangentially curious about the world of Formula One racing should give this film a look. It provides an inside peek into how the motorsport world operates from teams and manufacturers such as Toleman, Lotus and McLaren and also the footage from the 1980s-1990s Formula One seasons are spectacular, more so than any other widely available footage from those events. This is probably the best film out there for those head over heels about motosports and the best part is that it's all real.
Riding Bean (1989)
This is an hour-long Japanese animation from the 80s but don't let that turn you off. The filmmakers and animators actually stayed in Chicago in order to give a recognizable and detailed animated recreation not to mention I have a suspicion that a few gearheads may have been involved as well. Bean Bandit is a Chicago-based courier and mercenary and the film follows his attempt to clear his name after being framed for a high-stakes kidnapping. This animated short film is all about the cars and car chases however, as Bean rides a custom Porsche that uses a Corvette Stingray ZL-1 427 engine.  The rest of the cast are really there to show off the creators' love for cars as seen in the film's incredibly detailed look at the restoration of a Shelby Cobra GT500 (a major plot point) and it's realistic renditions of a 750iL BMW, a 1st gen MR2 and the original Mini Cooper. This is an old-school hard-boiled action film and car chase movie given new form as a stylish animated production from Japan.
No Man's Land (1987)
No Man's Land follows the exploits of an undercover cop sent to infiltrate the circle of then-80s heartthrob Charlie Sheen (yes, THAT one), a millionaire playboy and the suspected leader of a grand theft auto scheme. Sheen's character is obsessed with the Porsche 911 and it's pretty much the main car of the film. Sheen's crew, as it were, specializes in driving and stealing the coveted 911 and the movie could be seen a bigger love letter to the car than the more famous Risky Business as it uses the car in big stunts, racing and chase sequences. With a fun 80s soundtrack, iconic 80s fashion choices and Porsche's signature car from that decade, No Man's Land is a cheesy and fun snapshot of the decadent decade.
The Wraith (1986)
Another one of the most ridiculous artifacts from the 80s ever weaves the tale of an undead teenager, played pre-resurrection by Christopher Bradley but then by Charlie Sheen (yup, same one), who uses his supernatural powers and driving abilities to reap revenge on the psychotic gang of car thieves who killed him while also winning the heart of his old girlfriend. Our hero drives a sleek and heavily modified Dodge M4S Turbo Interceptor which is his main weapon against the evil gang (who use mostly Corvettes, Firebirds, and 80s-era Dodge muscle cars such as the Daytona and Lancer). What's noticeable about the Dodge M4S Turbo Interceptor is that it's technically only a prototype sports. With a mid-engined top speed of 194.8 miles per hour that could go from 0 to 60 in 4.1 seconds it had more than 440 horsepower under the hood with its twin-turbocharged Dodge 2.2 inline four cylinder engine. Unfortunately, there are only four M4S prototypes in existence. Dodge never planned to turn the M4S into a production car and rarely shows it off at events which make its immortalization in such a bizarre B-Grade 80s movie even more profound.
The Chase (1994)
Possibly the final chapter of the "Charlie Sheen drives a car" saga (not a real thing), The Chase is essentially a loose remake of Roger Corman's 1955 classic The Fast and the Furious (unrelated to the current popular film franchise). Sheen plays an escaped convict who kidnaps a wealthy socialite (Kristy Swanson) and drives off in her 1993 BMW 325iS Coupé. The rest of the film takes place within the car as Sheen and Swanson fall in love and evade the authorities (former Black Flag frontman Henry Rollins plays one of the main cops) as well as bounty hunters (Red Hot Chili Pepper's bassist Flea stars as one) and others hired by Swanson's rich father (Twin Peak's Ray Wise) to rescue her. Much like Two-Lane Blacktop, the movie uses vehicles both as a prop and setting, showing off and romanticizing the 1993 BMW to ridiculous degrees as it becomes a whole world unto itself.
Honorable Mention: Repo Man (1984)
For a movie called Repo Man, this 80s punk film has less to do with cars as they are and more uses them as props to symbolize stuff. However a big part of the film involves a race against time to obtain a 1964 Chevrolet Malibu…with an alien in the trunk.   So there you have it! 10 films that range from lost B-movie schlocky gems, to cult classics, to award winning documentaries. These films may have been underseen and some have nothing in common (aside from the 3 Charlie Sheen features) but they all share a celebrated love of the automobile. If there are other "car films" that you love and recommend, comment below and let us know!
More like this
Autotainment

Car enthusiasts are always looking to learn more about a complex and constantly changing industry. One way to tackle this task is through automotive podcasts. These shows offer a treasure..

Read More

Autotainment

Moviegoers don't need to be car lovers to appreciate the legendary vehicles that have graced the big screen over the decades. These automobiles have helped to tell the stories and..

Read More

Autotainment

When football season arrives, it only means one thing—tailgates! But while die-hard fans are sure to have enjoyed a tailgate or two (or 200) in their time, many might not..

Read More