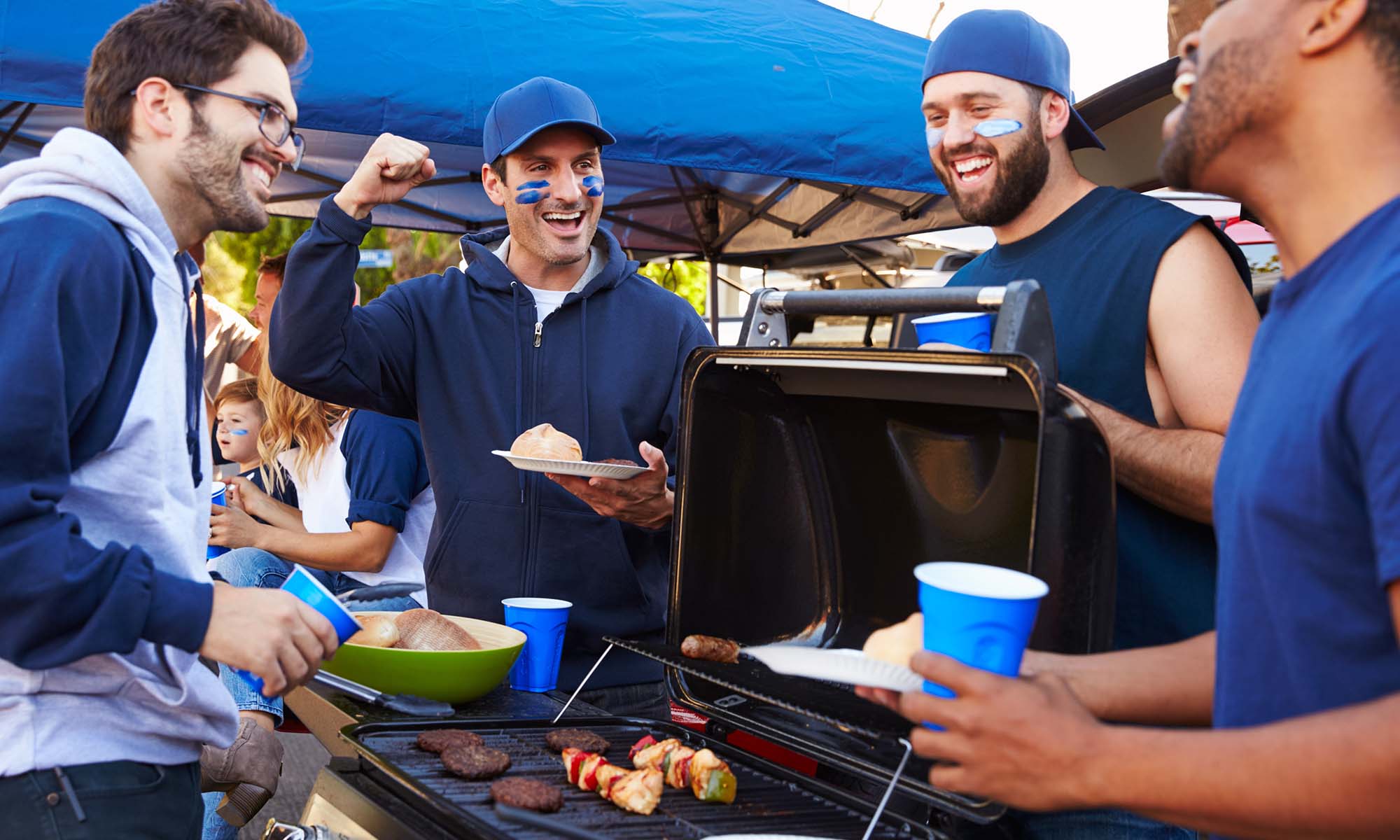 When football season arrives, it only means one thing—tailgates! But while die-hard fans are sure to have enjoyed a tailgate or two (or 200) in their time, many might not know that tailgating as we know it came about in 1919 and was started by Green Bay Packers fans. However, the term went back even farther than that and was first written about in 1869 at a college football game against Rutgers and Princeton.
But regardless of how it started, tailgating is a time-tested tradition that can happen almost anytime and anywhere. From high school parking lots, college stadiums, or professional sports venues, there are tons of ways tailgates can help express team spirit, but they're also seen at concerts or weddings. They have even spread to American football games in Europe! 
And as any die-hard fan knows, any pre-game or even post-game tailgate can be made better with the right accessories and gadgets. 
The Best Tailgating Accessories for Any Event
Whether this is your first football season tailgating or you're a weathered pro, there are plenty of things to consider when it comes to what kind of vehicle is best for tailgating. First, you'll want to ensure that you and your loved ones have enough room for yourselves and all of the comforts you've brought. 
According to some outlets, you can use anything on four wheels to tailgate, but the real winners are the cars, trucks, or SUVs with built-in features that can enhance and streamline the event. Still, while you can find some great features in many modern vehicles, you can help elevate any tailgate party with a few of the best tailgating accessories for your vehicle.
10 Tailgating Accessories for Your Car
When it's time to set your schedule for the big games this season, it's essential to have a game plan for tailgating that goes beyond your standard bluetooth speaker or grill. This includes knowing the rules and getting the right tailgating gear together to help take your tailgating game to the next level:
Tailgating Canopy
The E-Z Up Tailgating Canopy is available on Amazon and is an instant classic, as it is made for both grass fields and concrete parking lots. Sun protection on these warm days is important to keep the party cool, without aggressive sunburns or heat exhaustion. This canopy tent offers 100 square feet of UV ray blocking and can be used for tailgating and other seasonal events, making it an excellent investment. You can even look to purchase the canopy plus a Coleman camp chair with a built-in cooler that can fit four cans of your favorite beverage.
Tailgating Canopy Weights
If the E-Z Up Canopy is on your wish list, then the ABCCanopy Weights should also be. These are for when you're out in the blacktop parking lot or if you're opting out of potentially spiking the canopy into a grass field. These weights keep your coverage from blowing away on a windier day, but holding down 113 pounds can also prevent the canopy from getting knocked around if things get too rowdy. Of course, the real draw is their color options if you want to color-coordinate for your team.
Collapsible Tailgating Table
Are you tired of carrying around that old, clunky white plastic table to every tailgate? Luckily, the Eternal Living Pop-Up Picnic Table is lightweight and compact, coming in at a svelte 5.5 pounds. It even has a lower storage area and built-in cup holders, so picking up a pair would mean there's enough room for everyone's beverages and bags—these double as an excellent accessory for camping or beach days.
Tonneau Cover for Trucks
Tonneau covers are exclusive to pick-up trucks, but finding one that fits your truck bed is an excellent way to keep your stored items safe from weather, prying eyes or accidental spills. Something like the Gator EFX Hard Tri-Fold Tonneau Cover makes things easy by being durable and modular. Keeping it on the truck bed during the tailgate as an extra surface is one option, but also, taking it off at the end of the drive without a bulky piece of equipment around is another. 
Wireless Speakers
Some cars come with excellent sound systems, but there's a problem—they're in the cab, and the party is outside—so we recommend the bluetooth-supported Ultimate Ears MEGABOOM 3. And unlike your standard speakers, these have some notable features, like being waterproof and having a 20-hour battery life. They also come with a "PartyUp" mode where multiple can be connected to the same music source (such as a phone or laptop) for a full surround sound experience. In addition, the speakers have undergone rigorous durability tests, so you know they can withstand even the hardest partying.
Flat-Top Griddle
While the arguments of using a portable grill vs. griddle or propane vs. charcoal are probably as old as tailgating itself, it's hard not to suggest the Blackstone Flat Top Gas Griddle. This flat top comes with a cutting board, storage shelf, and a place for garbage, so you know you'll have all the space you need to cook up your tailgating favorites. And while this may be a little bulkier than your average tailgating charcoal grill, it's sure to be able to impress everyone as you grill the best-smelling burgers, hot dogs, and brats.
Foldable Chairs
Any seasoned tailgater knows that comfort is king, which is why KingCamp Heavy Duty Folding Chair can deliver on that promise. While it might take some budgeting, this camping chair is perfect for tailgates thanks to its own side table, cupholder, and cooler, meaning all you're missing is a built-in cornhole board to go with it. Gone are the days of putting your plate on the floor or awkwardly balancing it on your lap. Instead, stash away the last can of your favorite drink in your personal cooler so that you can be pleasantly surprised by it later. You deserve it.
Cargo Organizer
With all of these new additions to your game day, you'll need an air-tight organizing system to keep it all in order, hence the Farasla Waterproof Trunk Organizer that even comes with a leak-proof cooler bag! All your grill tools, plates and utensils, bottle openers, speakers, weights, chargers, and whatever else you might need can elegantly be stored in even the most unassuming trunks. In addition, the added cooler bag allows you to store your libations or chilled snacks instead of a bulky plastic cooler.
Truck Bed Extenders
While there are plenty of options for tailgates, sometimes, you just need that extra room after getting all your party materials together, which is why the X-terrain Truck Bed Extender is a must. This kind of truck bed extender can not only add a couple more feet of crucial space, but you can also flip it inside to keep more delicate cargo from sliding around too much. This design is also made with the weather in mind, so it's anti-rust and easy to clean.
Truck Tailgate Ladder
There's not much use in packing the best tailgating gear if you can't get them in and out of your truck bed, which is where this AA Product Tailgate Ladder comes in handy. Not only is it crafted with durable steel and adjustable for multiple heights, but it's also omnidirectional, so you can orient it in a way that flows best for your setup. 
Tailgate Worry-Free with Endurance
Don't let an unexpected car breakdown get in the way of your next tailgate. With an Endurance auto protection plan, you can rest easy knowing that your car, truck or SUV is covered without worrying about missing your team's next big game. That's because, regardless of the Endurance plan you have, you'll be able to get breakdown protection AND extra perks like 24/7 roadside assistance and towing, trip interruption coverage and even rental car reimbursements. 
You'll even be able to take your vehicle to any certified repair shop or mechanic of your choice, meaning no matter where you are, you can be certain Endurance will have you covered. Plus, you can get even extra perks and savings, including collision discounts and tire replacements or repairs, just by activating your entire year's worth of Endurance Elite Benefits.
Don't wait until it's too late and protect your tailgating vehicle with Endurance by requesting a free, no-obligation quote today. Or, to learn more about how Endurance can help you, including how you can find coverage starting as low as just $79 a month, call (800) 253-8203 to speak directly with a member of the Endurance customer care team. And you can find even more fun and helpful articles, including even more tailgating tips, vehicle buying guides, answers to extended warranty FAQs and more, by visiting the Endurance blog. 
More like this
Autotainment

Once reserved for high-powered consoles, gaming has exploded on cell phone platforms thanks to robust technology and high-speed internet connections. In particular, car enthusiasts have hopped on the mobile gaming..

Read More

Autotainment

Car enthusiasts are always looking to learn more about a complex and constantly changing industry. One way to tackle this task is through automotive podcasts. These shows offer a treasure..

Read More

Autotainment

Moviegoers don't need to be car lovers to appreciate the legendary vehicles that have graced the big screen over the decades. These automobiles have helped to tell the stories and..

Read More